Toward The Sun - Around the World in a Microlight Motor Glider.
I am sitting on the wooden porch close to the small grass-covered airstrip of St Lazare airfield near Montreal. The Coopers, owners of this airfield, are hosting my aeroplane, a Zenair CH-701 "The Blue Lightning" and myself for the last couple of days. Around me there is a nice company of old, experienced pilots. Alain and Grant are also present. In the last week they really tried everything to enable me to resume my flight around-the-world via Baffin Islands and Greenland back to Slovenia where I left three months ago. The whole company is quiet and some of us stare into the distance. None of us is indifferent to the fact that tomorrow we will permanently tie down The Blue Lightning and that I will board the first airliner for Frankfurt.
Friends around me are having difficulties understanding the fact that their country with rich aviation history and tradition and its officials has become a rigid bureaucratic obstacle for men that are pursuing their dreams and historic aviation spirit of exploring the unknown and pushing the boundaries of the achievable.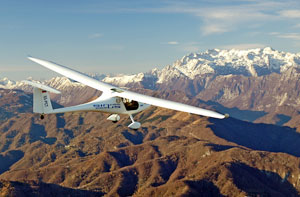 Even I take this incident as a bad dream. After 40 days of waiting in Minsk (Ukraine) for flight plan authorisation for the Russian leg of the flight that was already authorised, emergency landing in Siberia, waste forest fires in central Alaska, misunderstandings regarding certification of Canadian aircraft in Canada, I still can't believe that I can't go any further. The weather is nice; the huge anticyclone is covering the NE part of Canada but my dream is dying. What is the point of so many lucky coincidents that brought me here? What is the point of huge efforts of so many men and women that were involved in clearing the path for me?
During the afternoon I talked over the phone with Ivo Boscarol, a friend of mine and at the same time owner of the aircraft company that produces unique micro light powered gliders. "Ivo, my story has come to its end. Next year I will try again and I will need an aircraft with a range of at least 1,700 miles. Can your Sinus do that?" His answer accompanies me through the clouds during my flight back home. I am more than ever convinced that next time I will leave my home there will be no force in the world capable of stopping me.

June 6th 2004 Ajdovscina
Second attempt
My spirits were a little low just before I took off and started my journey. There were some reasons why I felt that way. My permit to enter Russian airspace was again questionable. A couple of years back I had the similar situation that nailed me down for 40 days in Minsk and now I was quite worried if the Russian CAA will enable me to cross Russian airspace on my own. And the new permit was valid for only 24 hours which meant that regarding political setbacks, the weather situation and the length the leg lasted, it was simply not long enough. I had a verbal permit to fly in Mongolian airspace but a written copy of it, signed by the Mongolian CAA was still missing. Above all, due to a tragic accident in which a South African trike pilot lost his life, the Chinese CAA cancelled my permit to fly there. The Chinese decisions are notorious for being final so there was no room for diplomatic persuasions.
Also uncertain, was flying in the USA and Canada. In all of Europe, we were incapable of finding even one insurance company that would accept the risks of insuring my plane for American and Canadian airspace. The biggest Slovenian insurance company, Triglav, took care of insuring me for all other countries except for those two. More than ever, the alternative routes to cross the Pacific and Atlantic Oceans became interesting again.
Free European skies ended over the east of Hungary. I lost my first day on the Ukrainian border, but I was however permitted to enter their airspace after I got a certain permit, regardless of the fact that a few weeks ago their CAA informed me that this permit for IFR flights was unnecessary.
The flight from the Ukraine over Russia to Kazakhstan first ended at 18,000 feet, where I encountered stormy clouds of a cold front. Here the lowest permitted altitude was 5,000 feet, and there I was, still in the middle of the clouds. Russian ATC refused to clear me to descend below the clouds and to continue my flight under VFR due to the fact that I had no Stormscope on board. I had to turn back and return to Donetsk where just seconds after the aircraft was pushed into the hangar, an extremely wild hailstorm rolled over the airfield. During the night the cold front moved into Kazakhstan, where it ran out of power and released me, all frightened and thoroughly washed out, into the blue Kazakhstan skies.
Atyrau can be found more than 200 feet under sea level off the coast of the Caspian Sea. Here the worlds richest oil basins start and they are the reason that this region is a politically unstable territory. The flight over Kazakhstan, organised by their agency Berkut, passed by surprisingly smoothly, except strong turbulence over the heated desert landscape.
In Karagana, I received a note from our embassy in Moscow stating that due to military exercises, the Mongolian authorities at the beginning refused to let me into their airspace, but later on, Mr. Buyandalay from the Mongolian CAA, informed me via telephone that he took care of things. Before dawn I started the flight toward the Mongolian mountain range Altai, which surrounds the city Ulgii where a brand new dusty runway lies. By doing so, I planned to escape the forecast thunderstorms around Altai Mountains.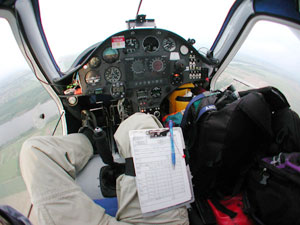 The day welcomed me with an exceptionally beautiful morning, and at first with a smooth flight that later on turned into a game of Russian roulette, when I found myself trapped above a thick cloud layer decorated with stormy clouds all around me. Before the start I couldn't get any weather information for Mongolia, and above all, not even Jeppesen had any flight information regarding my destination. I found myself in a no-win situation trying to land blindly on the airfield shrouded in thick clouds between the mountains, which would be nothing short of suicide. Luckily a small hole in the clouds on the Russian and Mongolian border saved the day, the plane and the pilot.

I spent 8 days in Ulan Baatar, as I had to wait there for the satellite phone to come from Slovenia. DHL extended their promised time of delivery from 2 days to 8 days. I used lost time for a drastic change of my itinerary. The only way to proceed with the flight, and at the same time stay out of China airspace, was a direct flight from Mongolia to Russia. International airways over this part of Russia are close to Sinus service ceiling. I was quite aware that the Sinus is the only microlight aircraft in the world equipped with only an 80-hp engine capable of cruising at 18,000 feet, and that made persuading Russian officials even more difficult.
In Choibalsan east of Mongolia, I filed in my flight plan to Habarovsk in Russia and it was accepted. The beautiful flight turned out to be worst possible nightmare. When I was about to enter Russian airspace I lost radio contact with Mongolian control. VHF and HF receivers stayed numb through the flight over Russia. I even tried to use satellite telephone Iridium to call Russian control, but I failed to do so. Suddenly I had company, a pair of Russian MiG-29 Fulcrums joined me.
It became clear that something went seriously wrong. A forced landing in the small city of Chita, which lies behind Lake Baikal, turned into 11 days of psychological warfare with thousands of official calls and diplomatic offensives. In the beginning, the outcome of that situation was uncertain. The Russians used words like prison, indemnity and end of my flight around the world. But in the end we managed to solve the situation with help of some Russian officials, that unofficially sympathised me but were forced to close the case, according to Russian laws.
The reasons for the situation were different VHF antenna orientation, a recently changed telephone number of ATC, and a complicated system of flight plan validation. In 11 days of practising bureaucracy, I became a media star of the Russian Far East, and made some dear friends, and significantly improved my knowledge of the Russian language. I had first-hand information on how the enormous decision-making system works. I tried to fly from Habarovsk direct to Kamchatka, but the military refused to issue any permits for crossing the Okhotsk Sea to single-engine aircraft. So the next day found me, with a little help from my Russian friends, all alone in the aeroplane following the local IFR routes to Magadan. I felt privileged to do so, because no other foreigner had ever flown alone over waste Russian territories, which inspired my imagination with their remoteness, wildness and political fences.
After long hours behind the controls of my Sinus, I have to physically find fuel armed with plastic fuel canisters. I found not even one airfield had any automotive gas for my aircraft, so I had to borrow a car or beg for transport to the nearest gasoline station, where I filled my borrowed fuel canisters with the gas, that I filtered as I filled them up. This was really heavy and time-consuming labour.
The permit for every leg of the journey through Russia was valid for only 24 hours. In case of any setbacks I called Moscow, and with out any problems, I always got the extension of its validation.
Flying in Alaska was a real relief. Regardless of the bad weather, I felt more secure there. The weather forecasts were available; plenty of airfields, no one made any fuss about me flying IFR or VFR, and everywhere there was enough fuel. But there is a catch. If a foreigner wants to fly a microlight aircraft in US airspace, he will have to fight the mills of bureaucracy for a permit to do so. Validation of different documents, complicated customs procedures, and insurance of foreign aircraft, are just a few of the obstacles that he will have to cross.
To circle the Denali Mountain was one of my primary goals. I decided that I would not leave Alaska without doing it, but when I was close to it, I faced the cruel reality. The weather was bad and I was running as late as hell on my schedule and thus had no time to wait for a better weather situation. Fortunately, God smiled on me for a brief moment, and I found the hole in the clouds that enabled me to circle Denali Mountain and turn my deepest wish into a wonderful memory.
Except for some fires that reduced visibility and thunderstorms, my flight from British Columbia to San Francisco passed by uneventfully.
Due to new US rules, I was unable to leave US airspace and to return to it again, so the planned trip to Mexico became only one more unfulfilled wish. I turned towards Oshkosh instead where the EAA convention had just started.
The pilgrimage started from San Carlos airport in San Francisco and ended in the unbroken row of aeroplanes closing in on Oshkosh. Everything seemed so unrealistic to me. Landing in-between 10,000 aircraft and their pilots, made me think that for airmen, Oshkosh has to be as sacred a place as Mecca is for Muslims.
Pipistrel Company presented their products to the American public for the first time, and raised quite some interest with them. Even in America, the microlight-powered glider that was about to circle the world, surprised visitors that have seen everything.
One of the optional systems installed on my Sinus was TruTraks DigiTrak autopilot that showed little cooperation until then. The owner of TruTrak, Mr. Jim Younkin, invited me to visit him in Springdale, Arkansas, where he promised to make it work.
In two days I had a new 2-axis autopilot in my plane for which Jim refused to accept any payment. I have fond memories of Springdale, where I found men and women who dedicated their lives to aviation and understand why people have to circle the world in a light aircraft.
On this occasion, it didn't pay off to rush into the air before the thunderstorms came in. After two hours in the air, the engine cowling decided to leave me permanently, mainly because the owner forgot to screw it back on the fuselage. At the same time, the engine oil temperature rose dramatically and forced me to land instantly. Robert Mudd from Ohio, sent me his own cowling and enabled me to carry on with the flight.
After two years, I again touched the grass of St. Lazare airfield at Montreal. The reunion with Alain Dehondt and Grant Corriveau was full of emotions. Alain, who took good care of The Blue Lightning, and who finally disassembled it and sent it to Europe, was again trying to help me. I have a feeling that some people are destined for each other.

Whenever things went wrong for me, Alain was the one who found the solution, even two days later when the screw in the Sinus variable-pitch propeller head snapped. By a miracle, the engine and propeller ran for two more hours, all the way to the mining town Wabush on the Labrador Peninsula. There I waited for Robert's shipment from Ohio containing a new propeller, as FedEx promised it would be there in 8 days. Alain intercepted the shipment in Montreal, where his Air Canada office shares the same street with the FedEx office, and sent it on to me. By doing so, he saved me two whole days of waiting.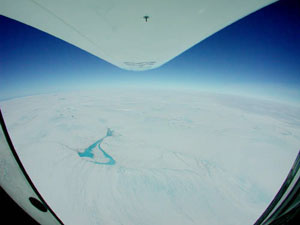 Iqaluit or formal Furbisher Bay is filled with low clouds, rain and wind. IFR-IMC departure ended in VFR conditions above Greenland, with a peaceful evening landing in Reykjavik. Later, I paid a visit to my friend and earth rounder Michael Gordillo in Madrid, and by doing so, I also added the necessary mileage to my FAI world record breaking attempt in the aircraft class where MTOW is limited to 500 kg (little more than 1,100 pounds).
The next day Michael waved goodbye to me five times in a row, but I never really left as the engine rpm's fell considerably, right after take-off, so I landed right back on the hot asphalt runway. The next night Michael and I, with some guys from Rotax, did a hell of a job on the carburettors. Only when we removed the carburettor dust filters, did the engine keep nominal rpm's.
The last flight from Madrid over Pisa to Trieste, passed by quite comfortably. Regardless of my heading, I always had a 40-kt tailwind. I took this small gift as redemption for all the troubles that I went through, and those that could do me in without the help of my friends on my journey around the world
To circle the world in a light aircraft is certainly a lifetime experience and a wish that stays unfulfilled for so many. That is the reason why I feel privileged. I think that the only way to do it is by flying low and not too fast, so you can enjoy the view and learn something about the world we all live in, as you go along. The knowledge that we all live on a small limited space, surrounded by nothing where life cannot thrive, broadens our perception of life.
Our earth reminds me of the HMS Titanic where thousands of souls loved, hated, lied, starved or became rich where first-class passengers felt pity for sweaty and dirty stokers down in the hull, and where personal tragedies took place. All of them were sailing to their common destiny on the seabed of the Atlantic Ocean. As the survivors sat in the same lifeboat, all the differences vanished and only real personal virtues persisted.
The Pipistrel Sinus 912 is basically a serial aircraft with some modifications. This aircraft has modified and enlarged wing-tanks, strengthened landing gear, removed right set of commands, and with the use of some special materials, a somewhat lighter structure. Every ounce was significant. The survival equipment was reduced to a minimum, and on board there was almost no personal luggage. One computer, a digital still camera and one video camera, were all I took with me. Two pounds of fuel basically meant 8 minutes of flying or 15 miles of range, which can sometimes decide between life and death. The aircraft had a range of at least 1,500 nautical miles which enabled it to cross the Atlantic or Pacific Oceans by more than one way, in case something goes wrong with the papers.
On 24th of August 2004, I ended my 79-day long flight around the world in an excellent microlight powered glider - the Pipistrel Sinus 912.
I crossed the following countries and territories: Slovenia, Hungary, Ukraine, Kazakhstan, Mongolia, Russia, Alaska, USA, Canada, Greenland, Great Britain, France, Spain, Italy.
I covered a distance of 21,000 nautical miles with an average speed of 98 knots. By doing so, I burned 506 gallons of unleaded automotive gas.
This around-the-world flight was also the fastest flight around-the-world eastward for an aeroplane with MTOW of 1,100 pounds.
I carried out this flight alone, without any co-pilot, and without any air escort or ground support.
Matevz Lenarcic
www.wingsforever.com/
www.rtvslo.si/protisoncu/