Thu. 7th June:
Vienna, a magnificent city rich in history and culture, greeted us with superb weather. Some Earthrounders are already here: Wayne Collins, Mike Wilson, Gary & Kaye Burns, Dieter and Ursula Schmitt, Claude Meunier and of course, our host and organizor Hans Gutmann. Earthrounders have zoomed in from all over the world: Austria, of course, plus Swizterland, Portugal, Germany, the USA and as far as Australia. More are on the way. Friendships were renewed and new ones were made. Over a superb dinner at the Heuriger, just outside Vienna, we were welcomed by the President of the Austrian Aero club Allois Roppert and a commemorative medal was given to each Earthrounder.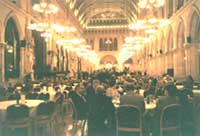 Fri. 8th June:
Hans took us by U-Bahn (sub-way) to the famous Spanish Riding School. It is located in one of the many old buildings, built around the center of the city by the Hapsburg dinasty. After a very pleasant lunch in a typical Viennese restaurant, we enjoyed a guided tour of the city. The guide giving us a good overview of Vienna's famousand glorious past. We then went back to the hotel to spruce up for a splendid Gala Dinner in one of the halls of the Town Hall, to celebrate the Centenary of the Austrian Aero Club. Guilded statues and chandeliers. After the speechs we enjoyed a pleasant buffet dinner, and we finished quite late after a very full day.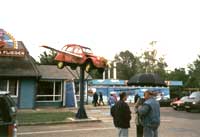 Sat. 9th June:
Another great day which started with an exhibition by the Aero Club among the many palaces. There were hot air balloons, an airship, parachutists, models, helicopters, gliders and new aircraft. lunch was at the Flieger restaurant aptly decorated wth aviation themes. Then, at the Loslau Airport, messages were read from Earthrounders who could not come. David Hare, Waldemar and HG Schmid were asked to speak of their RTW flights. Photos of the Oshkosh meeting, sent by Sue Smick of the EAA were passed around. Low cloud prevented us making flights to the Alps as anticipated. Under heavy pressure, Claude Meunier invited the Earthrounders to meet again in two years' time somewhere in Australia.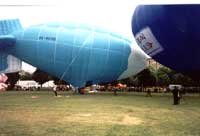 Sat. 10th June:
After a bus tour of the City, a visit was made to the famous Palace of Shobrunn, the Versailles of Austria and show piece of the Austro-Hungarian Empire. We had lunch on the Plater, Vienna's playground.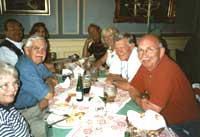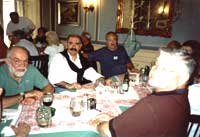 The meeting came to a close over a very pleasant dinner in the hills surrounding Vienna. with a magnificent view of the city after the drizzle cleared up. After a few farewell speechs , Hans presented each Earthrounders with a book on Austria, a nice mememto to keep and to help every one to remember a great meeting. We all signed each other's books and we all promised to meet again in Australia. And may be in Rio the year after...