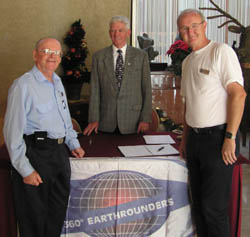 November 24, 2005: After registration and get-together, we had a sparkling view of Mexico City. That was the treat on the opening night of the 2005 Earthrounders Meeting. Not from an aeroplane as you might think, but from the 51st floor of the Torre Mayor, the tallest building in South America. Earthrounders were welcomed to Mexico City by Jorge and Malu Cornish and the Instituto de Turismo del Govierno del Districo Federal and by Aero Eventos Mexicanos.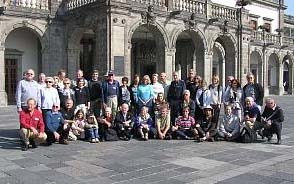 November 25, 2005: Blue skies over Mexico City at this time of the year. In the Winter sunshine, Earthrounders and company visited the splendid Chapultepec Castle and the breath taking Anthropology Museum before adjourning for a late brunch at El Lago. The Earthrounders Round Table kicked in that evening, with a buzzing exchange of information gleaned from past circumnavigators and the constant change of rules, regulations and Avgas supplies around the World.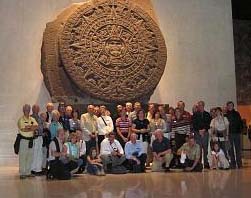 November 25, 2005: Teotihuacan, City of the Gods- our destination today just outside the city, where the magnificent pyramids of the Sun and the Moon soar above the Avenue of the Dead. In the thin air (at 8,000 feet) and strong sunlight we scrambled 70 metres up the pyramid before lunch in the chilly depths of a nearby cave. Back in Mexico, another evening session raised more questions and tips on flying around the World.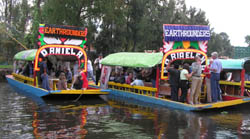 November 26, 2005: Colours and colour rules in Mexico.
The pyramids at Teotihuacan used to be brigthly painted, like the house of artists Frida Kalho and Diego Rivera we visited today. After a stroll in San Angel market, we headed for the flower boats at Xochimilco for a highly amusing punt on the canals, serenaded by Mariachis. And then another round table, this time in the pub!