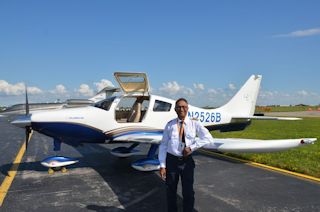 June 29, 2017:
From Ravi Bansal
After years of procrastination and months of preparation, Ravi Bansal of Buffalo, NY USA, is finally all set to depart in his Cessna 400, on his Round the World Solo Flight for the benefit of Rotary Ambala Cancer and General Hospital in his hometown in India. The goal of his flight is to bring awareness of Cancer and raise $750,000 to purchase an urgently needed MRI machine for the hospital. He plans to start from Buffalo, NY July 4th and fly eastwards. You can follow his flight real time, through his website
www.raviworldflight.com
and his blog at
https://raviworldflight.wordpress.com/
Please visit his website and help him achieve his goal to buy the MRI machine by donating generously. Donations can be made through the donation button on his website.
Larger picture
June 28, 2017:
Congratulations to S. Robert Vlassic for the completion of his RTW on April 25 in a Piper Saratoga PA32.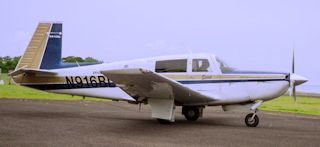 June 24, 2017:
From Brian Lloyd:
I am currently on a solo circumnavigation in my M20K, N916BL, following Amelia Earhart's route and keeping as closely as possible to her schedule on its 80th anniversary. I am currently in Singapore.
I will be departing from Amelia Earhart's schedule once I reach Australia, continuing to Fiji and then to overfly Howland Island on my way to Christmas Island, and then on to Hawaii, Oakland, Atchison, KS, and then end the flight at Oshkosh.
http://ProjectAmeliaEarhart.org
June 21, 2017:
Shaestra Wais is in Australia, flying a A36 Bonanza around the World on a solo flight. She had departed KDAB on May 13, 2017 on an easterly course.
www.dreamssoar.com
June 5, 2017:
From Marcin Szamborski in Vladivostok:
A team of Russian and Polish pilots is close to complete a RTW in a Bell 407 helicopter, RA-01930. They started from Moscow on April 17th and expect to finish their RTW within days.
Follow them here:
https://share.delorme.com/MarcinSzamborski
More photos
May 24, 2017:
STOP PRESS!
From Wei Chen, our host in China:
The 10th Earthrounders meeting will take place in Zhengzhou, Province of Henan, China, during the Zhengzhou annual AirShow.
We are invited by the Air Show organisers, thanks to the negociations of our host, Earthrounder Wei Chen .
The Air Show will be run from April 26 to May 1, 2018.

Preliminary notes





The Shaolin Temple, Zhengzhou
May 14, 2017:
From Silvia and Brian Foster:
Brian and and Sylvia Foster have spent 2 years building an RV10 and plan to leave Port Alfred South Africa on 27th May 2017 to commence a leisurely RTW embracing a fly in to Oshkosh. We are members of EAA South Africa.
They can be followed on Face Book "Fosters RTW".
Larger picture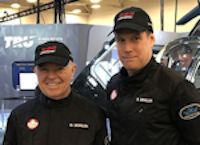 April 25, 2017:
From Steven Dengler:
My father Bob Dengler and I are organizing the C150 Global Odyssey, which will be the first Canadian circumnavigation of the globe by helicopter.
Starting July 1, Canada Day, the team will fly a Bell 429 helicopter over 38,000 kilometers around the world, making over 100 stops in 14 countries, including every provincial and territorial capital in Canada and Vimy Ridge in France.
C150 Global Odyssey is registered federal not-for-profit raising money for True Patriot Love, a veterans charity, and Southlake Regional Hospital, one of Canada's leading cancer care facilities.
https://www.c150go.ca/
More...
April 24, 2017:
The RTV flight of Fedor Konyukhov in July 2016 has been ratified by FAI as a World Record.
Larger photo and details of the record.

April 12, 2017:
From double Earthrounder Wilfred Tashima (1992-1994):
I am selling my big tip tanks for Beechcraft A-36.
The tanks are located at KSEE, El Cajon, CA.
They are the Aluminum Tanks. By Frank Haile. And are in great shape. The tanks brought my plane safely from PHNL to KSEE this past October.
Price: $30,000
Cheers,
Wilfred Tashima
Cell: 808 286-2643.
Tel: 808 373-4914
Email: wttpilot@gmail.com
Larger photo
April 2, 2017:
Sincere congratulations to Lola Odujinrin for the succesful completion of his solo RTW in a Cirrus. He landed on March 29, 2016 at Dulles Airport, Washington DC.
Larger picture
http://transcend.ng/
March 19, 2017:
A mini Earthrounders Meeting is projected during the Airshow at Evora, Portugal, from September 22d to September 24th.
Earthrounders are invited to participate. Food, lodging and fuel could be made available.
Please contact Michel Gordillo for details: michelgordillo@gmail.com
March 17, 2017:
Ravi Bansal of Buffalo, NY, is announcing his departure for a solo RTW, in the first week of July in his Cessna 400.
Wishing him fair weather and tail winds...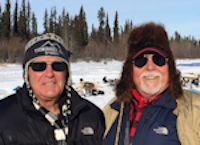 March 11, 2017:
Bob Gannon and Art Mortvedt:
A Mini reunion. From check point Galena, Alaska on the Iditarod Race.
Larger picture
March 3, 2017:
British celebrity, Carol Vorderman, is preparing to fly solo around the World in a Twin Diamond DA42, which she named "
Mildred
", after her heroine, British pilot, the Honorable Mrs Mildred Bruce (solo RTW in 1931, Database #298).
More in an article from the Daily Mail:
Wishing her fair winds and a safe flight.
March 1, 2017:
A warning of exhorbitant landing charges at Bali airport.
Details here

February 28, 2017:
From double Earthrounder Wilfred Tashima:
Earthrounder Willie Tashima (ATW F33 - 1992, ATW A36 – 1994) is selling his two 100 gallon Bonanza tip tanks. His Beechcraft A36, N911WT, which took him around the world the second time is also for sale, with or without big tip tanks. 20 gallon Osborne tip tanks are presently installed on the plane. Photos and listing as shown on the web site. $35,000 dollars for the set of big tanks.
Used for the trip around the world, and for flights between the West Coast and Hawaii.
The photo on the ground is with the 20 gallon tip tanks.
The photo in the air in front of Diamond Head is with the 100 gallon tip tanks.
For the big tip tanks, email Willie Tashima at: wttpilot@gmail.com
Larger photo
More photos here:
http://www.sandiegoaircraftsales.com/aircraft/airplanes0217/n911wt/index.htm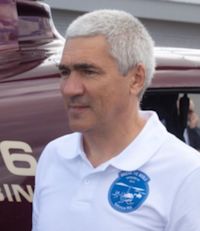 February 16, 2017:
From Sergey Terekhin:
Yes, we all miss Mikhail Farikh, he was an exceptional man, full of energy and
readiness to help. His smile and good humor impossible to forget.
Two days ago another good pilot from their round the Earth flight died in helicopter crash: Dmitriy Rakitsky
with 3 POB.
Mikhail and Dmitriy both flew around the World in two Robinson 66 helicopters in 2013.
Larger photo
Their R66 helicopters
More on their helicopters RTW on these two sites:
From "MondoCharlie" in Spanish
From the Russian AOPA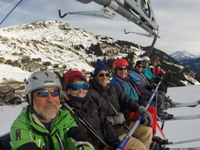 February 1, 2017:
At the traditional Earthrounders ski week in Champery, Switzerland, we manage to get
7 Earthrounders on the same 'perch'
Larger pictures
January 28, 2017:
鸡年快乐 州
Happy New Year of the Rooster
January 28, 2017: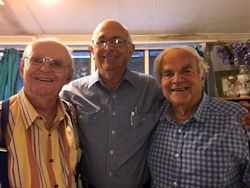 Another 'mini-mini' Earthrounders 'get-together', when Bob Bates and
Bill Finlen paid a visit to Claude Meunier in what Bob describes as
"his yearly pilgrimage to the center of the Universe", aka Grass Valley in Western Australia. Great fun despite of the 42°C temperatures...
Larger picture
January 26, 2017:
Earthrounder Soiuzbek Saliev (RTW 2016) has some equipment for sale:
- a ferry tank Turtle pac of 100 gallon capacity
- a Winslow Life Raft ( 46GASTL - 095-1-100 )14 kg
- and Iridium Extreme satellite phone
Please contact him at:
saliev312@gmail.com
January 17, 2017:
From John Bone: "I am planning a 2018 RTW in my Cirrus SR22 and looking to purchase a portable HF radio and 100 US Gallon Turtlepac.Also wanted is a Mustang MAC 200/300 survival suit, size medium"
Many thanks,
John R. Bone
John@forgottencoastflyers.com