April 29, 2019:
Barry and Sandra Payne have departed Taupo (New Zealand) in their Piper Comanche ZK-BAZ for '50 flights around the World'.
https://roundtheworld2019.com/
Thanking Bob Bates for the news.
April 29, 2019:
Message from Max Reason:
I am planning a long flying journey that may become an all the way around the world journey...
Please read the full message
HERE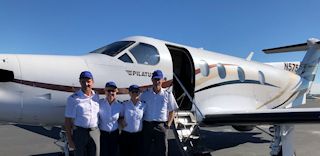 April 16, 2019:
Congratulations to Jack Long and his crew for the completion of their third RTW in Jack's PC12/45 N575PC.
Larger photo
Their final blog...
April 13, 2019:
From Ross Edmondson:
On May 6th, 2019 I plan to set off from KPJC (Pittsburgh, PA, USA) in my C182 to fly eastbound around the World.
https://www.facebook.com/katamarinoflying/
http://katamarino.co.uk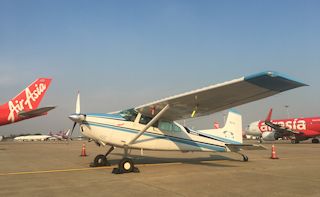 April 12, 2019:
Sincere congratulations to Stefan Mommertz for the completion of his flight around the World in memory of John T Kounis in N6275E, in a C185 Sky Wagon. He landed back in Germany a short time ago.

Watch Stephan Mommertz being interviewed by Klipp TV in the Philippines
More photos
April 12, 2019:
Sincere congratulations to Georges Adam (RTW 2017, 2018) for the completion of his third RTW with his copilot Luc Sagniéres. From March 3 to April 5.>
March 25, 2019:
Dr. Bo Zhang (RTW 2016) is preparing for a second RTW, this time he will fly his twin DA42, N821ZB, from Lewis University Airport in Chicago (KLOT), with a take off planed for April 2nd.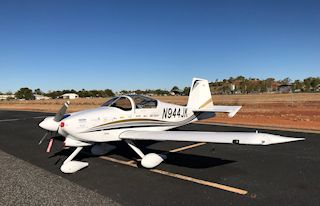 March 23, 2019:
From John Koehler (RTW 2018):
I just received notification that my speed records (ID 18605 and ID 18706) have been approved by the Federation Aeronautique Internationale (FAI) in Switzerland as World records and the FAI Circumnavigation Diploma, Eastbound.
Sincere congratulations.
Larget picture
https://memoryflightrtw.weebly.com
A reminder on how the FAI Circumnavigator Diploma can be obtained is
HERE
.
.
March 13, 2019:
Message from Serkan Zalaltuntas:
We are looking for an aircraft (could be Cirrus, Mooney etc.) to prepare our world tour next year. Out budget is around 40k € so if you have something suits like that, please let us know. Also, if you have something special on your mind, please let us know as well.
zalaltuntasserkan@gmail.com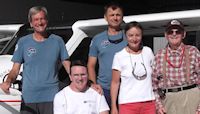 February 17, 2019:
The new Handiflight Team about to depart from Jandakot Airport, Western Australia.
Next stop: the mining town of Kalgoorlie.
February 17, 2019.
Wishing them fair winds and blue skies.
Larger picture
https://handiflight.com/en/
February 8, 2019:
Easter Island has introduced new charges, and asks US$ 14.70 per minute (!) for operations outside the official opening times of the airport, which are normally around 10-17h.
Thank you to WR for this valuable information.
More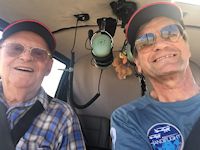 February 6, 2019:
Daniel Ramaseier of the 'Handiflight' team is visiting Claude Meunier while in Perth WA, in what young Bob Bates calls 'the Center of the Universe', aka Grass Valley in Western Australia.
https://handiflight.com/en/
Larger picture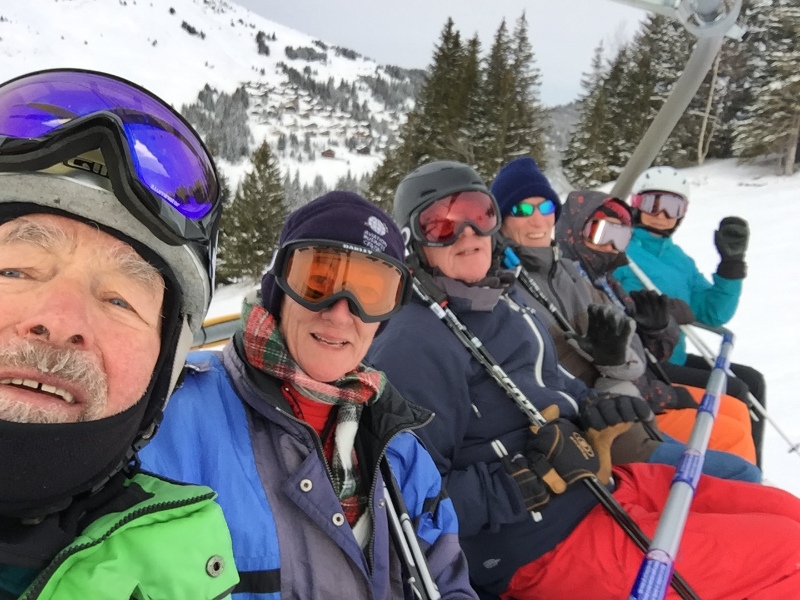 February 3, 2019:
At the traditional Earthrounders ski week in Champery, Switzerland, (Chez Angela & Flemming) we only managed to get 6 Earthrounders on the same 'perch'
Larger picture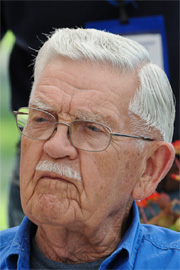 January 28, 2019
We are all very sad to learn of Wayne Collins passing away. He died in his sleep last Saturday. He was a WWII veteran and retired as a Captain in the US Navy. He flew twice around the World in his Vee Tail Bonanaza, N8502T, '
Kangahorn
' in 1986 and in 1990 accompagnied by Charles Key.
For many years, Wayne had been our 'nonagenarian' pilot. He was born in 1924.
Our sincere condolences to his family and friends
R.I.P.
Collins being interviewed by KTBS.
Wood County Airport (KJDD) in Mineola, TX, was renamed 'Collins Field' to honour Collins.
Details and another interview of Collins
January 8, 2019
A very emotional Memorial Service for Wei Chen.:
Read the Earthrounders Tribute and Obituary:

Last update: December 5, 2019

Contact us in English, French, German, Spanish, Italian or Portuguese:
Copyright Claude Meunier & Margi Moss, 2000 - 2020