1924
THOMAS
, Lowell.
The First World Flight
. Houghton Mifflin, 1925.
1924
TESSENDORF
, K.C.
Wings around the World
. The American World Flight of 1924, Atheneum, New York, 1991. A rewrite of Lowell's book now out of print. Photos and maps.
1924
McKAY
Ernest.
A World to Conquer
. Arco publishing Inc, 1981. The epic story of the first around the world Flight.
1929-30
von KOENIG-WARTHAUSEN
, F.K.
Wings Around the World
. GP Putnam's, 1930. The extraordinary tale of a 21-year old German baron who initially set out just to fly to Moscow…and kept going. In a Daimler Klemm with a 20 horsepower engine.
1930
BRUCE
, The Hon. Mrs Victor :
The Flight of the Bluebird
, Chapman & Hall, London, 1931. As above, the first woman to fly solo around the world, albeit shipping her tiny Bluebird across the oceans. Rare book.
1930
BRUCE
, The Hon. Mrs Victor :
Nine Lives Plus
Pelham Books, London 1977 Autobiography of an amazing woman, including three chapters on her circumnavigation. The first woman to fly solo around the world, albeit shipping her tiny Bluebird across the oceans.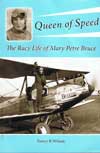 1930 WILSON
, Nancy,
Queen of Speed, The Racy Life of Mary Petre Bruce.
ELSP. Bradford on Avon,Wiltshire, BA15 1ED UK. . ISBN 978 1 906641 42 9.
Order from the author at:
queenofspeed@sonic.net
It is aslo available at Amazon.
Read a review by Tony Reed
1930 De Sibour
, Violette:
Flying Gypsies
. G. P. Putnam's Sons. New York.
1931
POST
, Wiley and
GATTY
, Harold.
Around the World in Eight Days
. John Hamilton Ltd, London.1931 The intriguing flight of the Winnie Mae.
1931 BURKE
Bob,
From Oklahoma to Eternity
Oklahoma Heritage, 1998, Oklahoma. The life of Wiley Post and the Winnie Mae.
1931STERLING
Bryan,
Will Rogers and Wiley Post
, Mc Evans and Co. 1993 New York. Death art Barrow.
1931
BEINHORN
, Elly,
Ich fliege um die Welt ,
Ullstein A.G., Berlin, 1952
1931
BEINHORN
, Elly,
Flying Girl
, Geoffrey Bles, London, 1935
1931
HALLIBURTON
,Richard,
The Flying Carpet
. The Bobbs-Merrill Co, Indianapolis. 1932.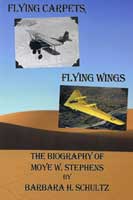 1931 SCHULTZ
, Barbara H.,
Flying Carpets, Flying Wings
. Little Buttes Publishing Co. Lancaster Ca. 2010. ISBN 978-0-9652181-2-2
Available from:
http://www.planemercantile.com

1948
MORROW-TAIT
, Richarda,
Thurday's Child. The story of the first flight round the World by a woman pilot
, 2001. Cirrus Associates, London. ISBN 1 902807 11 1.
1961
BUEGELEISEN
Sally,
Into the Wind, The Story of Max Conrad
, 1973, Random House, New York. Biography of Max Conrad.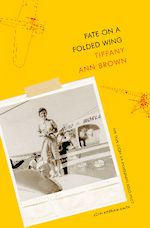 1964
Fate on a Folded wing
by Tiffany Ann Brown. 2019.
The True Story of Pioneering Solo Pilot
Joan Merriam Smith.
ISBN: 978-1-943588-82-4
Available from Amazon.
1964 MOCK
Jerrie
Three Eight Charlie
. 1970, Lippincott Co, New York.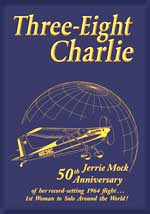 A luxury reprint of "Three eight Charlie" is now available:
"The book is beautiful ... gold embossed cover, 280 color pages chock full of her flight plans, weather reports, and memorabilia. "
The book will be available for purchase online at
www.38Charlie.com
in April 2013.
1966
SCOTT
Sheila
I Must Fly
Hodder and Stoughton, 1968. The adventures of a woman pilot.
1967
PELLEGRENO
Ann Holtgren ,
World Flight. The Amelia Trail
, 1971, The Iowa State University Press.
Ann Pellegrino flew the route of Amelia Earhart with the same type of aircraft.
1969-70
SCOTT
, Sheila.
Barefoot in the Sky
. Macmillan, 1973. Sheila Scott, a British actress, flew three times around the world breaking speed records.
1969
TAIT
Cliff,
Flight of the Kiwi
, Ure Smith, Sydney, 1970. His flight around the World in a New-Zealand built Airtourer 115. Enquiries:
cliff.tait@taitcontrols.co.nz
1969
TAIT
, Cliff.
Water under my Wings
.,. Self-published. Includes episodes about the circumnavigation and other flights. Enquiries:
cliff.tait@taitcontrols.co.nz
1976-77 HUFFER
, Henning, book: 2. edition 1998, Battert Verlag, ISBN 3-87989-248-2.

1980
CHISHOLM,
Judith.
Stardust
. written by
Audrey Lowe
on her daughter' record solo flight in a Cessna 210. Available from the author :
audreylowe@wanadoo.fr
Price including postage: £ sterling 11.50 , € 19 or $ U.S. 18.

1982-83
SMITH
, Dick.
The Earth Beneath Me
, Angus & Robertson, Australia. 1983 The first two legs of Dick's helicopter flight around the world.
1982-83
SMITH
, Dick.
Solo Around the World
. Australian Geographic 1992 Out of print. Large format, beautiful photographic book on Dick's helicopter circumnavigation, the first such trip solo.
1984
FRANCESCHI
, Patrick
, La Folle Equipee.
Robert Laffont, Paris. 1987. Le premier tour du monde en ULM. .
1986 YEAGER
, Jeana.
Voyager
. Kopf, New York, 1986. ISBN 0 394 55266 0
The first non-stop flight around the World.

1987
FONGER
, Donald.
Challenging the Skies
. Published in 1988 by Donald Fonger, 600 South Drive, Winnipeg R3T 0B1, Manitoba, Canada. Fonger flew westbound in a turbo Twin Comanche with his son Jim, accompanied by Dr. Talibi & Ken Bamford in another Twin Comanche.

1988
CLASSEN
, Charles.
O' the Places I've Been
.
ISBN-13: 9781469171869
Publisher: Xlibris Corporation
Publication date: 12 Apr 2012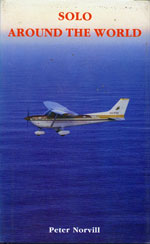 1988
NORVILL
, Peter
Solo Around the World
. Published in1988 by Peter Norvill, Murrurundi, New South Wales, Australia. A 35-day circumnavigation in a Cessna Hawk XP. ISBN 0 7216 4791 2
1988-89
SMITH
, Dick
Our Fantastic Plane
t - Circling the Globe via the Poles. Australian Geographic 1991. Out of print. Large format, photographic book on this Twin Otter flight over the Poles, with Giles Kershaw. First Vertical circumnavigation landing on both poles.
1989 KENNARD
, Gaby
Solo Woman
. A Bantam Book, 1989, ISBN 1 86359 008 0. Gaby's solo flight in a Saratoga.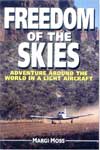 1989-1992 MOSS
, Margi & Gerard
Freedom of the Skies
Airlife Publishing UK, 1995. A 32-month circumnavigation eastbound in a Sertanejo (Saratoga). First crossing between Australia and South America by light aircraft. In Portuguese:
A Volta por Cima
, Editora Record, Rio de Janeiro, re-edited 1999. Available on several internet stores or directly on
moss@extremoss.com.br
1990
TOWLE
Umberto
Flying Together Around the World
. Twin Air Publications. USA, 1993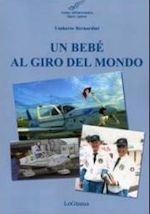 1992
BERNARDINI
Umberto,
Un BeBé al giro del mondo
.
Logisma. 20/1/2011
9788897530091
1992
BUTLER
, Brad:
A World Flight over Russia
Wind Canyon Publishing Inc, in 1998. (PO BOX 1445, Niceville FL 32588-1445) An account of the Around the World Air Rally in 1992 that crossed Russia. Available from the publishers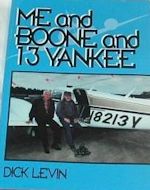 1992
LEVIN
, Dick :
Me and Boone and 13 Yankee
, Publisher: Professional Press, Chapel Hill, N.C.
ISBN: 157 087221X
Can be ordered from Dick Levin, 2131 N. Lakeshore Dr., Chapel Hill, N.C. 27514 or
DickLevin@Earthlink.net
Price $ 20.00 postpaid
215 pages with photographs
1993
SCHNEIDER
, Hans:
The Flight of the Raven
with more than 200 photos, in addition 5 survey maps and a CD containing film records form Amazonia and Peru. Bilingual German / English. Volume: 256 pages, weight: 1350 grams, price: 42;00 € (plus forwarding expenses: within Germany 6,50 €, abroad on demand).
Available from:
order@the-fllight-of-the-raven.com
Visit Hans' Site:
http://www.der-flug-des-raben.de/

1993
SHAPIRO
, Renny:
EASTBOUND, Our Flight, our Mission.
A true-life account about the wonder and romance of world flying, about a unique travel experience, and about an unforgettable encounter with a distant and courageous Jewish Diaspora seeking return. ISBN 1-4208-5288-4 (sc) and 1-4208-5287-6 (hc)..
Available from:
www.authorhouse.com
, Barnesandnoble and Amazon (See links on this page).
More about the Book.. .

1994
STEWART
, Dennis:
Bonanza around the World
Wind Canyon Publishing Inc, in 1998. PO BOX 1445, Niceville FL 32588-1445. Personal account of Dennis' participation with Bob Reiss in the 1994 Air Race. Available from the Author:
DMS81833@aol.com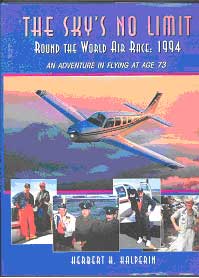 1994
HALPERIN,
Herbert,
The Sky's No Limit
To Order:Tel: 800-597-9250 or email
orders@medallionenterprises.com
Cost: $29.95 +S&H. (California Sales Tax)
Review by Bob Reiss
...
1994-95 SMITH
, Dick & Pip
Above the World
Australian Geographic in 1991. Available from 321 Mona Vale Road, Terrey Hills, NSW 2084, Australia. Large format, beautiful photographic book on the Smiths' westbound flight in a Sikorsky.
1995 & 1996
JOHANSON
, Jon.
Aiming High
, Wakefield Press, South Australia, 1997. ISBN 1 86254 424 7. Available at Bookshops in Australia. Enquiries:
jonj@writeme.com

1995
SMITH
, Sandi.
Following Amelia
, Ruby Moon Press. 2005. ISBN: 0-9665370-1-7. Paperback, 212pp. Price: $17.95
Sandi Smith and Jay Merten share tales of their adrenaline-flowing 1995 world flight in a single-engine Piper Malibu. This book contains a daily narrative of the flight in fast-reading, novel-like style. The interleaved perspectives of international aviation, travel, humanitarian, and family make this book unusual and interesting. Sandi also weaves in facts about Amelia Earhart from her 1937 flight and compares Amelia's flight to modern-day flying. Great for CFIs as well as pilot's spouses.
To order visit
http://www.followingamelia.com

1996
LANGER
, Dieter, 2015 edition, german.
WELT WEIT WEG, Camper, Cockpit & Kajüte,
,
Four around the world adventures with camper, airplane(2x) & sailboot. 480 pages with photos and charts. Order direct at
dl@weltweitweg.eu
or via bookshops.
Paperback: ISBN 978-3-86386-884-0
Hardcover: ISBN 978-3-86386-885-7
eBook: ISBN 978-3-86460-144-6

1996
GUTMANN
, Hans.
Mein Flug um die Welt
. Solaris Spirituelle Edition, 2000. In German. Hans' flight in a Glasair III, with colour photographs throughout.
Available from:
solaris@telecom.at
1997
COWAN
, Tony with HUGHES, Ced and PURCHASE, Bill.
Chipmunks Around the World
. Published in 1998 by The RAF Benevolent Fund Ent., Bader House, RAF Fairford, Gloscester, GL7 4DL, England. Limited edition. Recounts the flight of two De Havilland Chipmunks Eastbound across Russia, commemorating 50 years of their use in the RAF.
1997
PURCHASE,
William.
AROUND THE WORLD AT 90 KTS - THE CHIPMUNK CIRCUMNAVIGATION,
Published in 2000. The last few copies are available from the author. Details from:
bill@wpurchase.wanadoo.co.uk
.
1997
CORNISH,
Jorge.
El Gran Vuelo del Aguila Negra
. Jorge's flight with Alfredo Dehmlow in a black turbo Mooney. Further information:
jjcornish@prodigy.net.mx

1998
MILTON
, Brian.
Global Flyer: Around the world in 80 Flying Days
. Mainstream Publishing in 1998, at 7 Albany Street, Edinburgh EH1 3UG, Scotland. Brian's remarkable flight in a Trike, with Keith Reynolds part of the way. First trike around the world.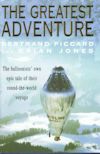 1999 PICCARD
, Bertrand &
JONES
, Brian.
The Greatest Adventure
Headline Book Publishing 1999. The balloonists' own epic tale of their voyage, the last great circumnavigation of the twentieth century. On the internet and in shops. ISBN:0 7472 71283

2000 MURRAY Jennifer
,
NOW SOLO
, Mainstream Publishing Company, Edimburg 2002.
"In 2000, Jennifer Murray - businesswoman, housewife, artist and mother of three - became the first woman to pilot a helicopter around the world in a record-breaking solo flight"
2000 Dan Dominguez
and
Chris Wall
,
Dreamcatcher, Tales From A flight Around The World
Order on-line from
http://www.mangoairways.com

2001 MOSS Gérard,
Wings of the Wind
: A pictorial record. Supernova Editora, Brasil, 2002. Bilingual (English/Portuguese) coffee-table book of Gérard's flight around the world in a motor-glider. Large format, stunning colour photographs. A normal travel-book
Asas do Vento
(Ed Record), recounting the full story is also out, so far in Portuguese only. Info:
moss@extremoss.com.br

2001 VACHER Polly
,
Wings around the World .
ISBN 1904943 543
The exhilarating story of one woman's epic flight from the North Pole to Antartica.
Available from :
www.worldwings.org
Order your signed copy direct from Grub Street Publishing:
4 Rainhamm Close, London SW116SS Price:£20 (Visa and MC only)
Also available from Amazon.co.uk and
Amazon.com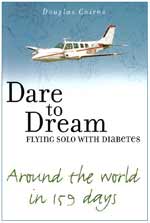 2002 CAIRNS Douglas,
Dare to Dream
, Flying Solo With Diabetes .ISBN 0-9549929-0-3
"In 1989, when Douglas was a jet flying instructor in the British Royal Air Force, his doctor told him, "You are a diabetic, and you were a pilot," and that he would never be able to fly again due to the risk of low blood sugars and incapacitation. "Dare To Dream" highlights how Douglas returned to his flying dreams 14 years later using a private pilot's license in the USA, and in 2002 carrying out "Diabetes World Flight" at the controls of a 1970 Beech Baron B58. Douglas gives a detailed description of his loss of flying career, adapting to life with a chronic medical condition, changing career, and after regaining the freedom to fly, his diabetes fact-finding flight around the world lasting 159 days through 22 countries."
Order from:
http://www.diabetesnet.com/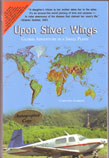 2003 CarolAnn GARRAT,
Upon Silver Wings: Global Adventure in a Small Plane
. Earthrounder CarolAnn Garrat flew around the World in 2003 in a Mooney M20J. This book tells the story of her 7 month journey to 23 countries and traveling 36,667 nautical miles. Be the co-pilot with CarolAnn, seeing and hearing all the adventures, as she and her Mooney take 12 to 15-hour flight legs across the Pacific and Indian Oceans.
100% of book revenue goes to researching a cure for ALS/MND/Lou Gehri's disease.
To order on-line:
https://www.als.net/ffc/familyProduct.asp?familyID=209 & prodID=15
Yours for a Donation of: $28.00
Purchase a copy of Upon Silver Wings and %100 of the proceeds will benefit ALS TDI.

2003 Jennifer Murray,
Broken Journey
ISBN 1-903872-189
A true story of courage and survival after a crash in Antartica. Jennifer Muray and Colin Bodill first attempt to fly to both Poles in a helicopter. Available from:
http://www.polarfirst.com/


2004 Matevz Lenarcic,
OKROG: A book about my two flights in ultralight aircraft RTW . First attempt in 2002 in Zenair CH701 and second successful flight in 2004 in ultralight motorglider Sinus 912. Story with two B&W pictures, 390 pages (13x21 cm). So far only in Slovene language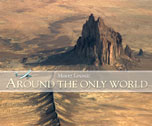 2004 Matevz Lenarcic,
AROUND THE ONLY WORD; A pictorial monograph with 190 colour pictures, 186 pages (27 x 22 cm), hard cover with a dust jacket. Also with an english version!!
Both books can be bought at
http://www.didakta.si
. E-mail:
zalozba@didakta.si

2004 Ganusauskas Edmundas
, "PO SPARNU ZENE", ( "Beneath the wing: the EARTH"), describing the flight of Mr. Rolandas Paksas and Vladimir Makagonov . So far it is only in Lithuanian.
2004 Ricky de Angrela.
,

FREEDOM FLIGHT
Available from
freedomflightbook@yahoo.com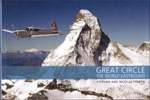 2005-2006 Stephan and Nicolas Perren
,
GREAT CIRCLE, The World Eastbound
. This book is the story of a flight around the World in a single-engined airplane. The father-and-son team took off on September 27, 2005 on a flight to encircle the globe. It takes the reader along in text and photos. It is a travelogue, an expedition book, a scientific treatise and a picture album all rolled into one. A remarquable book!
Available on line at:
www.spirit-of-davos.ch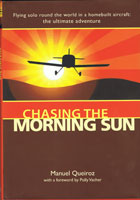 2006 Manuel Queiroz
CHASING THE MORNING SUN
ISBN: 9781908117090
Flying solo around the World in a homebuilt aircraft: The ultimate adventure.
An inspiring tale of personal strife against impossible odds, not just a book for pilots but for anyone looking for inspiration in the realisation of a lifelong ambition.
With a Foreword by Earthrounder Polly Vacher.

2006-2007 Jennifer Murray
POLAR FIRST
ISBN: 978-988-17831-1-0
Polar First is the magnificent story of Jennifer and Colin's second, and this time, successful, attempt. This five-and-a-half-month journey took them over some of the world's most beautiful and yet hostile places, from the extremes of desert temperatures and the intense cold of the polar regions to the most dangerous waters on earth, and finally to stand on the bottom and top of the world.
http://www.polarfirst.com/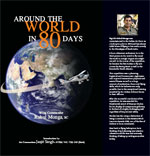 2007 Wing Commander Rahul Monga SC
AROUND THE WORLD IN 80 DAYS
ISBN 978 81 907 431 2 9. KW Publishers PVT LTD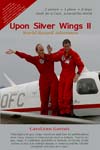 2008 CarolAnn Garrat UPON SILVER WINGS II
This book documents the amazing journey CarolAnn Garratt and Carol Foy took to break a world record and raise money to end ALS.
Available from:
http://www.alsworldflight.com
2008 Richard de Tscharner. TOUT UN MONDE, OUR WORLD
Les Editions Infolio/ Fondation Caréne

2010 Yannick Bovier
AZIMUT270
RTW in 2 CTS light aircrafts.
Description, pictures and ordering information for the book (available in English or French) can be found on the Azimut270 web site :
http://www.azimut270.ch/en/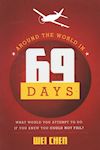 2011 Wei Chen:
Around the World in 69 days
What would you arrempt to do if you knew you could not fail?
Wei Chen flight around the World. He is the first Chinese citizen to fly a single engine airplane around the World in TBM700.
Avalable from Amazon:
2011 Marga Hannemann:
Africa - 35 countries with a light twin-engine aircraft
ISBN: 978-3-00-022201-6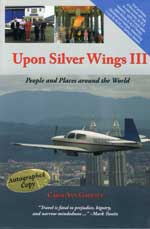 2012 CarolAnn Garratt
UPON SILVER WINGS III
CarolAnn Garratt third flight around the World.
Can be ordered through
www.alsworldflight.com
.
All proceeds from the book go to aid research into motor neurone disease, from which CarolAnn's mother died.
2013 Johannes Burges:
360° WESTWÄRD
ISBN -978-3-89029-462-9
Johannes Burges flew around the earth in a single-engine propeller plane, accompanied by his friend Wolfgang Schroen.
http://360grad.burges.de/


2012-2013Matevz Lenarcic :
Matevz Lenarcic's books about his 2012/13 RTW and North Pole "Over the Blue Planet" in Pipistrel Virus ultralight.
In Slovene, English and German version.
http://overblueplanet.com/?jez=EN
Slovene and English version is available at GEAART:
http://www.geaart.si
or Amazon
German version at Delius Klasing with title "Waserwelten"
http://www.delius-klasing.de/buecher/Wasserwelten.191772.html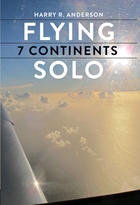 2014 Harry R. Anderson:
Flying 7 Continents Solo
On sale at Amazon.com
www.phywave.com/publishing/
2015 Michael Smith :
Voyage of the Southern Sun:
An amazing solo journey around the World
Michael Smith first solo circumnavigation in an amphibian and in a flying boat.
In book stores now.
www.southernsun.voyage
2018 Don Ledger :
Riding the Fire
A biography of businessman, Pilot and adventurer David Donald Mcculoch.
David flew around the World in 1986 in his C414.
ISBN-978-1-77084-923-5
https://www.donledger.com/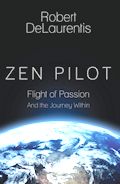 2015 Robert De Laurentis:
ZEN PILOT
Flight of Passion and the Journey Within.
"I was rocketing toward the ground in an aircraft loaded with high-octane aviation fuel. All I could do was negotiate where the impact would happen." Robert DeLaurentis had an impossibly big dream: to circumnavigate the globe in a single-engine piston plane. Meant to be the ultimate test of his flying skills as a pilot,the journey would take him to the ends of the earth and over some of the most inhospitable terrain on the planet.He diligently prepared himself and his plane, the "Spirit of San Diego," for the excursion. Having previously flown to far-off places, he thought he knew what to expect.But reality doesn't always make for the best co-pilot.What began as a call to adventure turned into a soul-defining mission riddled with equipment failure, fierce weather, foreign bureaucratic nightmares, and nearly ended in a crash into the vast Pacific Ocean. The voyage would stretch his limits, test his mental strength, and eventually define him.Beaten down, broken and discouraged, he found that the only way to survive was to surrender to the Universe.In this follow-up to Flying Thru Life, DeLaurentis shares the insights he gained for overcoming paralyzing fear, defeating obstacles, and confronting any situation with grace and ease.This raw, at times terrifying, real-life adventure will inspire anyone who loves flying, yearns to fly, or simply has their own "impossibly big dream."De Laurentis' extraordinary journey shows us what it takes to be a Zen".
Robert De Laurentis can be contacted here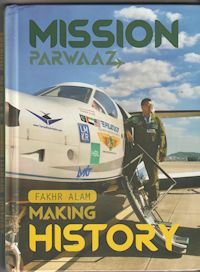 MISSION ARWAAZ.
Making History.
by Fahkr Alam.
The first Pakistani pilot to circumnavigate the Globe.
Fakhr Alam tells of his determination to be the first pilot from Pakistan to complete a flight around the Globe.
Fascinating reading.
Fully illustrated.
ISBN: 978-969-9748-13-4
Available from
Amazon.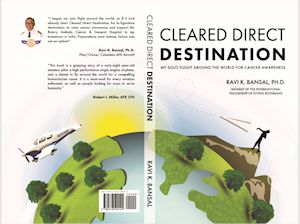 Cleared Direct Destination.
My Solo Flight Around the World for Cancer Awareness,
by Ravinder Bansal.
All proceeds from the book will be donated to Rotary Ambala Cancer Hospital.
This book is a gripping story of a sixty-eight year-old amateur pilot, a high performance single-engine airplane, and a dream to fly around the world for a compelling humanitarian cause. It is a must-read for every aviation enthusiast, as well as people looking for ways to serve humanity.
Robert J. Miller, ATP, CFII
This past weekend I finished a very enjoyable narrative about the thought process our member, Ravi, had before, during & after his amazing flight around the world. If you have ever "dreamed" about such a feat in any aircraft but more directly a COL4, this is a must read. Ravi is a great story teller, weaving a life story and for the reader some understanding of the magnitude of the challenges, he has accepted.
Ravi is not a professional pilot and he made decisions based on imperfect knowledge because he had no choice, alone over the ocean for many hours. These challenges could strike any of us on a dark night over mountains. Read this website long enough & you will hear several such stories. Knowledge is power and that is why we read accident reports, magazines, etc.
My recommendation for each of you is to do two things: Buy his book recounting the full story at his website, www.raviworldflight.com look for the button "Store" Proceeds go to the same worthy medical cause outlined fully in the book. $50 expenditure which you will enjoy & feel good about. I can say without reservation it was a "can't put it down" once I got ten pages deep. I enjoyed it fully & have tremendous respect for who Ravi is as a person as well as the bravery he displayed. The challenges were much more substantial than my "dreams" had discovered.
Respect to him & regards to all
Richard Page, President of Cessna Advanced Aircraft Pilots/Owners club.
Note:
Aslo vailable in PDF form

VIDEOS AND CDs ON ROUND-THE-WORLD FLIGHTS

2005 MOORE Peter
DVD:
FLYING DREAMS, Joining the Earthrounders
Buy on line at:
http://www.moorefilms.com.au
1976-77 HUFFER
, Henning, Video: VHS Fidelitas Film 1998. In German. Tracking the legendary journey of the HMS Bounty in a Mooney Chaparral.
Further infomation:
http://home.t-online.de/home/RA-HenningHuffer/tatort.htm
Available from :
info@infoverlag.de
and in shops.
1986 RUTAN
, Dick &
YEAGER
, Jeana. "Flight of the Voyager" audio dramatization
written by Ferde Grofe.
3 CDs containing almost 3 hours of listening to a fantastic story of dreams and determination.
Like a book on tape with sound effects, you'll feel as though you are flying in the cockpit
beside Dick and Jeana as they made history on the 9-day flight.
Email orders to :
ringdove@hughes.net
1990- CLAYTOR
, Tom: "Flight Over Africa" 60-minute video produced by
National Geographic in 1994.
Flying a small classic Cessna 180 bush plane, Claytor is working his way around the globe.
This video records part of his journey, in the spectacular wilds of Zimbabwe, Botswana, and Namibia.
Email orders to :
tom@claytor.com
or on :
http://www.claytor.com
1991- van BENSCHOTEN
,Mark : We have produced a 55 minute film documenting an Atlantic crossing. It's scheduled to air on a television series called "Wings Over Canada" in early 2004. If anyone is interested in obtaining a copy (PAL or NTSC formats), our web site is
http://www.flightfilms.com
(the" Wings" TV show web site is
http://www.wingsovercanada.ca
).

2011-Liliana Tagliamonte and Detlef Heun
ON THE WINGS OF DREAMS
Available from :
www.DL-Pictures.com
2012-CarolAnn Garratt
UPON SILVER WINGS III
Great viewing on YouTube:
http://youtu.be/Ltz3nRv_VEQ
http://www.alsworldflight.com
www.facebook.com/pages/Dash-for-a-Cure/148572991861368
ooOoo
VIDEOS ON YOU TUBE