BONANZA FOR SALE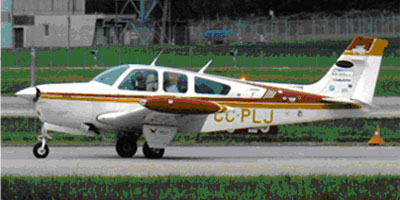 SPECS SHEET
Madeleine Dupont,
dimadupont@vtr.net
is selling her Bonanza.
cell phone: +56992320704 / home:+5628133723
Beech Bonanza F33A
CC-PLJ
based in Santiago/Chile Year: 1981 Serial number: CE-958
IFR certified
NDH
Engine: 750H SNEW - Continental IO-520 BB58BN 285HP with GAMIjectors
TBO:1.700 H (serial number 580185)
(oil consumption approx. 1Qt. for 15 to 18 hours)
Airplane: 4759H
Prop: 806H Three Blade Constant Speed Hartzell PHC-C3YF-1RF
(serial n EE1120)
Complete logs since 1981 and all inspections complied
Cleveland heavy brakes
• New Platinum Spark Plugs (Oct.2008)
Osborne Tip Tanks (capacity: 20 US gallons each) (total endurance: 08:30)
(STC with 200 lbs gross weight increase, max. take off weight:3.600lbs)
PTT pilot and copilot
Turbo Alternator providing backup power (BAE - 12amp/28v (STC) vdc output at 150 IAS)
Shadin Fuel Computer
Stormscope Strikefinder "Insight" SF-2000
NORTHSTAR M 3 APPROACH GPS
BENDIX/KING KFC 200 flight control system with two axis
Autopilot – HSI - Flight Director
Sist. Comp. KING KCS-55A
Dual Com/Nav COLLINS Microline (VHF-251)
Audio Sist. COLLINS AMR-350
ADF-650 A COLLINS
VOR VIR-351 COLLINS
Glide Slope GLS-350 COLLINS
Indicator VOR/LOC IDN-350 COLLINS
Indicator HSI KI-525A KING
Marker Beacon AMR-350 COLLINS
Transponder TDR-950 COLLINS
Autom. Sist. Repor. Pressure Altitude TCI D120-P2-T
Two vacuum pumps
Always hangared
Dual Yoke
Fifth seat
Large Baggage Door
Kennon Super Sun shields with sunbrella edging
Intercom, 4 seats
Sheepskin seatcovers
Map light
ASKING: US$ 163.000.00 / MAKE AN OFFER!!
PRECIO:163.000.-US$ / ACEPTO OFERTAS razonables
Madeleine Dupont,
dimadupont@vtr.net

Last update: June 22, 2009

Contact us in English, French, German, Spanish, Italian or Portuguese:
Copyright Claude Meunier & Margi Moss, 2000 - 2023