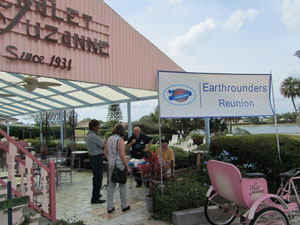 Saturday March 24, 2012
:
Welcome and check-in at Chalet Suzanne.
Collect registration fees, name tags, gifts and reunion booklets.
'Bro' Dan and Claude at the desk.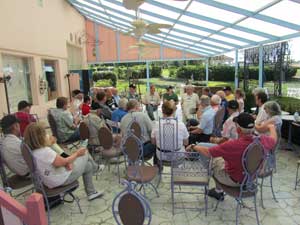 Sunday, March 25, 2012
:
First round table. Wojciech Mirski makes a very interresting lecture on medical issues relative to long flights. Read a condensed report on his
lecture
here:
Eulogogy to Earthriounders Co-founder
Hans Gutmann
bt Heinrich Cordes and Claude Meunier.
We then when for an airboat ride on a huge lake of fresh water. High speed on these flat bottom airboat equiped with very powerfull engine. We saw a few aligators and a lot of of wild life. Lunch at the Cherry Pocket.
We finished the day with another round table and...
Sergey Terekhin invited the Earthrounders to meet again in Russia in 2014, either in Saint Pretesburg or in Anapa on the Black Sea.
Also Wei Chen invited us to Macau also in 2014 during the biannual airshow there.
It is the first time that the Earthrounders had 2 invitations. Decision on where to go could not be finalised on the spot but negociations will take place in the very near future. Both venues are very interseting.
спасибо
谢谢
Click on the thumbnails for a large picture
... a three courses diner at Chalet Suzane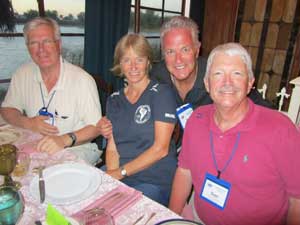 Click on the thumbnails for a large picture
---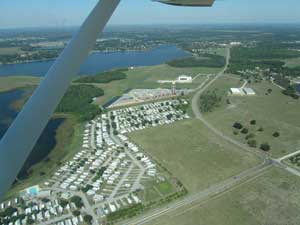 Monday, March 26, 2012
:
Third round table
After a short flight to go to "Fantasy of Flight" where Kermits Weeks has an extraordinady collection of flying aircrafts.
http://www.fantasyofflight.com/
We finished the day with another round table.
Rules on what is an Earthrounders were defined with more precision that had been done in the past. In short, all legs must be flown, same aircraft, same pilot.
Details
Click on the thumbnails for a large picture
---

Tuesday, March 27, 2012
:
We flew first to Plant City Airport than 'en masse' to Sun-n-Fun. Second biggest airshow after Oshkosh.
Earthrounders Harry Anderson, Bob Jeffery and Thom Kane made a presentation with the "Ask an Earthrounders" feature.
Bob Gannon made the presentation: "World Flying Adventure".
http://www.sun-n-fun.org/
---
Wednesday, March 28, 2012
:
Another day at Sun-n-Fun
Presentation were made by Gérard and Margi Moss and CarolAnn Garrat: "Around the World in a light aircraft".
and back to the camp, sprucing up for the dinner...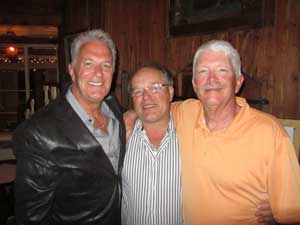 We finally had the presentation and closing diner at Chalet Suzanne.
Speeches, awards, prizes and more speeches.
Our Chairman Bob was presented with an antique wood propeller. (Hopefully it will fit in the C182!).
We all promised to meet again sometime, somewhere.
That was the brillant comclusion of a great meeting.
Thank you Bob.




Click on the thumbnails for a large picture