Pilot(s) name(s)
First name:
ADEMILOLA
Surname:
ODUJINRIN
Nationality:
Nigerian
Class of Aircraft: (single, twin, homebuilt, helicopter, ultra light, balloon.)
Single
Brand: (i.e.: Beechcraft):
Cirrus
Model: (i.e.: Bonanza):
SR22
Type: (i.e. A35):
Single Engine SR22
Name of aircraft if any (ie. Spirit of the Wind, or whatever):
CHLOE
Registration:
N313CD
Route (Eastbound, Westbound, via the Poles):
Eastbound
How did you cross the Atlantic Ocean (North, Centre, South)?
North
How did you cross the Pacific Ocean (North, Centre, South)?
Centre
Date of departure:
26TH JUNE 2016
Point of departure:
DULLES, WASHINGTON DC, USA
Date of return to point of departure:
29TH MARCH 2017
Point of return:
DULLES, WASHINGTON DC, USA
Duration: (days):
277days
Duration: (flying hours):
176 hours
Distance flown:
27,335 NM
How many overnight stops did you make? :
63
How many any additional refuelling stops, if any? :
34
How many countries did you visit?:
25
Itinerary: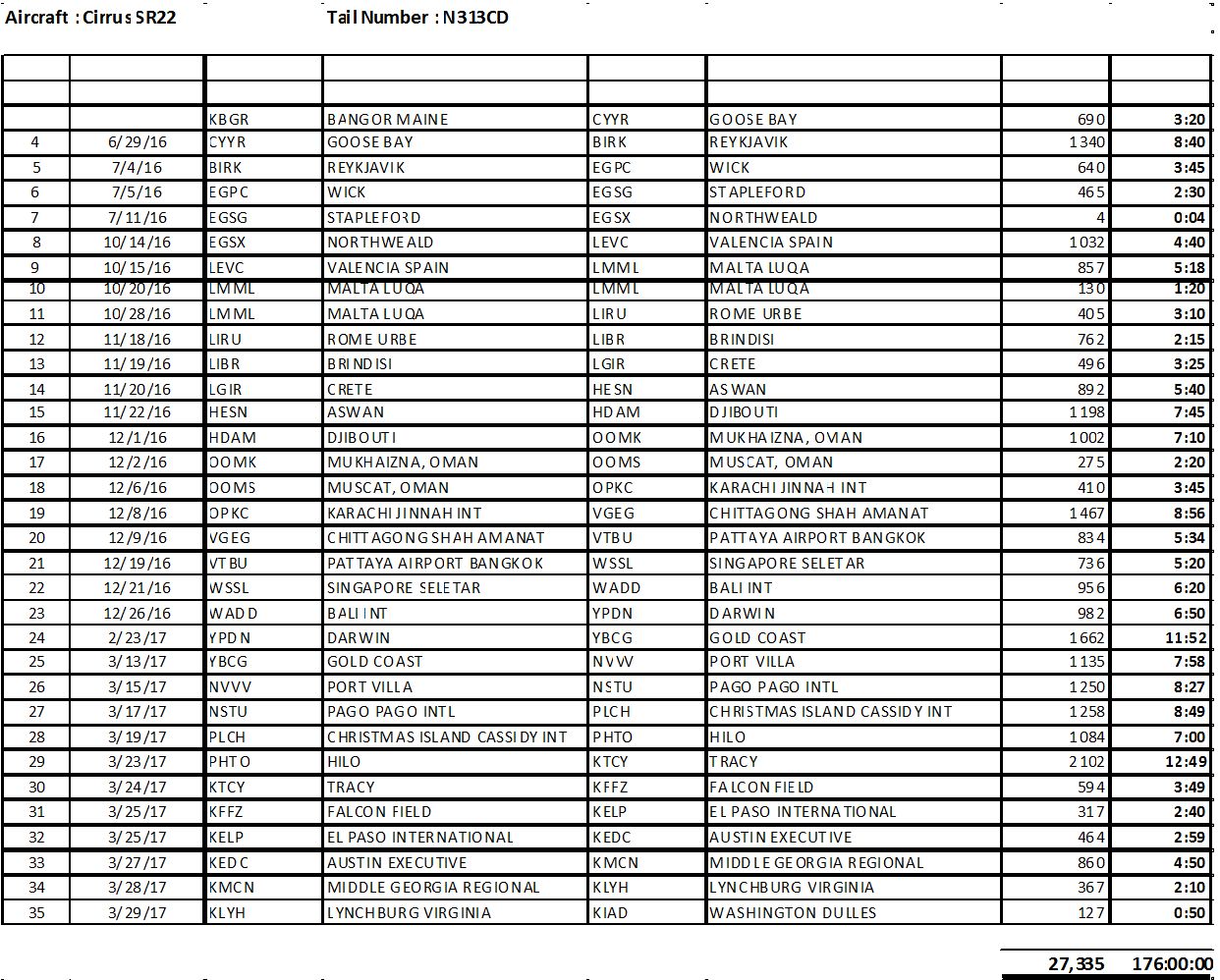 Means of communication used: HF Radio, sat telephone, e-mail by HF radio, other? :
HF Radio, SAT PHONE,
Did you use any satellite tracking system? Which one ?
SPIDERTRACKS and SPOT
Flight clearances: did you obtain them all, or part of them, yourself? :
Part of them
If not, which company did you use?:
FROM WASHINGTON DC TO DJIBOUTI –" ROCKET ROUTES (MYSELF). DJIBOUTI TO DARWIN –" OVERFLIGHT CLEARANCES. GOLD COAST TO HILO –" WHITE ROSE. HAWAII TO WASHINGTON DC –" FOREFLIGHTS
Which insurance company did you use? :
HAYWARD INSURANCE, LONDON, UK
Which was the easiest country or region that you flew through? :
USA
Which was the most difficult? :
ASIA
Which was the best airport you landed at?
DULLES, WASHINGTON DC
Which was the worst? :
Darwin
Have you applied for the FAI Circumnavigator Badge/Are you thinking of doing so? :
Thinking of doing so.
Have you set or broken any records during your RTW? :
Not Sure, Haven't checked.
Did you create a Website of your RTW? If so, what is the URL?
WWW.TRANSCEND.NG
General remarks about your flight:
TOUR WAS SPLIT INTO THREE SECTIONS WHILST TAKING TIME OFF GOING BACK TO WORK.
THE SECTIONS WERE
ENGLAND (3 MONTHS STOP),
MALTA (6 WEEKS STOP) AND
AUSTRALIA (2.5 MONTHS STOP).
SUFFERED SERIES OF TECHNICAL MALFUNCTIONS DURING TOUR
AND FBO LOGISTICAL PROBLEMS ALSO.
FIRST AFRICAN NATIONAL TO SOLO CIRCUMNAVIGATE THE WORLD.
Advice to other pilots:
USE REPUTABLE CLEARANCE COMPANIES WITH GOOD TRACK RECORD
AND WITH EXPERIENCE OF DEALING WITH VARIOUS COUNTRIES.
Please indicate here if you agree that we may use the information contained here on the Earthrounders website:
YES
Database Flight Number:
598