Fellow Earthrounders,
If you missed this meeting, opting to ignore a good chance to see Mexico City in all its glory chaperoned by Jorge and Malu Cornish, with the bonus of being in like-minded company, then you only have yourself to blame!
It was a magnificent time, with interesting and lively roundtable debates discussing the pros and cons, ins and outs, yeses and nos of flying around the world, intercalated with excursions to fascinating historical and cultural locations and punctuated with limitless feasts incompatible with the weight restrictions of light aircraft. Luckily, internet makes it so easy for you and future Earthrounders to participate vicariously, clicking on the photos and the report of the issues discussed on circumnavigations in light aircraft, past, present and future. This is just a taste of things to come…
It was a great occasion to rekindle the bonds of friendship which grow ever stronger since that first gathering held in Oshkosh in 2000. With the added bonus, of course, of new Earthrounders who have joined the flock in the intervening years, as well as several guest pilots who are set on making their own circumnavigations shortly. Adding up the hours of all the pilots present, the figure came to a resounding total of 17 years. The pilot with the most hours present at the meeting was Bill Charney, with 33,000 under his belt. Bill came as a guest, believing he had something to learn from the rest of us! And herez's another useful snippet of informatio镖 amongst the Earthrounders present, the average age when each of them had made their first flight around the world (some had done it more than once) was 54. This ranged between the oldest (and most recent), Dick Stahr who did it at 79 y.o. in 2005, and the youngest, Gérard Moss, who started at 34 y.o. in 1989, with an average of 63.3.
Next venue, South Africa in 2008.
Click on each thumbnail for a larger photo with names: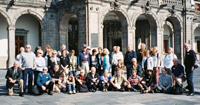 In front of the Palace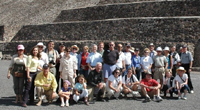 In front of the Pyramid
Circumnavigation Roundtable Discussions
List of Earthrounders attending the Mexico Meeting:
Day-by-day account