The Group in front of Perth Council House after the Reception by Perth Lord Mayor:

Back row intercalating from the left
Frank Hettlich, Hans Kampic, Clayton Jacobson, Horst Ellenberger, Malu Cornish, Ari Yamagata, Angela Pedersen, Jorge Cornish, Fleming Pedersen, Hans Gutmann, Delfim Costa, Masaki Kubara, H G Schmid, Mary Ford, Jay Shower, Gaby Kennard, Gerard Moss, Margi Moss, Gary Burns, Bill Finlen
Sitting/kneeling from left:
LeeAnne McMillan, Miriam Gomez, Noriko Hatanaka, Dorisse Hettlich, Robert Irwin, Antonio Fariaa e Mello, Claude Meunier,Jennifer Shead, Bob Reiss.
Photo by Lew Oakes
With the Lord Mayor of Perth.
The Aussie meeting, a merry gathering of Earthrounders from six continents (depends who is counting) opened with a stroll down the block to visit to the Lord Mayor of Perth, in whose offices we consumed a splendid view of the Swan River together with coffee and cakes. Considered ample formalities for one day, most adjourned for lunch and jetlag siestas, until an astronomical journey was made to Jandakot airfield, home of the Royal Aeroclub of Western Australia where, between snatches at a splendid buffet, quick chilly visits were made to the roof of the building to contemplate the magnificence of Mars at its brightest for the next couple of centuries, and to gaze at the Southern Cross, an novel phenomenon to those visiting from the northern hemisphere.


Lew Oakes, organiser extraordinaire.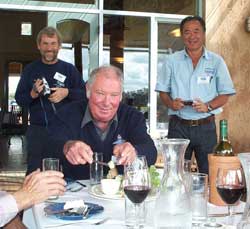 All this was gentle preparation for a true test of airmanship laid on next day by Lew Oakes. After a feet-chilling climb of the dam wall at Mundaring Weir, the water supply that is pumped 320 km to the arid goldfields of Kalgoorlie in the hinterland, Earthrounders learned in Grass Valley that it was far easier to fly through sandstorms than to shear 517 sheep in 8 hours. The only ones to rise to the true challenge were Horst and Flemming, who yoga-folded their legs for the dubious pleasure of riding on Claude's miniature electric scooter. A regal barbeque awaited at the Aero Club at Northam along with 6 Earthrounder aircraft: 2 Bonanzas (Bob Reiss and Antonio F. Mello), a Baron (Robert Irwin), a Cessna 210 (Delfim Costa), a Glassair (Hans Gutman) and our host Claude Meunier's Aerostar. The Mayor of Northam reminded us that Steve Fossett's solo circumnavigation by balloon had also started from this airfield. To substitute aeronautics briefly with some culture, we were whisked away to the Benedictine monastery at New Norcia until the sun set and we returned to Perth in IFR conditions (generalized black-out in the back of the bus).
Arn't they cute.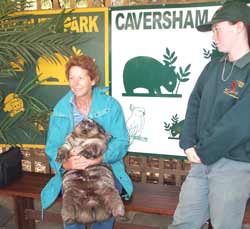 Thursday momentarily saw our bravest Earthrounders stroking kangaroos and even clutching wombats before adjourning to a series of Western Australia's finest beverage producing institutions, both of the grape and hop variety, in the Swan Valley. This was mild preparation for a sumptuous dinner at Coco's and the city lights from the heights (just above sea level) of King's Park.
Last but not least, on a glorious Aussie morning, our brave airmen exchanged the airy heights for the blue seas of the Indian Ocean at Fremantle, where the first ever America's cup was held in Australia. Chugging gently up the Swan River, more delectable Australian produce was sampled as the Perth skyline came into view.
During the Earthrounders' Meeting, at a couple of informal gatherings in the bar (where else?), a number of incredible stories were recounted, such as Ari Yamagata's harrowing experience ditching in the gelid waters of the Okhotsk Sea in 2000, Jay Shower's encounter with airframe icing by minus 24 degrees Celcius, as well as Antonio Mello and Delfim Costa telling of their recent dramas when flying between Colombo and Singapore with electrical and fuel selector failures respectively. Although the pilots sitting round that long table fly little planes, between them they represented a vast accumulation of knowledge of flying to the uttermost corners of the earth. The free exchange of this valuable information is one of the hallmarks of the Earthrounders, and is available to anyone wishing to take on the challenge, be it for the first or fiftieth time!
Gerard Moss, Claude Meunier, Frank Hettlich, Bill Finlen, Jorge Cornish, Graham Harvey.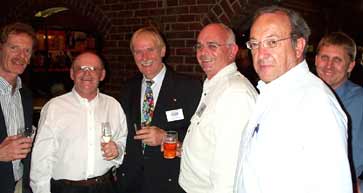 At the final dinner, a very jovial affair where each Earthrounder received a certificate, a toursist brochure and a LED mini torch, Claude Meunier was presented with a wine decanter in recognition of his tireless work not only with the website but also in hosting the event with help from Lew Oakes. The Earthrounder flag was presented to Jorge Cornish, who will host the next meeting in Mexico City, scheduled in principle for November 2005… It promised to be a wonderful occasion, so keep tuned…
Hasta la vista, baby!
List of Earthrounders at the Perth Meeting
A short Video of the presentation Diner