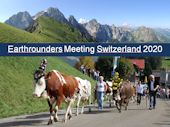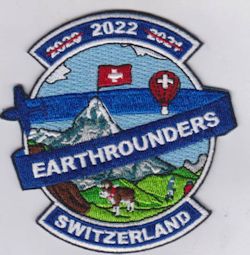 EARTHROUNDERS SWITZERLAND MEETING
CHATEAU D'OEX

September 27 to October 2, 2022
Dear friends,
Well, after 2 long years of restrictions, border closures, jabs and boosters, sickness and disappearances of friends and relatives, it seems the pandemic is coming to an end. It is not completely gone and we may have to learn to live with it but things are improving. And in our little corner, it looks we are going to be able to join again in our, twice postponed, Switzerland Meeting. That if some deranged dictator does not start WW3 by nuking his neighbors and the rest of the World.
So, Switzerland it is. Let us get the cobwebs out of the ol'suitcase and let's get ready.
The program is at the bottom of the page. It will coincide with the century old
Desalpes
when the cattle is brought down from the high mountain pastures to the valley for the winter.
Daniel, our host, has also selected a series of interesting intertainements for all of us.
Please let him know ASAP who is coming, as he needs to have 'numbers' to get things going. Also how we are going to arrive there: airline, private aircraft, train, car, horse back, camel back, unicycle with flux capacitors, roller-skates or on simply on foot…
Also let him know if some of us will arrive early and stay after the Meeting.
Looking forward at seeing you there after all the waiting…

Take care, stay safe,
Very sincerely

Daniel
dramseier@gmail.com

Claude
claude@earthrounders.com
ooOOoo



Earthrounders Switzerland Meeting

Château-d'Oex - September 27th - 2nd October 2022.

Program
Tuesday 27:
Arrival in Geneva Airport by airlines or in Lausanne (
LSGL
) or
Gruyères (LSGT)
with your own aircraft or by car or train in Château-d'Oex.
Transport to Châtteau-d'Oex.
19:00: Welcome drinks and dinner.
Wed 28 - Thu 29 - Fri 30:
from 9:00 to 11:00 and 17:00 to 19:00: your flights presentation
from 11:00 to 17:00 (depending on the weather) :
-
Hot air balloon flight (*)
-
Paragliding flight (*)
-
Hot air balloon museum
-
Museum du Vieux Pays d' Enhaut
-
Medevial village and castle of Gruyère
-
Visit chocolate factory Maison Cailler
-
Visit of the cheese cellar L'Etivaz
- Electric flights presentation
Saturday Oct 1st:
Desalpes
(Descent from the alpine pastures).
Closing.
Farewell Ceremony.
Sunday Oct 2nd:
Departure
oooOOooo
Accomodation:
Hôtel Roc et Neige
, a 3 star hotel.
Fees
750 CHF in single room, 1350 CHF in double-room, both half board (lunch not included)
(*) Hot air balloon, paragliding flights and A/C landing/parking fees are not included
Inscription
As soon as possible but before 15th July by Email to
dramseier@gmail.com
with name, first name, single or double room, date of arrival and departure (it will be possible to come earlier and stay longer), means of transport: airline to Geneva or your own aircraft (call sign and type), car, train.
Last update: June 16, 2022

Contact us in English, French, German, Spanish, Italian or Portuguese:
Copyright © Claude Meunier & Margi Moss, 2000 - 2022