Earlier Notices (2017)
Earlier Notices (2015)
Earlier Notices (2014)
Earlier Notices (2012)
Earlier Notices (2011)
Earlier Notices (2010)
Earlier Notices (2009)
Earlier Notices (2008)
Earlier Notices (2007)
Earlier Notices (2006)
Earlier Notices (2005)
Earlier Notices (2004)
Earlier Notices (2003)
Earlier Notices (2002)
Earlier Notices (2001)
December 31, 2013
: Many thanks to Jonathan Selby for sending a lot of fresh information on flying in South America:
http://www.anahera.org/FlightSouth.pdf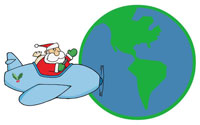 December 11, 2013
:
Earthrounders.com
wishes a Merry Christmas and a very Happy New Year to all Earthrounders, their families and friends and all Earthrounders-to-be.
Happy landings, blue skies, fair winds and all this kind of things....
Looking forward at seeing you all in Saint Petersburg.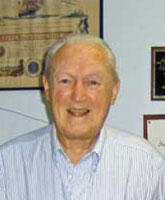 November 23, 2013
It is with great sadness that we learnt today of Frank Haile passing away on November 15.
Frank had flown four times around the World (1978, 1986, 1889, 1992).
Our most sincere condolences to his family and thanks to his grand son Frank Cook for giving us the sad news.
Memorial Service for Frank Haile, Jr.
Saturday, November 30th
Lover Lane United Methodist Church at the Sanctuary
9200 Inwood Rd.
Dallas, TX
2 pm
"Missing Man Formation for Frank Haile at Addison Airport Nov 30 2013, 4:30 pm at Addison Airport
4205 Claire Chenault
Keith Rutherford lead, Mike Parrish #2, Wayne Collins #3 [Missing Man], Joe Sasser #4 We miss Frank, fellow Earthrounder, strong supporter of ABS, a true friend for those fortunate enough to share his friendship"
Wayne Collins
https://www.facebook.com/photo.php?v=192477144274655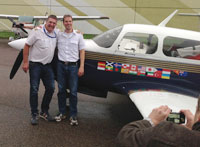 November 17, 2013
Congratulations to : Johannes Burges (German) and Wolf Schroen (USA) for the sucessful completion of their RTW in a Mooney Encore, N231WG. They had left Straubing, Germany on August 17 and landed there on November 2, 2013.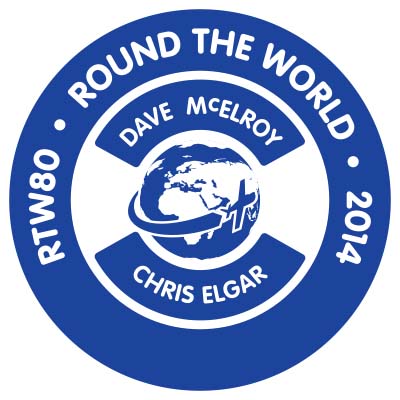 November 15, 2013
Jib Strategic is announcing "Project RTW80" , a single-engine circumnavigation of the earth in support of Toronto's SickKids Hospital Foundation and Scotland's Charity Air Ambulance.
Dave McElroy and Chris Elgar will fly around the World in a Piper Comanche 180 C-FYHU, to depart Toronto in May 2014.
http://www.flyrtw80.com/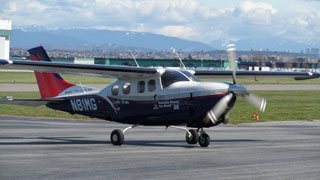 November 12, 2013
James Tan (RTW 2013) is selling his Cessna Silver Eagle P210N, N81MG.
Full description and specifcations
Larger picture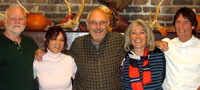 November 7, 2013
Another mini-Earthrounders meeting in Seattle.
From Veronica Baird:
"We're just back from visiting Harry Anderson in Seattle with Linda and Patrick Elliot, although there's been no flying as it's been rainy and cloudy every day. We're all so looking forward to the next meeting. See you in Russia!"
Larger photo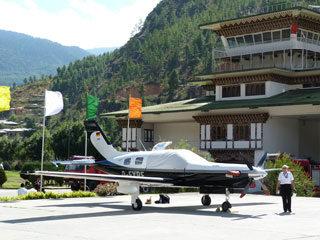 November 5, 2013
Congratulations to Petra & Gerhard-Michael Decius for the succesful completion of their RTW in their Piper JetPROP, D-EXRE. They landed at Bielefeld-Germany (EDLI) on November 2, 2013. They did start on September 1, 2013.
Larger picture
October 31, 2013
Heinz Peier still going strong in his "SX300 + a Bicycle", N 54JX. He is currently in Africa, and will be next year in Australia.
His traveling blog is great reading and is full of very useful information on fuel prices and ... exhorbitant charges...:
www.travelpod.com/members/hpeier12
October 17, 2013
In preparation for the 50th anniversary of Geraldine Mock's RTW (in 1964), a statute of her has been unveiled at The Works' Lefrevre Courtyard in Newark, Ohio. The mayor of Newark declared September 14 "Geraldine Mock Day".
Geraldine Mock was in 1964, the first woman to fly solo arounf the World in a C180.
Thank you to CarrolAnn Garratt for the article in the
Tallassee Democrat.
More details here:
A reprint of Geraldine's book "Thre Eight Charlie" is now available.
Details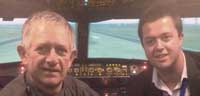 October 2, 2013
Earthrounders Gary Burns (RTW 1997) and Ryan Campbell (RTW 2013) met in Oshkosh and also in a A330 simulator.
Larger photos
September 26, 2013
From aircraft spotter Mike Condon in New Zealand:
Myriad of aircraft...
26SEP13
N850KK TBM7, D-EXRE P46T, D-FHBG TBM8, D-IBSH BE20GT, HB-FVM PC12 and N191MA PAY1 all flew Tokua, PNG to Honiara, Solomons
D-FAPC PC12 flew Daru-Cairns
27SEP13
D-EXRE P46T is due Honiara-Santo, Vanuatu-Nadi
N6593W C10T is due Honiara-Santo, Vanuatu - C10T = Silver Eagle Cessna 210 Centurion (Allison turbo conversion)
N850KK TBM7, D-FHBG TBM8, D-IBSH BE20GT, HB-FVM PC12 and N191MA PAY1 all due Honiara-Nadi direct
Perhaps a LNC4 N4446 is amongst this gaggle also.
www.worldflight2013.blogspot.com
seems to be following N6593W.
N175EU BE20GT due Bali-Darwin-Mt Isa-Sydney,
Thank you Mike.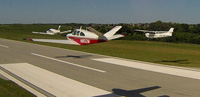 September 26, 2013
Earthrounder Doug Cairns has been busy with the challenge of taking on current legislation to allow pilots with diabetes to fly. He sent us this four-ship formation photo taken this summer, with other diabetes pilots in Iowa in a speed-record challenge. Keep us updated, Doug!
For more info, check out:
www.flyingwithdiabetes.com
Larger photo
September 16, 2013
An interresting article and video by Russ Niles on AvWeb on "Earthrounders-in-Progress": Calle Hedberg:
http://www.avweb.com/videos/Video-Calle-Hedberg-The-Flying-Hobo220579-1.htm
September 15, 2013
Congratulations to the 2 crews of the 2 Russian Robinson 66 helicopters for the succesful completion of their RTW.
From their own Internet Site:
"They are back! 39448 km, 43 days and total 220 hours of the flight time, and today, at 15:30 Moscow time, right on the schedule, both crews landed at aeroclub home base Bun'kovo. Two crews, five brave guys, three continents, and the first Russian R66 flight around the world are now in the books"
http://vokrugsveta2013.ru
September 7, 2013
Congratulations to Ryan Campbell for the successful completion of his "Teen RTW". He is now the youngest Solo Pilot to have flown around the World at 19 years and 237 days of age .
http://www.teenworldflight.com
Details of the youngest Solo Pilots Records
August 26, 2013
Petra & Gerhard-Michael Decius are announcing their departure on September 1, 2013, for a RTW from Bielefeld-Germany (EDLI) with their Piper JetPROP, D-EXRE
August10, 2013
Wolf Schroen and Johannes Burges will start from Munich, Germany, their flight around the World in a westly direction in about 1 week with a Mooney M20K Encore.
www.360ww.de
August 2, 2013
Today two Russian registered Robinson 66 helicopters, departed for a northely Round the World flight. From Moscow via Europe, Greenland, Canada, Alaska, Siberia and back to Moscow.
RA-06345: PIC Mikhail Farikh, Copilot Alexandr Kurylev
RA-06350: PIC Dmitriy Rakitskiy, Copilot Vadim Melnikov, and a passenger Dmitriy Kubasov
http://vokrugsveta2013.ru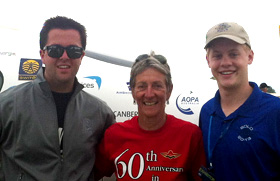 August 1, 2013
CarollAnn Garratt with Ryan Campbell (Australia) and Jack Weigand (USA) at Oshkosh 2013
Larger picture
July 26, 2013
From Calle Hedberg:
" I started an RTW flight in my Ravin 500 from Cape Town 14 July.... ..to Norway....and then Oshkosh next week "
Follow him on:
Travel blog 1: Follow thread "Troll RTW: Preparations 1+2+3+4+1000!"
under "General chatter" on
www.avcom.co.za
Travel blog 2: Check out "Calle Hedberg, Cape Town" on Facebook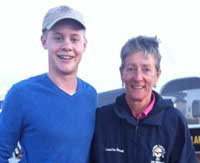 July 14, 2013
From CarollAnn Garratt: the youngest and the fastest around the World in a Mooney!
Larger photo
Jack and his Ovation2 in Iqualuit, Canada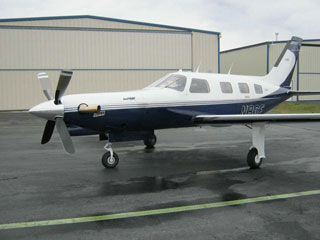 July 9, 2013
Congratulations to Bozi Filipaj and Andreas Scheerer for the completion of their RTW in a Piper Malibu Jetprop DLX, N9GF. They landed in St. Gallen-Alternhein, Switzerland (LSZR) on July 6, 2013.
http://blog.travelpod.com/travel-blog-entries/bozi.u.andreas/1/1368017092/tpod.html
June 30, 2013
Ryan Campbell left Australia starting his attempt to be not only the youngest pilot flying solo around the World but also to be the first "teen pilot around the Word".
He is flying a Cirrus S22.
Multi-RTW Dick Smith was there to wish him well.
http://www.teenworldflight.com
June 30, 2013
Congratulations to Jack Weigand for the successful completion of his solo RTW. At just over 21 years of age, Jack is now the youngest solo pilot around the World. He landed at Fresno on June 29, 2013.
http://www.solo2013.com/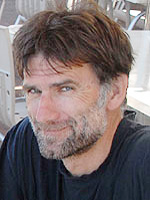 June 25, 2013
Congratulations to Matevz Lenarcic for receiving the award of the "Aviator of the Year" by "Flightglobal Achievement Awards for 2013".
Read the full citation here:
www.flightglobal.com/page/achievement-awards/2013/welcome/
June 21, 2013
Another happy mini Earthrounders Meeting, this time in Odessa.
Lager picture

June 16, 2013
Matevz Lenarcic announces the translation in Russian "
вокруг единс твенного мира
" of his book:
Around the Only World
Anyone interrested should contact him:
info@lenarcic.net
+386 41 353 392
English version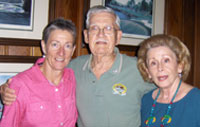 June 9, 2013
From CarollAnn Garratt and Wayne Collins another photo of 7 RTWs.
Larger photo
June 2, 2013
The race for the "Youngest solo pilot" around the world is still going on with Australian Ryan Campbell who is no only trying to become the youngest pilot but also the "teen pilot around the World".
He is getting ready to take off fom Merimbula, Australia in July in his Cirrus SR22, VH-OLS.
http://www.teenworldflight.com/
June 6, 2013
Bozi Filipaj, Switzerland and Andreas Scheerer, Germany are annoucing their RTW with a PA46-DLX Jetprop, callsign N9GF.
Departure will be on June 3, 2013, from Altenrhein LSZR, Switzerland. They plan to be back by the middle of July.
http://blog.travelpod.com/travel-blog/bozi.u.andreas/1/tpod.html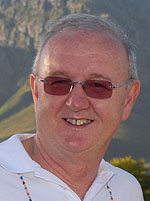 May 26, 2013
A Memorial Flight Rally is organised on August 10 to 18, 2013 to honour the memory of our friend and co-founder of the Earthrounders: Hans Gutmann who died in an accident on Jume 18, 2011 .
Registration form preview (Low definition)
Details and registration from (2.85 Mb)
Provisional registration:
jean.birgen@instalfit.lu
or
info@airshow.lu
May 18, 2013
Another challenger for the "youngest solo RTW" as Jack Weigand left Fresno CA on May 2 in his Ovation N432BG. He is now in Egypt.
http://www.solo2013.com/
May 16, 2013
Congratulations to James Tan of Malaysia for the completion of his solo RTW at the age of 21.
Details of his flight on Facebook:
http://www.facebook.com/1RTW.2013
May 14, 2013
Many thanks to Mike Grey of
White Rose Aviation
in the UK for new information on Indian permits.
Details
www.whiteroseaviation.co.uk
May 11, 2013
Frank Haile is selling his 'ATW-ready' Bonanza.
Contact him for details at:
N4FH@aol.com
May 7, 2013
The German pilot magazine
"Pilot und Flugzeug"
is organising a RTW with several aircrafts to start on September 1st, 2013.
Details
or contact the Editor:
jan.brill@pilotundflugzeug.de
May 6, 2013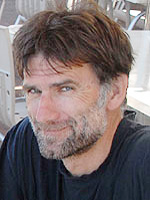 May 6, 2013
Earthrounder Matecz Lenarcic is on the move again. This time to the North Pole with his Pipistrel Virus-SW.
He is now in Resolute Bay.
http://www.worldgreenflight.com/index.php?id=28
May 5, 2013
Congratulations to Ulf Mühlbacher who landed in Bremen, Germany, completing his second RTW
.
www.worldflight2013.de

April 26, 2013
Another mini 'Earthrounders Get-together'. This time in McAlpin, Florida at Thom Kane and Veronica Baird's hide-out.
Larger photo
April 23, 2013
Two new messages for future RTWs.
From Sulaiman Al Mufaargi (Looking to rent a RTW aircraft).
From: Capt Prashanth Basavaraj. (Llkes to co-sponsor a RTW).
Read the full mesages on the
Messages Page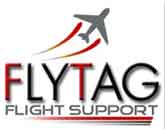 April 10, 2013
FLYTAG offers their services in Karachi Pakistan.
Details
http://www.flytag.co/
April 10, 2013
From Kelly Mann:
I am taking time off from school and NASA to work on a project to build an airplane, fly it around the world, and share the adventure through an interactive YouTube series & website.
You can view his current "work in progress" project description video here
:
http://vimeo.com/62759637
He also has a website that is almost complete
:
www.theworldsflight.com
He is looking for feedback on the project, you can contact him here
:
kelmann@live.com
April 4, 2013
Sergei Terekhin, Chairperson for the Russia 2014 Earthrounders Meeting is announcing the Site of the Reunion.
For details and registration, please visit:
www.russiareunion2014.com
March 30, 2013
Dick Rutan Recalls Voyager's 1986 Circumnavigation:
Twenty seven years after the fact, Dick Rutan says he's somewhat astonished that he and Jeana Yeager made it around the world in the Burt Rutan-designed Voyager."
Read a very interresting article in:
AVWEB
March 30, 2013
From AOPA:
"Bill Harrelson, a distance-record-setting pilot, plans to abandon a double-polar flight after encountering adverse weather at the bottom of the world."
Bill is back in VA after a 27 hours flight from Chile.
Read the 2 full articles from AOPA:
AOPA
AOPA
March 29, 2013
Another RTW in the planning stage: Trevor Laundy is preparing to start from EGSF, Peterborough Conington, UK for NZOM, Omaka, New Zealand, as the first half of a RTW solo flight. on Sunday 31 March with his Turbo Twin Comanche PA30C D-GPEZ.
March 25, 2013
James Tan announces his departure from Subang, Malaysia (WMSA) on March 28 with an official launch in the Lima Air Show on March 26 in Langkawi.
He can be followed here:
http://www.1rtw.com.my/
March 23, 2013
From AOPA:
"Bill Harrelson, with his highly modified Lancair IV, is in Southern Chile waiting out bad weather near Antarctica before resuming his round-the-world polar record attempt. Bill is attempting to set a record for an around-the-world flight that covers both the North and South Poles. He started in Bangor, Maine, and flew nonstop to Recife, Brazil, and then to Punta Arenas, Chile. His next stops will be Christchurch, Honolulu, Nome, and Bangor."
Read the full article from AOPA
(With thanks to CarolAnn Garratt and Bob Gannon for the information).
March 11, 2013
From International Ferry Flights
"We Provide Aircraft Ferry Pilot Services and Aircraft Ferry Tank Installations in Mulino, Oregon (4S9). We have excellent relations with the Local FAA "FSDO" Inspectors and can tank nearly any General Aviation Aircraft. We also do Aircraft Recovery Services for Pilots that have had issues and had to abandon their trips for one reason or another."

http://www.internationalferryflights.com
http://www.iff-inc.com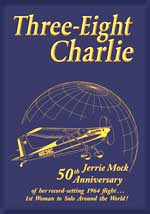 March 8, 2013
Wendy Hollinger of Phoenix Graphix Publishing Services announces a 50th Anniversary Edition of Geraldine Mock '
Three-Eight Charlie
' to be released in April 2013.
It will be launched at WAI Nashville, March 16th and will be available at Sun 'n Fun and Airventure Oshkosh .
"The book is beautiful ... gold embossed cover, 280 color pages chock full of her flight plans, weather reports, and memorabilia. "
The book will be available for purchase online at
www.38Charlie.com
in April.
March 2, 2013
Watch James Tan on You Tube as he is getting ready for his RTW from Malaysia:
http://www.youtube.com/watch?v=e4w2svyGF-I&feature=player_embedded
February 28, 2013
Madeleine Dupont is selling a FERRY TANK, capacity 120 Gallons that fits a Bonanza.
dimadupont@vtr.net
Details and Photo
February 10, 2013
恭喜发财!
Happy New Year of the Snake!
February 1, 2013
From Matthias Müehlbacher:
Dear friends
Our great journey starts tomorrow.
For those who like to follow us on our website:

www.worldflight2013.de
Thanks for your wishes for "always safe landings"
Yours Doris - Matthias – Julius and Ulf
February 4, 2013, 2013
: Another joyful mini Eathrounders meeting in Switzerland as only Angela and Flemming Pedersen can organise...
Larger picture
January 21, 2013
: James Tan, aged 21, of Malaysia is announcing his departure on February 26, 2013 in a Silver Eagle for a RTW where he plans to be the youngest solo pilot around the World.
January 15, 2013
: From Sebastian Golzeof of Berlin, Germany:
."I developed an Iridium satellite datalink device which brings worldwide datalink to the cockpit... "
More
....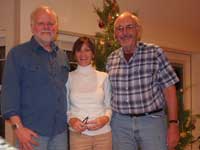 January 1, 2013
: Another min-Earthrounders meeting as Harry Anderson stops to visit Thom Kane and Veronica Baird in Florida on his way to Antarctica.
Visit his Travel Blog, which is, as usual full of extremly useful information (on Flying to Antarctica this time).
http://blog.travelpod.com/travel-blog-entries/harry4123/2/1354475568/tpod.htm
Larger Photo