Family and friends across the world
Atlanta, Georgia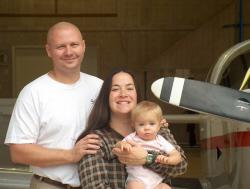 Janet and Kyle are the last of a long list of people who didn't know me but who, never-the-less, invited me into their home for dinner with friends. The world is a wonderful place. This was the first air park that I'd landed in and it certainly won't be the last. Their home is at the end of runway 32, a perfect position because you usually land on 32 and take off from 14; they have no taxiing at all. Janet and Kyle are both airline pilots but Janet flies a Stinson and Kyle is looking forward to getting a Cub. Little Lauren already has over 50 passenger hours with Mom and Dad but maybe she'll choose to be a Mooney pilot!! I know I'll be back to Atlanta to visit my brother and most likely will be stopping by Eagles Landing on the way!!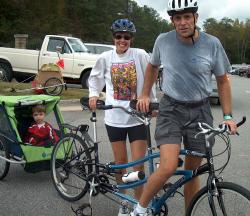 Andy, Debbie, and little Andrew see me multiple times a year as I stop by on my way to Virginia or the return trip. This was special as it was my almost last stop on my trip. Andy, a corporate pilot for Coca Cola, had gone over all the charts and destinations with me last Christmas, especially east Africa where he lived for a number of years. He'd pointed out elevations of airports, mountain ranges and interesting places to visit. All of this came in most handy during my stay in Ethiopia and my flight to Djibouti, Egypt and Greece. He'd followed the trip reports very closely and emailed recommendations along the way. They both listened to hours of stories during my stay with them. While biking, many more stories popped up. Just name a country and out comes a story!! They'll get more when I return at Christmas!!
Clarksville, Virginia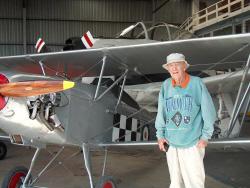 Here's Dad!! He joined me in NZ and Australia. He was going to rejoin me in England to visit relatives and friends for 4 weeks, but unfortunately was unable to make that trip. We were reunited in Virginia for a restful few weeks (well restful after the cleanup of hurricane Isabel). The friends in the local community had followed the trip and the newspapers ran stories, so many people recognized me as I shopped in town. It was fun being a local celebrity!!
Mt. View, Sullivan County, New York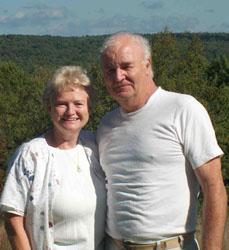 I see Capt. Bob and Nancy in Kissimmee every winter, but this was the first time I'd visited them in New York. They have a nice peaceful place in the wooded countryside of New York. Nancy runs a spa which looks absolutely wonderful. If I'd been able to stay longer, I'd probably have pampered myself and enjoyed several treatments. Bob has a small grass strip for his cub, but I took advantage of the 4000 feet at MSV when I arrived.
Bob also flies a Mooney as well as many other planes and gliders. He emailed me with advise and support during my trip. Sorry I couldn't stay longer -- I'll be back.
Laconia, New Hampshire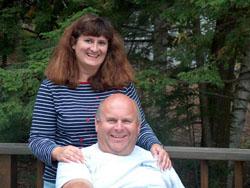 John, after welcoming me back to the USA, invited me to visit him in New Hampshire if/when I was passing by -- which I was and did. Being a pilot, he was interested in hearing about my flight. He and his girlfriend, Jamie, also a pilot, took care of me for the weekend. Needless to say, it was pilot talk and ATC talk all weekend!! Jamie is a Mooney driver, like me. John prefers his Cessna 182 -- his boat is even named Sea Cessna. So, we had some discussions on the various aspects of each plane. I've made new friends everywhere on this trip and the weekend with John and Jamie was no exception -- I'll be back next year.
Nova Scotia: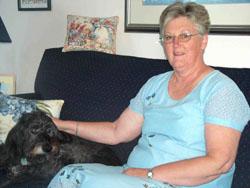 Judy opened her home to me during my stay in Nova Scotia. This isn't the first time she's done this. When US airspace was closed following the events of September 11, 2001, many airliners were forced to land in Halifax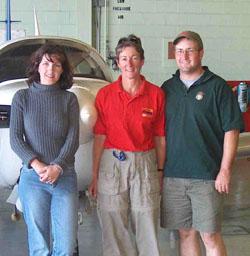 and other Canadian cities. The passengers were stranded. Many people in Nova Scotia and Newfoundland, including Judy, took in passengers until further transportation could be provided. Judy was a wonderful host and we had ALS in common also. Her husband, Dave, had died of ALS a year previously. We discussed the various aspects of losing a loved one and how the family coped during the illness. It was helpful to me to hear another person's experience. Judy is now helping a support group for people with ALS. Keep up the good work, Judy, and thanks for your hospitality and great cooking.
Lori, right, invited me to the Shearwater Airshow and she and husband, Chris, helped throughout the two day show. The next day we toured around and flew up and down the coast line.
See you all next year for the Walk to D'Feet ALS.
Greenland:
Allan, a pilot, AOPA and EAA member, had contacted me by email earlier in my trip and asked that I stop by Nuuk while in Greenland. My trip plans showed Sondrestrom and Narsarsuaq. He said that he could show me more interesting places if I visited him and his wife, Else, in Nuuk. So, Allan and Else took care of me for a long weekend, showed me their town, traditions and we flew around the area. It was much better than staying in hotels in other towns. Thanks Allan and Else, see you when you fly to the US in a year or two.
Allan spent a month in Arizona to get his private license (it only took him 18 days). Because pilots there had taken him in and showed him around the area, he wanted to repay the debt and I was the lucky recipient. I look forward to helping other pilots in turn, as I have been taken care of during the whole of my trip. The aviation community worldwide has been a wonderful testament to the positive side and good nature of people.
Scotland: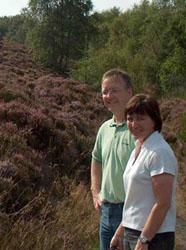 I've known Brian and Janet for almost 20 years now, dating back to when we all worked in France. Although we only worked together for 8 years, we've stayed in touch while we all moved around to various cities and countries. They now live in Aberdeen, Scotland where I've visited a number of times over the past few years.
Janet is a wonderful cook and again treated me to some new and delightful dishes. I'm sorry I had laryngitis while there; but we managed to walk the woods and dunes during the unusually warm weekend.
Ireland:
Birr: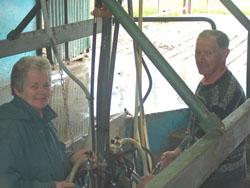 Francis and my Mother were first cousins. Pattie, his wife, and Francis run a small farm in Birr, Ireland and milk their cows morning and evening. Although I tried to help the first morning, they are more efficient without me, so I brought in the turf each morning. Francis showed me the bog, cows, calfs, and told me as much as he could remember about my mother and grandmother. He was very young when they met, but had called my mother to have one last chat, several months before she died. I had a wonderful week with them and the rest of the family near Birr. When I finish the family tree, I'll post a new page and add a link here.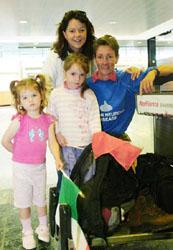 Thanks so much to Francis and Pattie for taking me in and helping me to discover the rest of our family. I look forward to seeing you again when I next return to Ireland.
To the right is second cousin, Carol, and her daughters Jennifer and Alex. They met me at Shannon airport and gave me Irish flags as well as an ALS/MND T-shirt. Carol's father, Don, died of ALS/MND 8 years ago. She called the press and we had pictures taken and did two interviews to increase awareness of this deadly disease. (photo courtesy Evening Echo, Shannon, Ireland).
Limerick: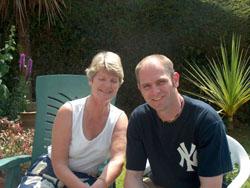 Paul first contacted me by email when he and Allan were in the Philippines (on their RTW trip) and I was in Ethiopia. We stayed in contact as they crossed the Pacific and US and I crossed north Africa and Europe. They returned to Ireland when I was in England and we agreed to meet at Shannon. We talked non-stop about flying and our adventures. Mary, his mother, cooked me full Irish breakfasts each morning. I know Paul is up for more adventures and that we'll meet again somewhere.
England:
Stone: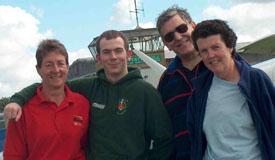 Cousin Gordon and wife Bridget had both been hospitalized over the past few months before my visit. Luckily both were on the road to recovery and were looking good and doing very well. We enjoyed walking Toby, the dog, working on the computer, and flying when it stopped raining. They have a wonderful farm home in a small village and it was a joy to walk in the fields and on the small roads in the local area. Son, Giles, joined us for the flight and was very enthusiastic. Daughter, Joanna, was away at University. Their claim to being the best filling station in the world is justified by roast parsnips.
Leicester: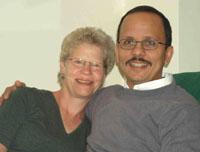 Hesham and Vicky moved to Leicester three years ago from Pennsylvania. After the first terribly rainy summer, the worst on record, the weather has been better and they are enjoying the small villages, rolling countryside walks, and English life style. As with other families, we spent lots of time catching up on news on both sides of the ocean.
We enjoyed a wonderful pub meal and beer one night, went to a bird reserve for bird watching, and went dog walking another day. It was a short, but fun few days. Thanks so much and I'll see you on one side of the Atlantic or the other next year.
Hampton Wick: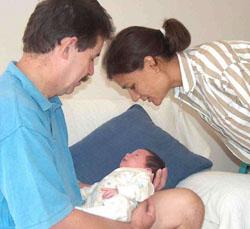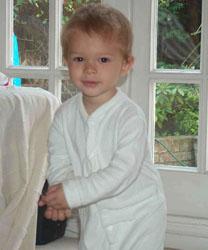 Number 2, no name yet, was less than a week old when I arrived. Eric and Steph are proud parents for the second time. Thomas, number 1, was just getting used to having a sibling. We had fun coming up with boy's names that were rejected for one reason or another. One name will stick soon, let's hope it's not Bruno!! News flash -- he's named Alex!!
Thanks so much to Steph and Eric who let me visit during such a busy and tiring time. It was great to see you all again.
Crowborough: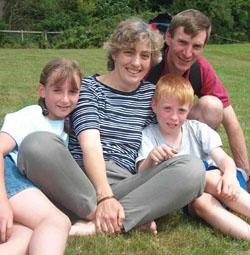 Jamie, my cousin, with wife, Penny, and children, Lydia and Angus. After flying around Sussex, we went to Chartwell, Churchill's country home, for lunch and played football on the grounds. It was great fun.
Lydia and Angus became Young Eagles and happily took their certificates to school to show their friends.
They are in the middle of renovating their house, so one extra person, when they have no kitchen or dining room, is not exactly what they needed. But we had a fun three days and I thank them for their hospitality under such difficult conditions.
It should be much easier when I return next year!!
Colchester: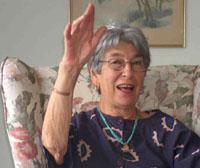 Many thanks to Jean Harding, Mum's old college friend from many years ago, who not only came over to visit Mum during her final months, but also contributed to the ALS and MND foundations, and helped to put on the reception that was given on arrival at Earls Colne field. I had a wonderful few days in Wivenhoe with Jean and friends. Thanks for everything and I look forward to seeing you again next year.
Oxford: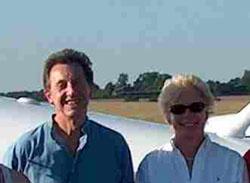 Peter and Rita have a wonderful old house in a small town just outside Oxford. It has 4 stories, 3 kitchens and you need a map to find your bedroom. They have remodeled practically the whole interior and it's a very spacious home. Although it was a quick visit, we had time to catch up on all the news and I finally met the "kids." I very much appreciate them taking me in and taking care of me one more time. I'll be back.
France: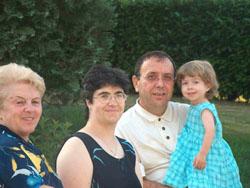 Every time I return to Sens, France, I stay with Gerard and Francine. They take care of me, feed me and lend me their car to run around. We've been friends now for almost 20 years. This year Gerard became my "VP of Public Relations" and coordinated my tight schedule of dinner parties, flying Young Eagles, and meeting old friends and neighbors. It was a great week and I thank them profoundly. See you next year!! Left are Francine, daughter Isabelle, and Gerard with granddaughter, Lea.
Switzerland: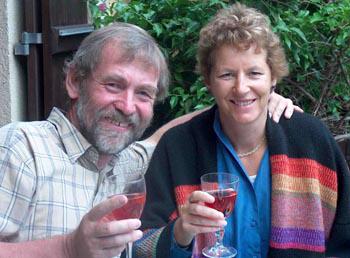 Flemming wrote to me many times during my trip and has contacted all the other pilots currently flying around the world. He's a fountain of information as he's done the trip himself, with his wife Angela, and has done a number of other long distance flights. He suggested that I stop by Geneva on my way to northern France, and it was wonderful to be able to meet them and talk about the fun and difficulties of a RTW trip. Since we both fly Mooney airplanes, we had a lot of discussion on speeds, gas consumption, endurance and using the potty. We also had the opportunity to fly to Megeve. I look forward to meeting them in the future in Oshkosh and who knows where else in the world.
Sardegne: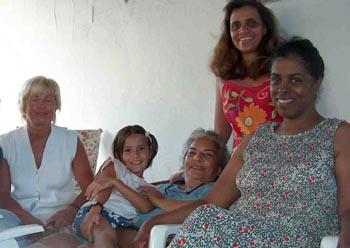 Viviane had a houseful of people, but invited me to stay with them for as long as I could. I spent 4 wonderful relaxing days in Cagliari eating too much good Italian food and drinking too much good Italian wine. There was Roberta from Milano, Danielle and Ines from Mauritius, and Viviane and Nayaghi from Cagliari, both originally from Mauritius. We spoke mostly French with some Italian and English thrown in from time to time. We met lots of Viviane's friends and went to the beach every day. I'll be meeting Danielle and Ines again in London in a few weeks.
Ringrazio anche tutte le persone che hanno preso cura di me durante il mio corto soggiorno a Cagliari. Anche se Viviane aveva molti ospiti, lei mi ha accolta a braccia aperta e insieme con Nayaghi, Roberta, Danielle e Ines, hanno preso cura di me e mi hanno cicondati di tante attenzioni affettuosi che il mio soggiorno di 4 giorni a Cagliari e stato un soggiorno meraviglioso ed indimentiacabile.
South Africa: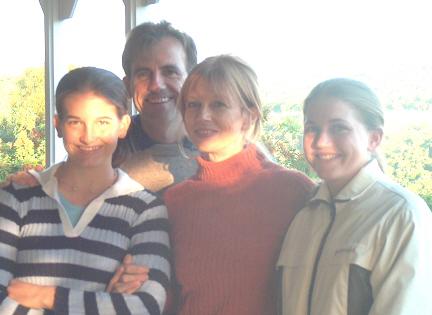 Pat Hanly, the Mooney Sales and Service Rep in Port Alfred, South Africa, not only offered to do an oil change while I was there, but ended up replacing my starter. He and his wife, Janis, took me home and wined, dined and housed me. Then their wonderful aviation friends showed me around the area and the airplane construction that was going on. An amazing number of rebuilds and homebuilts were in process. I owe a tremendous thanks to Pat and Janis for all their help during my very short stay. I look forward to returning and visiting for a longer period next time.
Seychelles: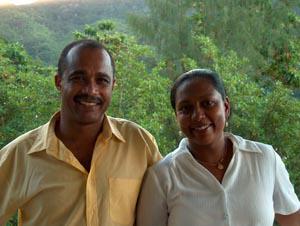 I was introduced to Mike by email through a mutual friend, Peter, in Houston just a week or so before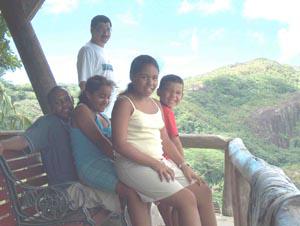 I arrived in the Seychelles. I don't know what Mike thought of my arrival, but he took care of me from landing through to departure a week later. He solved all problems and took care of all the details starting with arrival procedures, hotel, dinner, through to what to do when I had to stay 3 days more than planned. He and his best friend, Eddy, took care of transport and site seeing including swimming with the kids at the beautiful, clean, empty beaches on the north west shore of Mahe Island. When I had to stay a few extra days, Eddy put me up at his house and I thoroughly enjoyed playing with his kids, Kalsey and Pierre-Andre and friends Janique and Mariano (right). We also dined on Creole cuisine with Mike and Janet (left) after more touring. Mike and Eddy both came to the airport and saw me off for a 6am departure. The Seychelles is quite a distance from anywhere, so we'll stay in touch by email; but I certainly hope that we'll meet again someday.
Singapore: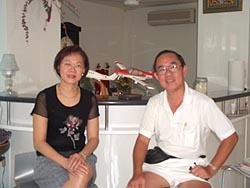 Left, James and Irene Teng hosted me in Singapore. As was the case with many pilots in the countries I've traveled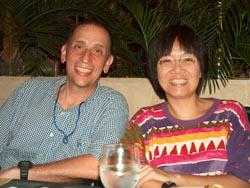 through, they didn't know me prior to meeting me upon my arrival, but they warmly opened their doors and welcomed me into their home. I was touched and most appreciative. Behind them you see models of James' current plane a Trinadad and his future plane, the Eclipse. I hope to meet them again in Oshkosh in 2004.
Right, Goeff and Paochen Davis. Goeff first contacted me by email when I was in New Zealand. He sent me lots of information on approaches to the Seletar Airport and planned my arrival down to the last detail. He acted as my handling agent and took care of all the paperwork in Singapore and Malaysia. He made life so easy for me that I wanted him to act as my agent in all the other countries I still had to go through. Geoff and Paochen will be relocating to Florida and I look forward to seeing them in the skies near me.
Australia:
Darwin:
Kathryn, commercial pilot, Governor of the Australia Section of the 99's and Australian Womens' Pilots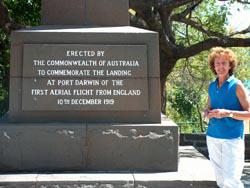 Association member, and John Flynn took wonderful care of me in Darwin. Besides assuring plane maintenance facilities, aviation weather and internet access, they toured me around the local area and fed me terrific home cooked meals each night. It was an extremely hospitible stay and the end of a wonderful month in Australia.
At right, Kathryn is with a monument commemorating the landing at Port Darwin of the first aerial flight from England on December 10, 1919.
Byron Bay: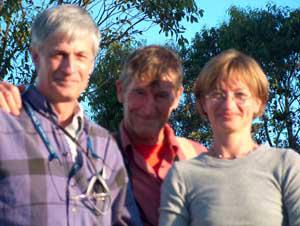 Rusty and Trisha Miller, friends of a family friend, Jim, live and surf at Byron Bay. Rusty taught me to surf my first day there -- I actually stood up 3 times. Luckily the water was a balmy 24/78 and felt comfortable. Can't wait to surf again tomorrow!! We spent a week together, surfing, sailing, snorkeling, dining with their friends, walking and surfing. It was absolutely relaxing and peaceful.
Jim, left, Rusty and Tricia.
Melbourne: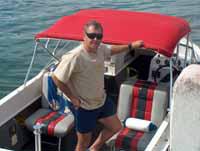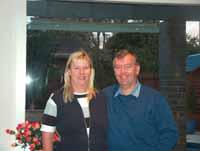 Rick and Debbie Terpstra took me in during my weekend in Melbourne. A combination of flying and boating showed me the beautiful southeast coast of Australia and the low ratio of people to land mass. None of the beaches were crowded even on a beautiful weekend.
Sydney: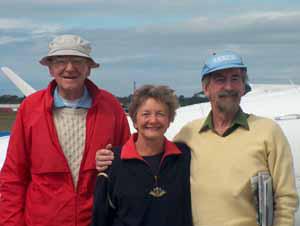 Alasdair and Valarie MacDonald took care of my Dad and me during our stay in Sydney. They live on Elizabeth Bay on the Sydney Harbour and have a beautiful view of the harbour area. We went swimming every morning -- the water temperature is 20/70 and was a little chilly for me, but many people swim daily. I went every day I was there and braved the goosebumps but enjoyed the warm shower.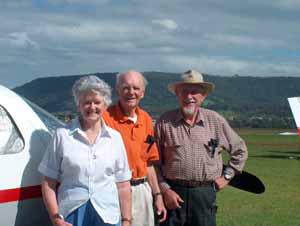 Dad went to Wollongong to visit other old David Brown friends, John and Edna Gants. They had fun touring the area and I joined them for lunch on their last day.
New Zealand:
Keri Keri: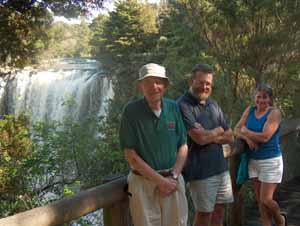 Cousin Richard with wife, Hellen and Dad at the Keri Keri waterfalls. We toured around with them for the weekend and also visited with their elder son Peter and wife Bev.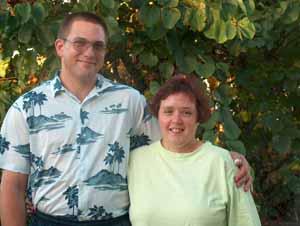 And, all weekend long, Hellen cooked up a storm and kept us well fed. We also tasted a selection of NZ wines, including reds from the North Island.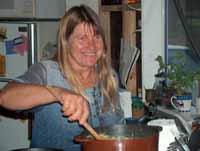 Whangarie: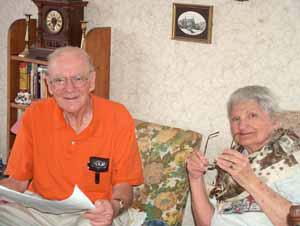 Dad and sister, Liz, together for only the second time in 50 years. Raised as kids in England, Liz married a Kiwi soldier fighting in WWII and left for New Zealand soon after. They only other time they met was at a family reunion in 1987 in England.
This is Dad's first trip to New Zealand although three of his children have already travelled here and met their Aunt Liz and cousins, Sue, Richard and Lynne.
Auckland: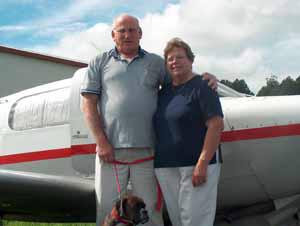 Max and Anna with dog, Bobbie, took care of me in New Zealand. After missing me by 2 minutes at Auckand Airport, they drove back home and Max searched for me at Ardmore Aerodrome. He gave me a big bearhug welcome to New Zealand when we finally found each other. They took me home and fed and housed me for a week. Max flies a Cherokee Six and thoroughly explained NZ flight rules, charts and Ardmore procedures before I started VFR flying around New Zealand.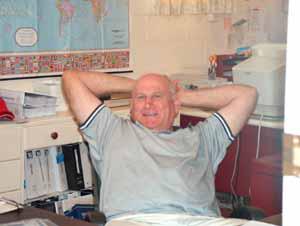 When Dad arrived, they took care of him too!!
We were at the airport just about every day -- looking at other planes, working on the Mooney, or leaving for another VFR flight around beautiful New Zealand.
California: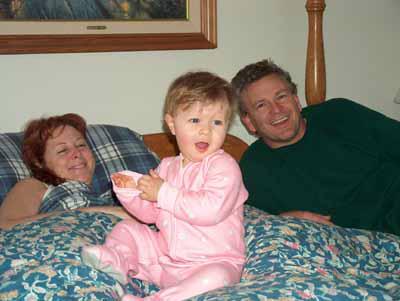 Brother, Richard, with wife, Diana, and 17 month old McKenna playing on the bed in the morning.
Richard and Di collected me, exhausted at 11pm Pacific time, after my 16 hour flight across the US.
After resting for four days, with a little running and hiking thrown in to keep me in shape, I watched the weather closely and Richard drove me to the airport on the 5th day.
I woke them up the following morning at 2am with a phone call from Hilo saying that I'd made it.
Home / Dedication and Mission / Preparation / across the US to California / First ocean crossing to Hawaii /
Ocean crossing to Samoa / Ocean crossing and flying in New Zealand / Crossing and flying in Australia /
Multiple jumps: Singapore to South Africa / Multiple Jumps: South Africa to Greece / Europe /
Crossing the North Atlantic / Last leg home / About the pilot / About the plane / Supporters /
Overview / Women / Kids / FAQ / Lessons Learned / Family and Friends /
Flight reports: FL to CA / CA to HI / in Hawaii / HI to Am Samoa / Am Samoa to NZ / in NZ / NZ to AU / in AU / in AU2
AU to Singapore / Singapore to India / India to Seychelles / Seychelles to S.Africa / in South Africa / Zambia to Ethiopia /
Djibouti to Greece / Greece to France / England, Ireland, Scotland / to Iceland / to Greenland / to Canada / last legs home
New: Presentations / Book
I'm happy to hear from you, please email me at cagarratt@gmail.com any ideas, suggestions or flight tips. Thanks.