Johor Bahru to Madras, India, flight leg update, May 5th 2003
A quick "heads up" for those that have been following this trip and haven't clicked on the "Kids" Page. There's a fun trip following webpage you can go to and follow the position reports I've been sending in. To see a complete track of my position reports, go to http://mmsn.techmonkeys.net/ and enter my call sign, KE4HBO. Have fun.
Since we spent Sunday in Malaysia and stayed the night there, our departure has changed to Johor Bahru airport. I'd done the paperwork to get the India permit revised and the new permit arrived by HF email during my Friday flight to Singapore!! Great timing.
Up for an early start again. Geoff drove me to the airport and got us through the gate with our manifest. All had been prepared the previous evening, so the preflight was easy. As is the custom from now on, I asked Ground for permission to startup the engine and received it immediately. This was a good sign; if they hadn't had my clearance, startup wouldn't have been granted. Clearance okay, runup okay, backtaxi 5000 feet down the 10,000 foot runway -- I want full length when I'm loaded with fuel and heavy. It was a smooth liftoff into a sky just starting to get light, there were patches of fog between the hills and flashes of lightening in the cumulus clouds to the left. The air was smooth and the climb rate was a normal 250 feet per minute. I believe this was the best climbout so far. I had to make a left turn after reaching the VOR 5 miles from the airport. This didn't put me directly in line with the thunderstorm clouds but not far enough off for me. I asked for and received a deviation to the right by 5 miles. Then ATC asked me to climb to 8000 feet. I couldn't believe it, after all we'd been through the previous evening; here we were starting again. I explained that I was heavy and could climb to 8000 feet immediately, but could later on. They wouldn't relent and I said I'd try. Slowly, ever so slowly, at 100 feet per minute for the last 1000 feet, we finally made it. I leveled off and switched to the rear tank. There were still thunderstorms around and I asked for and received additional deviations.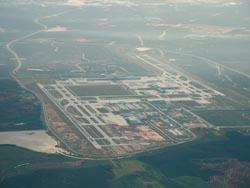 I was over Kuala Lumpur and took a photo of the enormous airport. Then ATC was back on my case again asking me to climb to 12,000 feet. I explained again that I couldn't at this time. They conferred with Chennai and we finally accepted 8,500 immediately and 12,000 at the intersection we'd discussed the previous day, AKONO. How would they ever know?? I would be out of radar range and it was only what I was telling them. But I couldn't tell them I was at 12,000 and be at 8,500, so at 50 miles before the intersection, I started a slow climb. When I reported AKONO and my position report, I was at 12,000 and chugging along at 140 k. After 3 1/2 hours I had 8 hrs to go and was finally at peace. The HF was working and reception was good.
Four hours later with four hours to go, all is calm, especially the water below. I haven't seen it this calm anywhere. Barely little ripples on the surface. There are small puffy clouds everywhere, but nothing large or menacing.
I couldn't reach Chennai Radio in the last two hours and was starting to get irritable at 12,000 feet (but my fingernails weren't turning blue); I wanted to get lower and breath some oxygen. I tried Chennai Radar on VHF and got through 200 miles out. They kept me at 12,000 much to my dismay. I took the time to clean up the cockpit and put on my flight suit. I'd learned that the Indians and other countries pay more respect to pilots/captains in uniform than those wearing shorts and T-shirts. I brought my flight suit instead of a white shirt with epaulets on which I could have put captains stripes; but I think the white shirt might have been cooler. I requested and was finally approved to descend to 8,500 feet. It was warmer, but I started to feel better. It was extremely hazy as we were finally descended to 6000 then 4000. I flew over the airport, elevation 47 feet, at 4000 feet. At 5 miles out, I was finally descended to 1700 feet, turned on to final and cleared to land. Two jets were holding for takeoff while I slowly finished the last 3 miles on final. I took the first taxiway and called ground who directed me straight ahead to holding area 45. Suddenly 3 voices came on frequency for 220FC to stop and follow the "follow me" truck. I stopped, laughed to myself, this was only the beginning of the arrival experience, I had heard that it could be exasperating, and waited for the various parties to decide what they wanted me to do. Finally I turned around and followed the "follow me" truck. They parked us on a separate apron, another truck arrived and 6 people approached the plane. This was the beginning of 2 hours of fun.
When I thought they were asking for "papers", they were saying "purpose" of the visit. I said a pleasure trip to visit India. They smiled and were happy to hear that but said that I would have to be parked elsewhere since I was staying for 14 days. I got in again and followed the "follow me" truck to another ramp. Now we had 10 handlers and 2 armed guards helping determine what to do next. We were parked behind a disabled jet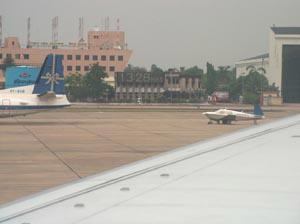 airliner which was chocked and looked like it was there for maintenance. There were no tiedowns. I explained that I needed to tie down the plane. One person was sent off to get cement blocks. I started unpacking the plane to buy time trying to remember where I'd put the General Declaration forms. We had only made out enough for Malaysia and didn't get one stamped for the next port of entry. I needed to make one up for my arrival. Air India had offered to act as my "handler" in the absence of anyone else. I explained that Cambata had helped with my permits for India but didn't have a presence on this field, so Air India said they would do the handling. There were many comings and goings as I unloaded, looked for paperwork and continued asking about tiedowns. When I was in the cockpit, I felt a bump again the front and jumped out quickly to see what was happening. One person had put a huge jet chock in front of my wheel. I looked at it and laughed as I asked for a larger one -- we both laughed. I finally remembered where the forms were and as they talked amongst themselves, I filled out the form. They asked if the aircraft had been sprayed prior to departure and could I show them the empty spray can. I explained that no it hadn't but if they had a can, we could spray it now. They said that I wouldn't be allowed entry if I couldn't supply a spray can. I said again that I didn't have one but maybe they could provide one. They said that health wouldn't let me in.
At the Aviation Safety Seminar in Singapore, an Indian ATController, Ram, had introduced himself and offered his services and those of his Dad, located in Madras, to help out. As I was standing on the wing, I noticed a person walking toward our large group, it was Ram's Dad. He introduced himself and helped where he could. The Air India reps came up and explained their services and prices. Although the normal price was $990, they could help us for $330. I joked with them and asked what it included and said that Ram's Dad was my council, then we all agreed. I gave them my newly found General Declaration and passport and we all hopped on a transit bus; yes, a bus just for me and them, and went to arrivals. First stop health. The doctors, nurses and aids were lined up holding up the counters and wearing or not wearing masks. On hearing that we were coming in from Singapore, actually Malaysia, they all donned their masks. I put my hand over my mouth and laughed. When they learned that we hadn't been sprayed on departure they said it was impossible for us to enter the country. That's what one pays a handling agent for. After 15 minutes it was decided that we could get a spray can, return to the plane, spray the plane and all would be okay. I returned accompanied by two health workers and two Air India handlers. We sprayed the inside of the plane and returned. The Air India handler asked what I did for work and I explained that I had lost my job a year previously but had helped build some of the equipment used on his apron by his company. We chatted for a while about this and discussed the equipment and competitor's equipment. He seemed happy that we had something in common. We returned to the health area, filled out the SARS declaration form, filled out the immigration paperwork and proceeded to the next desk after smiling and thanking the doctors, nurses and aides. With 10 of us surrounding the immigration desk, he could barely see me to ask questions, but managed to ask if this was my first trip to India. I replied yes and that I was looking forward to visiting his country. Stamp, stamp, stamp and I was cleared through. Next stop customs to check luggage, but we walked right through. Next stop the Air India office and more paperwork. After sitting down, I was offered a coffee or tea, I accepted tea, but several minutes later they explained that tea could not be made because they had lost electricity, it was also the reason the air conditioning wasn't working. They took about 30 minutes over the paperwork and also ordered the hotel bus. The airport manager walked in and they all stood up immediately. I was introduced and shook hands, unfortunately, I had dropped the top of my flight suit to get into my short's pocket to get cash, so I was standing with my T-shirt on and flight suit half off. I apologized and they all waved away the problem and said it was hot without air conditioning.
Two of the Air India personnel explained once again what was covered in their fee. I explained that I would need to get back out to the plane the following day to drop off some luggage before I set off. Oh no, that would be too difficult, impossible. With heightened security it would not be allowed to return to the plane before departure. Ten more minutes of discussion, with Ram's Dad helping, and it was decided that he could take us to the permit office the following day and possibly/possibly not a permit might be arranged; but probably not. He would also take us to the landing and parking office to find out those charges. I said that with Ram's Dad doing all this work, he should get 10% of their fee. They all laughed and said they were from sister companies and worked together.
Finally we trooped out of the office, through more guarded gates, to the taxi and bus stand outside. It didn't look as foreign as I'd expected. There weren't beggars all over the streets (so far at least). The hotel bus arrived and I was whisked away.
Two weeks in India
I'd talked with other pilots who had done this trip and, without exception, they said that if they could have avoided India they would have. It is one of only two stops for gas when crossing the Indian Ocean. Sri Lanka is also an option which some pilots have taken, but most choose, and hate, stopping in India. I swayed back and forth with Sri Lanka and finally decided on India. With the fighting is Sri Lanka, it is not recommended for American tourists. Since I HAD to stop in India, I really wanted to see the Taj Mahal. I figured this would be my only chance, my only visit to India, so I decided to spend two weeks traveling in the country. It was my most worrysome country. Luckily a friend, Dave, from Florida, wanted to travel in some countries and decided to visit India with me. I felt better about traveling in India with someone else. I'll cut to the end before going into the details -- it is the most wonderful country with so much diversity, rich in culture, religion and history that I will definitely be back. I'm thrilled to have been able to see as much as we did and can't wait to see more on a future trip!!
On the first day we just took a taxi tour of Chennai (previously known as Madras). The driver showed us many Christian churches; including St. Thomas' church on a hill outside Chennai. It turned out that our taxi driver was converted to Christianity by a sister who he believe saved him when he was sick, taking many pills and not improving. Between one church and a Hindu temple we walked through a back street where families were living in corrugated steel shacks and cooking fish curry outside on the "street." This was our first introduction to the poor streets and it was difficult to walk back to the car through the smells and sights. At least these people had something and weren't begging. Later we would see worse.
We visited a beach that was deserted. There were wooden stands for cooking and what appeared to be handmade childrens' "merry-go-rounds" ... made of pieces of broken toys ... but no people. The driver told us that it's too hot during the day and people only come out in the evening. Later we saw in each city that things liven up at night and there are people all over the streets. It's cooler and more comfortable to be outside.
That evening we planned to take a commercial flight to Delhi with the objective of doing the "golden triangle" tour of Delhi, Agra and Jaipur. Then we were going to head to the hills, Himalayas, and visit Shimla, a town recommended for summer tourists. So, we repacked our bags to only carry one backpack each and left the rest at the hotel for pickup 10 days later. Next stop, Air India to check on the plane and fees. Our first challenge was to get into the terminal and get to the Air India office. Due to the crowds, only ticket holders are allowed through the doors into the terminal. We didn't have a ticket and thus couldn't get through. The ticket sales and baggage offices all have windows to the sidewalk where people queue up to buy tickets or ask questions. We asked what to do and showed our Air India Handling Agent receipt and were told to go through arrivals to the second floor Air India office. We showed the door guard the receipt and he asked for passports then finally let us through. On the second floor another person questioned what we were doing, looked at the receipt, and escorted us back down to the first floor and through another guard station to the Air India office. We were finally where we needed to be. We explained that we wanted to know the landing and parking fees and would like to see that the plane was okay and tied down (the previous day they had said that a third tiedown would be added, but I wanted to make sure that it had been done). They said that we'd have to talk with the Airport Manager about fees. We went back through the guard area (showing the receipt) to the Airport Manager. He escorted us back to the Air India office and said that it was their responsibility and not his. Unfortunately, it was shift change time at Air India and they asked us to return in half an hour. Also they were in the middle of moving to new offices down the street, so not many people were available. We killed time by going to the Domestic terminal and buying our tickets to Delhi.
Upon returning, we found a most helpful manager who made all the necessary calls to find out the fees. It looked like about $50-60 for landing and parking plus some airways fees. Not too bad. The next issue, to get on the ramp to see the plane - this was MUCH more difficult, without a special ID badge it was next to impossible. Since we weren't leaving and didn't have a flight plan they couldn't get us onto the tarmac airside. We explained that it was necessary to see that everything was okay with the aircraft before leaving for 10 days. They decided to walk us through the departure steps (rather than try to get a pass) with the explanation of what we needed. At each point, getting into the departure lounge without a ticket, immigration, security, etc, the initial reaction was no, check with manager, no, maybe, let's see, lots of discussion, well okay if they are accompanied all the way. The Air India handlers got us through and got a bus to get us to the plane. Everything looked great. A tail tiedown weight had been obtained and put in place. All the sun shields were in place -- my big worry, with all the heat. Now I could leave knowing that all was safe.
I changed $200 to Rupees. Little did I know that I would receive a 1 inch thick wad of notes. 9300 Rupees in 100 R notes. Where was I going to put all those? Security boarding the flight to Delhi was pretty "standard" at first, they send men through one check point and women through another -- each person gets "wanded" and all your pockets are "hand-checked" as well as passing through a metal detector. During boarding, there is a second bag check and "pat down" process. Each time, the hand luggage ticket is stamped and before boarding the plane, the ticket is checked for all stamps. As we taxiied down the ramp, I looked out the window and there was N220FC!! I waved goodbye and silently said, "See you in 10 days."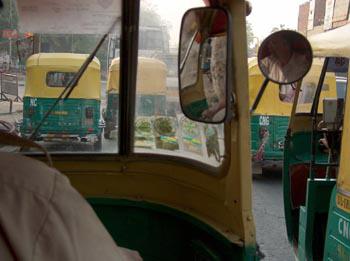 The Yatri Guest House in Delhi was basic, clean and comfortable. At 1500 R per night, $30, it met our needs and became our home in Delhi. The next morning we took our first "auto rickshaw" ride to the Tourist office. They were to become our best means of city travel at 20-70R, 50 cents to $1.50 per ride, with a story to tell with each trip. The Tourist office informed us that the city bus tour had been cancelled due to lack of tourists; our only other option would be to take a car, driver and tour guide for the day costing 1,200R vs. 350R each for the bus tour. We took that option as we wanted to see the sites. It turned out to be a fantastic day.
Mr. Tewari was an extremely knowledgeable guide who spoke excellent English and enthusiastically shared with us the history, culture and religious aspects of Indian life. We enjoyed the day so much we asked if he could accompany us to Agra and Jaipur, which he did. Although all the sites were fascinating, the most noteable was the Jantar Mantar, a group of astrological instruments designed and built in 1725 to measure the movement of the sun and planets and forecast the eclipses as well as tell time. An amazing accomplishment for that time in history. We also saw Parliment House, India Gate and a number of tombs that were a great preparation for the Taj Mahal in Agra the next day as they served to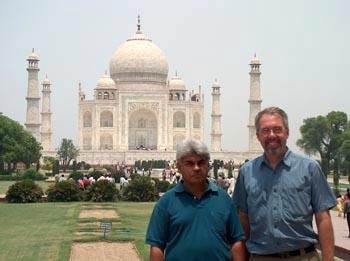 amplify its magnificence. When I walked through the gate and looked at the Taj Mahal, it literally took my breath away; it is 100 times more exotic than anything else we had seen. We took the obligatory pictures then walked closer, took off our shoes and climbed the steps to visit the inside of the tomb. It is splendid from all angles, close, far, inside and out. The inlaid jems in the tombs were unbelievable. It's no wonder the structure took 22 years to build. This is what I came to India to see and it was worth the trip. I didn't want to leave. We sat silently for a while, then finally had to continue our tour. From the Red Fort, which we visited later, there was a splendid view of the Taj Mahal. This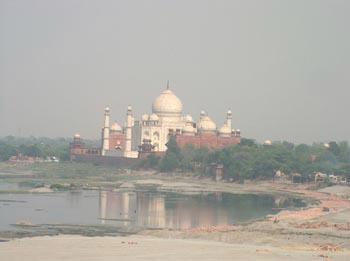 was where it's builder, Emporer Shah Jahan, was imprisoned for the last 7 years of his life by his youngest son to stop him from building an identical structure in black marble on the opposite shore.
On to Fatehpur Sikri, the ghost city, which was built by an emporer in 1571, lived in for one generation until 1585, then deserted to move the capital back to Agra. In the middle of nowhere was this city with all the accommodations and supplies to support about 1000 people. The whole city, including a wall of 27 kilometers around the city, had been built of red sandstone, mined relatively locally, in less than 3 years. We then moved on to Jaipur. The forts on top of the hills had kept these Mogul emporers free for many generations. We rode elephants up the hill to the fort and toured the many buildings and living quarters. Throughout the 4 days, each time I'd have trouble understanding why something was done a certain way, Mr. Tewari would look at me and say, "You know what your problem is? Your problem is you are too Ultra Modern." If he said it once, he said it five times. But we had some lively discussions on life, history, culture and religion. It was a fantastic tour of all the cities and sites. I wished we had more time to see other areas.
Unfortunately, we had to see some of India on our own so we said goodbye to Mr. Tewari when we returned to Delhi. We went to the train station to book a ticket to Shimla in the Himalayas. Bad luck, it was tourist season and there was no place on the train. A car and driver could be made available with a complete package deal with hotel for $325 for three days. Not what we wanted, but since it was the only way to see the Himalayas, we accepted the deal. One more night at Yatri Guest House, our same room, and we'd leave the next morning. Actually, we had several memorable auto rickshaw rides that evening. One driver wanted to take us to a shop. We only had to look for five minutes, we didn't have to buy anything, but if he took us there, he'd receive some food that he needed for his family. We accepted this one stop, although we were both tired. He drove like a mad man on the way there. We looked for five minutes and came out. He asked why we hadn't bought anything. He said that he'd take us to another shop. We said no, straight to the hotel. He drove wildly again, then stopped and said that he'd take us to another shop. We both exited and walked away. No question, that was the most memorable ride. On other rides, we either had drivers who didn't know where they were going and stopped to ask many people along the way or engines that stopped and wouldn't restart or drivers who told you about their large families in the hopes of getting a bigger fair or tip.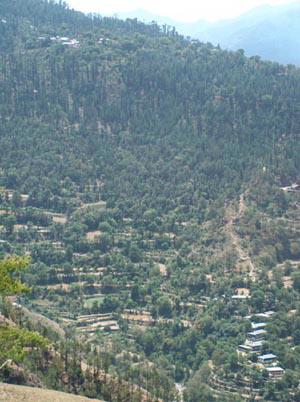 After an hour and a half in the car on the drive to Shimla, our driver said that we were passing his village and he was sick (he actually looked and sounded very bad) and would we accept that his brother drive us to Shimla instead of him. Dave and I looked at each other, we thought that only auto rickshaws had these kinds of stories. He assured us that his brother worked for the same company had all the papers and it was okay. We said that we'd call the company and let them know. He waivered and said that it was his job to do that. We said yes and we'd do it too. He said that was okay. Really I just wanted to see if he was okay if we called the company -- it was Sunday and we had no way of reaching the correct person. So, we accepted the switch. Aside from the A/C going out, it was uneventful during the 7 hour drive. It was extremely hazy in Chennai and Delhi and I was expecting the air to clear in the mountains -- nope, still hazy all the way. As we got into the mountains, the terracing for the crops and gardens were amazing -- up the steep slopes. When we arrived, the houses and hotels built on these sheer slopes were unbelievable. I don't know how they were anchored in, but just hoped that they stayed there for another few days. We turned left off the road drove onto the roof of our hotel - that was the parking; then went down 5 floors to the room. Everything was straight up and down. We got to know the streets and the way to the "mall" where all the tourists went. We walked everywhere. There were Indian tourists everywhere. It was extremely crowded. Certainly not my cup of tea. I go to the mountains for peace and quiet, not crowds. Dave was okay with it, but I had to get away. The next day our driver took me away from the town and towards a resort in the valley. On the way it was so peaceful I asked to get out and walk. We agreed where to meet and I walked, sat, read, took pictures, and walked some more. When we met, I asked for another hour, so he drove 3K up hill and I set out for another walk. It was beautifully calm and relaxing; I didn't want to return to the crowds and noise of Shimla.
The next day we had planned to take the scenic train from Shimla to Kalka, where the driver would pick us up and take us back to Delhi. What a nightmare!! With double the number of people squashed into half the number of wooden seats for a 7 hour trip it was not the restful, scenic trip that I had imagined. The views were good, but I'd seen better the day before. I'm glad that we tried it, but it's not a trip that I'd repeat. Back in Delhi we were at home at the Yatri Guest House for a night before returning to Chennai.
In Chennai we started the paperwork "battle" that I heard about for departure. Again we had trouble getting through airport security and back to the Air India offices, but after that they were most helpful. With the paperwork in hand, we walked to ATC (OK it was only 1.5 kilometers) to pay our fees and prepare for departure the next morning. ATC was extremely helpful also. There were 4 main stops that had to be signed off: fees and permit, communication, met (weather) office, and briefing. The met office would be completed the morning of departure, but the others were happily completed that afternoon. The employees shared a cup of tea with us and joined in our photograph sessions. Below left is fees and permits with Abdul Nazeem, V. Kubendiran and Prince Paul. Center is communications with S. Vasantha and right is briefing with S. Vasugi, MV Venkateswaran, CH Narasimhan and Dave. We all had fun.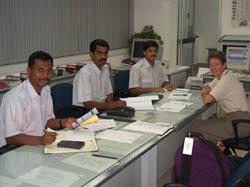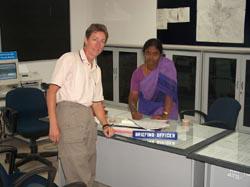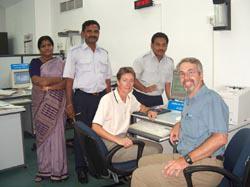 Highlights of India: the Taj Mahal, the quiet countryside in the Himalayas, the rich culture and history.
Lowlights of India: the noisy cities with blaring horns, the litter on the roads, the hardest matress I've slept in since I started the trip.
Actually the clearance we received in Chennai was just for a 3 hour trip to Trivandrum on the southwest coast of India. By preparing the paperwork the previous day, the morning of departure was relatively painless. We'd allowed 2 hours, arriving at 5am in the Air India office, for a 7am proposed departure. The stamps and approvals through customs and security proceeded relatively well. We got the met briefing and paid a minor adjustment in the parking fee, then went to the plane for fueling. I was happy when the fueler arrived on time at 6:15am. Unfortunately, they couldn't start refueling until the "accountant" showed up which took another 45 minutes. After that, refueling proceeded well, we paid in dollars and shook hands all around. The Air India reps had done a noble job of getting everything done. I jumped into the cockpit, enjoyed the peace and quiet, and prepared to startup. Due to a potential lack of avgas at Trivandrum, I'd loaded up at Chennai, so the takeoff was long and the climbout in the 30 degree heat was slower than "normal." But, it was good to be in the air again.
This short leg was to reduce the distance to the Seychelles. I also hoped that the Trivandrum paperwork could be handled quickly for a 6am departure in three days time. Upon arrival I met with ATC directly. Knowing the ropes in Chennai helped the process in Trivandrum. We calculated the landing and parking fees immediately to get that out of the way. I submitted the flight plan to get that into the system. I talked with the met office to get the briefing prepared for Monday morning and went to the Airport Manager's office to get a pass to get back onto the apron in order to get to the plane during the weekend. Things were looking good.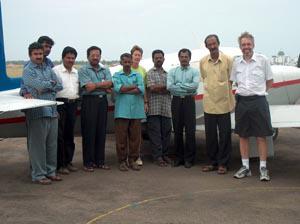 An Indian pilot, Arvind, contacted me through email and helped me with getting gas in Trivandrum. He had contacts at the Kerala Aviation Training Center who could provide avgas for topping off before the next long leg. I got a clearance to taxi over to the other side of the field and met Mr. Prakash, Chief Flight Instructor, 4th from left, and Mr. Rajeev, the Administrative Officer. They happily completed the papaerwork and with the help of the chief engineer, Mr. R. Babu and his mechanics, supplied 100 litres to see me through the next leg. I sincerely appreciate all the help, especially Arvind's who I didn't get to meet. With luck, we'll both be in Oshkosh in 2004 and will get to swap flying stories during the air show.
---
Home / Dedication and Mission / Preparation / across the US to California / First ocean crossing to Hawaii /
Ocean crossing to Samoa / Ocean crossing and flying in New Zealand / Crossing and flying in Australia /
Multiple jumps: Singapore to South Africa / Multiple Jumps: South Africa to Greece / Europe /
Crossing the North Atlantic / Last leg home / About the pilot / About the plane / Supporters /
Overview / Women / Kids / FAQ / Lessons Learned / Family and Friends /
Flight reports: FL to CA / CA to HI / in Hawaii / HI to Am Samoa / Am Samoa to NZ / in NZ / NZ to AU / in AU / in AU2
AU to Singapore / Singapore to India / India to Seychelles / Seychelles to S.Africa / in South Africa / Zambia to Ethiopia /
Djibouti to Greece / Greece to France / England, Ireland, Scotland / to Iceland / to Greenland / to Canada / last legs home
New: Presentations / Book
I'm happy to hear from you, please email me at cagarratt@gmail.com any ideas, suggestions or flight tips. Thanks.