Final Leg: Eastern Canada and US
Around Labrador, New Foundland, Nova Scotia and New Brunswick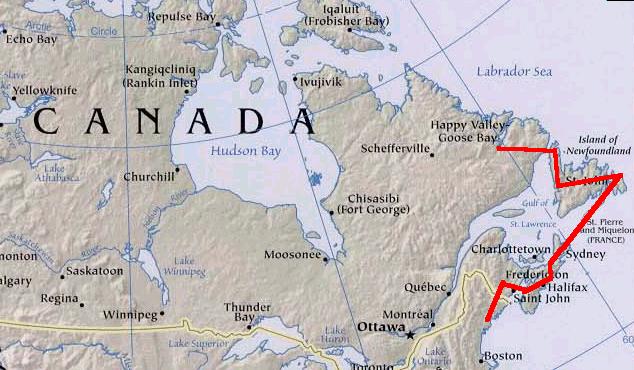 Actually, original plans were to visit Canada prior to crossing the North Atlantic to Europe, so this section was planned in the very early stages. Now, it's the tail-end of the trip. But, with bike and camping gear on board, I'll be doing all the visits I'd planned: St. Anthony, Deer Lake, Gander, St. Johns, Sydney, Greenwood and Fredericton.
This Canadian visit should take about 3 weeks, then I'll cross the border back into the US and visit old friends in Maine.
From there I'll make stops near New York and Philadelphia to visit friends before a quick jump to my Dad's in Clarksville, VA, Marks Municipal (KW63). After a good rest, I'll do the final leg back home to Kissimmee, FL, (KISM). I'll be ready to fly Young Eagles with the other pilots of EAA Chapter 74 as soon as I arrive!!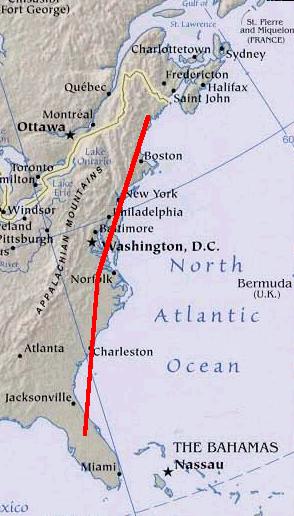 And, I look forward to hearing the cheerful voices of the Tower Controllers at Kissimmee (KISM) -- a GREAT bunch of guys.
To see the details of the actual leg after completion, click here.
---
Home / Dedication and Mission / Preparation / across the US to California / First ocean crossing to Hawaii /
Ocean crossing to Samoa / Ocean crossing and flying in New Zealand / Crossing and flying in Australia /
Multiple jumps: Singapore to South Africa / Multiple Jumps: South Africa to Greece / Europe /
Crossing the North Atlantic / Last leg home / About the pilot / About the plane / Supporters /
Overview / Women / Kids / FAQ / Lessons Learned / Family and Friends /
Flight reports: FL to CA / CA to HI / in Hawaii / HI to Am Samoa / Am Samoa to NZ / in NZ / NZ to AU / in AU / in AU2
AU to Singapore / Singapore to India / India to Seychelles / Seychelles to S.Africa / in South Africa / Zambia to Ethiopia /
Djibouti to Greece / Greece to France / England, Ireland, Scotland / to Iceland / to Greenland / to Canada / last legs home
New: Presentations / Book
I'm happy to hear from you, please email me at cagarratt@gmail.com any ideas, suggestions or flight tips. Thanks.