Flying in New Zealand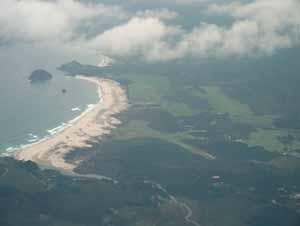 What a beautiful country from the air. It reminds me of England, so lush and green. The small islands you see when arriving from the northeast have rolling hills and sandy beaches. They look very appealing.
There are significant differences in the VFR charts and procedures between the US and NZ. Luckily, Max Tooley, a NZ pilot, sat down with me for about 2 hours going through the specifics of NZ charts and airport operations. They have MBZ areas outlined by blue diamonds. These are Mandatory Broadcast Zones. You need to broadcast your position, altitude and intentions in these areas. If there are specific reporting points, you must report over those, otherwise every 5 or 10 minutes or if you hear another plane, advise your location. The Delta airspace is more often an oblong shape covering the runway directions rather than a circle as in the US.
There is a Visual Flight Guide in NZ that contains all the airport information, details of each airport operation, arrival and departure routes, communications, runways, and services. It's very complete and very necessary for flying around NZ. The NZ charts do not include communications frequencies or airport altitudes. Correction, the new charts just came out with significant changes, including comm frequencies and airport elevations. I sincerely appreciated Max's time and information, without which I probably would have broken a few flying rules in NZ. Luckily, I'll be meeting a flying friend when I arrive in Australia, and will definitely spend some time learning their rules before venturing too far on my own.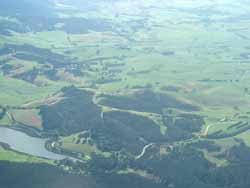 My first VFR flight in NZ was from Ardmore Aerodrome, just SE of Auckland to Whangarei about 80 nm northwest. I had already learned that Ardmore was NZ's busiest Aerodrome and uncontrolled at that. The Sunday after I arrived, Max, Anna and I went out to do some work on the Mooney and were honored by the display of aircraft out for a Sunday afternoon flight. We saw a deHavalind Dove, T-6, T-28, Stearman, Pitts Special, Extra 300, PBY Catelina, Tiger Moth, a French jet trainer, along with the many training Cessnas, Pipers and others. It was extremely busy. I was surprised on the Monday afternoon I went to leave for Whangarei, the pattern was still very busy. I checked and rechecked everything, then sat at the end of the taxiway waiting for a gap to depart. The flight north to Whangarei was beautiful. I could have snapped 100 pictures but they still wouldn't have captured the beauty of the rolling green hills and scalloped cream beaches. I made my reports in the MBZ, landed without trouble at Whangarei, and taxied to the local Aero Club. There's an Aero Club on just about every airport that acts as FBO and club/bar/social meeting place.
After spending time with my Aunt and preparing for my Dad's visit, I returned the next day to Ardmore. I couldn't believe it, on final into Ardmore I was parallel with a Tiger Moth landing on the grass strip!! I wish I could have taken a picture. It was amazing to look out and see an old biplane beside me. There are actually 5 based at Ardmore and they fly regularly on weekends. The following day I flew to Tauranga, an hour southeast of Auckland. The beaches are immaculate and there is one "mountain" at the harbour entrance, sticking up 800 feet. Before landing at Tauranga, we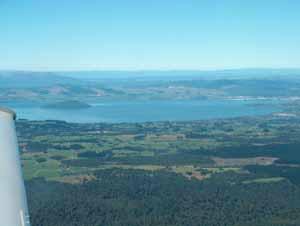 flew around Rotorua and the crater that is the remains of Tarawera Volcano. When the volcano erupted, it burst wide open and is now a small jagged crater. From there I flew south down the North Island, past Lake Taupo, left, past Mt. Ngauruhoe and Mt. Ruapehu, middle, over barren mountains to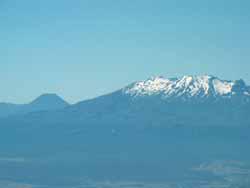 Wellington and across the straits to the Marlborough Sound, right, and on to Nelson on the northern tip of the South Island.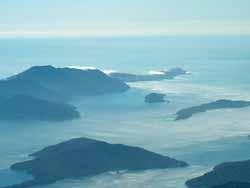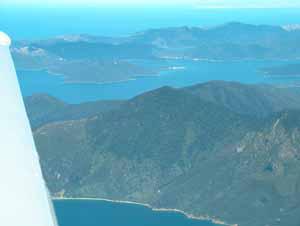 It was a magnificent flight and I couldn't stop taking pictures. The Marlborough sound has land peaks sticking out of the water. Some large and inhabited, many small, tree covered with no habitation. Some barren. The water was blue, blue/green, turquoise, always different depending on the sunlight, depth and shadows. So much changing terrain in such a short distance was amazing; only 3 hours of flying and I'd covered snow-capped peaks, volcanos, lakes, barren mountains, farm land and beaches.
The NZ tower controllers are as precise with VFR traffic as the US controllers are with IFR traffic. The pilot is expected to readback every instruction. If you don't, you are reminded, usually politely. When you report receiving the ATIS, you also report the QNH (pressure in Hecopascals). The Visual Flight Guide gives you VFR approach and departure information. It's good to be familiar with this prior to arrival because each tower gave me arrival instructions per the VFG. Not knowing a location was not an excuse as it is written in the Guide and on the chart. I found Pepin Island without a problem and reported it to Nelson Tower who then cleared me to continue and join downwind for runway 02. "Joining" is the term used here for "inbound for landing." "Circuit" is used for "pattern," and "line up" for "position and hold."
Week Two:
The wine making region is on northeastern coast of the South Island and the Marlborough region is known for excellent Sauvignon Blanc. So, I had to do some taste testing. I went to a little town called Mapua just west of Nelson. There was a wine store/restaurant that had wine tastings from the local wineries. I enjoyed a selection of several wines with a cheese plate and bought bottles of the wines I preferred. They were some of the fruitiest white wines I'd tasted, without being too sweet. They were enjoyable; thanks for your recommendations Mr. Burke. It was also the start of the Gulf War, so I tasted wine while watching CNN and BBC coverage of the initial bombings of Baghdad.
The next morning, the instructors at Nelson Aero Club, Marc and Craig, gave me recommendations for VFR flying in their area to get the best sites. It was magnificent; but I think I've used that term before. The sea shores and bays were mostly uninhabited and natural. On the west coast, the mountains were untouched. I climbed to 7500 and flew over them on my way north east. I flew past Nelson and the Marlborough Sound again, then across the strait to the North Island and on up to Tauranga. What a country.
Speaking the lingo and understanding what's been said is not always easy. North of Auckland there's a VOR, Whenuapai. I'm sure no-one understood me when I tried to pronounce it as spelled; and I didn't understand when they talked about "Fen-oo-a-pie." I always had to think before saying Whangarei as it's pronounced Wong-ga-ray or Fong-ga-ray. I'd include my registration, N220FC, when first contacting ATC. That way, they knew they were dealing with an American plane and pilot, new to the area. I'd get shortened to NFC after the first exchange. They use ZK as the international prefix in New Zealand; but usually only use the last their last three registration letters in ATC calls. So, NFC fit their system well and I finally got used to saying NFC instead of zero-FC.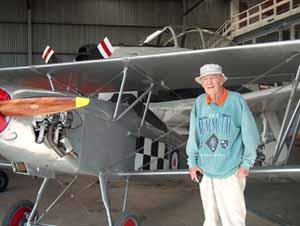 My Dad arrived in Auckland the following Monday. To keep him awake, in order to get over jet lag, we visited the planes at Ardmore Aerodrome. We found a Hawker Fury and deHaviland Dove as well as a DC3. Dad had flown in a Dove on business when he worked for David Brown Tractors in Meltham, England in the 1950's. After a day's rest, I flew around Auckland and up to Whangarei.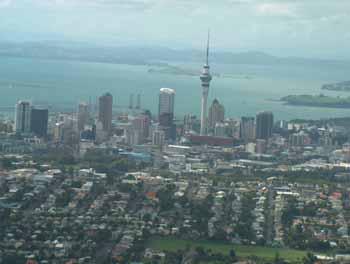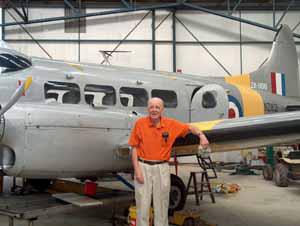 Unfortunately, the clouds got lower as I headed north and the rain came through in waves. I turned back and filed IFR. Now it looked even more like England with clouds and rain over the green hills and valleys.
It "bucketted down" for three days with howling winds. Low clouds, mist, rain, green rolling hills, JUST like England. My Mooney was tied down outside and I wasn't sleeping well each time I heard the heavy rain pounding down. Mike Chubb of Northland Aviation offered to put the Mooney in his hangar and he, Mike, Jason and Rowan pushed it in. Thanks guys!! I finally got a good night's sleep!!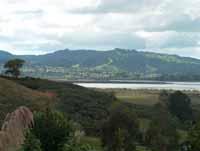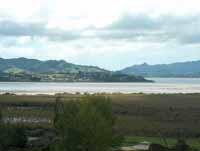 We went driving the third and fourth day, just to get out and see a little. It's a beautiful area; but I keep saying that about all of New Zealand, because it is.
The views to the left are overlooking Whangarei from a hilltop to the west.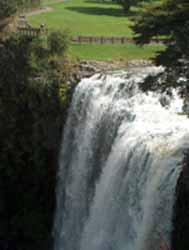 The waterfalls and the Whangarei Heads are attractions to see when visiting the area. Dad's at the upper left, overlooking the falls.
The low pressure moved to the south and the sun came out on the fourth day. Dad finally felt warm and was looking forward to seeing more of New Zealand. The center picture shows the Whangarei Heads, also shown above, off the east coast of Whangarei.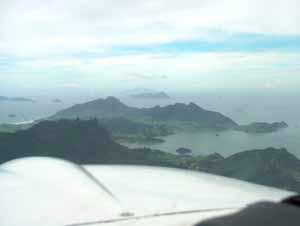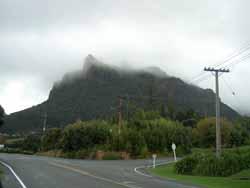 To the left is the first Head from the ground.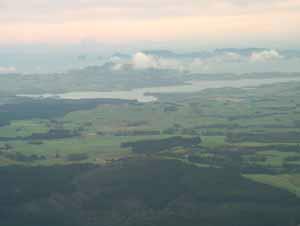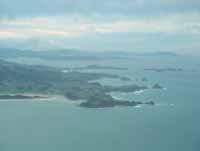 After leaving Whangarei, I flew up to Keri Keri and the Bay of Islands region. As the name indicates, there are small islands off the shore in the bay. It's a great sailing area; but then, so is most of New Zealand.
There was much discussion over the America's Cup during my trip. The locals were mightly disappointed in the results. There was even talk on the TV of throwing the captain (of the Swiss boat) out of the Royal NZ Yacht Club.
It's been great fun as well as giving me a fantastic view of New Zealand. It's truly a magnificent country. I wish I could stay longer. One thing I can guarantee: I'll be back.
---
Home / Dedication and Mission / Preparation / across the US to California / First ocean crossing to Hawaii /
Ocean crossing to Samoa / Ocean crossing and flying in New Zealand / Crossing and flying in Australia /
Multiple jumps: Singapore to South Africa / Multiple Jumps: South Africa to Greece / Europe /
Crossing the North Atlantic / Last leg home / About the pilot / About the plane / Supporters /
Overview / Women / Kids / FAQ / Lessons Learned / Family and Friends /
Flight reports: FL to CA / CA to HI / in Hawaii / HI to Am Samoa / Am Samoa to NZ / in NZ / NZ to AU / in AU / in AU2
AU to Singapore / Singapore to India / India to Seychelles / Seychelles to S.Africa / in South Africa / Zambia to Ethiopia /
Djibouti to Greece / Greece to France / England, Ireland, Scotland / to Iceland / to Greenland / to Canada / last legs home
New: Presentations / Book
I'm happy to hear from you, please email me at cagarratt@gmail.com any ideas, suggestions or flight tips. Thanks.