March 14-15, Pago Pago to Auckland New Zealand, leg 4 flight report
On my way again -- after another difficult morning. I guess I should expect problems and I'll probably have even more in other countries as I don't know all the rules and paperwork requirements.
Up early, the nice night weatherman let me use his equipment -- he was sleeping on the floor and moved outside to smoke a cigarette while I looked at the weather. The winds are 10 to 15 from the west, much better than yesterday. The one cylclone has passed and the second looks bigger, but still off to the northwest of New Zealand. Auckland forecast is for clearing by my arrival time. Time to get the plane ready.
As I start to head outside, it starts pouring rain. I decide to do the customs paperwork first. When I'd passed by the offices, all the lights were off and the doors locked, even though I'd been told the day before that someone would be there. A security guard found me, assured me that someone would be there, and knocked on the door. We heard rustling and the customs person came to the door. I explained that the previous customs person had told me to come here to get my paper stamped prior to leaving. I showed him the paper (it was the receipt from arrival). He said that was the wrong form and that I needed a customs declaration form to be stamped before leaving. I said that I didn't have one, I wasn't a company, I was a private plane. After much discussion, he wouldn't accept anything but the proper form which he told me to get from Samoan Air. I trotted over to Samoan Air and finally found a pilot who took me into the office and printed me blank form. Carrie is an American flying for Samoan Air; I thanked him profusely and he wished me well.
Back to customs -- he was smiling when he saw that I had the right paper and happy to stamp the form and wish me a good fllight. He was amazed that it would take 11 hours and hoped I wouldn't get too tired.
It had stopped raining, so load, preflight and startup. I called Amy and Ella in the tower and they got my clearance and let me start taxiing. They gave me the HF frequencies and I took off with a very slow climb. They asked if I had stopped by the tower this morning; I explained that I had received weather, therefore didn't stop by. It was unfortunate because they had prepared a "care" package for me. Now I was sorry that the weather man had let me in. I was a little short of food for this flight. Thanks Amy and Ella!! There were isolated storm clouds all around, but nothing on the storm scope and some cloud to cloud lightening. As I was climbing through 1000 feet, the engine coughed. I gulped, but it caught and I kept going. A few minutes later there was some serious coughing and spluttering. I turned around and headed back to Pago Pago. I called Ella and Amy and told them I was going to head back and continue climbing, that the engine was coughing a little, and I wanted to be closer to land while I climbed. They okayed the maneuver. I called when outbound again. They wished me a good flight.
Communicating position through Faleolo (Samoa) approach went sort-of ok, after talking with Auckland radio, a Polynesian flight doing a relay, and Pago approach again. Everyone wanted to know where I was. When I was switched to Fua Amotu (Tonga), that was more difficult due to interference on the HF, but we talked, so I continued. I wasn't sure they received my next position report, so I reported through Auckland also. Auckland sent me back to Fua Amotu. I'd learned from Frank and Greg that New Zealand were the "big dogs" in this airspace. So I figured if they knew where I was, I was ok.
I had about a 9k headwind at the start which increased to a 20k headwind after 2 hours. I wasn't too worried, it should reduce, then become a tailwind. Even if it didn't, I had enough gas to make it -- I just wasn't looking forward to another 15 hour flight. The sun came up and beat in through the pilot's window. I put up my silver reflective sunscreen and sat happy and cool this time -- I wasn't going to fry a second time.
It IS a BIG ocean. Tonga is still 183 miles away even after 2hr and 40min flying. The islands are quite far apart. I just calculated the last leg's fuel consumption at 8.23gal/hr and I used 2 quarts of oil. Right on track. Because I'd used 2 quarts and only had one extra with me, I had to leave one quart low. This concerned me slightly; at least it stayed in the back of my mind. Unfortunately, although they had avgas at Pago Pago, they didn't have any piston oil, only jet oil and I was only carrying one quart spare. Think I'll carry 2 from now on.
Communication has gone to talking at specific times on specific frequencies, I don't know if it's just me or if that's how they do it in Tonga airspace; anyway, it seems to be working. I don't know why, but I can't relax on this leg. The headwinds are up to 30k and I'm just feeling "jumpy" about everything. I have a knot in my stomach. All the gages and instruments are ok. Hopefully I'll settle down. Having the left window covered from the sun makes me a little clostrophobic (like my Mother always was), so I keep looking out the right window. If the winds keep up at this rate, I'd still make it in 11 more hours. I'll make that decision over Tonga. Even the seat doesn't feel good. Many people have asked me if my butt gets tired during these trips. I had never had any trouble with "saddle soreness" during my previous, short, 4 and 6 hour trips. And, happily, I can say that I had absolutely no discomfort on the first three legs. The seat is extremely comfortable. I think it's my general unease that's also being felt other places.
But, it's a beautiful sunny day, very few puffy clouds, lets breathe deeply and enjoy the trip. I think I can spy the first island of Tonga ahead. The water seems to be turning a lighter shade of blue. Yep, click, first photo.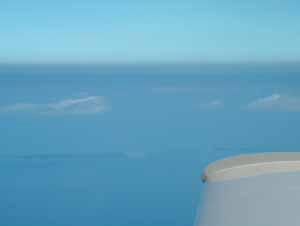 As I approach Tonga, I start talking with them on VHF and tracking inbound on their VOR, 114.5. Looks like I won't get a picture as there is a cloud layer just below me. The airspeed is sneaking up -- 113k, 115, now it's 117knots. I think I'll be getting out of the headwinds and hopefully catching tailwinds as I approach the next cyclone. Not TOO close, mind you.
Ok, I'm south of Tonga, airspeed is up to 120k and I'm only 250nm from Auckland airspace. I feel good, finally. Only 9 hours to go. As I was tracking inbound a Beach N500MK called to say hi. He was headed to another island and thought I was stopping at Tonga. Unfortunately, his second comm wasn't working, so we couldn't chat on 123.45. But, it was nice to hear a friendly voice. I tried the HF nets this morning and thought I heard Jim and Ben on Ben's net, but my reception was very weak. It would have been nice to chat. I couldn't pick up Scott in Hawaii either. Nor could I connect to send email. Oh well, a day without much contact. I should be able to reach Sydney HF stations to transmit email as I get closer.
I thought I'd lose a day when I crossed the international date line, which will be in a few hours. But, the time zone zigzags east of the 180 degree parallel to 172 degrees 30 minutes. So, it's already tomorrow!! Time to change my watch. I've been in the clouds a lot this leg. The tops are just above me at about 6,100 feet and I'm at 6,000. Actually, it's cooler out of the sun, so I'll stay here. When I do come out, there isn't much to see except other cloud layers all around. At least no thunderheads anywhere. The wind is now off my right side at about 10k, but neutral to me. I'm up to 141knots with only 5 1/2 hours to go. I just switched to the front tank and it's beginning to feel like a short trip. I don't even jump any more when my noise cancelling headset clicks off -- as it just did!!
All right, now I'm up to 150 knots, the wind has swung around to the northwest, just as forecast. I'm at 27 degrees south and the cyclone center was at 26 degree south (but well off to the west) 10 hours ago. As I continue south, the tailwinds should increase. I'm up to 160 knots now, and smiling.
The clouds start to get thicker and it's raining. It reminds me of our trip to Alaska and when we couldn't cross the Rockies due to clouds and icing, we returned to Ft. Nelson through two hours of this stuff. This seems to be in waves, or so I thought, so maybe I'll come out from time to time. Two good things about it: it keeps the plane clean and at 20 degrees C there's no icing. I tried climbing to 8,000 feet, but I'm still in it. A couple of hours later, my stomach is in a knot, I'm still in rain, and it's very heavy at times and bumpy. I'm not comfortable and I'm getting worried. Less than 3 hours to go and landing in daylight are the only thoughts that comfort me.
The tailwind had me up to 180 knots at times, but I'm back down to 150, so I must be further south of the cyclone now. I keep thinking that it seems lighter on the horizon, but the clear air never arrives..... Now it really does look like it's clearing ahead. I see a layer of clouds below and some layers above, but I'm not in solid cloud any more. I can even see water below. Still a very light shower but smooth air. As I'm traveling further south, it's actually getting cooler, I just closed the vents!! Quite a difference from the last leg across the equator. The outside air temperature is down to 5 degrees C. Only two hours out now, I'll be switching to VHF in half an hour. I haven't been able to contact anyone by HF this trip, unfortunately.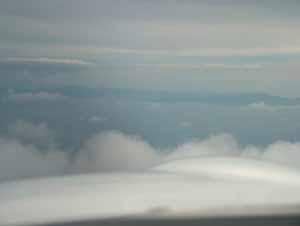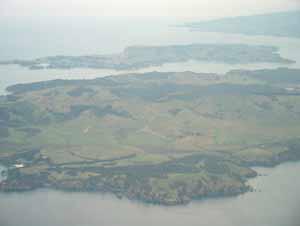 And, there she is, New Zealand. It's been a long two weeks, but now it's worth it. The planning was GREAT, the flying was very good (with a few frustrations and worries) and landing in Auckland is terrific.
After landing, I was directed to the apron and parked in slot 83; right in the middle of the "big boys." I was dumbfounded. I took pictures from inside the cabin, where I was stuck for 5 minutes decontamination, and outside: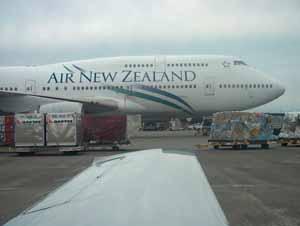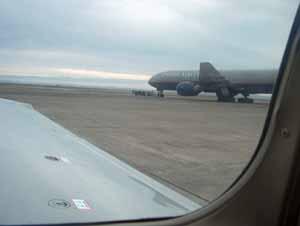 Now I'm off for 2 weeks. Life and flying in New Zealand has been updated.
---
Home / Dedication and Mission / Preparation / across the US to California / First ocean crossing to Hawaii /
Ocean crossing to Samoa / Ocean crossing and flying in New Zealand / Crossing and flying in Australia /
Multiple jumps: Singapore to South Africa / Multiple Jumps: South Africa to Greece / Europe /
Crossing the North Atlantic / Last leg home / About the pilot / About the plane / Supporters /
Overview / Women / Kids / FAQ / Lessons Learned / Family and Friends /
Flight reports: FL to CA / CA to HI / in Hawaii / HI to Am Samoa / Am Samoa to NZ / in NZ / NZ to AU / in AU / in AU2
AU to Singapore / Singapore to India / India to Seychelles / Seychelles to S.Africa / in South Africa / Zambia to Ethiopia /
Djibouti to Greece / Greece to France / England, Ireland, Scotland / to Iceland / to Greenland / to Canada / last legs home
New: Presentations / Book
I'm happy to hear from you, please email me at cagarratt@gmail.com any ideas, suggestions or flight tips. Thanks.