Touring and Flying in Australia
Below is a summary of my first two weeks in Australia; however, before going into that, and as we approach, remember, and move on past April 24th, I'd like to take a moment to pay tribute to my Mother, other ALS patients and victims, and still others for whom this date is special:
First, I'd like to remember my Mother, Marie Garratt, who died one year ago today. She was strong during the 3 years that ALS slowly took her body, but not her mind. And, she had a beautiful face and smile until the end. ALS is a terrible disease that attacks the body while the mind is still fully functional. It is to her that I dedicate this trip. She would have been terribly worried the whole time, but proud. She would have had sleepless nights, but bragged to her friends of my accomplishments. She would have cheered me on; but wrung her hands in worry behind my back. We all love you and hope that you are in a better place. I've heard these words from others during my trip; others whose family members or friends have also died or are suffering from ALS.
Steve wrote to me because April 24th is his birthday and also because his brother died of ALS. My heart goes out to him too.
Max and Anna, who took me in and cared for me in Auckland, remember April 24th because their son Allen died on the same day 2 years earlier. He died of cancer. My heart goes out to them and their family who remember Allen today.
It's Dave's birthday in Utah also. His mother died a few years ago and one of his daughters died of cancer. We hiked and talked together often and he doesn't know how much he helped prepare me for the eventuality of my Mother's death by talking of his daughter and mother. Thanks Dave.
Mark from my Dad's town in Clarksville, VA wrote to me and wrote a story for the Clarksville newspaper about my trip. He also had a family member who died of ALS. I thank him for the article and support so that we can all raise awareness and donations for the ALS TD Foundation.
James wrote me about his niece who contacted a child's form of ALS at three and died at age 16. What a tragedy when it strikes someone so young.
Jill's father died of ALS and she lost her mother three weeks later. In reality, she lost both parents to ALS. It takes it's toll on the caregiver as well. I wish her well in her struggle to overcome her loss.
David wrote to me as he had purchased his Mooney from a pilot, Al, who lost his medical when he had ALS. Al just died a few weeks ago and David flew the Mooney to Al's wake. I'm sure Al would be happy to know it was there and that it is in good hands.
Alex's wife Diana lost her Dad to ALS when she was only 6 years old. It can affect a family for a lifetime after it takes the patient's life. I wish Diana and Alex well.
Herb's youngest son, Tom, was diagnosed with ALS in 1996 and is completely handicapped at age 41 requiring a ventilator and caregivers around the clock. He was a pilot and a doctor. His brother is a 12,000+ hour pilot with the airlines and Herb is also a pilot. They know first-hand how devastating ALS can be to a family. My thoughts go out to them and to Tom who will hopefully write a book about his medical practice and ALS.
Many other people wrote to me and I thank them all. I thank also those companies and people who have already generously donated to the ALS Therapy Development Foundation. It is though your support that they will eventually find a cause and cure to this terrible disease.
If you are enjoying this website and haven't yet donated, please consider a gift that goes directly to the ALS foundation. There's no middle person. I'm paying for the trip; all donations go directly to ALS.
Thank you for letting me remember April 24th.
Week 1: Sydney, Melbourne and Tasmania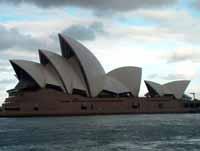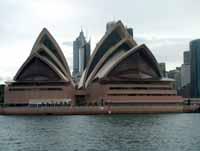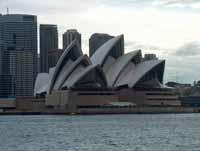 Sydney is an amazing city with a very large and complex harbour area using boat taxis and ferries to get people moved across the harbour. It's a fun way to commute. We visited the Aquarium, Darling Harbour, the Opera (of course), Manly Beach, the KingsCross and the Downtown areas of Sydney.
After several days in Sydney I flew out of Bankstown, the GA airport serving Sydney for Moorabbin, the GA airport serving Melbourne. It was a beautiful sunny day, so I flew VFR and didn't file a flight plan. Rick would be waiting for me at the other end, but still, I learned a lot about "designated remote areas" and SARs. I started out weaving my way below and around control areas. I was clear and climbed to 6500 feet and looked ahead. I was headed straight to and through Canberra airport control area. So I called ahead and asked for clearance through their area and over their airport. They gave me clearance then asked if I was going "direct" to Melbourne or taking another route. I said that I was going to Moorabbin, near Melbourne, and yes, direct. They cleared me direct to Moorabbin.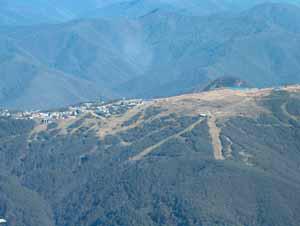 I felt some hesitancy on his part and wondered what I was doing wrong. At the other end, I learned that most pilots file VFR flight plans with SAR, search and rescue, times. We filed them on the next two legs!! After Canberra, I was headed to a mountain range, so I asked for and received clearance to climb to 8500 feet. 10,500 was not available as Australian IFR altitude starts at 10,000 feet.
For an hour and a half, I continued over the mountains. There was almost nothing, just mountains and valleys. Sometimes, the valleys were green with lakes and some houses. Most times, there was nothing. It was pretty desolate. There are very large areas on the charts listed as "designated remote area." There is nothing there. Now I know why people file VFR flight plans with SAR times. Close to the end of the range, I found a ski area, left, apparently there are a few in these mountains. The highest mountain in Australia, Mt. Kosciusko, is in this mountain range just south of my flight path.
I arrived at Moorabbin and was directed to the Royal Victorian Aero Club building and told to park in front of it. There were a lot of people on the patio and in the building. Rick came forward and introduced himself, then introduced me to many of the club members. As it turned out, he was sitting at the club, listening to his handheld comm and preparing his next flight plan to Brisbane for an hour or so prior to my arrival. People started asking what he was doing and little by little it came out that he was waiting for me. As the story came out, the members decided to wait and meet me. So there were many congratulations and handshakes. Then, Stuart, the club president presented me with an Honorary membership, the club wings, and club shirt with their insignia. I was proud and very happy to return the following day to meet and talk with other members. Although I had planned to leave for Tasmania, how could I pass up this hospitality. Rick was finally able to extricate me and shepherd me to his home to meet his wife, Debbie and teenage sons, Matt and Nick. I had been introduced to Rick by email via my best friend's cousin who knew Rick and thought he might be able to help me. We'd been emailing each other since January and he'd prepared and sent me information on flying in Australia. It's amazing and warming to see how friends of friends of friends have gone out of their way to help me with this trip. I owe many, many people a debt of thanks for all they've done for me.
After several hours of flying talk and Rick answering my questions about Australian rules, he and Debbie took me out on the Melbourne bay for a boat ride and lunch. We toured the huge 50 mile diameter bay. Many sailboats were out on this sunny Sunday. Although, comparatively speaking, the area is so large and the population so low that nothing is crowded on the beaches or the bay. Later in the day, we visited the Moorabbin Tower and talked with Warren, Tony and Chris, the controllers on duty that day. I always enjoy visiting towers and seeing the views from up there. We talked about how the operations run, the use of parallel runways and training procedures. It was fascinating to learn that years ago a group of Australian air traffic controllers had toured a number of US airports and determined that the safest and most efficient airport design would be to use parallel runways and have one for takeoff and landing practice and the other for arrivals and departures. That's the way all their airports are designed and operated. I must say, from my short time in Australia, it seems to work well.
Later in the afternoon, Rick and I returned to the Royal Victorian Aero Club to meet and talk with more members. Although somewhat repetitive, I enjoy telling my story and answering questions. Pamela and Stephanie, two women pilots, talked with me about the Australian Women Pilots' Association and how any member would be glad to help me out
wherever I am in Australia. Pamela knows many pilots in various areas and wanted to insure that I had support and aid everywhere in Australia and wanted to give me all the information and contacts in all my planned destinations. I also had offers from the club maintenance engineer to help me with my plane or engine if necessary or anything else I needed. I enjoyed showing my plane and the modifications required for the Pacific crossing. The 55 US gallon drum in the back seat astonished most pilots. Just a simple 44 Imperial gallon drum!! I explained that a custom designed 68 US gallon tank had been built, but the STC for the Mooney was for the drum and that's what was mandated by the FAA. It's empty for my local trips and the plane is within standard limits. It's only for the long crossings that I fill all tanks. They were also interested in the trailing antenna and the HF radio.
Sunday evening Rick showed me how to get weather and file a flight plan through the internet. We weren't sure that the system would accept my American registration, N220FC; but wrote a note in the remarks to explain the situation. Rick told me that he'd receive a phone call within 2 to 3 minutes of sending it in, if there was a problem. I laughed and said that the flight service people must be just sitting around waiting for flight plans to come in if they called that quickly. Two minutes after we sent it in his cell phone rang. We both laughed, and it WAS flight service!! They just wanted to check on the registration. I am still amazed that they are on top of all flight plans that quickly. There is much less communication in the air and on the ground than in the US, but that's to reduce congestion of the airwaves. There is no flight following, but reporting your position and route when entering center's coverage area is acceptable. Also, reporting position and requesting airways clearance prior to entering controlled airspace is required.
Monday morning early we, me and my Mooney, took off for King Island and Tasmania. As in NZ, when I explained where I was headed, the locals recommended what to do and see along the way. In this case it was a stop at King Island on my way to Launceston, Tasmania. King Island is an island off the north west coast of Tasmania's main island and is notorious for it's cheese. Since I love cheese, this became a mandatory stop. We had an 18k tailwind from the north. First I followed the coastline and gorgeous beaches, then turned left and made the short crossing to King Island. Although it is normally and lush, Irish green, it was only an average, unhealthy green as we flew over. It was later explained that the rain had missed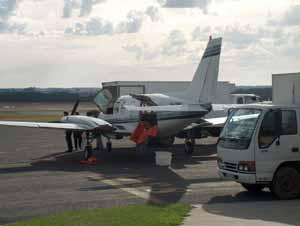 the island all summer. As we arrived, a King Island twin overtook us and landed first. I'd heard him on the radio when he was behind and above us. We talked as he descended below and ahead then landed. We followed him in, then another arrived. As I tied down, two more planes landed. It was rush hour at the airport. There are several twins that ship crawfish and cargo to Melbourne and others that ship people and crawfish each morning (crawfish loading, left). When I returned from touring the town and sampling the cheese, the airport was it's normal empty shell. So, arrive any time but 9am and you'll have the airport to yourself. The cheese shop was luscious. I could have stayed there all day. After a 10 minute video about the island and it's history and kelp industry, it concentrated on the manufacture of cheese. My mouth was watering by the end. Luckily that's when we were led to the tasting room. After sampling over 20 cheeses, I settled on buying my 4 favorites.
We took off again and flew over the rougher, more rugged, south end of the island then over the sea to the northwest tip of Tasmania. We flew down the west coast which changed from flat lands to beaches to mountainous terrain. Halfway south, at Strahan, we turned left, inland, to Launceston. This took us over the mountainous region with many lakes and no roads. It was very rough terrain, yet majestic and wonderful to see. After half an hour, we saw the escarpment and descended the other side from our crossing altitude of 7500 feet to airport altitude of 562 feet. It was a wide farmland valley between the mountains we overflew on the west and another range to the east. After landing at Launceston, I rented a car and drove to Hobart then up the east coast. There are many small villages that housed the convicts on their way to prison in Hobart. Also, convict labor was used for much of the construction in these villages.
Week 2: SE Coast, Woolongong, Dubbo, Sydney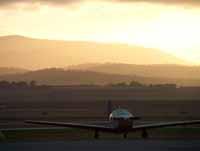 Time to move on. It was a cold, 7C/45F, but sunny morning in Launceston as I prepared the Mooney for our next leg.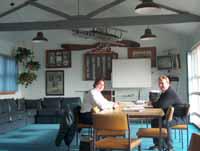 The weather was questionable, so with the help of Melanie, an instructor and commercial pilot at Launceston Aero Club, I filed an IFR flight plan and looked at the weather for the southeast coast of Australia. There would be a layer of clouds at 5000, but good visibility below. Some scattered rain showers. I had purchased the east coast enroute and approach charts in Melbourne, just in case the weather got bad. I had chosen not to purchase the Jeppesen charts before leaving as they would be out of date by the time I needed them and I didn't need all of Australia. The Airways Australia charts are very similar to the NOS charts in the US and less expensive than the alternative. So, I had current charts and felt good about the trip.
The tower gave me my clearance and told me that no other IFR traffic was in the area. I asked if I needed a transponder code and he gave me one, but normally they don't assign that until getting closer to the radar covered areas. I learned a lot about IFR flying in a non-radar environment on the next few flight legs. As with the ocean crossings, they wanted position reports and ETA at future reporting points. As I was climbing out, they told me where to look for other IFR traffic arriving and told them where to look for me. With no radar, the pilots sometimes talk directly with each other as to their position and altitude. I cleared the traffic, climbed over the mountains to the east and leveled off at 7000. I was on top of a cloud layer and didn't see anything -- bummer. I knew I'd be flying over Flinders Island and had wanted to see it, but couldn't. I did however report it as it's a mandatory reporting point.
As I was checking the gages, the fuel pressure gage suddenly dropped out of the green and below the red line, my heart jumped and I hit the fuel boost pump switch. The fuel flow was immediately back up to normal. After a few seconds, I turned off the boost pump and the fuel flow stayed in the normal range. I didn't understand what had happened or why. I continued monitoring the gage very closely and saw it dip a few times, but it had done that before, just never below the red line. I began to relax again and had no further problems.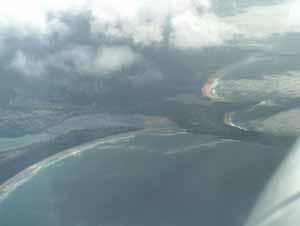 After reaching the coast, I wanted to see a little of the area, so I requested and received "No IFR traffic reported" to descend to 5000. This was probably not a good decision. I was just in the base of the clouds, it was bumpy and rainy. Oh well, only an hour to go to Wollongong. I got a few photos of the many beaches and expansive shoreline, but also got bumped around. "N220FC identified" is how
ATC tells you that you are now in radar contact. But then I received a transmission to contact the next frequency and to stay clear of their airspace. I was entering a military airspace area and apparently permission is given directly, not through the preceding ATC. Approval was given on first contact and I continued without any slowdown or change of direction. I had descended to 3500, then went over the 2000 foot escarpment and down into Wollongong. It was a beautiful semicircular area with a long beach on one side and the escarpment on it's circumference. By then I was in it's MBZ and reporting my position for approach and landing. I met up with my Dad and his friends and we all had a delicious lamb lunch together.
Off to Dubbo, or so I thought. When climbing out, I back off on the throttle and usually watch a reduction in manifold pressure. Not so this time. The engine was performing correctly, but not so the gage. So I broadcast my intentions, did a U turn and landed again at Wollongong. I took off the cowl and checked the connections, all looked ok and I didn't see any leaks in the hose or tubing. With Robert, an instructor at Wollongong, we looked at it and discussed options. There is no mechanic on the field; I would have to go to Bankstown or another field to get a mechanic to check the gage. So, I took off again for Dubbo. I had planned to fly the coast from south to north to view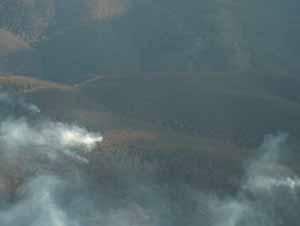 Sydney, but didn't want to do that at 500 foot VFR altitude without the MP gage, so I went direct to Dubbo at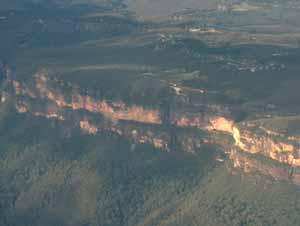 7000 feet so that the MP would remain below the rpm. We left the flatlands near the beach, climbed the 2000 foot escarpment and continued on over mountains with fires burning (left) and cliff and valley areas. On arriving at Dubbo, I spoke with the supervisor at the Air-Link hangar and he said that someone could look at it the following morning. I felt better already.
Dubbo is over the mountains and into the flat arid lands an hour to the north west of Sydney. Six hours by car. After touring the cattle auction in the morning (now that was fascinating), I went to the hangar and Paddo had already repeated my inspection from the previous afternoon and found nothing. Once he looked behind the instrument panel, he found the loose connection immediately and tightened it. I didn't even have to buy a new gage. With a smile on my face and profuse thanks to Cliff and Paddo, I left for the Dubbo Zoo. That kept me occupied for the rest of the day until I went to learn about boomerangs -- with ailerons!! Actually only one aileron per boomerang. But, they have left and right handed boomerangs.
I'd read books about Australia and the characters always talked about the weather and rain. Well, that's exactly how it is out here. The main topic is the draught, when they last had rain, the impact on the cattle and sheep, and when the next rain will come. So, when I got up on Friday and it was raining, I didn't complain to anyone, I knew they'd all be celebrating. The Air-Link manager, Geoff, let me use their computer to file my flight plan and check weather. I was in the middle of that when a crew returned and the pilots helped me with the standard route to Bankstown and what to expect in terms of arrival and radar coverage. David, Adrian and the other pilots were a great help as they'd just returned from Sydney and gave me the latest weather. They were also interested to hear about my trip and where I was going from there. I gave Geoff the web address, thanked him for letting me use their equipment, and went to pre-flight the Mooney.
I called Melbourne Center from the ground and received "no IFR traffic reported." So I made my MBZ calls and departed. On climbout I again contacted Melbourne Center and gave my position and time to reporting point. I think I'm getting the hang of this non-radar environment reporting. After half an hour, the clouds opened up and the sky was blue. I descended through some clouds to get back into Bankstown was switched to VFR as soon as possible. David from Dubbo had warned me about that and Geoff had shown me the VFR arrival procedures book with Adrian explaining what to look for and the 2RN tower. Thanks for the preparation -- you helped me enormously!!
Time to get the washing done and prepare the next legs. Next update near the end of April.
---
Home / Dedication and Mission / Preparation / across the US to California / First ocean crossing to Hawaii /
Ocean crossing to Samoa / Ocean crossing and flying in New Zealand / Crossing and flying in Australia /
Multiple jumps: Singapore to South Africa / Multiple Jumps: South Africa to Greece / Europe /
Crossing the North Atlantic / Last leg home / About the pilot / About the plane / Supporters /
Overview / Women / Kids / FAQ / Lessons Learned / Family and Friends /
Flight reports: FL to CA / CA to HI / in Hawaii / HI to Am Samoa / Am Samoa to NZ / in NZ / NZ to AU / in AU / in AU2
AU to Singapore / Singapore to India / India to Seychelles / Seychelles to S.Africa / in South Africa / Zambia to Ethiopia /
Djibouti to Greece / Greece to France / England, Ireland, Scotland / to Iceland / to Greenland / to Canada / last legs home
New: Presentations / Book
I'm happy to hear from you, please email me at cagarratt@gmail.com any ideas, suggestions or flight tips. Thanks.