Flying in Greece, Italy, France. Flight Reports:
4. Flying in France.
What a joy!! Quel joie!! This is one of the reasons I planned the trip -- to take friends flying. It's been great for me and fun for them.
First, I met some very helpful people in Auxerre at the Aero Club de l'Yonne, Christophe, and at the maintenance shop, Bourgogne Aero Services, David and Philippe, gave me the space to do an oil change. Then I left for a smaller airport, Joigny, closer to Sens, where I use to live and work. Again, the people at the Joigny Aero Club, President Luc and pilot Hubert gave me parking space and were helpful with avgas; they and others also wanted to hear all about the trip.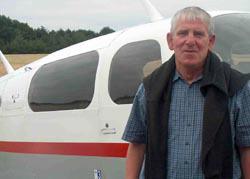 Georges was my first 'New' Eagle. We flew around Clemecy, Vezeley (a large Basilic church on top of a hill), Avallon and Chablis (lots of vineyards). He helped to determine the route that I would take with future Young Eagles.
Francine and Isabelle were next, although apprehensive, Isabelle held her breath and went for a ride. At the end she enjoyed it.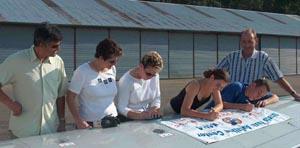 Twins, Thomas and Estelle, were my first French Young Eagles. They were very enthusiastic as were their parents Philippe and Jocelyne and friends Robert and Sylvie. My EAA Chapter 74 made me a banner for all the Young Eagles to sign, left.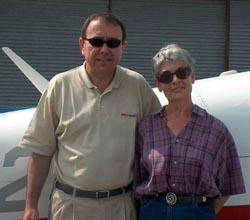 Another day I took Gerard and Michelle. Gerard, along with his wife, Francine, took care of me and lent me a car for the whole week. Michelle's late husband, Christian, started my whole trip by suggesting that I fly my Mooney over to give them a 'bateme de l'aire.' I was looking forward to taking him flying, but he died of cancer just before my departure from Florida, the end of February. It was moving for all of us as we remembered Christian during the flight. I know he was with us in spirit.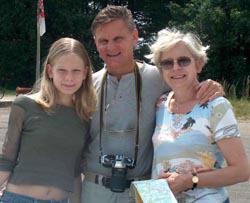 Then a new Young Eagle, Zelie, and her parents, Charlene and Christian, went for a ride. They had the preflight and loaded in the plane on Sunday, but unfortunately, it wouldn't start. After changing the spark plugs, everything was fine, and they returned Tuesday for a flight around the region of l'Yonne.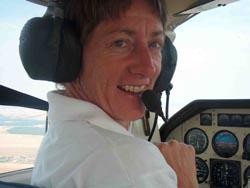 This was what I'd looked forward to and I enjoyed their joy and enthusiasm with each flight. I thank them all for flying with me. As I move on to Belgium and England, I look forward to introducing more Young Eagles to aviation and taking their parents for a ride as well. It was great to see old friends and colleagues and make new friends. I'm sure I'll be back in France, either commercially or with my plane, to visit everyone again in a year or so.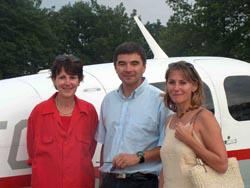 Dr. Ahang with, Maud (left), and Sylvie dedicate their spare time to helping introduce aviation to the local community. They held a 'Skyevent' in May and gave free introductory rides ('bateme de l'aire') to visitors aged 7 to 77. There was a good turnout and many people benefitted from their hard work putting together this first ever regional air show.
We met at Joigny airport and exchanged flying stories and email addresses. As Dr. Ahang travels to Canada several times a year, I'm sure we'll meet again. His love of aviation may take him around the world someday and I hope that I can help with all the information and contacts that I have gained from this trip.
The wine story: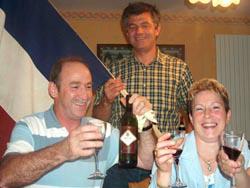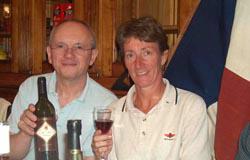 When I was in Melbourne, Australia, Pamela gave me a bottle of Australian Shiraz and asked me to drink it when I reached France. I shared it with some French friends (please note the flag in the background), along with a bottle of South African Pinotage. The French response was mixed to both wines. Some thought they were very good, others thought they weren't full bodied enough. But, we all had fun taste testing the wines with dinner chez Robert et Sylvie.
3. Geneve, Switzerland to Auxerre, France, July 3, 2003.
After a wonderful two days with Flemming and Angela, it was time to move on, only a short 1.25 hr flight today. Flemming helped me to load up, including lending me his survival suit for the north Atlantic (one size fits all, we'll see pictures in a month). Startup and taxi went well, but I must have hit a busy time as I had to wait 15 minutes for departure. That gave me plenty of time to review the departure procedure as I was headed into clouds and mountains. I had a good climb rate, as I wasn't too heavy, but still was slightly worried about making it over the first mountains, before entering the clouds. Into the clouds I went at 5000 feet and stayed in at 8000 feet. It was +3C and raining, so no ice. I turned right at 7000 feet and proceeded to Dijon. After half an hour it started to breakup and was broken to scattered the rest of the trip.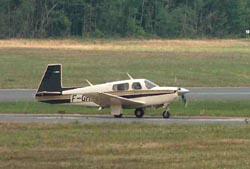 Paris approach gave me a direct to Auxerre and I was there in no time. I descended to 2500 which was just below the clouds and did a visual approach. What was the first plane I saw on arriving? Another Mooney. Later the owner came over and we had a long discussion on long distance travel and Mooney airplanes (in French).
The airport was pretty deserted, so I parked and started to clean out the plane -- boy it needed it. I separated piles into trash, send back to US, wash and unload. As I was going to fly friends around, I wanted to unload as much weight as possible. Then I started unloading the 55 gallon drum from the back seat. Within an hour it was out. It attracted a little attention and one by one, more pilots came over to talk.
After I finished all the work and cleaned the underside of the plane, a horrible job, but necessary every 50 hours or so, it started to look like rain, so I packed up and moved into the Aero Club office. Other pilots were doing the same thing, so about 6 of us ended up talking about my trip. Actually, the instructor, with whom I'd spoken earlier, had pulled up the web site and several were looking at it. I didn't know a lot of words in French, but they helped me through and we talked for about an hour.
Gerard and Georges came to pick me up and we talked non-stop all the way back to Sens. It's good to be "home" where I lived for 8 years. We've got a full schedule planned for my stay here. It's going to be fun.
2. Cagliari, Italy to Geneve, Switzerland, July 1, 2003.
The exit procedures took 2 hours including avgas -- which is even more expensive than Greece!! Again I was "handled" due to parking and needing transportation to the terminal. One doesn't have much of a choice. The handler didn't have any flight plan forms, so that took a while, then we had to wait for confirmation from Brussels, who modified the route. Tower was efficient with clearances and taxiing and I was off in no time. In some of these airports, although there is a ground frequency, they only use tower. You can find yourself, as I did, calling ground on the handheld for startup approval, and no-one answers. Finally I called tower and received approval. There are mountains in the north and east quadrants, so circling to climb to altitude was required. I was initially surprised with my climb rate, forgetting that I wasn't overloaded any more. Even with the 32 C heat, I climbed well.
ATC kept changing the routing, but it was to make the route more direct, so I accepted gladly the amendments. Finally I was switched over to Marseille control. They just gave me a direct clearance to the French coast, instead of doing two sides of a rectangle around the military airspace. Nice guys!! That cuts more than 30 minutes off my trip. Also, with the other pilots speaking French, I can now understand what's going on. The weather is clear blue skies with a few thin clouds at about 6000 feet and much less haze than previous days. They have rain showers in Geneva, but it should be clearing by the time I arrive. Only 2 1/2 hours to go.
I'm eating well on this short trip, even though I don't need to. Viviane insisted and Nayaghi prepared a sandwich, two packets of cookies, and plenty of fruit. I've just made contact through HF for the first time in many legs. I'm sending off position reports and hopefully they won't be too old for the system to take.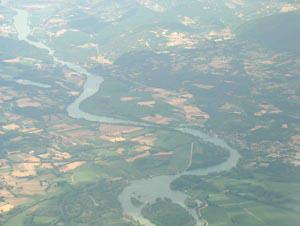 The airspace looks pretty congested on the GPS and on the instrument charts. I think I'm going to be kept busy over here. Although, so far, the communication is pretty light, certainly not as congested as Orlando airspace. We'll see how it goes. So far, the French have spoken very good English and have been easier to understand than the Italians. They spoke very quickly and I had to ask them to repeat each time.
The coast is in site with towns on the flat areas and cliffs rising right out of the sea in other areas. As I fly further north it's green rolling hills with farm lands and lots of small towns and villages with houses with red roofs. I remember that from when I lived in France. Every time I returned from a trip, by commercial flight, I remember the small villages with all the red roofs. It was great to be back in France and flying in my own plane.
As I flew over Marseille and continued north, the communication became more rapid and the controller made numerous traffic calls. Then, it slowed down as I continued further. It was cold up there; I didn't quite turn the heat on, but I did close the vents. I knew I'd be wishing for the warm weather when I got over the North Atlantic, but I didn't think it would get so cold so quickly. I found out later that they had had a month of very hot weather all over Europe and this was the first cool front that had come through, so it was a relief for everyone.
It was getting more cloudy and finally I was IMC. I was handed from controller to controller, remaining at 8000 feet, which was a safe altitude on the Jepp charts. One controller said that I was at my own risk as he handed me off. I checked with the next controller that 8000 feet was a safe altitude and she said that it was fine at 8000 feet. Every time I flew into a cloud I was putting a lot of faith in the Jepp altitude and controllers. I knew there were mountains to my right and I was flying up the Rhone Valley. When I could see the ground, I felt okay. I was switched from Marseille control to Lyon to Chambery and finally Geneva control. He took me off the airway to start vectoring for final approach. The clouds were getting sparcer and I could see the mountains to my right and the lake off to the left. What magnificent views. I was on final and the airport was easy to see. Flemming, who I was to meet, called while I was on final to welcome me to Geneva.
We have a new Number 1 airport for ease of entry -- no paperwork and just flash your passport. There is a GA side to Geneva airport and they have customs and immigration for Switzerland and France. It's simple and absolutely no hassle. Going back into France, there is no need to clear at a French airport -- you can go anywhere. Flemming, an Earthrounder in a Mooney, and Ray, a Kiwi pilot, met me at the plane and we started talking about flying and various flying stories immediately.
Flemming has a wealth of information on flying around the world and had emailed me on a number of occasions to give me help and advice. There are five planes currently flying around the world and he has been in contact with all of them. He now gave me information on Iceland and Greenland which was going to be very useful. Their website, www.honeymooney.com, has the whole story of his and Angela's trip around the world and he is adding notes from other long trips that he's made to the US and Africa.
We had a wonderful dinner with Flemming and Angela, his wife, and Ray. It was non-stop pilot-talk for several hours.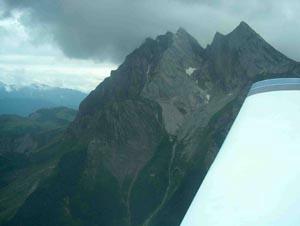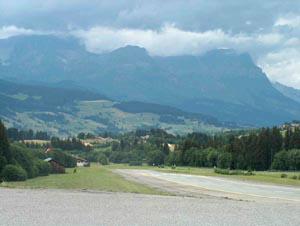 Today it's off to Megeve in Flemming's Mooney. It's a one way in, one way out, mountain strip. The pilot has to have 10 hours of instruction to be signed off to fly into this strip.
Flemming knew the area very well and I was happy to be in the right seat. It also gave me the opportunity to snap many closeups of the mountains and glaciers. Due to the clouds, we couldn't get a good view of Mt. Blanc, but the rest of the views were amazing.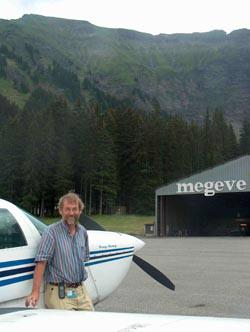 The approach was impressive and it's necessary to be precise. Flemming explained it as he did it and I had the approach plate to follow. The view from final looks very different and the flare requires a 15 degree change in attitude, something we are not use to. After landing, one must add power to continue up the runway to the ramp on top. The picture above is from the ramp, looking down the runway -- that's the takeoff direction. It was impressive. We had a French lunch, then took off to fly down some valleys. Again the clouds limited our trip, but it was awesome.
Left is Flemming at Megeve with his "HoneyMooney" in which he and Angela flew around the world in 2002.
1. Iraklion, Greece to Cagliari, Italy on June 27, 2003.
Ahhhhhh, what a relaxing three days in Crete. It was wonderful. Anastasia made me feel so at home in her little hotel that I could have stayed a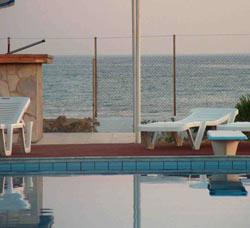 week. When she learned that I liked Retsina, she put a bottle in the fridge to cool immediately, while I checked into the room. Giorgos, the VP of the Iraklion Aero Club, came over the first evening to welcome me and to help out with flying details at Iraklion. We had a great chat. Pilots the world over have been exceedingly helpful. With dinner and breakfast provided at the hotel, I didn't have to do anything but swim and find an internet cafe to send my updates.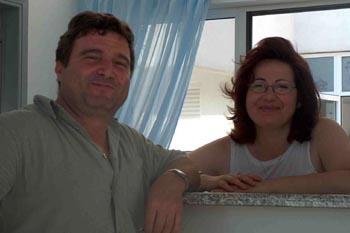 Friday morning I finally said goodbye to the owner, left, and Anastasia and headed back to the airport. The owner was cleaning the pool the first time I saw him and preparing breakfast this morning. Unfortunately, we couldn't communicate because he couldn't speak English and I couldn't speak Greek. But, he seemed like a great, hardworking guy.
The Olympic handling charges, required due to "construction," wasn't as bad as predicted, only 30 Euro and the gas was $6.25 per gallon. Terrible, but only 1/2 that foretold. And, at least they had avgas; after Egypt, I'd pay a premium to find avgas. The oil was only sold by the case, but at this stage, I'll accept almost anything. I was so rested and relaxed after my 3 days off, that I stayed calm through the whole Olympic and gas rip-off experience. Nothing could phase me this morning.
I had to go to the tower to process the flight plan -- don't ask me why, but up I went. The elevator was a black box with no lights; you don't want to be claustrophobic and go in there. I had to leave the door open while I found the right button to push. When I got up there, they were most helpful and told me what to expect for departure and routing. I waited for takeoff behind two big jets. It was already 11am (all the processing and gassing took 3 hours) and it was their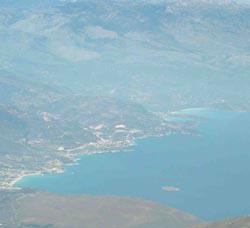 busy time. I was headed west past their military base of Souda. Unfortunately it was busy there too and I had to hold twice prior to being allowed to pass through their airspace. At 4,500 it was hot, but I was on my way. I'd filed VFR, the tower seemed to prefer that to IFR, and was too low for contact with Athinai control, so I wasn't talking with anyone, not a very comfortable position, but I didn't have a choice right now. Only an 8 knot headwind, so I'm averaging 132-134 knots. Less than 5 hours to go. I'll be in touch with Italy in 2 hours, then flying over Caraffa (on the toe of Italy), then on to Sardinia.
Well, I've tried all the HF frequencies with no luck. Guess I won't be sending emails or talking with anyone this trip. At least there are ships down there. I've counted 4 so far and although it's a little hazy, they are big enough to pick out. Only 4 hours to go and 1.5 to being over land again. I'll have to climb over Italy as there are mountains up to 7,000 feet where I'll be and 10,902 on Sicily. This time I'll be happy to climb, it'll be cooler up there, even though the winds will be more unfavorable.
It's great having a 12 volt converter on board. I keep recharging my camera batteries, my handheld nav/com and my PC. I might just have to keep it on board after this trip is over -- it's just too useful.
I'm finally in contact with the world again. It's nice when there's a little concern at the other end. He wants me to report "operations normal" every 30 minutes and gave me a backup VHF frequency. I don't feel so lost any more; guess I can quit looking for ships. Boy is it hot, 30 degrees C. I don't want to climb too early because of headwinds, but I do want to cool off. Another 45 minutes and I'll climb to 8,500.
8,500 and 20 degrees C. I can see Italy, but it's very hazy. Left turn in 10 minutes and straight to Sardinia. Only 3 more hours. A plane is taking off from Caraffa airport and the controller asks me to stay south of the extended centerline, 270 degrees. The other plane is headed 280 degrees and will report passing 9,000 feet. It's a little disconcerting knowing someone is coming up close behind you. But, he finally reports passing 9,000 and I return on course. Most of the pilots and controllers are speaking in Italian, so I really don't know what's going on around me.
Almost abeam Palermo now and in contact with their female approach controller. I was amazed in the Iraklion tower there were 3 women and only 1 man. I also spoke with quite a few women controllers when coming north over Africa. More than I expected at any rate. It's extremely hazy and I can't see Palermo or Sicily. With less than 2 hours to go, I'm feeling pretty good. I'm ready for a good Itialian meal with Aunt Viv. Not my aunt, a friend's; but we met last October and hit it off very well. She lost her husband about the same time we lost my Mum, so it was a difficult time for both of us. I'm hoping that she's doing better.
I tried all the HF frequencies again from 8,500 just in case ... but the propogation is no good and I can't make any contacts. I'll reel in the trailing antenna... time to get ready for landing.
It was still hazy as I came across the southern tip of Sardinia, but with a right turn, I was on the ground in another 20 minutes. It's hot, 35 degrees C, but there is a nice wind blowing. The processing is simple withing Schengen/European airports. Although I must walk through immigration and customs, no-one looks at the passport or any general declaration documentation. As luck would have it, this was the second day in the new terminal. We'd planned to meet in the departure bar, but in the old terminal, so we had a little trouble finding each other. Within one hour we were together and talking like old times. Viviane gave me a wonderful tour of Cagliari before heading home to a superb Italian dinner.
The temperature was hot, but at the beach, with a breeze it was comfortable. The mornings were cool and perfect for jogging -- which I needed to do as I was eating a lot of excellent food. Sardinia gets a lot of sun and the fruits and vegetables are juicy and very tasty. We had them at all meals and snacks. I took a bag full in the plane as Viviane thought I would go hungry during the 4 or 5 hour trip.
I was able to spend some time with the pilots of the Aero Club of Sardinia. They were very interested in the voyage, the plane, and the length of the flights. Many thanks to Georgio, a club member, who set up the meeting and Roberto the Vice President, who participated and translated. Pilots everywhere have been a joy to meet.
Cagliari in Sardegna e di avere il piacere di scambiare delle informazioni concernenti il giro del mondo Mooney. Erano molto interessati alla programmazione del giro, al aero impiegato, alle tappe, alle loro distanze e alle ore di volo impiegati per le traversate, soprattutto quelle oceaniche. E stato un incontro molto interessante e piacevole che non dimentrichero mai per la cordiale accoglienze che ho recevuto.
Ringrazio Giorgio Sarais che e un membro del aero club di Cagliari, e che si dato tanto da fare in cosi poco tempo per organizzare questo piacevole incontro e che mi ha dato l'opportunita di incontrare il vice presidente Roberto Cnrjar e i collighi di volo.
---
Home / Dedication and Mission / Preparation / across the US to California / First ocean crossing to Hawaii /
Ocean crossing to Samoa / Ocean crossing and flying in New Zealand / Crossing and flying in Australia /
Multiple jumps: Singapore to South Africa / Multiple Jumps: South Africa to Greece / Europe /
Crossing the North Atlantic / Last leg home / About the pilot / About the plane / Supporters /
Overview / Women / Kids / FAQ / Lessons Learned / Family and Friends /
Flight reports: FL to CA / CA to HI / in Hawaii / HI to Am Samoa / Am Samoa to NZ / in NZ / NZ to AU / in AU / in AU2
AU to Singapore / Singapore to India / India to Seychelles / Seychelles to S.Africa / in South Africa / Zambia to Ethiopia /
Djibouti to Greece / Greece to France / England, Ireland, Scotland / to Iceland / to Greenland / to Canada / last legs home
New: Presentations / Book
I'm happy to hear from you, please email me at cagarratt@gmail.com any ideas, suggestions or flight tips. Thanks.