Wick, Scotland to Horafjordur, Iceland; flight report August 12, 2003
(update August 14th)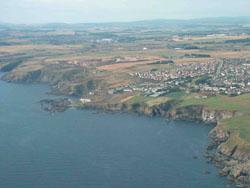 After a wonderful weekend with friends in Aberdeen, I left on the Monday morning for Dundee, 1/2 an hour south, to get the engine checked out. Although it was running fine and starting extremely well, I wanted the mechanics to go over it before crossing the North Atlantic. I still had laryngitis when I departed Aberdeen, and although I'd been trying to rest my voice, it still cracked and faded out quite often. I had juice and sweets to keep it lubricated. I followed the coastline down with beautiful views of the cliffs and a few beaches. After I was out of the ATC area and squawking VFR, 7000, I crossed inland, direct to Dundee. The tower brought me in over the airport at 2000 feet and straight in to the pattern - downwind over the Tay River, base with a good view of the hills rising beside the river, and on to final with the runway alongside the river.
The engineers at Tayside Aviation were all ready to help and Stuart, left, Neil and John pulled my plane into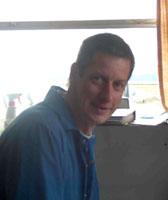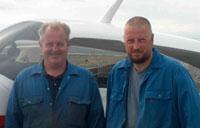 their hangar and took off the cowling. They reviewed the mags, tested them again and pronounced the ignition switch and mags to be looking good. Neil, right, reviewed the whole engine while John made me a new exhaust hanger as it had broken the previous day. They knew that I was crossing the North Atlantic pretty soon and wanted to be sure that everything was in good shape. We started it one more time, fitted the new hangar, and buttoned up the cowling. They pronounced me ready to go. I very much appreciate all they did to help me out and make sure that my engine was as good as possible. When I was checking the weather to return to Wick, another person from Tayside Aviation, Bob, gave me his approaches, in case I needed them and got me the latest weather information for the area. As I've said before, people in aviation the world over have been exceedingly helpful to making my trip as safe and easy as possible. I may be doing most of it alone, but it takes all these people to make the trip a reality -- it certainly isn't a solo effort. Thanks again to all.
After departing Dundee, I turned almost due north for Wick. The clouds were in layers but soon broke away and I was in clear sky. The heather covered hills and green valleys were a joy to look at. The last part of the trip was over the Moray Firth. Only 50 miles, but enough to make me gulp after the work that had been done on the engine. I figured that if I couldn't make this, I certainly wouldn't be ready to cross to Iceland tomorrow. So, I held my breath, took a picture of the shore, and checked the gages. It wasn't so bad. After several minutes I started feeling okay again. I called Wick approach/tower and they guided me in. I was back "home." After spending a week here, it felt almost like home.
I started reorganizing the plane for tomorrow's flight. The life raft had to be ready on the front seat and tethered. The ditch bag was right behind. I had the survival suit that Flemming had leant me and I'd put that on tomorrow before departing. Graham and I filled the tanks and added 4 litres of isopropal alcohol to prevent ice forming in the filters. I hooked up the HF radio wires and cleaned the window and leading edges. I'd been through a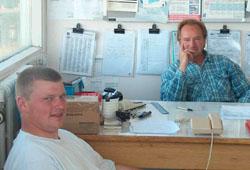 bug storm and had bug juice everywhere. I was ready to go. In the Far North office, I did my flight plan and made sure I had all the charts and approaches. Back to the Harbour Cafe B&B for a good night's sleep and one last Scottish breakfast.
The morning was clear but with clouds moving in from the north west. The satellite image showed a storm moving over north Scotland, but relatively clear over Iceland and enroute after clearing the front. The winds showed tailwinds becoming crosswinds and the METARs and TAFs showed all airports VFR and remaining that way. As I said to Clair and Graham, they were taking away all my excuses, now I had to leave. I did the preflight, checked the charts, paid my bills, and got ready for the flight. This time I'd be wearing 1/2 the survival suit. They are cumbersome, difficult to get on, and it's hard to move around when on. So, most pilots put on the bottom half and drape the top over the back of the seat. It worked pretty well, but I don't know how others do it with two people in the front. Wick tower gave me my clearance and I was off, with less trepidation than I'd imagined. I'd been worried about the North Atlantic legs and thought I'd be very worried the morning of the flight. But, instead, I was amazingly calm and ready for this leg. I climbed through clouds that were coming in over Wick and picked up a nice 15 k tailwind. As I leveled off at 6000 feet, the clouds broke clear and the seas were calm. Every once in a while, there was a little bump to make me nervous, but overall it was very smooth. Radar pointed out a helicopter that I never saw and otherwise it was looking like a short trip at 150 k groundspeed.
I knew that I was feeling comfortable when I finally pulled out the laptop, reeled out the HF antenna and tried to send an HF email message. Unfortunately, I couldn't make contact. Oh well, I'll start writing the trip report instead. I lost contact with Scottish radio, but picked up Reykjavik as recommended after crossing 60N lat. They came in loud and clear, changed my squawk code and cleared me to Hornafjordur. It's chilly in the cockpit. I have a fleece top on and haven't put on heat yet, but its a little cool. As I hit the first waypoint and FIR boundary to Iceland, I only have 2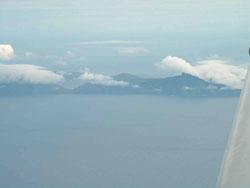 hours to go.
Off to the right are the Faroe Islands. I heard that they are usually cloudy and not a good destination. I met a ferry pilot at Far North Aviation in Wick who had stopped there for gas -- $10/gallon. That's the most expensive anywhere!! He's not going to stop there again.
The tailwind is down to 7 knots with widely scattered clouds below and overcast above; there is a little rain and the temperature is still +2C at 6000 feet. The wind moves around to more of a left crosswind and I'm down to 145 knots. Which really isn't bad, considering it's usually a headwind over the North Atlantic. I just realized that I can't take my shoes off with the survival suit on. I usually take them off when I reach cruise. The next leg will be 5 to 6 hours, so I'd better start without shoes!!
I'm into the last 150 miles and was studying the NDB approach when I entered some dark clouds with rain and turbulence. My head hit the ceiling once and it's difficult to hold course. It's nothing I haven't been through 15 to 20 times in the states, but it doesn't feel good bouncing around out here over the North Atlantic. After 3 to 4 minutes I come out the other side to blue sky and small puffy clouds. That feels a whole lot better.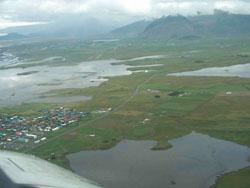 Reykjavik gives me the Hofn weather and it's good VFR. As I get closer, the clouds break up and I can see the town and descend below the clouds. I see the airport and am given clearance to land. There are mountains and glaciers all around. I'm snapping pictures like crazy to try to capture it all before landing. I can't stop looking at the scenery - it's majestic. I land, taxi and park and still can't stop looking at the green hills and dirty white glaciers.
It's cloudy and drizzling. After visiting with the tower controller, I learn that it isn't forecast to clear up in the next few days. It actually looks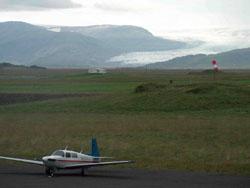 better to the north. After a trip into town for coffee and a look around, I finally decided to go to Akureyri, further to the northwest. I file to go via Egilsstadir to keep the enroute altitude to 7000 for the first half and 6000 for the second half. I'm thinking that I'll run into icing if I go any higher. When given the clearance, they've routed me direct at 9000 feet. I explain that I want to stay low and they revise my clearance to the one I'd originally filed. I circle in the clear around Hofn to climb to 7000 and get some good pictures, then start on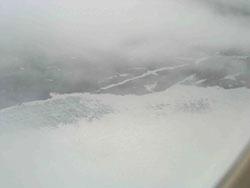 my way. The clouds are numerous, but it's only rain in them, but I don't get many clear shots. From time to time I see ice and snow on the mountains and some mountain lakes.
After passing an intersection, the helpful controller asks if I want AKI direct at 8000 feet. Again I decline -- no sense risking icing.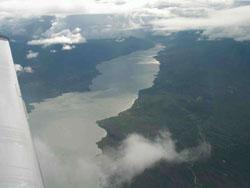 After I turn the corner and head for AKI, I descend to 6000 feet and I'm just below the clouds. The views are amazing -- mountain lakes, green valleys with rivers, and sparse mountain tops. There's not much vegetation or habitation. After another bout with dark clouds, rain and turbulence, I'm again in blue sky on the other side and AKI is only 30 miles ahead. This was not going to be a pretty approach, an offset LOC with 5 descent points, but it looks like it'll be VFR -- my lucky day. As I cross the last mountain, there's the wide valley at the tip of the bay with the town of Akureyri at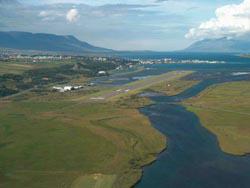 the end and the airport beyond. It's beautiful -- I'm snapping more pictures as I descend from 6000 to sea level. I'm cleared to land and again can't take my gaze off the mountains surrounding the airport.
Iceland is pretty expensive with Guest House accommodation, shared bathrooms, at $55/night. Beer at $3/can in bulk! And, internet access at $6.5 per half hour. But, it's beautiful and sunny, so I decide to stay two nights and get some updating done. The towns are pretty sleepy and activity is minimal. People are pretty laid back about things and certainly not rushing around -- but they are all pleasant and helpful. The one good point is that there is only a landing fee at the first airport and not at each subsequent airport, except for Reykjavik, so all landing and parking is now free after my first payment of $14. Now that's very reasonable. Also, the international entry requirements rank right up there with Switzerland as being simple and easy. Unfortunately, because I came in a small airport, I didn't get a stamp in my passport. I'll try to get one at Reykjavik.
I've found an internet cafe and checked in with the tower for tomorrow's departure, so I can now tour around and enjoy sunny Iceland.
Thursday morning I'm going to relocate to Reykjavik to prepare for the leg to Greenland. It's up early with the sun -- I manage to stay in bed until 6:15am. It looks sunny and windy. The weather forecast on the TV (that I couldn't understand, but could watch) looked like sun to the north and rain to the west and south. Reykjavik is in the southwest. The 3 day forecast looked like a high coming over Greenland -- that would be too good to be true.
With a taxi charge of $11 for the 3 kilometers to the airport, I can walk. I need the exercise anyway, I have't been running since Ireland. The woman in the tower is extremely helpful with weather around Iceland and she checks some in Greenland for me. All the airports there are fogged in, so I stick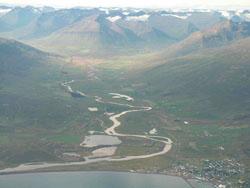 with my first plan to relocate to RK. I wanted to see the north of Iceland and Isafjordur, a town to the west, if the weather holds, so I planned a VFR flight to IS and an IFR leg from there to RK as there were clouds and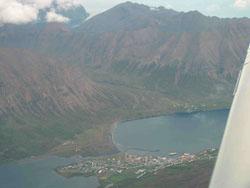 rain in RK. It was still clear and sunny when I took off at 9am, although there were some high clouds off to the west. The fjord was beautiful, with small villages along the coast and some odd houses by themselves. The mountains rose up behind them to 4000 to 5500 feet. I turned west over the mountains and climbed to 6500 feet. It was still above freezing, +2C. I continued west with a crosswind and RK control gave me a squawk code. Over the first bay and coming over the second strip of land, clouds were lower, so were the mountains, so I descended to 4500 feet. I set out across the second large bay. Unfortunately, the clouds kept getting lower, and, after reaching 3500 feet which is lower than the minimum safe altitude when I reach the next landfall, I decided that was enough. I called RK control and started climbing. They cleared me direct RK at 6000 feet. I felt better. I kept looking west, and it cleared a little, but not enough to have an enjoyable VFR flight. I'd already seen some wonderful scenery, that would have to do.
I proceeded SW at 6000 into a 40k headwind. Every once in a while there'd be a break in the clouds and I'd see land, mountains, fjords or a mountain lake, but not very often. After half an hour and at 30 miles from RK I was switched to approach and guided in. Although the wind was 160 to 170 and there is a runway 19, for some reason they were using runway 13. With 20 to 25k winds, this made for quite a crosswind landing. Luckily it was uneventful and I taxiied to Flight Services where Sveinn proceeded to take care of me.
We gased up for tomorrow's flight and he got some weather information. It looked like the low would be moving through and I might have a window of opportunity tomorrow for tailwinds over the Greenland ice cap. This is perfect and usually means no fog on the west coast. Good news. But, nothing is sure until the next day's weather comes out. So, it's find a hotel and look around Reykjavik for the afternoon.
ALS/MND Update:
I recently received another email from Jackie in Australia. She's still writing and fighting ALS/MND and has a new web site of her own: http://55jer.com/jackies%20page.htm where you can read all about Jackie and her family.
I also received emails from friends of a new ALS/MND patient. John and Barbara from Canada have a friend Jim who, in his mid 50s, was diagnosed with ALS just 10 months ago. He's fighting, but also living some long awaited dreams. He took a flight in a Gypsy Moth several months ago and will surely enjoy some other unfulfilled dreams in the coming months.
When arriving in Earls Colne Field near Colchester, England, I met Lynn whose husband Derek died of ALS/MND four months previously. During his early stages, he also lived a dream and did a parachute jump to raise awareness and donations for MND.
While in Ireland, I met one cousin who'se husband died of MND 8 years ago. His type of MND progressed very quickly and he died within a year of being diagnosed. It was a tremendous loss for Kathleen and her family. She contines the fight with fundraisers each year at her local church and community.
Many thanks to those of you who have donated to help find a cure to this disease. Some of you have written to me and others have donated anonymously -- to all I owe a debt of thanks.
If you are enjoying these flight reports and haven't yet donated, please consider sending a donation. Just click on the Dedication and Mission page, or visit the donation web site, or send a check to the ALS Therapy Development Foundation, 44 Glen Avenue, Newton, MA 02459. Thank you for your support.
I'll be attending fundraising events in Canada and the US over the coming weeks to raise awareness and donations to fight this disease.
Home / Dedication and Mission / Preparation / across the US to California / First ocean crossing to Hawaii /
Ocean crossing to Samoa / Ocean crossing and flying in New Zealand / Crossing and flying in Australia /
Multiple jumps: Singapore to South Africa / Multiple Jumps: South Africa to Greece / Europe /
Crossing the North Atlantic / Last leg home / About the pilot / About the plane / Supporters /
Overview / Women / Kids / FAQ / Lessons Learned / Family and Friends /
Flight reports: FL to CA / CA to HI / in Hawaii / HI to Am Samoa / Am Samoa to NZ / in NZ / NZ to AU / in AU / in AU2
AU to Singapore / Singapore to India / India to Seychelles / Seychelles to S.Africa / in South Africa / Zambia to Ethiopia /
Djibouti to Greece / Greece to France / England, Ireland, Scotland / to Iceland / to Greenland / to Canada / last legs home
New: Presentations / Book
I'm happy to hear from you, please email me at cagarratt@gmail.com any ideas, suggestions or flight tips. Thanks.