March 31-April 1, Keri Keri to Norfolk Island to Lord Howe Island to Sydney, leg 5 flight report
As I spoke with pilots in New Zealand about crossing the Tasman sea to Sydney, without exception they told me to visit the islands along the way instead of crossing in one hop. There are two islands between New Zealand and Australia: Norfolk Island is 481 nautical miles north west of Keri Keri, an airport on the North Island of NZ, and Lord Howe Island is 484 nm to the southwest of Norfolk. Then Sydney is only 425 nm southwest of Lord Howe Island. Three hops of 3 1/2 to 4 hours with one overnight stay instead of one long 10 hour flight. We (me and my Mooney) decided that this would be more fun -- actually, I decided, and my Mooney took me along for the ride.
Monday morning, after a fun weekend with my cousin Richard and his wife, Hellen in Keri Keri, it was time to get the flight plan filed and get ready. This was my first international flight plan from a foreign country by myself. Each previous trip I'd had local help from an aero club, pilot, instructor or a met office next door. From the hotel I called for a weather briefing in Wellington. The person said that he'd need several hours to prepare such a meteorlogical report and it would cost $25 and could I give him a MasterCard number and he'd start the preparation. I said I'd call back. I'd already watched the weather for the last several days, the low was moving to the south, a high was moving from Sydney to the east and there was a high further to the north. It certainly didn't take much more to know that the weather was ok. I called the Norfolk airport manager to confirm our arrival (they needed to confirm customs and refueling) and asked for the weather forecast. This confirmed scattered clouds and variable winds. I faxed my flight plan and received the return fax confirmation. Off to the airport to gas up.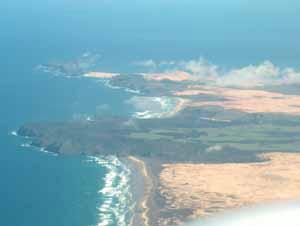 There was a broken layer at 2500 feet although that thinned out to scattered as we moved north. Since I only had 100 gallons in the wing tanks, the takeoff from the 3500 ft runway was not over gross and proceeded normally. We flew northwest directly over the North Island to the tip of NZ. Along the west coast is 90 mile beach which looked like an untouched strip of orange sand from the air. After less than half an hour, we were out over water again. I'd not had a good night's sleep in anticipation of this leg and I had a knot in my stomach that wouldn't relax. I kept checking and rechecking the gages and everything looked normal. The engine sounded normal, nothing was different, but it wouldn't let go. I told myself that I couldn't hold my breath for 3 hours, therefore try to breathe and relax. It still didn't work. I was uptight for the first three hours. As I'd seen before, there were waves of cumulus clouds with clear areas in between. No towering cumulus, no storms, and only 12-15k headwinds, as anticipated. The HF communications with Auckland proceeded hourly without a hitch. It should have been a comfortable ride, but it wasn't. I'd decided over that Pacific that I wasn't ferry pilot material and this was confirming that decision. Phil, you can cancel my application for a job!!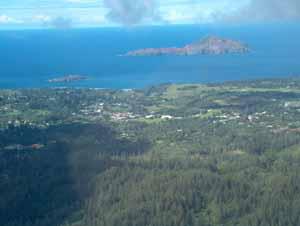 Finally, about 100 miles out from Norfolk Island I began to feel better. From 60 miles out I could see the island and cancelled the flight plan. Auckland prefers them to be cancelled once you are on the ground; however I explained that I had a trailing antenna and wouldn't be able to report by HF from the ground, so they cancelled in the air. I was already in contact with Norfolk unicom and proceeded inbound. I reported every 10 miles with distance, altitude and arrival time. Not that anyone else was on the air; but, that's the procedure. The airport manager would respond with a double click of the transmitter.
The island looked majestic sitting out there with a crown of clouds over it. There was a smaller uninhabited red rock to the southwest and the main island had one large hill and lots of trees. The runways are HUGE and very well kept. I taxied a long way to the terminal building and gas pumps. The customs people arrived and handed me a decontamination aerosol through the window. I closed up, sprayed, and waited for 2 minutes. This was the same procedure as in Auckland except for the shorter waiting period. After that we moved into the customs office to complete the paperwork while the refueler gassed up the tanks. He'd asked ahead of time if I had Australian $$ and was disappointed when I said not yet. He agreed to meet me the following morning for payment. I found everyone to be as nice as that throughout the stay. The customs people, after completing the paperwork, called the hotel and stayed with me until I'd found one that was vacant and would come and pick me up. Even though I was the only customer in the terminal, they insured that everything was ok before leaving. Even the janitor showed me where to go, what to do, and who to call if I needed to return to the plane. This was customer service at it's best and it continued everywhere on the island.
The hotel room came with a car and I drove to the old penal colony -- the major attraction that I'd wanted to see. It was well maintained in typical colonial style. If the prisoners had been able to look over the walls, they'd have had a magnificent view of the beach. I didn't have time to go swimming, but was tempted. I drove up the hills to the other side of the island; there is a small jetty on each side, but no deep water for large ships to dock. The island was immaculate, not a piece of paper or rubbish anywhere. The town was very touristy, not my cup of tea, but driving around was interesting. I drove to the met office which was next to the airport and spoke with Pat. He assured me that they would be able to give me all the latest weather in the morning and showed me some of the charts that were available, and where the current lows and highs were moving. I wanted to take in a dinner show as they gave a flavor of the history of the island, but there were several large groups in town and everything was booked full. So, dinner and an early night were on the menu.
After a little rain during the night, the morning was bright and clear. I prepared my flight plans to be faxed in when the hotel office opened. Then I went to see the weather station again. David, the morning shift weatherman, was most helpful. He had just launched a weather balloon and had real time wind reports at all altitudes. 6000 ft was optimum for my flight as the winds increased at 8 and 10,000 and turned to a more westerly direction. The satellite images showed a small storm cell to the southwest, moving southeast, that could easily be passed by traveling slightly west prior to southwest. As it was isolated, it would also be clearly visible and easy to fly around. The isobars were far apart and winds would be light. This is significant for landing at Lord Howe Island as it is notorious for high turbulence when the wind whips around the volcanos on the south side of the island. It looks as though we'd be ok for landing there later in the day. I had enough gas to continue on to Sydney in case the winds were worse than predicted.
At the airport, the refueler showed up for his payment and the airport manager, Rob, dropped by to see if I needed anything. He'd pass on my flight time to Lord Howe after I departed so that they knew when to expect me. Everyone was exceedingly helpful from arrival to departure on this small independent island.
We took off from the immaculate runways and circled the island before departing to the southwest. I was rested, relaxed and felt good. What a difference from the previous day. I enjoyed the short 3.5 hour trip, detoured very slightly around the buildups and, as we got closer, was transferred from Auckland to Brisbane radio. I asked for and received permission to descend, but then couldn't reach them to close my flight plan. Lord Howe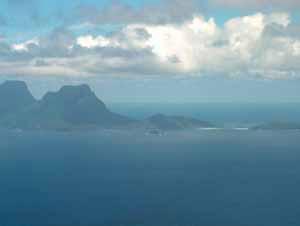 radio, I think it was the met office, gave exceptionally detailed wind reports at both ends of the runway: winds were generally 130 at 9 knots, at rwy 10 threshold they were 110 to 140 degrees at 13 gusting to 25. At rwy 28 threshold they were 10 gusting to 15 knots. After passing the rwy 10 threshold one was in the lee of the volcanos and the winds died down. A second person got on the radio and explained the approach and what to expect. Both people were very precise in their information. It was a great help.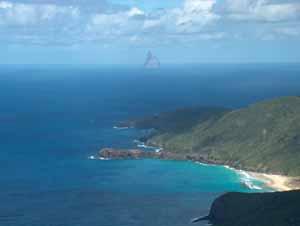 Approaching Lord Howe Island from the northeast, there are two volcanos on the south side of the island and one finds the runway just the other side of the hill in the middle. To the southeast, approximately 12 miles, is the largest rock spur in the world, Ball's Pyramid, standing 1811 feet high.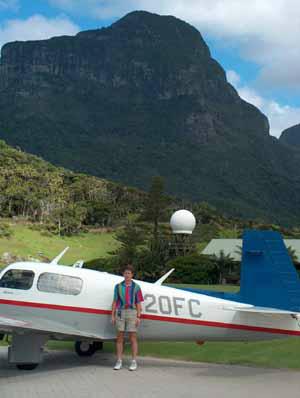 There were an amazing number of houses on the island and I learned later that 350 people live there. The customs officer, Stan, was born there as was his father. I passed Australian customs quickly and efficiently and took some pictures of the island and volcanos. Unfortunately, I couldn't rent an car and drive around or take a taxi, so I continued on my way. Once again, the met office was extremely helpful, providing winds aloft, TAF for Sydney, and weather enroute.
The final leg was happily uneventful. I was communicating with Brisbane radar 100 miles out and they had me identified, so no more position reporting and I reeled in my antenna. I had attempted several HF contacts with Hawaii, without luck, and with HF email without luck. Propagation doesn't seem good during the day, but it works extremely well with Auckland and Brisbane radio.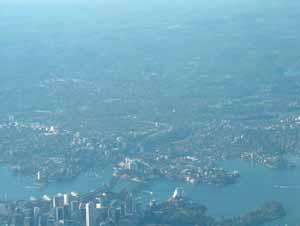 As we passed over Sydney, I snapped a picture of the bridge and hoped that the Opera House would be in it. You can just make out the back of it in the lower center of the picture.
I looked and looked for Bankstown airport, but I was looking west into the sun and haze. I couldn't see it, even with it's 3 parallel runways. I heard a chuckle as approach told me to turn right and I'd see it under my wing -- there it was, I was right over it. I think I heard another chuckle when I talked with tower. But, they cleared me to land rwy 11 left and I followed an airport vehicle to a customs waiting area. I explained that I'd cleared customs at Lord Howe, but their instructions were for me to get cleared again. When customs arrived, they explained that more paperwork was necessary. I filled out a crew document and most importantly a plane document. If I stay longer than 2 months, I'll be required to pay tax on the value of the aircraft.... think I'll be on my way in a month.
I'm looking forward to touring Australia and will update my flights over the coming month.
---
Home / Dedication and Mission / Preparation / across the US to California / First ocean crossing to Hawaii /
Ocean crossing to Samoa / Ocean crossing and flying in New Zealand / Crossing and flying in Australia /
Multiple jumps: Singapore to South Africa / Multiple Jumps: South Africa to Greece / Europe /
Crossing the North Atlantic / Last leg home / About the pilot / About the plane / Supporters /
Overview / Women / Kids / FAQ / Lessons Learned / Family and Friends /
Flight reports: FL to CA / CA to HI / in Hawaii / HI to Am Samoa / Am Samoa to NZ / in NZ / NZ to AU / in AU / in AU2
AU to Singapore / Singapore to India / India to Seychelles / Seychelles to S.Africa / in South Africa / Zambia to Ethiopia /
Djibouti to Greece / Greece to France / England, Ireland, Scotland / to Iceland / to Greenland / to Canada / last legs home
New: Presentations / Book
I'm happy to hear from you, please email me at cagarratt@gmail.com any ideas, suggestions or flight tips. Thanks.