Legs 6 - 9: Across the Indian Ocean
After flying around Australia, it's time to start making my way
around the Indian Ocean....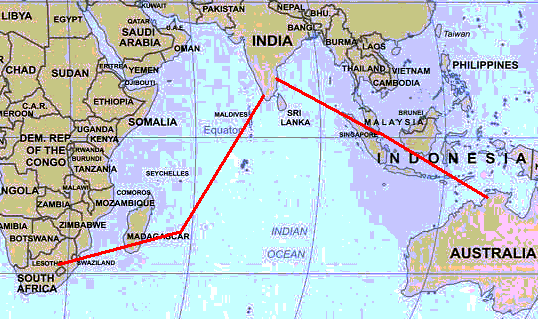 The plan is to fly from Darwin, Australia directly to Singapore (1811 nm), overflying Indonesia. Originally, Bali was in the works for a quick stop; however, that is no longer possible. Although I've heard that it's truly a beautiful place.
After a weekend in Singapore, the next stop is Madras, India (1570 nm). I'll spend two weeks being a tourist. I'd planned to stop in the Maldives for some scuba diving, but haven't been able to confirm the availability of avgas. Therefore, I'll head straight to Mauritius (2264 nm) where I have friends. I'm looking forward to a week of enjoying their family hospitality. The winds across the Indian Ocean will be SW for the first part, a headwind, then turning to SE, a crosswind. If the winds are too strong, I won't be able to make the 2264 nm crossing comfortably. In that case, I'll stop in the Seychelles overnight, then continue on to Mauritius.
After Mauritius, I'll fly to Johannesburg, South Africa (1658 nm) and again play tourist for two weeks. Originally, I hadn't thought it possible to reach South Africa, but with a stop in Mauritius, it all came together.
To see the details of the actual leg after completion, click here.
---
Home / Dedication and Mission / Preparation / across the US to California / First ocean crossing to Hawaii /
Ocean crossing to Samoa / Ocean crossing and flying in New Zealand / Crossing and flying in Australia /
Multiple jumps: Singapore to South Africa / Multiple Jumps: South Africa to Greece / Europe /
Crossing the North Atlantic / Last leg home / About the pilot / About the plane / Supporters /
Overview / Women / Kids / FAQ / Lessons Learned / Family and Friends /
Flight reports: FL to CA / CA to HI / in Hawaii / HI to Am Samoa / Am Samoa to NZ / in NZ / NZ to AU / in AU / in AU2
AU to Singapore / Singapore to India / India to Seychelles / Seychelles to S.Africa / in South Africa / Zambia to Ethiopia /
Djibouti to Greece / Greece to France / England, Ireland, Scotland / to Iceland / to Greenland / to Canada / last legs home
New: Presentations / Book
I'm happy to hear from you, please email me at cagarratt@gmail.com any ideas, suggestions or flight tips. Thanks.