Nuuk, Greenland to Happy Valley - Goose Bay, Canada; Aug. 19, 2003:
The weather was again overcast and windy this morning. After receiving the weather pages by fax we could see a low over Frobisher Bay in Canada, that would be moving towards Greenland. The local weather was forecast to deteriorate over the next few days. I either had to get out today or wait for the weekend. Allan and Else kindly said that I could stay as long as I liked, and it sure was a nice, quiet place to stay with magnificent scenery. But, the weather at Goose Bay was forecast to be good today and deteriorating over the weekend. So, the best choice was to leave today. Luckily, the charts that I'd been waiting for arrived in the morning post. I could have left without them, as I'd "scrounged" enough to get into Canada, IFR. But, I really wanted the VFR charts for my arrival and continued journey.
Allan and I packed up and went to gas up. It was cold and very windy. Mentally I set a limit of 35k gusts and I wouldn't leave. The wind was right down the runway, but I didn't know how badly I'd be tossed around. The line guys check the water in the gas prior to refueling, and they ask the pilot to confirm, and sign, that there is no water in the gas. That done, we went to the tower. The woman who was on duty when I arrived was again on duty. She got me the current weather, calculated my bill (very expensive in Greenland) and filed my flight plan. I kept checking the wind monitor. The gusts crept up to 31k then back down to 28k. The average winds were only 15-18k. I called Canadian customs and was ready to depart. Looking at the winds, I decided that I could go. I told Allan that if the headwinds or turbulence were too bad, I'd turn around and he'd see me that evening.
On with the survival suit; Allan laughed when he saw it!! And into the cabin as the rain started again. I double checked everything, received my clearance and back taxied to the end of the runway. A commercial plane had just landed and another was getting ready to leave. The ceiling was over 1000 feet and winds were down a bit. I took a deep breath and advanced the throttle. We took off quickly, then were bounced around a lot in the first few minutes. I held a steady runway heading and climbed to 6000 feet. There was a mountain to the left, but nothing ahead and to the right. Two other planes were coming in, but were still 30 and 50 miles away. The turbulence subsided after I passed 3000 feet although the clouds and rain continued. At least it was relatively calm now. The strong 30k headwinds from the surface dropped to 20 k headwinds at 6000 feet. After 45 minutes, I was between layers with good visibility and no rain. That was much better than I'd expected.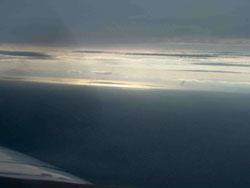 At 1h 10 minutes the sky really cleared and I could see blue sky and blue water ahead -- it looked great. It reminded me of my departure from Kissimmee, 5 1/2 months ago. The local weather was poor, but once I got out of it, it was clear and blue sky. I was comforted that my decision had been the right one. I knew that I'd find good weather, I just didn't know it would be this soon. At 1h50min, I ran into clouds again, which was disappointing, but it didn't last long. As I continued, there were waves of clouds and rain and sections that were clear and dry. The wind varied from a 35k headwind component to a 15k headwind. But the average speed was higher than planned and the trip looked like it would be 5h40min vs. 6 hours.
The HF position reports went well but I couldn't raise any ham operators on the HF channels and my HF email was still not working. As the flight progresses uneventfully, I start feeling a little down. This is almost the end of the trip. I'm ready to come home, but it's hard to believe it's almost over. A lot of people have asked me recently, "what now?" Well, now it's really that time, what AM I going to do?
200 miles out and I'm in VHF contact with pressure given in inches of mercury!! I can put away my conversion chart that I've had with me for 5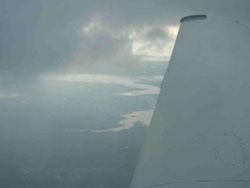 months. Just off the coast of Canada we run into strong headwinds, clouds and rain again. But, it's still supposed to be clear in Goose Bay. I can't see much coast or inland, just glimpses through the clouds from time to time. Finally it clears and I can see the pine trees and numerous lakes of Labrador. It's flatter than I'd anticipated -- I thought there'd be more mountains. Not around here. I see the big lake, Lake Melville, and finally pickup the airport and land into a 20 k headwind. It's a huge old air force base with very few planes in evidence. Apparently there are air force planes in all the hangars. I chose Woodward Aviation, one of 5 FBOs, as my handler and taxi to their ramp. The service is wonderful (as I find out later for CAN$75) and they refuel right away and get me a B&B for the night as well as driving me over there. It's WARM for the first time in weeks. I put on shorts and go for a long awaited run for half an hour. It feels GREAT.
I'm sitting in Canada, contemplating the end of this trip. It's been an absolutely amazing adventure. At the start it was all planning, distances, legs and endurance. Then packing, weight, volume and minimal requirements - what can I leave behind that I don't really need. I never once imagined all that I would live and learn. It's been a mosaic of people, places and flying, but mostly of supportive aviation enthusiasts who've unwaveringly gone out of their way to help me with parking, a home, food, charts, maintenance, anything I needed that they could provide. When doing the 7 months of planning, I never once thought of the people side, but they, more than anything else, have made this trip the most outstanding adventure of my life. Two types of emails kept me going during the low points of the trip. One set came from pilots who said that I was living their dream -- I couldn't let them down, so I kept going. The other came from ALS patients and families. They told me their different and difficult stories, wished me the best on my adventure, and were supportive of the cause to raise awareness for ALS. I thank all my email supporters and am glad that I had very few low times and many more high points during this trip.
I've only a short time to go and I don't know what I'll do when I return, but I do know this: there are a lot more positive things going on in this world than negative and I'm going to continue to help people see the positive side in everything I do when I return. I'm going to talk to school children, Young Eagles, scouts, EAA chapters, and other groups about my trip and accent the positive nature of people all around the world.
I'm going to rest a while, enjoy the sun and warmth, then continue later. Bye for now.
Home / Dedication and Mission / Preparation / across the US to California / First ocean crossing to Hawaii /
Ocean crossing to Samoa / Ocean crossing and flying in New Zealand / Crossing and flying in Australia /
Multiple jumps: Singapore to South Africa / Multiple Jumps: South Africa to Greece / Europe /
Crossing the North Atlantic / Last leg home / About the pilot / About the plane / Supporters /
Overview / Women / Kids / FAQ / Lessons Learned / Family and Friends /
Flight reports: FL to CA / CA to HI / in Hawaii / HI to Am Samoa / Am Samoa to NZ / in NZ / NZ to AU / in AU / in AU2
AU to Singapore / Singapore to India / India to Seychelles / Seychelles to S.Africa / in South Africa / Zambia to Ethiopia /
Djibouti to Greece / Greece to France / England, Ireland, Scotland / to Iceland / to Greenland / to Canada / last legs home
New: Presentations / Book
I'm happy to hear from you, please email me at cagarratt@gmail.com any ideas, suggestions or flight tips. Thanks.