The Island of Hawaii, the Big Island
Bus tour of the Volcano National Park and other sites:
I was hoping that this tour would be worthwhile and it was. The majority of time was spent on volcanos and at the National Park, but it also gave an excellent overview of the island of Hawaii in relation to the rest of the state of Hawaii. For example this island represents 60% of the land mass of the state and only has 10% of the population. You know where the rest of the population is. For pilots, there's a reason everyone goes to the other islands, this is where they come for IFR training. It rains over 240 days a year for more than 200 inches of rain. The north/east side is lush and green, the south is barren from volcano lava and the west, near Kona, is dry.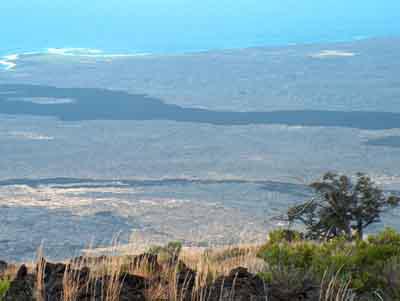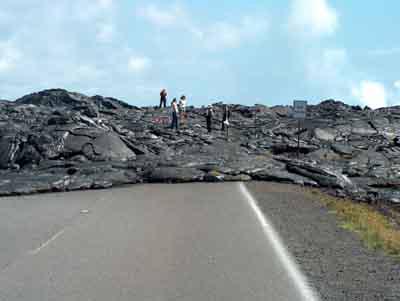 The picture to the left shows how the lava has flowed down the hill from above and formed what they call a "bench" or flat area into the sea. The various colors are from old and new lava flows. To the right you can see a lava flow across the National Parks road. Some of these flows are only two weeks old.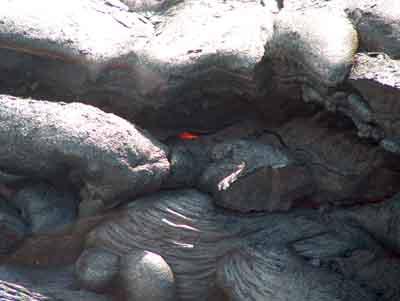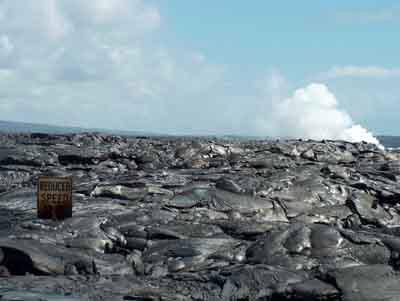 We didn't see any new flowing lava, but we did see the previous day's flow still red, above left, and cooling. It was extremely hot as we walked on the lava and you could see the heat shimmering above the black lava. To the right is where the road used to be. In the background is steam from the lava flowing into the sea. Unfortunately we couldn't get closer. But I saw it again from the air the next day.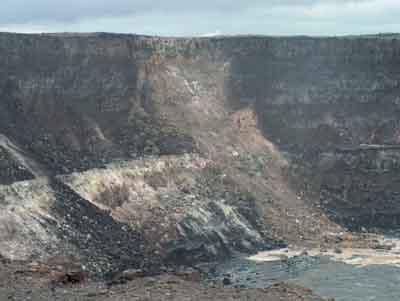 4000 feet higher, we were at the crater of one of the volcanos. It is 400 feet deep now, but back in Mark Twain's day, when it was still active, it was closer to 700 feet deep. It was impressively large from near and far.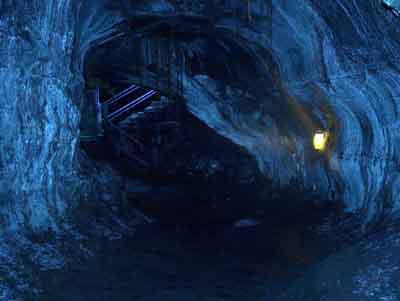 We learned about lava tubes -- holes in the ground through which lava flows. We walked through the one to the left. You can see the steps out at the far end. These tubes are over 15 feet in diameter.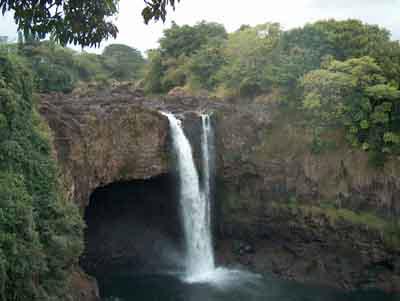 There are waterfalls everywhere on the island. This is a small one with a lava tube below it.
We also visited an orchid park and a macadamia nut factory -- the samples were very tasty.
Touring Kona by air:
I thought it would be fun to see the island by air. Unfortunately, I'd learned that there were always clouds over Hawaii and it isn't possible to see the tops of the mountains. When I talked with people at the airport, I found out that it's usually a layer of clouds and it's possible to fly above and see the crater at 13,796 feet.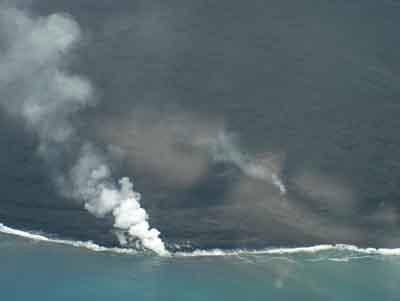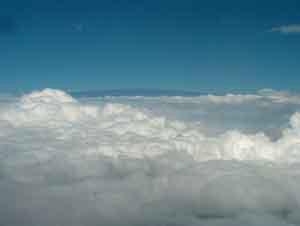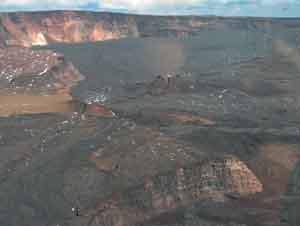 Left is the steam coming from the lava flowing into the sea. This volcano has been erupting and flowing almost continuously for the past 20 years. In the middle is the top of Mauna Kea volcano peaking out above the clouds. Right is the crater of Mauna Kea volcano. I thought it was going to be much deeper; but it has filled in over the years.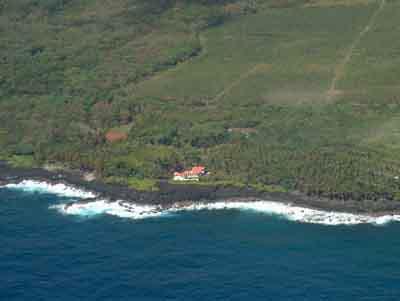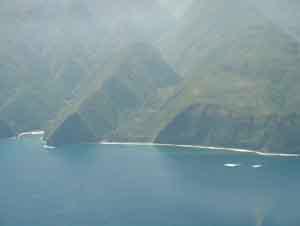 Left is a lone house on the southeast shore of Hawaii. There are many sparse areas on the coast of this island. Middle and right are the valleys and hills of the northeast coast. There are no roads in this area; it is beautiful and untouched.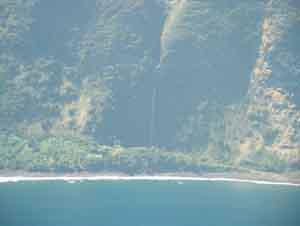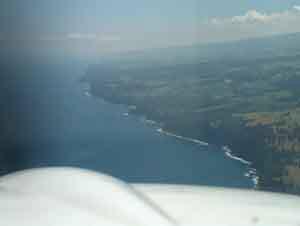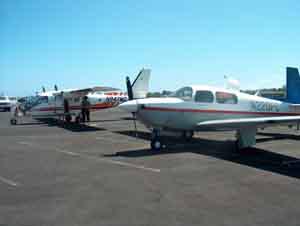 Also on the northeast shore are many waterfalls, left. Finally, I return down the east coast, call Hilo approach and land again. I met some members of a whale survey team who are returning to the northwest shore where there are apparently great numbers of whales. After hearing about my trip, they wish me a continued good journey and will follow the progress on the web site.
Time for me to clean the plane and start repacking. I've already checked the satellite pictures once and there is still a major front just to the north of American Samoa. I'll check it again tomorrow.
Several more days in Hawaii:
My charts didn't arrive in time (they were chasing me from Calif as I'd left a day early); unfortunately UPS overnight didn't make it. So, I rented a car and took off to visit the rest of the island. I headed north to do a counterclockwise tour. Just out of Hilo, I picked up two students from U. of Hawaii, Hilo, Scarlet and Melonie. They were going to the Akaka falls, just where I was headed, so I gave them a ride. Since they were local, they filled me in on other things to do and see. After the falls, I continued north to an overlook which was majestic. As I was leaving, John and Mathias approached me to see if I was headed to Kona. As that was my direction, I gave them a ride as well. Although I don't normally pick up hitch hikers, I felt comfortable with these young people on this tourist island. It turned out that John and Mathias were from LaCrosse Wisconsin, where my older brother lived for 15 years.
I'd met a pilot, Jeffrey, at Hilo who said to visit him at the Hilton near Kona if I made it to the other side of the island. I found the Hilton and eventually found Jeffrey; an excellent bartender, pilot and adventurer. He runs a company called Advanced Recreation and enjoys flying and training in microlites and hang gliders. Certainly one happy guy.
The next morning, after a coffee with friends of a friend, Bob and Jeanette, I set off to see more of the Volcano National Park and to do some hiking and camping. I hiked though a crater, left, though steam fields, middle, and saw lava flowing at twilight, right. It was fascinating.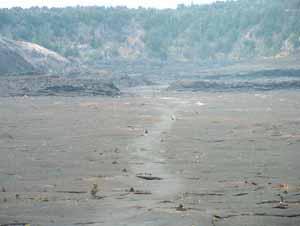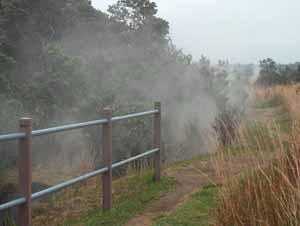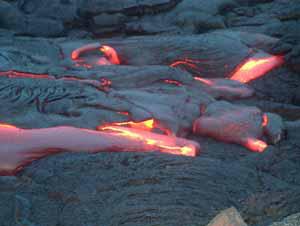 After camping overnight, I did two more hikes the next morning, first over vast lava fields then in a quiet forest with rainforest vegetation and birds. Overall, it was a great learning experience that complimented the overview I'd received on the bus tour the first day.
Now, return to Hilo, find my charts, check the weather and lets get going to American Samoa. I've had 5 days off and I'm very ready to get back to flying.
---
Home / Dedication and Mission / Preparation / across the US to California / First ocean crossing to Hawaii /
Ocean crossing to Samoa / Ocean crossing and flying in New Zealand / Crossing and flying in Australia /
Multiple jumps: Singapore to South Africa / Multiple Jumps: South Africa to Greece / Europe /
Crossing the North Atlantic / Last leg home / About the pilot / About the plane / Supporters /
Overview / Women / Kids / FAQ / Lessons Learned / Family and Friends /
Flight reports: FL to CA / CA to HI / in Hawaii / HI to Am Samoa / Am Samoa to NZ / in NZ / NZ to AU / in AU / in AU2
AU to Singapore / Singapore to India / India to Seychelles / Seychelles to S.Africa / in South Africa / Zambia to Ethiopia /
Djibouti to Greece / Greece to France / England, Ireland, Scotland / to Iceland / to Greenland / to Canada / last legs home
New: Presentations / Book
I'm happy to hear from you, please email me at cagarratt@gmail.com any ideas, suggestions or flight tips. Thanks.