Dedication:
This trip is dedicated to my mother, Marie Garratt, who died on April 24, 2002 after a 3 year battle with Lou Gehrig's disease.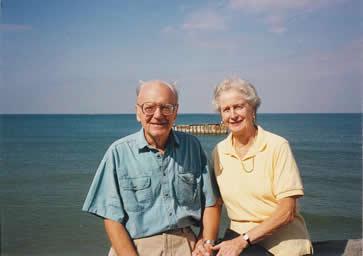 Left, in 1993 at age 71. Right, in 1998 at age 76. Both prior to diagnosis of ALS.
With Dick Garratt, husband of 49 years.
Lou Gehrig's disease, or ALS, Amyotrophic Lateral Sclerosis, or Motor Nurone Disease, MND in Europe, is a chronic, progressive disease marked by gradual degeneration of the nerve cells in the central nervous system that control voluntary muscle movement. The disorder causes muscle weakness and atrophy; symptoms commonly appear in middle to late adulthood, with death in two to five years. The cause is unknown, and there is no known cure. Most people who develop ALS are between 40 and 70 and it is 20% more common in men than in women. My mother was diagnosed at age 76. Sarah, an ALS patient who corresponded with my mother by email and who I met in London, England, was diagnosed in her late 20s when she was pregnant with her second baby.
ALS is one of the most devastating disorders that affects the function of nerves and muscles. Based on US population studies, a little over 5,600 people in the US are diagnosed with ALS each year. That's 15 new cases each day. It is estimated that as many as 30,000 Americans have the disease at any given time. As I travel and speak with people about ALS I'm amazed at how many people know someone who has or had ALS. These people are happy to donate because they know the destructive nature of this disease and they also hope for a cure someday.
Lou Gehrig, with whom ALS is most commonly associated, first brought national and international attention to the disease back in 1939 when he abruptly retired from baseball after being diagnosed with ALS. However, ALS is not just Lou Gehrig's disease and it knows no boundaries. The disease has cut short the lives of such notable and courageous individuals as Hall of Fame pitcher, Jim "Catfish" Hunter, actor, Michael Zaslow, creator of Sesame Street, Jon Stone, actor, David Niven, boxing champion, Ezzard Charles, Pro Football player, Glenn Montgomery, and Senator, Jacob Javits.
To learn more about ALS please go to the ALS Therapy Development Foundation web site at www.als.net.
To donate to research and, hopefully, treatment of ALS, please visit the donation web site. Or, send a check to the ALS Therapy Development Foundation, 215 First St, Cambridge, MA 02142.
In England the disease is known as Motor Neurone Disease or MND. The joint web site with the US and international ALS is www.alsmndalliance.org and for European Donations, please see www.alsmndalliance.org/pdfs/Friends.doc.
En France, veuillez voir: membres.lycos.fr/als et cliquez sur "aidez" sur la liste a gauche. Merci de votre contribution pour nous aider a lutter contre cette maladie.
Thank you in advance for your donations to help fight this destructive illness.
The Mission of this flight:
1. Increase awareness about ALS and raise contributions to fight the disease.
2. Introduce aviation to youngsters in other countries between the ages of 7 and 17 through the Young Eagles Program.
3. Enjoy one of the greatest adventures of my life!
---
Home / Dedication and Mission / Preparation / across the US to California / First ocean crossing to Hawaii /
Ocean crossing to Samoa / Ocean crossing and flying in New Zealand / Crossing and flying in Australia /
Multiple jumps: Singapore to South Africa / Multiple Jumps: South Africa to Greece / Europe /
Crossing the North Atlantic / Last leg home / About the pilot / About the plane / Supporters /
Overview / Women / Kids / FAQ / Lessons Learned / Family and Friends /
Flight reports: FL to CA / CA to HI / in Hawaii / HI to Am Samoa / Am Samoa to NZ / in NZ / NZ to AU / in AU / in AU2
AU to Singapore / Singapore to India / India to Seychelles / Seychelles to S.Africa / in South Africa / Zambia to Ethiopia /
Djibouti to Greece / Greece to France / England, Ireland, Scotland / to Iceland / to Greenland / to Canada / last legs home
New: Presentations / Book
I'm happy to hear from you, please email me at cagarratt@gmail.com any ideas, suggestions or flight tips. Thanks.