Leg 4: American Samoa to New Zealand, 1558 nm, 11 hours, comparatively short..... it's all relative by this time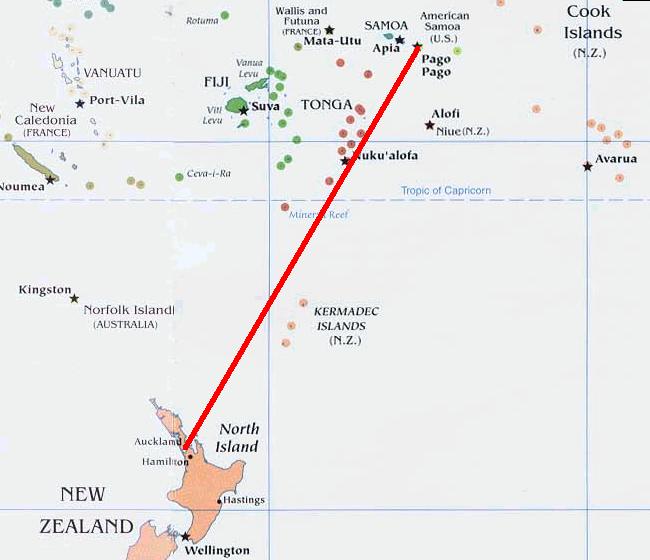 There are a fair number of islands en route making this leg a little more interesting.
I'll be doing an oil change at Ardmore airport, SE of Auckland airport. I've already checked and AeroShell oil is readily available.
I'm anxious to visit my aunt who lives in Whangarei, north of Auckland. My Dad will also be visiting and together we plan to discover a little of New Zealand by train and plane.
To see the details of the actual leg after completion, click here.
---
Home / Dedication and Mission / Preparation / across the US to California / First ocean crossing to Hawaii /
Ocean crossing to Samoa / Ocean crossing and flying in New Zealand / Crossing and flying in Australia /
Multiple jumps: Singapore to South Africa / Multiple Jumps: South Africa to Greece / Europe /
Crossing the North Atlantic / Last leg home / About the pilot / About the plane / Supporters /
Overview / Women / Kids / FAQ / Lessons Learned / Family and Friends /
Flight reports: FL to CA / CA to HI / in Hawaii / HI to Am Samoa / Am Samoa to NZ / in NZ / NZ to AU / in AU / in AU2
AU to Singapore / Singapore to India / India to Seychelles / Seychelles to S.Africa / in South Africa / Zambia to Ethiopia /
Djibouti to Greece / Greece to France / England, Ireland, Scotland / to Iceland / to Greenland / to Canada / last legs home
New: Presentations / Book
I'm happy to hear from you, please email me at cagarratt@gmail.com any ideas, suggestions or flight tips. Thanks.