Touring and Flying in Australia
Week 3: Byron Bay, Barrier Reef, Farmstay and Week 4: Longreach, Ayers Rock and Darwin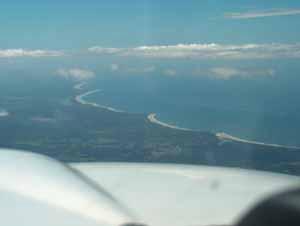 Leaving Sydney on a sunny Sunday morning felt comfortable and uncomfortable at the same time. Bankstown was an airport I had come to know after four arrivals and landings and I was beginning to feel that I knew the ropes both IFR and with the VFR reporting points. But, it was time to move on to another unknown region and airport. It was only going to be a 3 hour flight up the coast to Byron Bay, the eastern most point of mainland Australia, but the weather indicated a cloud layer and possibly lower clouds on arrival. Although I wanted to fly over the coast, I decided to file IFR and fly higher through the numerous TCAs along the coast. Unfortunately there was a cloud layer between me and the coast, but that just stopped me from clicking another 60 photos of the beautiful scalloped beaches with very few people on them. They are gorgeous. There are hills to the west, relatively close to the coastal areas with a little farmland between the two.
The clouds cleared and I dropped lower for a better view of the coastline. There are a few towns and villages along the coast, but many miles of untouched shoreline. I made my mandatory broadcasts and heard another plane landing on runway 06, which made sense with the off-shore breeze, and landed at Ballina. I taxied to the aircraft parking area, grass, and proceeded to an empty spot and as the pace slowed I added power. The grass was looking decidedly wet and soggy. I turned so as not to go any "deeper" and stopped over the tie-down wire. After getting out, I walked all around and found it wet, but relatively solid underneath and more solid by the wire, where the wheels were. "Well, the sun will dry it out" I said to myself and proceeded tieing down and getting my bags out.
Rusty and Trisha, friends of a long-time family friend, Jim, picked me up and took me to their home after a tour of the area and town. The hills overlooked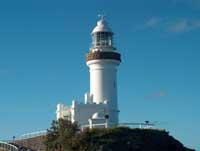 the beaches, the lighthouse was on the eastern most point of Australia, the waves looked long and rolling and inviting, and I knew that being 3 hours north of Sydney, the water would be warmer. First thing the next morning Rusty had us on the beach. While he was giving a surfing lesson, daughter Taylor went off surfing and we walked over the hills and snapped pictures of beaches, surfers and dive boats. After returning to the beach and taking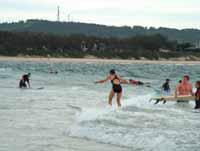 a swim, Rusty's student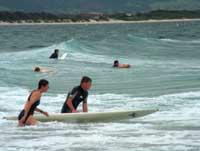 lesson was over and he took me by the hand for my first lesson. He patiently explained that the most important move in surfing is getting up on your feet from the lying down position on the board. We practiced this multiple times on the beach before even entering the water. On the first lesson, Rusty did all the timing and pushing and all I had to concentrate on was getting up and staying balanced. We got oriented, Rusty timed the wave, pushed, and off I went. After getting the feel of the wave the first time, standing and immediately falling the second, I actually stayed up for a bit on the third and fourth waves. I was ecstatic. Although exhausted from battering my way through the waves to get out each time, I felt good about having stood up and stayed up at least for a short time. Little did I know that each of the following days would follow the same pattern. Up early for a walk with Trisha and Java (the dog). Load the surfboards and head for the beach. Swim, walk and surf, rest, surf, etc. Go and have a late breakfast or brunch. What a life. I could have stayed there. Actually it was Easter weekend and Byron Bay hosts a 5 day Blues and Roots festival each year -- it's huge and fun. We went one night, saw over 8 bands, and had a great time. It was a terrific week of meeting and talking with a number of local families (thanks Ken and Jean and Phil and Joanne), surfing with Rusty and Taylor and walking and talking with Trisha. I'm sure going to miss this wonderfully relaxing location and great people; but it's time to move on. Among all the memories will remain that of the "squeaky" beaches. The sand squeaks as you walk barefoot on it. I'd drag my feet in the sand to make it squeak louder. This was the first time I'd run across this phenomenon. A Byron Bay beach called The Pass squeaks louder than most. I just found out that it's due to the silica content of the sand. The higher the silica content, the squeakier the sand (thanks Will).
Good news arrived during the stay, my Indonesia overflight permit had been granted!! Yeah, I was now sure of a continued trip. I hadn't been too worried as I set off from Florida, because the paperwork was in process and I had 2 months ahead of me. As time passed and the May 2nd flight date from Darwin to Singapore drew closer, I started to wonder if I would be able to continue or not. When the Indonesia permit came through, I breathed a sigh of relief. I didn't need a permit into Singapore, I knew the India permit was in process and I already had a Seychelles permit. Two days later, I received conformation of my permit over Madagascar. Great!! That meant that my flight was clear all the way to South Africa in early June. I still needed the African countries, Ethiopia, Sudan and Egypt to complete the trip. But, those permits were in process and I still had time.
Now I could continue around Australia, next stop Great Keppel Island at the southern end of the Barrier Reef. There is an airport on the island that is unlicensed, with an 800 meter bitumen (blacktop) runway 12-30. What hadn't been explained to me was that is sits between two hills and the wind swirls around both ends making the approach and departures very difficult. It was a beautiful site on the approach, but on getting closer, the Mooney had to be tightly controlled all the way to the ground. Two planes were lining up to take off as I arrived, so I waited my turn before landing. I found out on landing that there is only room for one at a time and only parking for 3 or 4 planes, so we'd all have been in trouble if I'd arrived any earlier. I'd called ahead and booked a landing time, but didn't realize that space was so tight. After landing, I found a choice of a resort or hostel/camping facilities for accommodation. After paying a $100 landing fee, I chose the hostel at $23.50 per night instead of $120 per night for the resort. The large tent structures were fine for a few nights and shared toilet/shower facilities were adequate. Mass produced dinners and breakfasts at $10 each were ample. The rest of the day was spent swimming, snorkeling, and hiking the many trails on the island. At the end of one 3 hour hike I came to a beach with three people that I could see in the far distance at one end, and two swimming near where I entered. That was it, the whole beach was almost untouched. I went a few hundred yards away and changed into my swim suit. With no one around, changing was easy. I swam and lounged about in the warm sun. One of the many benefits of living and traveling in a country with such a small population for such a large land mass.
After two nights and one full day, I was off again for a ranch stay and a taste of farm life in the almost outback. I'd called the Myella farm two times and received confirmation of a local Ambulance airstrip, 800 meters long, bitumen (black top), only 16 kilometers from their farm at a town called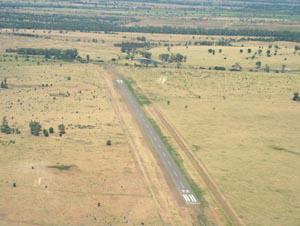 Baralaba. There was nothing there but the strip and they would pick me up at 10am on the day agreed. I found the town but not the airport on the charts. It was with much faith that I departed Great Keppel Island for an unknown point. I plugged the lat/long coordinates for the town into the GPS. I checked the roads and other visual check points that I'd be looking for on the charts and departed.
While on Great Keppel Island, I'd been told that many planes take off downwind and down the runway grade because the winds are so swirly at both ends. I checked the windsock and decided on a normal upwind takeoff. I thought staying a little lower between the hills and gaining speed would help before entering the turbulent zone. It turned out to be a non-event, very little turbulence and a normal takeoff and climbout. After a quick trip over water to Rockhampton while talking with the tower, I transited their airspace and was set on my own again. Over the first set of hills with the highest tower topping out at 2486 feet and us flying at 2500 feet, it was easy to spot and avoid. Continuing to the valley beyond, the farm was going to be in these flatlands before the next mountain range. I found and crossed the "major" north-south road and continued. I saw some cattle below in the large, relatively green fields. Before too long, I saw a group of buildings that I thought would constitute a town, roughly where the GPS said Baralaba would be. I looked to the southeast and saw a long blacktop strip in the middle of farm fields; no buildings, no hangars, only the strip. That was it. I descended and found the windsock at one end, joined the downwind and made a smooth landing on this long, beautiful strip... in the middle of no-where.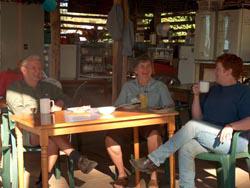 I searched for tie-downs; but there were none. I tried getting pegs into the ground, but it was impossible. A truck arrived, it was Peter, from Myella, 15 minutes early. He said we could make tiedown weights at the farm, so we loaded up and drove away. Well, all the way to the gate at the end. The strip is completely fenced in with a gate near the road. Then we drove on to the farm for a wonderful, tiring, bruising, but great fun two days and nights. Great food, great company, riding horses, riding motor bikes, bringing in cows for milking, feeding hens, playing pool volleyball, cracking whips, stroking kangaroos. It was a wonderful combination of relaxation and working muscles that haven't been used in years. The food was plentiful, home cooked and tasted great. The homemade beer in the evenings hit the right spot at the right time. Star gazing before bedtime was interesting and educational. I left two days later stiff and with bruises, but feeling relaxed.
Next stop Longreach, home of the Stockman's Hall of Fame and QANTAS Founders' Outback Museum. Peter dropped me off at the barren airport. No worries -- no one goes there. Everything was as I left it. There are now two cans filled with gravel that can be used as tie-downs for the next plane; just bring your own ropes and call Myella for a pick-up before departing. I circled over the farm and the airport to take pictures, then took off west. With tailwinds, the trip was shortened to 2.3 hours. There was a range of mountains to go over, 4500 foot altitude took care of that. Then the green started to give way to some red and brown. I was amazed at the number of small lakes, water holes and other water filled areas. Peter had explained that their last rain had been in February, two months earlier, and they'd received 12"; but still the number and level of the water holes was more than I'd ever imagined. As we passed over the town of Emerald, there was a relatively large lake to the south; on the map and in reality!! It wasn't dried up as in Canberra. Continuing west, there seemed to be rows, layers or strata of green, orange, and brown; but very sparse. There aren't many roads, but lots of tracks, red and brown, in very straight lines. Off to the left is the town of Alpha with an airport, or at least a long blacktop strip. The next town is Beta!! Later on the same road there's a grass strip by another small town. It's a beautiful day with blue sky, clear as a bell (that's more for sound than sight, but it's clear) with 60k visibility at least, and a few puffy clouds. As we continue, the earth is getting redder and it's BUMPY. For the last 50nm it's very bumpy. I hear other planes checking in, both IFR and VFR, for arrivals at Longreach. I announce my arrival time and see the airport from 20 miles out. Someone else is landing before me, so I know they are using runway 04. I announce my arrival and downwind position. I see a huge Boeing 747 on the ramp -- I didn't realize that big jets came in here. After landing and taxiing in, I saw that the 747 was behind the ramp and parked; it turned out to be part of the Qantas museum!! The BP refueler drove over to welcome us and ask about avgas. I asked for a fillup the following morning but also received the local information. Three choices of hotels were across the street from the airport. The Hall of Fame was down the street within walking distance and the Qantas founders museum was next door to the airport. All we needed right here - great!!
The Qantas 747 had just been delivered to the museum last November commemorating Qantas' 82nd birthday. The jet was Qantas' first 747 received in 1979; it had carried 5.4 million passengers, flown 82 million kilometers, more than 2000 trips around the world. The rest of the museum told the fascinating story of how the company was started by two WWI Aussi pilots who had just completed a land survey between Queensland and the Northern Territories and believed there had to be a better way to get around Australia. Great story.
On the way again, up and away at 9am leaving Longreach and headed west. It's pretty desolate as I look around while climbing. You can see green lines where the rivers flow during the rainy season or floods. After seeing the Stockman Hall of Fame and reading about the pioneers, it's easy to imagine the hardships they struggled through as I look down on the barren landscape. From here I wonder if they followed the "path of green" down the rivers, but they didn't have the vantage point that I have. As I continue on there aren't even any tracks across the landscape; now that's a lot of nothing.
The browns give way to more red earth; that's what I was expecting to see. I look on the map and it's an extensive area called Simpson Desert which looks very deserted. There will be an end to it, in another 150 miles or so. I sure wouldn't want to go down in that -- very hot and dry and no towns around. Earlier, to the east, I saw just a dirt track and by golly it was marked on the WAC chart. I've been plugging in NDBs and have cross-checked my progress with their bearings and the lat/longs in the GPS. I'm glad I'm not a 1850's pioneer.
With 130nm to go I thought I saw Ayers Rock sticking up in the distance. It looked like a dome shape, but it also looked too far south of course. As I got closer, it wasn't Ayers Rock, but Mt. Connor, another lonesome rock. At 50 miles out I spotted the real Ayers Rock, it had the right shape this time and just slightly south of course as the airport is north of the National Park. I called the airport and was told of other traffic, started to descend and looked at this huge red dome that was just sitting there. Wow, what a site. There are specific flight paths shown in the guide that a pilot needs to follow to fly around the Rock. I was too tired after over 5 hours of flying, so decided that I'd do that flight on leaving the area. It was too hot and bumpy to do it now.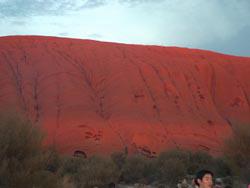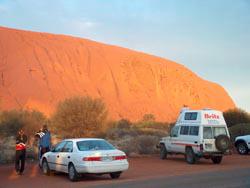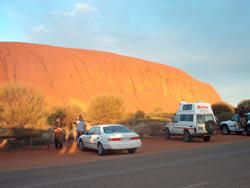 Ayers Rock was a fantastic site and the walks and talks by the Ranger were fascinating and informative.
To the left you see the changing colors of Ayers Rock at sunrise. It truely is magnificent.
But I've seen enough red sand to last a while. Red sand and Ayers Rock were two of the sites I was looking forward to seeing after spending the first 3 weeks on the east coast. But five days of it are enough. One last shower to wash out the red tinges on the legs and arms and I'm ready to go to the airport and head north. There's one other point people forget to mention -- the flies. At Longreach and Ayers Rock the flies are ALL over you. Many people wear head nets; unfortunately, I'd left mine in the plane. Early morning and late evening when it's cool, they aren't around, but during the day they are all over your face and body. An unverified statistic is that there are 2 million flies for every Australian (thanks Will). It's the only disagreeable point in the whole stay; but the cool mornings and evenings without flies are terrific.
Up and get the plane ready for the final Australian leg. I'm going to fly around Ayers Rock, the Olgas and Kings Canyon prior to heading for Darwin. There is a specified flight route for scenic flights around the rocks, with altitudes and position reports. Although no-one else was around, I followed the procedure and made the callouts. Wow, they are magnificent from the air!! The trip to Darwin took 6 hours with a slight tailwind for most of the trip. Even at 8000 feet, I couldn't reach Melbourne Center, so I couldn't set up a SAR time (for Search and Rescue); this felt a little uncomfortable. After about 3 hours, the ATC coverage changed to Brisbane and the receiver was only 60 miles away, so I made contact and set up a SAR time. Whew, I felt better. There is lot of nothing down there; red soil, some hills, no water, no roads, deserted. Finally I saw tinges of green and then real green and trees and this was only 100 miles from Darwin. There was one major road, Stuart Highway, and apparently there will soon be train service between Darwin and Alice Springs.
Arrival at Darwin was efficiently handled by approach and tower. I landed straight in runway 36 and taxied straight to GA parking and picked out a tiedown spot. While tieing the plane down, Kathryn Flynn arrived. Kathryn had been informed of my arrival by Dee from Auckland, NZ, and had made contact by email several weeks earlier. She is Governor of the 99s Australia Section and a member of the Australian Womens' Pilots Association. She is a commercial pilot and held a job as a corporate pilot for many years. She and her husband, John, and family hosted me for 4 days while I prepared my Mooney for the next crossings.
The first day, with many thanks to Marie (same name as my Mother) and John Hardy, I was allowed to use their hangar and maintenance facility to do my oil and filter change, air filter change, spark plug clean and check, and compression check. All checked out 100%. Nick helped me to get everything done correctly. The same day I received the Aviation Laboratories results from my last oil change and they were all within normal limits. After a trip to the Met Station on the other side of the airport, I talked with Brian and Jason, looked at several satellite images, winds, water vapor and progs and all looked good for a Friday crossing to Singapore. With the plane, engine and weather in good shape, I could now relax and see the sites.
We visited the Aviation Heritage Centre and saw all about the invasion of Darwin during WWII; not much is written in the history books about this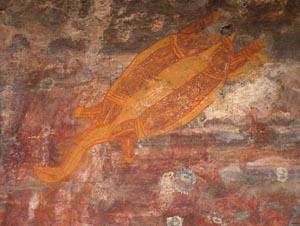 but it was 5 times more destructive than the attack on Pearl Harbor. The next day we visited Kakadu National Park and I saw wetlands for the first time and the birds and vegetation that thrive in that habitat. There is also Aboriginal rock art, drawings on rock walls, over 2000 years old, right.
With one more day to take care of the final details, get a hair cut, and file a flight plan, I'm ready to go. Many, many thanks to Kathryn and John who were a tremendous help taxiing me around and feeding me in Darwin; Also thanks to John and Marie who allowed me to use their facilities for my flight planning and preparation.
After 6 weeks in NZ and Australia I'm getting itchy feet to start moving again. It's been a wonderful time, but I'm ready to get more flight hours under my belt and get further around this wonderful world.
---
Home / Dedication and Mission / Preparation / across the US to California / First ocean crossing to Hawaii /
Ocean crossing to Samoa / Ocean crossing and flying in New Zealand / Crossing and flying in Australia /
Multiple jumps: Singapore to South Africa / Multiple Jumps: South Africa to Greece / Europe /
Crossing the North Atlantic / Last leg home / About the pilot / About the plane / Supporters /
Overview / Women / Kids / FAQ / Lessons Learned / Family and Friends /
Flight reports: FL to CA / CA to HI / in Hawaii / HI to Am Samoa / Am Samoa to NZ / in NZ / NZ to AU / in AU / in AU2
AU to Singapore / Singapore to India / India to Seychelles / Seychelles to S.Africa / in South Africa / Zambia to Ethiopia /
Djibouti to Greece / Greece to France / England, Ireland, Scotland / to Iceland / to Greenland / to Canada / last legs home
New: Presentations / Book
I'm happy to hear from you, please email me at cagarratt@gmail.com any ideas, suggestions or flight tips. Thanks.