Legs 10 - 12: South Africa to Greece
These legs are still changing; but as it stands, I'll fly from South Africa to Addis Ababa (2193 nm), Ethiopia then to Egypt (1425 nm) and Greece (349 nm).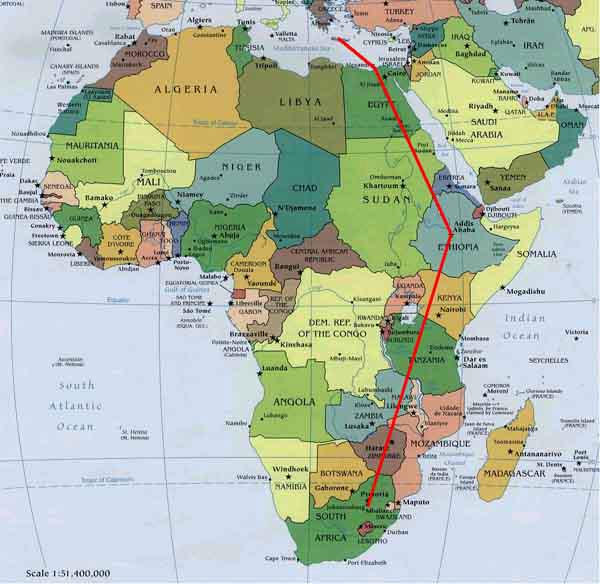 Ethiopia is a country full of cultural, religious, and natural sites and beauty. I've decided to spend two weeks touring and will probably only see a very small part of this country. Due to the planned late night arrival in Addis Ababa, the altitude of the airport, and the Rift Valley to the south, I've decided to overnight in Nairobi and continue on the Addis so that I can enjoy the Rift Valley by day and see the mountains and beauty of Addis Ababa from the air.
Egypt is also of much interest to me. I've long wanted to visit the pyramids and see the sphinxes. Hopefully, I'll get this opportunity.
Then on to Greece, which I visited once in 1989. I'm looking forward to visiting the islands and sipping Retsina, a favorite Greek wine.
To see the details of the actual leg Zambia to Ethiopia, click here. Ethiopia to Greece, click here.
---
Home / Dedication and Mission / Preparation / across the US to California / First ocean crossing to Hawaii /
Ocean crossing to Samoa / Ocean crossing and flying in New Zealand / Crossing and flying in Australia /
Multiple jumps: Singapore to South Africa / Multiple Jumps: South Africa to Greece / Europe /
Crossing the North Atlantic / Last leg home / About the pilot / About the plane / Supporters /
Overview / Women / Kids / FAQ / Lessons Learned / Family and Friends /
Flight reports: FL to CA / CA to HI / in Hawaii / HI to Am Samoa / Am Samoa to NZ / in NZ / NZ to AU / in AU / in AU2
AU to Singapore / Singapore to India / India to Seychelles / Seychelles to S.Africa / in South Africa / Zambia to Ethiopia /
Djibouti to Greece / Greece to France / England, Ireland, Scotland / to Iceland / to Greenland / to Canada / last legs home
New: Presentations / Book
I'm happy to hear from you, please email me at cagarratt@gmail.com any ideas, suggestions or flight tips. Thanks.