First Leg: Across the United States of America
Scheduled for late February, 2003
Kissimmee, Florida, (KISM) to La Verne, California, Brackett Field (KPOC), 1875 nm, 14+ hours with, most likely, unfavorable winds. This is an airport close to my brother, so I can rest before the first jump over water.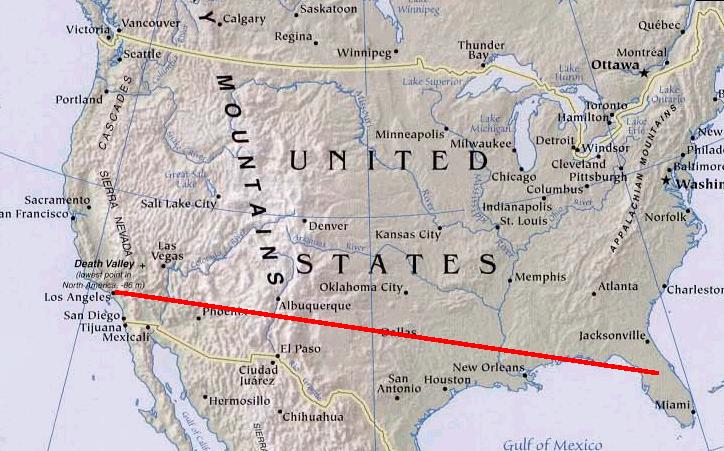 This is going to be a non-stop flight to check fuel burn and endurance (as well as pilot endurance) and to see if the "potty" will work without too much difficulty.
To see the details of the actual leg after completion, click here.
---
Home / Dedication and Mission / Preparation / across the US to California / First ocean crossing to Hawaii /
Ocean crossing to Samoa / Ocean crossing and flying in New Zealand / Crossing and flying in Australia /
Multiple jumps: Singapore to South Africa / Multiple Jumps: South Africa to Greece / Europe /
Crossing the North Atlantic / Last leg home / About the pilot / About the plane / Supporters /
Overview / Women / Kids / FAQ / Lessons Learned / Family and Friends /
Flight reports: FL to CA / CA to HI / in Hawaii / HI to Am Samoa / Am Samoa to NZ / in NZ / NZ to AU / in AU / in AU2
AU to Singapore / Singapore to India / India to Seychelles / Seychelles to S.Africa / in South Africa / Zambia to Ethiopia /
Djibouti to Greece / Greece to France / England, Ireland, Scotland / to Iceland / to Greenland / to Canada / last legs home
New: Presentations / Book
I'm happy to hear from you, please email me at cagarratt@gmail.com any ideas, suggestions or flight tips. Thanks.