Two weeks in South Africa, Namibia, Botswana and Zambia
What an aviation friendly country!! It's a real pleasure to be here and to fly here. The hotel, only about 5 miles from the airport, was FULL of pilots and pilot stories. Every morning at breakfast and evening during drinks and dinner, there were new stories to be told. We had great fun. There was Ray, a professional ferry pilot getting a Cessna 182 ready to take back to Sydney. There was Humphrey, an English helicopter pilot based in Kenya, getting a new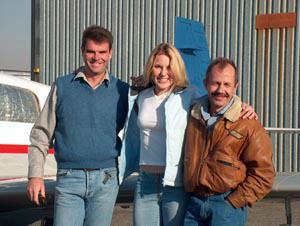 helicopter put together and test flown to take back for site seeing. And, there was Morey who lost a Boeing 727 -- we had great fun listening to that story as it unravelled. Dave had arrived by Air Seychelles several days before me and had already lined up a hangar for the Mooney and other pilots for a dinner the second evening. During the day, we were hosted by Ian (left) of Greenwood Aviation Services and Stan (right) of Out of the Blue Africa Safaris along with their able assistants, Casandra (not in photo) and Barbara (center). They had the Mooney washed (which was something that I had desperately wanted to do), organized our country permits and gave me a desk and software program to do flight planning and filing. With all their help, we got organized for the next legs within South Africa and neighboring countries.
Dinner the second evening was great fun. Along with the hotel pilots and Ian, we enjoyed swapping flying stories with Wendy and Paul, both pilots who fly with a precision flying team, have a pilot shop at Lanseria airport, and will be going to Sun 'N Fun '04; Dean and Lynn who helped me though immigration and customs on arrival and helped with recommendations of where to fly in South Africa; Chris and Jean, both pilots with their own planes who are building a Cozy and are probably going to Oshkosh this year; and John who built a KIS, TWICE, as is had an engine failure during early testing. We had a terrific evening.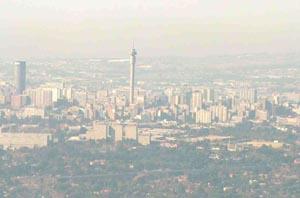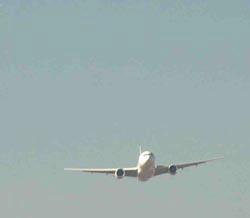 After two days of learning about S.African air space and flight plans (thanks Stan), I took to the air for a short hop to Durban, 2 hours. From the 4717 foot runway elevation, we climbed to 7000 feet to cross Johannesburg airspace. It was extremely hazy and dusty. I'd noticed that on the ground and talked about it with Ian. It was the dry season and with fires and burning fields, that created this haze and poor visibility. At five miles from the airport, we were transferred to 125.80 special use airspace communication frequency. Similar to MBZ in NZ and Australia, each pilot reports his position, direction, and intentions and asks for any conflicting traffic to respond. We flew 6 miles to the west of Jo'burg Int'l, right over the city. 7000 feet didn't give us much clearance, so I climbed to 7500. The TCA started at 7600, so I was still under controlled airspace. Suddenly, there was a BIG jet right ahead and 500 feet higher headed east to the airport. Wow, that was close. Then another jet was turning just ahead and came over us at about 500 feet separation also. I would have preferred to have been talking with control, rather that with other VFR traffic. After a few miles, we were out from under the TCA and on our way. The ground was brown and very dry. There were rolling hills and you could see small farm holdings from time to time.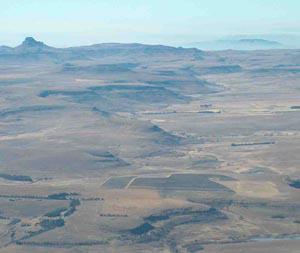 Finally the flat brown gave way to small peaks, then mountains to the right and buttes to the left. This went on most of the way to Durban, southeast of Johannesburg, on the coast. About 30 miles from Durban the hills turned to lush green with farmlands and more houses. There were flat topped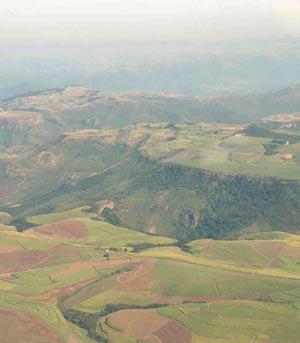 mountains with houses or fields, then a massive gorge between them and the next flat topped mountain (right). Fascinating scenery that descended rather sharply in elevation to low hills to the north of Durban. The city was in a valley with small hills on the shore which went straight down to the sea. It was amazingly different and very picturesque.
The coast was beautiful. We'd been told that pilots flew at 500 feet and just off the shore. It was a magnificent site.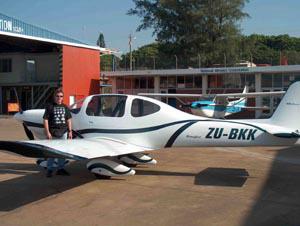 After staying a night at a wonderful little B&B within walking distance of the airport, sitting on the hillside overlooking the golf course and beach and watching planes on final approach, walking along the beach, and generally enjoying the views of Durban, the coast and the bay, I set out for the airport the next morning. I met Eddie and Marius in the tower as I filed my flight plans and they were very helpful with communication requirements and boundaries.
John (left), an EAA member that we had met in Lanseria was flying his KIS down to Durban/Virginia and we were going to have breakfast together before leaving for Port Alfred. What a GREAT job he'd done, TWICE, on his KIS. His speeds and statistics are very similar to mine, and he's on a fixed pitch prop -- amazing. I'm only sorry we didn't have time to go flying in it -- next time.
How LUCKY can one person be??? This is next to impossible to believe. The flight down the coast was magnificent. I took 50 more photos of beaches, what a surprise. They were long and sometimes sandy, sometimes rocky, and empty except for cattle from time to time. On the rocks, the waves would splash up 20 feet. On the sand, there would be lines of 4 to 5 waves rolling in. Much of the time the shore was relatively flat down to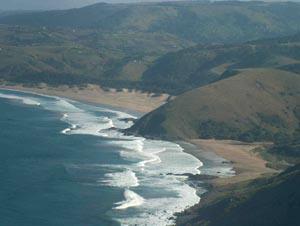 the beach, in other sections, there were cliffs that went straight down to the rocks below. Many rivers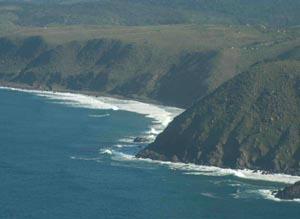 flowed from the mountains inland to the sea. The controllers often used these as distance points to their control areas. Unfortunately, the rivers weren't named on the charts. But when I said "unfamiliar with the area" they gave me the DME distance from their airport and that was sufficient. Although we had been told that the sardines were running and we'd see them in the water with other, larger fish behind, I didn't see any during the 2 hour flight. The shore views kept me enchanted the whole time. For about 80 miles in one section there are no towns and very few houses, it's called the Wild Coast, and that is what it was. On the flatter sections of shore, inland of the beach, there were grass strips. It was the only practical means of getting there from anywhere else. What a wonderfully quiet and peaceful place to live.
Port Alfred airport has 3 grass strips, but wasn't that easy to spot with green grass all around. It was at 275 elevation, so I climbed higher, up to 1300 feet to give me a better view and finally saw the north-south strip and oriented myself for landing on rwy 25. I was amazed at the activity in the air and when on the ground realized how many flight schools were located there. I landed gently on the 1000 meter grass strip and taxied to what looked like a transient parking area. I was to meet Pat, the South Africa Mooney Dealer. We found each other immediately and he told me to startup and taxi over to his hangar. I jumped back in the plane and 'click' -- nothing. I rechecked the startup procedure, thinking that I must have forgotten something, tried again and 'click.' Uh oh, a problem. I walked to Pat and explained the situation. I also explained that when I'd started up at Durban/Virginia, the starter had made a weird, abnormal, noise. But, since the engine was running normally, I didn't think anything more of it. We pulled it over to Pat's hangar, took off the cowl and baffeling and checked it out. Looked like the starter was dead. The problem was that my starter was a light Bendix using 24 volts and the only other starters available were the older versions using 12 volts..... Hmmm, we'd look into that after the oil change. With all the equipment available, the oil change took no time at all and Pat gave the engine a quick look over to make sure that nothing else was loose or broken. Everything looked good.
Back to the starter problem; we started disassembling the components to get the starter off -- never an easy job. But with Pat and his two helpers, Dave and Brandon, we had it apart in no time. Pat's mind had been working the whole time and he remembered a plane that had the old style Bendix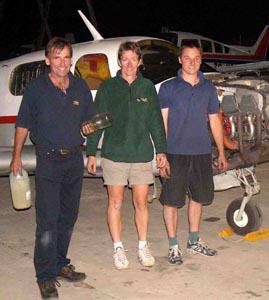 starter using 24 volts that had been burned in a dispute. He had many of the useable parts in his inventory.... somewhere. Dave started looking. While we were testing the old starter in the workshop, Dave let out a yell and we all cheered. He had the old type starter in his hand. It tested perfectly. After some work and with a little cajoling, Pat said, "This starter isn't going in without a fight." A little later, it was finally in and the baffels hooked up again. I tested it and the engine started; success!! We were all smiling (left Pat, CA, Brandon). At 7pm we washed up and went home with Pat for dinner. What luck, my starter fails when I plan to arrive at a Mooney distributor in South Africa, and he happens to have the correct part in stock even though none are used on the Mooneys in the country. I'm counting my blessings. Also, the weather has been perfect and a week earlier it was raining and miserable. I think I've been exceedingly lucky.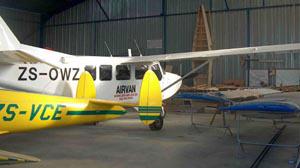 The next day we visit a hanger with numerous planes being built or rebuilt. Phil and Don, pilots and EAA members, who joined us for dinner with Pat and Janis the previous evening, are each building a Jodel (fuselage in background). They are about 60% complete and expect to be done in 2004. In the hangar is a deHaviland Rapide that is 80% rebuilt by Don and is looking impressive. There is an Australian AirVan that Pat is now distributing in South Africa. It's the SUV of airplanes and is simple yet effective. It carries a great load and yet is stable and fast. There are already 6 in South Africa with more on the way.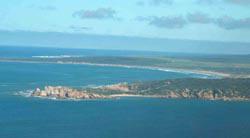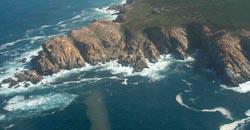 The flight from Port Alfred to Cape Town was another visual ecstasy.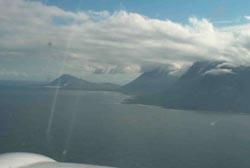 The green rolling hills sloped down to the beach and rocks. Sometimes cliffs appeared with waterfalls. One time there were 2 whales playing in a bay. Later the scenery gave way to mountains on the horizon as we approached Cape Town. I'd heard that they were there, but they were majestic with the clouds on their peaks. It was an awesome site. We turned around the last point and headed
north to Stellenbosch, the small GA airport in the wine region outside of Cape Town. A few minutes later we were on the ground enjoying the hospitality of Patrick at the Stellenbosch Flying Club. Ewald, a friend from Florida, just happened to be in Cape Town visiting his parents. We had a beer at the Flying Club and he took me to my B&B through the beautiful hills and vineyards of the Stellenbosch area.
The next day Chappie and Jackie took me all over the region by car to see it from all angles. It was fascinating -- the mountains, the extensive farmland to the east, the shore and fishing villages, the towns around the bay and the Cape Town harbour area. Even though the weather didn't cooperate and it was cloudy and rainy at times, a rainbow seemed to follow us around and kept us cheerful. After a wonderful dinner with more friends, enjoying the local South African red wine, we said goodbye. The next day was off to Namibia, or so I thought.
Flying between countries here is not difficult, but requires paperwork, permits and leaving from and arriving in airports with customs and immigration. I'd planned to leave SA at Alexander Bay but found the next morning that they no longer had C&I, much to everyone's chagrin. So, my only option was to clear at Cape Town International, a short hop from Stellenbosch. I'd been advised to request a spot on the apron near international arrivals so that I wouldn't have to walk the full length of the airport and back. While in the air, ramp control gave me a parking spot, A3, and after landing, ground directed me there. It was just outside international arrivals, but how to get to the proper side for clearing?? The first guard wouldn't let me in and said that I shouldn't be there; but, nicely he told me where to go. I proceeded towards arrivals, only one desk was manned as there were no arrivals at this time. The officer started to handle the paperwork, but told me that I'd have to clear through departures and he escorted me there. Departures were efficient and everything was cleared; they then walked me airside. The fuel truck arrived and I received duty free fuel, very cheap, just over $2 per gallon.
Unfortunately, when all was ready and I tried to start the engine, nothing. It turned over, but didn't fire. The new starter was working fine, slower to turn over than the old one, but still turning over. It almost caught a couple of times, but then died. I decided that even if it caught, I was going to the local GA maintenance shop for a check up; I didn't want to proceed north into other countries in Africa with a questionable engine issue. This was the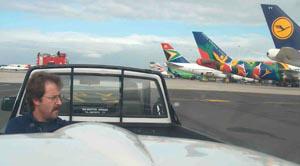 best maintenance I'd have for the next few weeks. Finally I gave up and called the maintenance company to tow me to their hangar. Good timing because the apron people needed the ramp location for a jet arriving in 30 minutes. We were quite a procession leaving arrivals for the GA area. A fire engine led our group. A pickup with Gert driving and Dion in the back holding the towbar in his hands was second, pulling me in the Mooney, ready with brakes if necessary. We proceeded behind all the jets down to the south end of the airport. I must say, I did enjoy the ride and view.
After checking plugs and mags, nothing was wrong. We did find a loose and leaky induction gasket which was changed and the battery was checked and charged. After everything was back, we had a difficult start, but we started. Dudley and Gert recommended changing my starting procedure - to less fuel boost, but throttle full open. That definitely worked better the following start and the next day - thanks!! Dudley and Jenny gave me one of their watch caps for the cold mornings, which I wore thankfully at FL090 where it was -5C OAT. Many thanks to all at Cape Aviation. I usefully used the time to file the next 3 days flight plans and revise the country permit arrival dates.
It warmed up on my way to Windhoek and is now +5C at FL090. Cape Town departure was efficient and had us headed north with a wonderful tailwind. After being handed off to Cape Town control, there was no response. I went back to the previous frequency and he said to report periodically, which I did. I hadn't expected to cross the FIR boundary without talking to another person. But, 3 hours later that's exactly what happened. A little later, I heard Windhoek control and started talking with them; only 1 1/2 hours to go. It's desert down there! It's been very dry after leaving Cape Town. There were mountains on the west side, giving way to desert to the east. The river gorges are similar to the painted desert in Utah, but without the colors. Trees and shrubs lined the river beds and they are visible as they wind their way through the hills and desert.
Arrival at Windhoek was the simplest yet. They stamped the immigration form, no visa needed. I filled out their General Declaration form and since I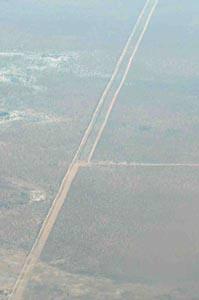 didn't have anything, customs wasn't necessary. Then I was allowed back on the ramp to get what I needed for the evening. I'm now judging arrival procedures by how many pieces of paper I need and how easy it is to get back on the ramp. So far, Eros Airport in Windhoek, Namibia is number one. The next day I was to find that Maun, Botswana, is equally simple and now tied for number one. To the right is what looked like the border between Namibia and Botswana as we flew over it. Not much there separating the two nations. It gets greener as I travel east and it was desert and dunes further to the west in Namibia.
While preparing to leave Windhoek, I was doing my preflight when I was approached by a person who introduced himself as Mr. Erikson. He was from the Civil Aviation Authority and doing a ramp check. He asked to see my papers. Everything was in order until he asked for the weight and balance for this flight. I explained that I had one with the same equipment on board, but more fuel. I was just lighter on fuel this day. He said that I was required to have a current weight and balance and if I was stopped in Botswana or Zambia they would want to see one. We talked a while and he had done his commercial license at Orlando Executive and would be returning in 2005 to do his ATP. I gave him my card and told him I lived just a little south. Maybe we'll meet again in a few years. After we said goodbye, I prepared my weight and balance papers for the flight.
June 6, Marie Garratt's birthday
Mum would have been 81 today; but she'd lived a good life and had no regrets. When people said, a year ago, that I would someday start to forget the pain and start remembering all the good times, I didn't think it possible. But, it's happening. Maybe it's this trip, maybe it's talking with people about my mother and ALS/MND, maybe it's just time. But, now my thoughts are on the good times we had and not the pain of the last few years.
Many more people have written to me about themselves or family members with ALS/MND. Jackie is in Australia. She's not on a respirator, which I incorrectly noted previously. And, she can type 14 words a minute on her computer; she loves chat sessions as her primary communication with others. She advised me that June 21st is International ALS/MND Global Awareness Day. She needs caretakers 24 hours a day, but has an extremely positive outlook on life which is wonderful.
Another person from near my hometown wrote to say that he's been taking care of his partner for 2 years now and what a huge learning experience it is for each person associated with ALS/MND. He agrees that much more awareness is needed.
I met with Diane, the chairperson for ALS/MND in South Africa. Her first husband died of this disease. She's working day and night to raise awareness and much needed support for ongoing research. She says the light at the end of the tunnel is growing slightly bigger as research continues.
Thanks to everyone who has donated. I just received an updated list and will include the new donors on the supporters page with many thanks.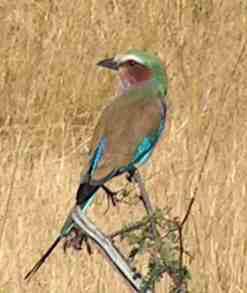 On June 6th, I'm in a game park in Botswana. I see many colorful birds which Mum would have loved; one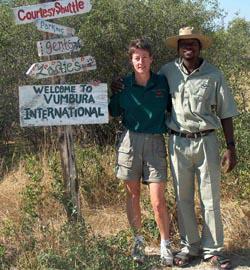 had light blue stripes on it's wings, very beautiful in flight - it's the national bird of Botswana and the same blue as on their flag. Mum was always bird watching and had books on birds in different areas of the country. She would have loved it, and for me it was a fitting to be there enjoying the birds on her birthday.
Obonnoue was our guide and excellent he was. He found leopard the first evening as well as many other animals. He explained about the animals' different habits, mating, migrating, etc, and helped us to understand the Delta animals and ways of life. It was fascinating.
That evening we learned more about Botswana. After it became an independent country, a large diamond mine was found. It is estimated that if the wealth were divided among the citizens, all the men, women and children, each would be worth about $3 million. Therefore, Botswana is a wealthy country and working hard on education, conservation and health issues.
I cleared immigration out of Maun, Botswana and into Livingston, Zambia after a 1.5 hour flight. I'd filled the back tank with fuel in Botswana as I was told that gas would be more suspect the further north I travelled and that it would need good draining. This bothered me as I can't drain the tank in the back seat. I decided to load up at an active airport and Maun fit the bill. Once I was level, I ran on the back tank for about 10 minutes to make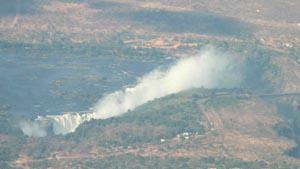 sure that gas was good; I was a little relieved after that. The last half of the short trip was exceedingly bumpy. I don't like bumps and was starting to feel queezy. When approaching Zambia FIR, I was asked for my permit number -- this was a first. I always put the permit number on the flight plan, this was the first time ATC had asked for it in the air. I descended to 6000 feet and saw the Victoria Falls off to my right. Even though not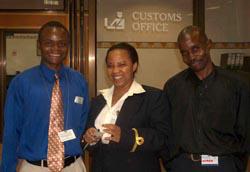 feeling good, I couldn't miss seeing them from the air and asked permission to overfly the falls -- wow, they are enormous, a kilometer across. Can't wait to visit them from the ground tomorrow.
I was greeted in Livingston by Eric (left), the Airport information officer. He helped me with the formalities, hotel, porter, and taxi. What service. He explained that with the situation in Zimbabwe, more visitors were coming to the Zambia side and the airport was improving their processes to help the visitors. It was excellent service. I was also helped by Fordinah and Kennedy (center and right), from customs. At the hotel that evening, I met some locals, Craig a 3rd generation farmer, his wife, Nancy from Long Island and friend Chris. I learned a lot about Zambia, farming, the economy and life in general in Livingston.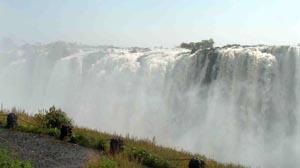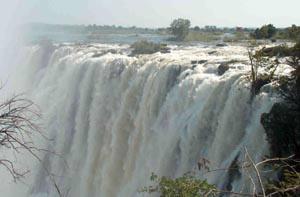 Victoria Falls are magnificent, huge, unbelievably powerful, amazing. These pictures show less than 10% of the width of the falls. You can only see one quarter from the Livingston, east, side. The mist is blowing up from below all the time and at some points you can't even see the falls. There is a walk of about a mile to give different view points. The people coming out were soaked to the skin, so I rented a raincoat for $1 and stayed dry. The water level is high right now and the falls are at their best; however, when the water is low, you can actually walk across the river and view the falls from the other side. There is also an area called the Devil's Armchair which is a rock formation that you can sit in with the water falling around you.
One more short hop to Ndola before the next long leg to Ethiopia. Ndola is in the middle of Zambia, and is not a tourist destination. I chose it only to make the next leg shorter so that I can hopefully fly over the Rift Valley in Kenya and Ethiopia during the day time. It has customs, immigration and avgas, my only requirements. The short trip to Ndola was bumpy with headwinds, which does not bode well for the leg to Ethiopia. The weather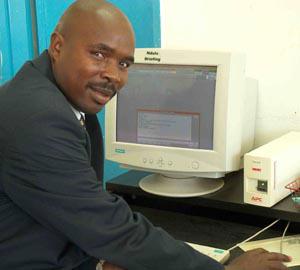 charts are also showing headwinds and cross winds. After arrival I went through all the offices to talk about departure procedures. Everything looked simple and straightforward. I visited the briefing office to check on my flight plan and Tansanian permit, the only one missing. Abel, right, the briefing officer on duty, was extremely helpful, he even called for a hotel and taxi. More wonderful Zambian service.
After checking into the hotel and checking email again, I found that my Tansanian permit had not come through, therefore an extra day would be required. The next morning I went through all the procedures again, more sure of my next morning's departure I paid landing and parking, cleared customs and immigration, and confirmed gas for 5pm. I check-in with briefing and again Abel was on duty. He'd sent a telex to Dar Es Salaam asking for confirmation of my overflight and filed my flight plan for the next day. All was ready.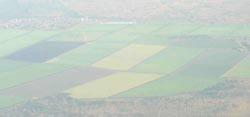 The further north I travelled in Zambia the greener it became and there were large farm fields evident. I heard that Zambia now produces enough food to feed it's people and is becoming a net exporter. Many of the locals, both in Livingston and Ndola were proud to tell me that their nation was no longer at war and that peace would last. Zambia is definitely improving on many fronts and has been a wonderful nation to visit.
Once again, there was too much to see and not enough time. Once again, I'll have to return to this part of the world. Now it's off up north to Ethiopia.
---
Home / Dedication and Mission / Preparation / across the US to California / First ocean crossing to Hawaii /
Ocean crossing to Samoa / Ocean crossing and flying in New Zealand / Crossing and flying in Australia /
Multiple jumps: Singapore to South Africa / Multiple Jumps: South Africa to Greece / Europe /
Crossing the North Atlantic / Last leg home / About the pilot / About the plane / Supporters /
Overview / Women / Kids / FAQ / Lessons Learned / Family and Friends /
Flight reports: FL to CA / CA to HI / in Hawaii / HI to Am Samoa / Am Samoa to NZ / in NZ / NZ to AU / in AU / in AU2
AU to Singapore / Singapore to India / India to Seychelles / Seychelles to S.Africa / in South Africa / Zambia to Ethiopia /
Djibouti to Greece / Greece to France / England, Ireland, Scotland / to Iceland / to Greenland / to Canada / last legs home
New: Presentations / Book
I'm happy to hear from you, please email me at cagarratt@gmail.com any ideas, suggestions or flight tips. Thanks.