Reykjavik, Iceland to Nuuk, Greenland, flight report August 15, 2001
It had been rainy on and off as I looked for a Guest House and toured a little in Reykjavik yesterday, but it looked nice when I woke up this morning. Some clouds off to the west but much clearer overall. I had breakfast and headed out into a minor shower as I walked back to the airport. Arriving just before 8am, Sveinn already had all the weather information printed out and it looked very good. Almost clear over the ice cap with crosswinds - Sveinn thought it looked good for crossing and I agreed. We filed the flight plan and I did the preflight. I thanked him for all his help and headed out to my Mooney. I put on the bottom half of the survival suit, remembering to take off my shoes this time, put them in the back and climbed aboard. This was what I'd hoped for, a nice day for crossing. I called ground and received startup clearance as well as my route clearance. Then I went to start and click -- click. I'd heard sound this before, I couldn't believe it. I rechecked everything and tried again - click, click. Oh no...
I clambered out of the cockpit with my survival suit on, took it off, put on my shoes and took off the cowling. I was hoping it was a lead somewhere that was off - no such luck. I went in to see Sveinn and he called a mechanic from across the field. While waiting, we discussed Sveinn hand propping the engine. He said that he was ok and I said that the engine had been starting on the first turn, so it would be feasible, but.... I didn't want to be stranded in Greenland, so I decided against it. The mechanic checked that power was getting to the starter, so it had to be the starter that wasn't working -- how could that be?? He said to take it out and give him a call when it was out. Ludwig, a pilot and Kitfox builder who was wandering around, offered to help me and together we got it off in 30 minutes. Elias, the mechanic, and I checked it out in his shop and believe it or not, it worked correctly when power was applied -- mystery. Maybe it wasn't grounded correctly. We returned and remounted it - click, click, no start. Elias went over to the operator of the flight school, just next door. Yes, they had a starter in stock that I could have..... ok, I'll take it. Elias and I walked back and put on the 2nd starter for the morning.
As we were getting close to finishing Sveinn checked weather and costs to arrive late in Greenland. The weather was either today or Tuesday (another front was coming through) and to arrive after hours in Greenland would be $550. What a choice. At least Elias had trained in the US and had an FAA license -- he signed my logbook and all was in order. I decided to leave. Weather is too iffy and today the weather was just right. Better to pay extra today than be stuck for a week or more. Sveinn filed the flight plan, I paid for the work and new starter and was off. I donned the survival suit (without my shoes), clambered into the cockpit, got clearance and took off.
I was tense as I climbed out over water and through clouds. This was the leg that made me most nervous and I was now starting out late, would arrive late, and had just finished working on the engine. When I finally leveled off at 6000 the ATC person handing me over wished me a good trip -- that was nice of him and made me feel better. After 20 minutes, I broke out into blue sky -- that made me feel a lot better.
RK control asked if I was HF equipped as I'd be out of VHF contact. I replied that I was and asked for the frequency. I tried transmitting and didn't hear anything. Something was funny -- I checked all the knobs, but something had definitely changed. I hadn't used it in a while and wondered what it could be. I hauled it up on the right seat to check all the connection. Duhh, no antenna connection. After that, it worked very well. Unfortunately, at the same time the HF email box was blank, not working. I checked all the cables to it, but finally gave up.
I was in and out of clouds for the first hour, then it was clear ahead; this I took as good news of no clouds over the ice cap. I'd be at 12,000 feet and at -6C and I didn't want any clouds or potential for icing. I was running about 130k with 15-20k headwinds. I got the oxygen ready. Although only at 12,000 feet, I didn't legally need oxygen, but wanted to be on it as I was tired and had already had a long day. With clear blue sky ahead, and only a scattered layer below, I was feeling better; I realized that I always felt better in clear air than in clouds, especially dark rain clouds. I still haven't seen an iceberg or whale - hopefully that will change soon.
The first position report went well. Since I was at 6,000 feet, they advised me that I would have to be at 12,000 over the ice cap. I acknowledged. Only 200 more miles over water, less than 1.5 hours. The wind moved around to the northeast and my speed picked up to 142k as the headwind component dropped. The second position report also went well, but it was difficult to get in as many planes were reporting on the same frequency. I heard two planes talking with Gander, Canada.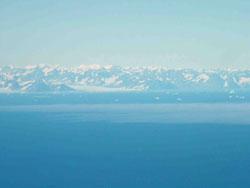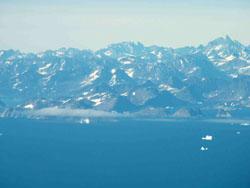 Ninety miles away and I can see Greenland, WOW! And, at the same time, as I'm snapping pictures, the Kulusuk NDB comes in, straight ahead - good news that the GPS isn't off.
There are little icebergs as well. My speed is up to 155k and the wind swings around and my dilemma is whether to stop in Kulusuk or to continue on. If I stop, I'll avoid the $550 overtime fee. But, I may be stuck for 3 or 4 days, or more. I decide to continue on and turn back if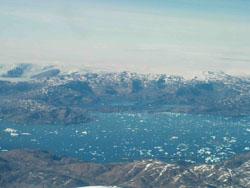 I encounter icing.
I find that taking pictures of icebergs is like taking pictures of pelicans the first time you go to Florida. You end up with a lot of them and later, it becomes normal to see them. So, I have lots of pictures of icebergs and mountains, but they are fantastic to look at.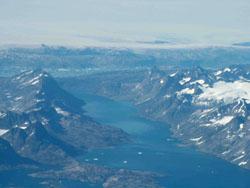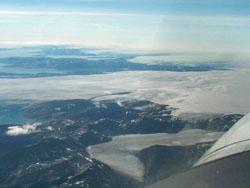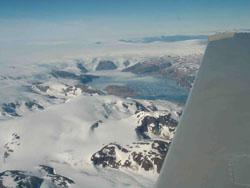 Sondrestrom Radio advises me that Nuuk weather is not good and that I should proceed to Sondrestrom instead. The weather showed that the fog had cleared a little, but was still in the area, with few clouds at 800 feet, scattered at 11,000 feet, visibility 7000 meters and fog in the area. I accepted to go to Sondrestrom and plugged in that course. I proceeded over the coast of Greenland to fjords, glaciers and the start of the ice cap. I can see marks in the snow!! It was like the first time I crossed Lake Michigan, I kept looking back over my shoulder to see the edge of the ice cap as all that was before me was white. It looks hazy, like a cloud layer, but there is no icing on the wings. I continue to check anyway. It'll be 2 hours to complete the crossing of the ice cap. I made a position report and continued on. I was hungry as I hadn't eaten since breakfast and broke into the ditch bag for some beef jerkey. Boy, that tastes good, I hadn't had any for 5 and a half months.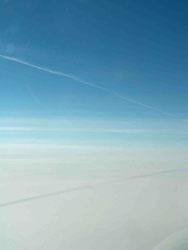 The jets going over leave a vapor trail which is reflected on the ice cap. That and marks in the snow are all I can see for miles.
For me, crossing the ice cap is worse, more worry some, than my over water legs -- or maybe it's just because I had a bad start to the day. The additional aspects of potential icing and being only 2000 feet above ground make me more nervous. I keep checking the wings for ice. I've been running the engine at 2500 rpm instead of my normal 2350 due to the increased altitude and the desire to get this over with.
Sondrestrom calls with my clearance which I copy and read back. I then ask for Nuuk weather. We have some difficulty communicating and they finally change frequency, understand my request and give me the latest weather. It's perfect at 10 miles visibility, 12,000 broken cloud layer and strong winds to keep the fog away. I ask to proceed direct to Nuuk. They say that the weather people are still recommending that I go to Sondrestrom as the weather will deteriorate and I won't be able to leave the following morning. I explain that I'm staying the weekend, won't be leaving the next morning and would like to divert to Nuuk. They finally accept by request and clear me direct to Nuuk. The left turn gives me a better tailwind, as forecast, and I'm over 150k. That still gives me 1 hr 40 min to go. I give Sondrestrom the new ETA.
While in Europe, I'd thought about returning next year, by Mooney or a commercial flight to visit family and friends again. At this stage, all thoughts of crossing by Mooney went out of my head -- I'll fly commercially with my Dad!! It's beautiful, breathtaking, surreal, but once is enough for me. I'm hearing strange noises and vibrations and I can't settle down. I know it's mainly due to the higher power setting, but I'm still pretty tense. I can't hold my breath and sit on the edge of my seat for an hour and a half, so I start checking the approach for Nuuk. I'd already checked out Sondrestrom's before changing my destination back to Nuuk.
On the half hour, just as I was about to call operations normal, Sondrestrom called to ask me to report my position every half hour. I did and felt better that they were tracking me. I pulled out the laptop and started writing, at least that would calm me down a little and give me something to do.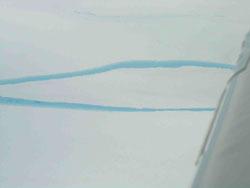 Under an hour to go, what a relief, but the wind has swung around and I have a headwind component. This wasn't forecast until later, but the front is probably closer as I am running later than originally planned.
Looking ahead, it seems that there are mountains on the horizon, how can that be? As I get closer, I see they really are mountains, it's the end of the ice cap and the mountains are higher than the ice. The ice also has what seem to be holes and circles as it deteriorates near the edge.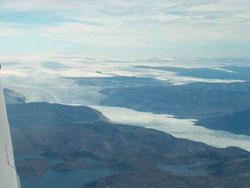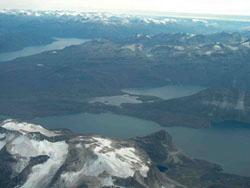 I breath a sigh of relief as I'm snapping pictures of more glaciers and mountains. I can see the fjord and bay and know that Nuuk airport is in there, just ahead. I call Nuuk at 20 miles out and they give me the latest weather and say no traffic for descent. I give them the phone number of Allan who had contacted me by email and they kindly call to advise him of my arrival.
It's a little bumpy as I come in over the side of the mountain where the runway has been made. Allan is there to meet me and help me through the proceedings. It's cold and I don an extra jacket and hat, both from South Africa, thanks. As the storm is supposed to come through that evening, Allan inquires about a hangar as I repack and put my bags in his car. Hangarage would be $160 per 24 hours. We decide to tie down. They have huge concrete blocks and we move the plane to a relatively protected area and tie it down securely.
Allan shows me his plane, a Grummen AA1C, very nice in the hangar. There are only about 5 private planes in Greenland and it's very expensive to fly. Gas alone is $8 per gallon. We proceed to the tower to pay my dues, but everything is closed, so Allan takes me home. Later that evening, with Else, his wife, we return to check on the tiedowns. All is well. I can sleep well during the storm of the night.
The next day, it's stormy winds and rain with low clouds and mist. Normally an autumn or winter day for most of us, but it's mid August in Greenland. When we were talking yesterday evening, Allan said that they'd had good sunny weather a week ago with highs of 20C. Not summer weather for most of us, however, I can see the appeal of the land. The views, that I saw yesterday on arrival, are majestic. There are mountains and rock formations that take your breath away and icebergs floating down the bay. Allan and Else made a video of Illulisat and Uummannaq which shows the fantastic panorama of Greenland by plane and boat. When I return, I will be adding a video clip here and you can get a full 40 minute video directly from Else at elvideo@greennet.gl. When the weather clears, hopefully we'll get to see more by air and car.
During a tour of the town, we stopped by the airport to check on the tie downs. In the tower, the max winds are up to 62k!! It was forecast to be a maximum of 45k. I was worried. We added an extra concrete block to each wing, increasing the weight from 600 lbs to 1200 lbs. I felt better. This was probably the peak of the storm and I was probably overreacting, but the wind was blowing me around and my Mooney was bouncing on the shock absorbers and tires and moving the chocks away. I'd never seen a plane tied down in winds that strong and I didn't want to see it again. The town was colorful, as are all Greenland towns and cities. The buildings are all painted in vibrant colors dating back to having certain colors for certain buildings: hospitals are yellow, government buildings are red (including the jail), utilities are blue. Because Nuuk is the capital of Greenland, it has a major hospital, a cultural center and a university. The harbours are FULL of small boats. There are probably more boats than cars. People use boats for fishing, hunting, and as a means of getting around.
As we drew towards evening, the winds calmed down a little, maybe down to 40-50k. When we returned from dinner with Else's sister and mother, a wonderful traditional caribou, the winds were definitely calmer. I felt better and would sleep ok. The following morning it was calm but still cloudy and misty; hopefully it will clear.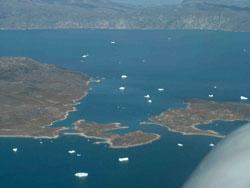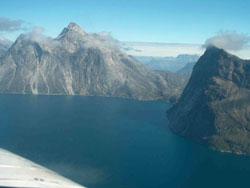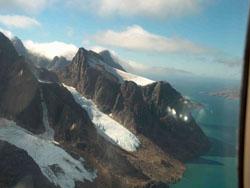 Some fun facts on Greenlandair: 460 employees, 200,000 passengers/year; planes: 1 B757, 4 DASH-7s, 2 Twin Otters, 1 Beechcraft Super King Air 200, 1 Piper Super Cub and 1 Cessna 172; helicopters: 4 S-61s, 4 Bell 212s, 6 Aerospatiales AS350, 4 Huggies MD500 and 1 Bell 407. Because Greenland has no roads connecting it's cities, Greenlandair is the umbilical chord between the many sparsely populated areas of this vast country. Construction in underway for 7 new airports along the western coast of Greenland as fixed wing planes replace ageing helicopters. Needless to say, with the winds that we had, the 4 planned arrivals into Nuuk were cancelled due to weather.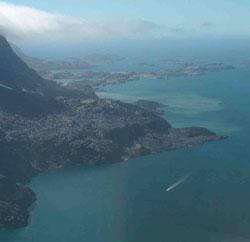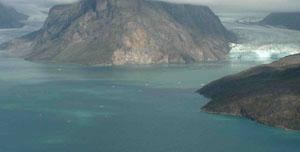 It cleared and off we went, Else and her mother along with Allan, who acted as copilot so that I could take some pictures. We went up the fjord, across the low mountains, around to Maniitsoq, up another fjord with lots of glaciers, back down, then landed at Maniitsoq to return Else's mother to her home. After a tour of that town, we returned to Nuuk. It was an amazing trip that we all enjoyed.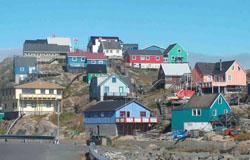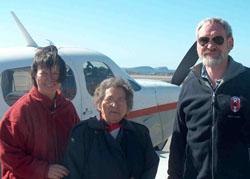 Home / Dedication and Mission / Preparation / across the US to California / First ocean crossing to Hawaii /
Ocean crossing to Samoa / Ocean crossing and flying in New Zealand / Crossing and flying in Australia /
Multiple jumps: Singapore to South Africa / Multiple Jumps: South Africa to Greece / Europe /
Crossing the North Atlantic / Last leg home / About the pilot / About the plane / Supporters /
Overview / Women / Kids / FAQ / Lessons Learned / Family and Friends /
Flight reports: FL to CA / CA to HI / in Hawaii / HI to Am Samoa / Am Samoa to NZ / in NZ / NZ to AU / in AU / in AU2
AU to Singapore / Singapore to India / India to Seychelles / Seychelles to S.Africa / in South Africa / Zambia to Ethiopia /
Djibouti to Greece / Greece to France / England, Ireland, Scotland / to Iceland / to Greenland / to Canada / last legs home
New: Presentations / Book
I'm happy to hear from you, please email me at cagarratt@gmail.com any ideas, suggestions or flight tips. Thanks.