Women's Page
As the trip progresses, I'll update this page with interesting stories focussed on Women's flying issues and any other tit bits I run across.
Aviation for Women Magazine and 99s
I met Amy Laboda at a luncheon in Lakeland's Terminal Restaurant, Tony's, after my return to Florida. What a pleasure to meet such a wonderful aviation journalist. I'd read many of her articles in EAA's Sport Aviation and Aviation for Women magazine. Although she was happy to meet me and interview me about my trip, I think I was more impressed to meet her!! We talked about meeting women pilots across the globe. I indicated that my deficiency in planning was not taking a list of women pilots or WAI or 99s members with me or contacting them ahead of time. I had spent all my preparation time on the technical details and omitted the social or relationship side of the trip. I know that they would have been most helpful if Icould have contacted them. Next time!!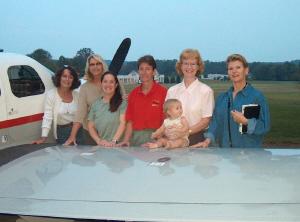 I don't join too many clubs or organizations and, before this trip, I hadn't joined a women's group since college days. But the women pilots of the 99s have been extraordinarily helpful all around the world, from New Zealand to my return in the US. So, I joined a 99s chapter!! I want to help other women pilots just like these women helped me. Sue in New Zealand lent me her Australian VFR charts to use during my time there. They were extremely helpful and avoided buying all the charts for a 4 week trip. Karyn, in Darwin, helped me find a maintenance shop to clean my spark plugs and do a compression check prior to crossing the Indian Ocean. She also took care of me and showed me around the region for the four days that I was there.
Janet, from the 99s Ambassador chapter, started including me on their monthly email newsletter. The information was interesting and the group seemed fun and exciting with lots of flying stories and pictures. One month, there was an indication in one of the articles that Janet and others lived near Atlanta. So, we got in contact and met at Janet's home. It was a wonderful evening of flying stories and camaraderie with Linda, Carolyn, Janet, Susan and Marcia. I'll be returning to visit this group in Atlanta as well as flying with Janet to meet other 99s across the US. I'm also looking forward to meeting those 99s and WAI members participating at Sun 'N Fun and Oshkosh, Air Venture next year.
Kemble Airshow, Popular Flying Association Rally, England
Jaqui, invited me to participate in the airshow before I'd even left Florida. I gladly accepted and set July 10th as the date by which I had to arrive in England. Jaqui took care of the organization and media coverage and insured that we had interviews with newspapers, TV and radio as well as the flying magazines. It was a busy few days and, as always, great fun to participate in an airshow.
One of the seminars held during this rally was on the subject of "Do Women make better or worse Pilots than Men?" Needless to say, there was a lot of debate. The host and editor of Pilot Magazine kept with conversation going with pertinent questions and obtained input and responses from the audience. A woman with numerous credentials, including CFI and CFII, was a participating host. She had statistics on accidents and flight hours showing a lower accident rate for women pilots.
Numerous participants indicated that they believe that men are willing to take more risk than women in other areas of their lives and that could carry over to male pilots -- indicating that male pilots often take more risk than females. Another participant, who had worked for the US Airforce when they were reviewing whether to let women pilots fly military fighter jets, said that the results of their analysis showed that women dominated in multitasking while males dominated in quick decisions. Each was good at a different area; both of which were needed by fighter pilots.
Overall the results showed a similar tendency. People believed that men and women are different in their approach to aviation and some are better in some areas and others are better in other areas. The discussion was excellent.
Traveling Alone
I was somewhat worried before departure, being a single woman traveling alone, about visiting some of the countries that I'd chosen to visit. I'd talked with other pilots who'd done this trip and decided to skip some countries (to play it safe) just because of their feedback. They'd talked about not feeling safe, even with two of them, when entering some of the Pacific Island countries. They'd been questioned for hours and relieved of many dollars prior to being stamped in and allowed to go to a hotel. This got me a little worried, so I chose Amercian Samoa as my mid-Pacific stop-over.
Visiting India for two weeks felt uncomfortable at first; however, it is an extremely safe country and a woman traveling alone is in no danger what-so-ever. I felt safe even when going out for a walk in the morning or evening. After leaving South Africa, I was again worried, but needn't have been. The people were wonderful and helpful. I walked or went running many mornings and the locals responded to my smiles, waves and good mornings with like comments and waves. When I had to ask directions or for information, each person was kind and helpful.
At the airports, there were only helpful people and officials everywhere. On learning that I was a woman pilot, they were interested in where I was going and that I could fly alone. I received a lot of help from customs, immigration, ATC, everyone. There was not one instance of an aggressive or negative handling agent or officer.
My Mooney, N220FC
I just received a very nice email from a woman pilot and instructor who used to fly and teach in my plane, N220FC, when it was a trainer in Texas. It was wonderful to hear from Cheryl and to share a common bond through the Mooney. I gave her the history of what had happened since it left Texas. She was enthusiastic about the round the world trip and I hope we can meet someday and swap stories.
While in Singapore and Malaysia, I met with a group of pilots at an Aviation Safety Seminar. There were several women present and I was happy to speak with them for a little bit. The next day, at Johor Bahru Airport, there was one woman student pilot working toward her license. I wished her the best and I'm sure she'll have her ticket in no time.
While in Trivandrum, refueling at the Flying Club, the chief instructor told me that he had 14 students. It's extremely expensive to fly in India; but they were all intent on becoming airline pilots. I asked how many were women, expecting to hear zero. But I was happily surprised to hear that there were two women students and both were doing well. Unfortunately, no-one was flying that weekend due to re-licensing paperwork and I'd be leaving on the Monday morning. I thought it would have been fun to meet and talk with them.
While traveling with Dave in India and the Seychelles, the story about the flight often came out as we traveled around and met people. Each person automatically looked at Dave to tell the story, assuming that he was the pilot. Each time he patiently told the listener that I was in fact the pilot flying around the world and he was meeting me and traveling with me in various countries. Even when I'd be talking about flight details, the listeners would invariably talk with Dave first and ask him lots of questions, which I usually answered. Once they understood that I was the pilot, they'd start to address questions to me, but would generally fall back to addressing Dave. When I was traveling alone, pilots would often come up to the plane and start talking with me; however, when there was a guy there, Jim in Australia and Dave in India and Seychelles - he would automatically be the person that people would talk with first. Why am I not surprised??
Women Pilots in Australia, April 2003
Gaby Kennard's book, Solo Woman
I was staying in Sydney with friends of my Dad and picked up a book to read from their bookshelf. It was Solo Woman by Gaby Kennard, about an Australian pilot and her solo flight around the world in 1989 in a Piper Saratoga. I read the first chapter and was hooked. I kept saying, that's right, that happened to me. With each leg there were many similarities, I couldn't put it down. The first ocean crossing, she was fixated on the gages, the same as happened to me. Actually as she was starting her first crossing, she kept looking back at land -- that happened to me the first time I crossed Lake Michigan. She enjoyed the HF calls and felt a life line to humanity, the same as I did. This was even more important to her across the Atlantic and for me it occurred on the second and third legs of the Pacific. Of course, there were differences too. Gaby had publicity and TV coverage on arrival after each leg, and I was "incognito" until New Zealand. Based on what Gaby said, I think it was easier for me arriving with no-one, except friends or family at certain cities, rather than always having the ever present cameras as she did.
She proceeded across the US and had several meetings with aero groups and presentations. I just received an unanticipated reception and presentation by the Royal Victorian Aero Club. I'm sure it meant as much to me as her presentation in Atchison, KS meant to her. The pilots and people everywhere made her trip and mine more meaningful and wonderful.
She had second thoughts and wondered why she was doing this trip. Hers occurred in California, after the Pacific, mine occurred over the Pacific but not in New Zealand or thereafter. She had a significant life experience through this trip and became a more independent person. I was already "too" independent and found that I learned more by relying on and depending on others. Although this is not a comfortable position for me and one I haven't had to use in the past, I found that I relied on it more and more as the trip progressed.
Gaby cried at certain times, when things happened or when she felt she couldn't go on. I cried when I wrote my web page updates about my Mother and her battle with ALS. Gaby's trip is complete; I still have many legs to go and look forward to each of them and the learning experiences that they will bring.
Women Pilots in New Zealand, March 23, 2003
An article about my flight was published in the New Zealand Herald several days after my arrival. Subsequent to that, two women made contact with me and last Saturday we met for an afternoon. Sue Campbell and her husband Dick, Mooney owners, pilots and enthusiasts, invited me to visit North Shore Aerodrome, just north of Auckland. I was nervous about my landing because I saw people standing around the club house balcony and my last few landings at Ardmore hadn't been that great. After too many 10,000 ft runways, these narrow 3000 foot runways were making me work at my patterns and landing precision again. But, I got lucky and it was a good one. I was welcomed over the radio and asked to taxi to the club house. There were people everywhere. I felt honored. Many were students and instructors who were headed out for lessons, but had waited for my arrival. After the hellos and a look and the plane, tanks, HF setup, etc, they headed out to train. A small group of up went upstairs to talk and eat Sue's delicious muffins.
There were new and experienced women pilots along with Dee, an instructor, judge of the London-Sydney air race, and Air New Zealand pilot. I'd actually met Dee a few days earlier at Ardmore where she also instructs. Most of their questions were requesting elaboration and more details of some of the more nervous moments I'd written about. They were also interested in how I stayed awake and if I took naps or not. I didn't.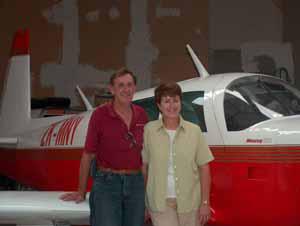 Sue and Dick have flown their Mooney to Australia (all the way to Perth) two times and are planning another trip next year. They were exceedingly helpful with how to cross the Tasmin Sea, where to stop, stay, and what to do. They also lent me their Australian VFR charts to get me started over there. We went to their hangar and they showed me their completely rebuilt Mooney 201. It's a beauty. They had to completely disassemble and rebuild every part. What a job, but what a great result. This is their 4th Mooney and they've enjoyed each one.
I had a full afternoon of talking and learning about NZ aviation and flying in Australia. It was fun and ended too soon. The aviation family has been very open and extremely helpful to me in Auckland and all around NZ; and it's been a pleasure to meet so many women pilots.
FBOs and Pilots, March 1-10, 2003
The FBOs, instructors and other pilots have been most helpful during the start of this trip. Usually they are drawn to my Mooney to talk about Mooneys, as was the case with Mike and Jeremy at Brackett Field. Sometimes, they spy the tank in the back and that brings them over; that's how I met Jeffrey. Other times, it's a new plane on a small flightline, so they stop to talk. Without exception, each pilot has been helpful with local information, where to fly, what to do, etc. They also want to hear my story, where I'm going, where I've been, and all about the legs. I give them my card and explain that each leg is documented on the web site. In some cases, I receive an email within a day or two wishing me a good journey. As I said in one of the earlier leg reports, it's the people you meet on a trip that make traveling worthwhile. With only 2 weeks down, I've met some wonderfully helpful people. Many thanks to you all.
I'm naturally an introvert, so handling the 12 to 16 hours in a plane alone is easy for me. I don't need company and I don't need conversation. Actually, I enjoy my time alone in the plane and on the ground. However, one needs people, information, help and advice at times; especially when doing something unusual where information isn't easily obtainable. I used to figure out everything by myself and not involve others. However, during the preparation of this trip, I started to involve others: people I'd met at Oshkosh, members from my EAA Chapter, and pilots who had already flown around the world and had web pages. In addition, I had many offers of help and suggestions by friends of friends who heard about the trip. I've found that by involving others the trip has been improved in many ways that I would never have thought of alone. Although I'm not comfortable asking for help, I know that it is necessary and that I can't do everything alone. I sincerely appreciate the input that I've received from many of you. And, I'm proud to say that, through all this, I'm getting better at asking questions along the way.
The Potty Story, Feb 28, 2003
I've been flying for a long time and have never had to use any type of potty. However, with legs of 14 to 16 hours, I knew I'd need something. So, I bought a Little John with Lady Jane adapter -- designed for outdoor women, pilots, etc, etc. When it arrived, I figured I'd better practice in the bathroom before trying it in the plane -- good job I did. I wasn't too successful the first few times.
So, I took it into the bathroom, sat on the stool, as if I were sitting in a plane and couldn't figure out how this was going to work without spilling. The angle was wrong, there was no way it was all going to go into the plastic funnel. And, it didn't. Ok, time to read the instructions.
It says to use it standing up. Ok, maybe it's not meant for pilots, certainly not Mooney pilots.
I tried several times standing up and it works fine. Now, how am I going to do this in the plane..... well, I figured I could kind-of kneel on the seat, so I kneeled on the floor and that worked ok. The major additional need for women is somewhere to put the funnel after use. Men can just cap the Little John, a used funnel (Lady J adapter) needs a sealable plastic bag and wet-wipes and toilet paper. So, I prepared my potty kit.
When discussing this with other pilots (for some reason, everyone asked me what I was going to do) they suggested a tube between the funnel and the Little John, to give me a little maneuvering room. Well, unfortunately, I didn't try this out before the first leg. I had however, talked with another woman pilot who used to use a coffee can. So, I took one along, just in case.
Seven and a half hours into the first leg I finally broke down and tried the potty. Kneeling on the seat with the Little John between the seats and the tube going into it, the system worked ok. The clean up wasn't too bad. Except for potential nav/comm problems while occupied with the potty, this was workable.
Since I was drinking water, I had to go again before the end of the flight. I wanted to try another position, to improve nav/comm in the event of an ATC call during the process. So, I tried propping myself up with one leg under me. I was at a slight angle and wasn't sure if it would drip or not. When I felt a little wetness, I wasn't sure if it was due to a kinked tube or the angle of the funnel; in any event, this wasn't a successful position and cleanup took a little time. There isn't going to be a third attempt until the crossing to Hawaii. I think I'll try the coffee can next time. Or, maybe a low-sided tupperware bowl.
If anyone has a workable solution, please email me at ca.garratt@att.net, thanks.
Home / Dedication and Mission / Preparation / across the US to California / First ocean crossing to Hawaii /
Ocean crossing to Samoa / Ocean crossing and flying in New Zealand / Crossing and flying in Australia /
Multiple jumps: Singapore to South Africa / Multiple Jumps: South Africa to Greece / Europe /
Crossing the North Atlantic / Last leg home / About the pilot / About the plane / Supporters /
Overview / Women / Kids / FAQ / Lessons Learned / Family and Friends /
Flight reports: FL to CA / CA to HI / in Hawaii / HI to Am Samoa / Am Samoa to NZ / in NZ / NZ to AU / in AU / in AU2
AU to Singapore / Singapore to India / India to Seychelles / Seychelles to S.Africa / in South Africa / Zambia to Ethiopia /
Djibouti to Greece / Greece to France / England, Ireland, Scotland / to Iceland / to Greenland / to Canada / last legs home
New: Presentations / Book
I'm happy to hear from you, please email me at cagarratt@gmail.com any ideas, suggestions or flight tips. Thanks.