Flying in England, Ireland and Scotland; flight reports:(update August 14th)
7. Scotland
Clouds started to increase over Scotland, north of Glasgow. The lowlands to the west were very similar to England and Ireland, but to the north and east, the mountains rose and there were lochs in the valleys. It was a magnificent site, unfortunately, partially blocked by clouds. When they gave way, I snapped pictures. Over Inverness and the Moray Firth, the clouds ended and we could see Wick ahead. We were cleared to descend, then squawk 7000, approach and land VFR.
Wick was on a flat piece of land jutting out into the sea. After looking at the approaches with 3400 foot minimum safe altitude around the airport, I thought there would be more hills. But, the clouds had cleared and the approach was visual. As we flew over and started the downwind, I saw a castle to my left on the shore, what a nice view. After landing, Andrew Bruce, manager of Far North Aviation, was there with the life raft for Paul. We talked a little, but had to head off as people were expecting me in Aberdeen. Unfortunately, the hot start problem arose again and it was a no go. Andrew had a proven remedy for hot starts, which he tried, but finally we had to park the plane for the night.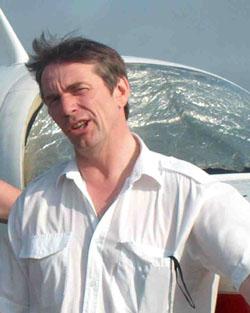 The next day I decided to do an oil change and check out the engine, which I did in Andrew's hangar. The day was magnificent -- I wanted one like this for crossing to Iceland and Greenland. Later in the afternoon, Andrew was handling incoming helicopters. The rigs had been closed in with fog and they stopped at Wick until the fog cleared. 32 people trooped into the small terminal Before they arrived, a small homebuilt had arrived and two Englishmen were looking around. While they were there, 2 airline flights arrived and after they left an Italian helicopter arrived. This place was busier than I'd originally imagined. About 5pm fog started rolling into Wick. Andrew believed that it would not come over land, and it didn't. I really want to understand this weather better before crossing. With another day in Wick, maybe I'll get that chance.
The following day, I watched the weather while driving around northeast Scotland. It was a foggy morning in Aberdeen and even as I started driving up north there was patchy fog. Around Inverness, it was relatively clear and warm and a superb view as I descended the hill overlooking the bay, just a bit hazy. As I proceeded northeast up the northern coast of the bay, the fog was all around and visibility was reduced. It remained in patches most of the way back to Wick. At Wick, much to my surprise, a small BA shuttle landed. Andrew said that visibility was clear at the west end of the runway. As the afternoon progressed, the fog deepened and thickened. An RV and LongEZ were on their way from Reykjavik to Wick. The weather looked worse. At about 5pm, we heard them on the radio; they decided to continue to Aberdeen. This was what I was worried about in the North Atlantic. The TAF was for only temporary fog, clearing after 5pm local. Well, it's now 9pm and the fog is even thicker. As Andrew says, there's no predicting the fog.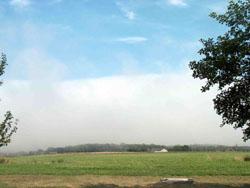 Friday I flew to Aberdeen to visit old friends there. We had a wonderful time -- the weather continued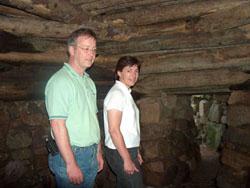 to be unseasonably warm, which is just perfect around 75 to 80 F. We walked in the woods and on the beach. One walk took us to a very old, original Scottish house which is circular and underground with a wooden roof covered in dirt. Brian and Janet are standing inside by the doorway, right.
They explained about 'haar' which is their local coastal fog that comes in over the coastline and out again several times a day, or, sometimes, not at all. One morning I watched it roll in and out two times. Again, this was something that I wanted to understand better before flying in the area. It's normal to see it in spring and fall, but with the unseasonably warm days, they were getting more this summer.
The only downside was that the sore throat I'd had in Wick turned into laryngitis and I could only wisper. I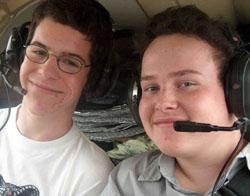 wanted to take the family and kids' friends flying, but that would have
to wait until I could talk. I tried to stay quiet most of Saturday, but it's difficult when there is so much catching up to do. On Sunday I could squeek a little better, so off we went. the weather wasn't cooperating as there was a scattered layer at 1000 feet and broken at 1500. But we were able to fly over their house and up the coast with all the kids and grownups. We had a great time. Our newest Young Eagles are Rebecca, Stephanie, Cassie, Paul and Tom.
As with other visits with friends and family, it comes to an end too soon. It was time for me to move on.
Logistics had been proceeding well and on track all around the world, but unfortunately all my planning seemed to fall apart in Scotland. My last sets of charts were supposed to arrive in Aberdeen -- one set got lost in the post and the other set were sent too late. They have since been forwarded to Greenland. I scrounged enough charts to get to Iceland and Greenland, thanks to Andrew and Paul and will hopefully receive the compliment in time to leave for Canada. The other logistics problem was my Garmin GPS update chip. I'd switched to the International subscription for my trip, but due to AT&T problems, I had only been able to receive an update via my laptop a few times. I was now in need of the Americas chip prior to my departure from Greenland. My AT&T connection was still not working and I couldn't use another laptop to get an update. I asked Jeppesen to send me a one time chip with the latest Americas update to an address in Greenland. This is currently in process. If both plans work, I'll pick up all the necessary documentation in Nuuk (formerly Gothab), Greenland. If not, I still have the minimum equipment necessary to make the crossing, but it will be with fewer backups. As many friends and pilots have remarked, the logistics for this trip have been complex and sometimes very difficult. Let's hope that things fall into place as planned this time.
6. Ireland
Monday morning was time to depart my cousin's home for Ireland. It was a beautiful sunny morning and I thought and hoped it might be a beautiful flight. I was looking forward to seeing Wales and Ireland from the air. I checked the weather and unfortunately, there was a front coming in from the west over Ireland. The forecast showed deteriorating conditions for the afternoon. So, I quickly packed and Bridget drove me to the airport.
I had planned to fly from Tatenhill, a small airport to the northwest of Leicester, to Liverpool and check out through customs and immigration there. When going to Ireland from England, there is an extra step in the process and what they call Special Branch needs to be notified. Upon arrival at Tatenhill, the chief instructor asked where I was headed and I explained the process that I had planned to follow. He kindly informed me that I could have checked out of Tatenhill if I'd given them 24 hours notice. Oh no, that would have been so much easier, especially with my current problem of hot starts. After talking, we decided that there was no downside to calling the local office and asking them, very nicely, if they could come on short notice, especially considering the deteriorating weather in Shannon, Ireland. They called back and agreed to come out to the airport. I was very relieved.
I revised the IFR flight plan and filed it, then did the preflight. When they arrived, we went out to the plane, I answered all their questions, they looked at my baggage, and we filled out paperwork. Within 15 minutes it was over and I was cleared to fly directly to Shannon. Now I should make it there before the worst of the weather. I fired up, waved goodbye, and took off. Clouds were just coming in over Tatenhill at about 4000 feet. I called Manchester and they started "working with me." Manchester information gave me a squawk code and cleared me to 6000 feet. When I was IMC with a traffic call, they diverted me until I was clear, but still the IFR flight plan hadn't cleared. I was unsure of my exact status, but they transferred me to London radar, then London information and the flight proceeded as if I were on an IFR flight plan but I was handling my own navigation and they were keeping me clear of traffic. Over Wales I was mostly on top with a few breaks in the clouds I could see the hills and valleys, but not much of the Snowdon landscape, which was unfortunate.
Heading out over the Bay of Cardigan and the Irish Sea, the controller gave me my next frequency, squawk code and distance to reach Dublin radar. I was only out of contact for 30 minutes or so then back in radar contact with Dublin. I was in clouds and rain most of the time and that continued over Ireland. The weather at Dublin was 1000 feet broken, pretty much what had been forecast for Shannon before my departure. I'd had low 6 to 10 knot headwinds over Wales and the sea, but the winds picked up to 25-30 knots over Ireland and my ground speed dropped to 100 to 110 knots. Every once in a while there was a break in the clouds and I'd catch a glimpse of the green hills and fields, but most of the time I was in clouds. I was handed off to Shannon and proceeded directly in. There was another plane ahead of me who broke out at 800 feet. It was to be an ILS approach and I was told that it was raining pretty heavily at the airport. I proceeded with the approach and saw nothing at 800 feet. Finally at 500 feet I saw the approach lights and then the runway. The wind was very strong; although my airspeed was 75k, my groundspeed was only 55k. A few seconds later I was on the ground and directed to parking. Luckily it stopped raining and I could tie down without getting wet. Actually, if I'd arrived 20 to 30 minutes later, the ceiling would have been higher and no rain. It would have been a much simpler approach. But, as Paul, an Irishman who just completed his world tour, said later, this was good practice for the North Atlantic.
The Airport Operations van picked me up and took me through immigration and customs, then took me to the Operations office. I was welcomed to Ireland by Niall, the Airport Operations Manager, and told that there would be no charges for my stay with them. How nice!! He gave me a number to call if I needed anything and wished me a good stay in Ireland. He also told me that he had received information that a newspaper photographer would be out to take my picture. Wow, what a reception. That was extremely nice.
When I was back in the lounge area, I received a call at Airport Information, it was Carol, my second cousin. She was sorry that she'd missed my arrival, as I'd come in early, but would come by. She'd called the local papers to do a story!! Her father had died 8 years earlier of MND/ALS and she felt that more media coverage would help to increase awareness and maybe donations. After two sets of photographs and stories, we went to her house to have tea and meet my mother's cousin, Francis, who was driving down from Birr in Offaly to pick me up. I really didn't know how the family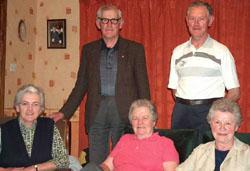 relationship fit together, so we balanced conversation about my trip with discussion on family ties. Francis and and his wife, Pattie, had invited some of the family to their home for the evening and we pieced together a family tree. We also looked at old photographs to find any that they had, that I hadn't seen. Over the next few days, other relatives provided additional bits of information and photographs to put together as much of the family history as we could. Some family pictures and details are on the Family and Friends page.
As this was my first trip to Ireland, Francis and Pattie introduced me to many specifically Irish traditions and sites. They have a bog on their land. This provides turf for the stove that heats the house, water and cooking.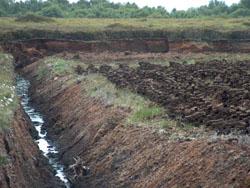 I saw how the turf was made, dried and stored. The top layer of the bog is peat moss that can be harvested for gardens. There aren't many bogs left and some are being preserved in their natural state as they take many 1000s of years to create. We also visited Killarny and went to a show by Brandon Grace, Ireland's foremost comedian - he was excellent. After two more days of visiting with family and completing the family tree as much as possible, Francis and Pattie drove me to Shannon airport. Francis had flown for a few hours at Birr airport and was interested in a flight; Pattie preferred the ground. So Francis and I headed northeast over Birr and over the farm. With the bog in the area, he had no problem finding his farm. We circled and took pictures of the farm and Birr, then returned to Shannon via Limerick and held over a castle while a Citation received priority on his approach. After making visual contact, I was cleared to base and final and once again parked in Light Aircraft Parking.
Paul Ryan, an Irish pilot who had just completed his RTW trip 3 weeks previously, met us on the ramp. We had emailed back and forth since he was in the Philippines and I was in Ethiopia. We finally met. We had a coffee in the airport with my cousins prior to saying goodbye to my relatives and returning home with Paul. We talked non-stop flying until late in the evening. We'd decided to do some holds and approaches the following morning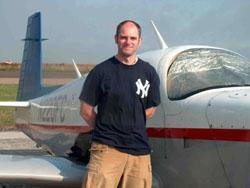 to keep me in good training. I did one full NDB at Galway after practicing a hold, then returning to the hold after the missed approach. Then we returned to Shannon for a VOR DME. The whole practice session went very well and I was on a high all afternoon.
The following morning we visited Foynes Seaplane Museum which tells the history of sea plane development as the future of transatlantic transportation prior to WWII. It was small but fascinating. After that, it was pack, redo the flight plan, and head to the airport. Paul had left a life raft at Wick Airport, just north of Aberdeen. As I was headed to Aberdeen, we decided that dropping him at Wick would be about the same, and would give him more time and practice in a Mooney. We refiled the flight plan, filled up the plane with VAT free gas, and headed out over Ireland and Scotland on a very sunny, beautiful day. It was the best weather yet.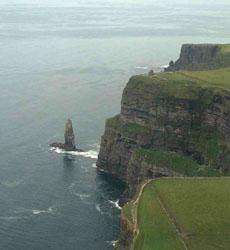 We took 1/2 an hour VFR to look at The Burren, limestone rock left by the glaciers, and the Moher Cliffs on the west coast of Ireland. Both were fascinating sites and I was glad the weather had cleared up enough to see some of Ireland. We picked up the IFR flight plan and continued north east over the farmlands to the northeast coast with Belfast off to our left. The crossing to Scotland was very short with calm water and boats around on the beautiful bank holiday Monday. Good bye Ireland, hope to see you again sometime in the future.
5. Leicester and Tatenhill
England is so small, these flights are really quick hops. 40 minutes from Oxford to Colchester, 22 minutes to Biggin Hill, with a headwind, and now 35 minutes to Leicester. I went west from Biggin Hill to stay south of the London control area, then went north at Farnborough, directly to Leicester. The Farnborough radar controller was busy with a glider competition to the south, but guided me around a few airports and headed me north. The weather was still overcast at 3000, windy and bumpy with some rain showers, but acceptable VFR. I was getting used to VFR flying again. I kept my head out of the cockpit and looking out the window all the time. Two other planes were heading west as I was and there were several others calling in from the airports to the southwest of London. As I headed north, there was a very small, slow, plane just below my altitude headed north also. He was difficult to see, so I was glad that I was looking out.
Leicester airport was busy with student pilots in the pattern, but I landed and taxied to parking with no problem. I had a wonderful evening at the pub with old friends and colleagues. We'd worked together four years ago and it was a fun evening of storytelling and hearing all the news. Bob had avidly followed my trip and knew the answers to all the trivia questions (like, on which leg did the PTT button break). Wow Bob, that's amazing.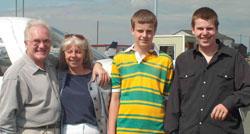 The next days were blustery and rainy. We did some bird watching and dog walking as well as visiting the new work facility that was looking very busy. Unfortunately, although the ceiling lifted, the wind didn't die down.
Bob's boys wanted to go flying even though it was bumpy. Luckily they enjoy wild roller coaster rides and the bumpy flight didn't cause any problems, even while circling their house. Charlie and Nick have plans to join the army and even this flight didn't convince them to join the RAF. They may decide to fly helicopters for the army as they both enjoyed their first flight. Marion also enjoyed the flight and became a "new Eagle."
The flight to Tatenhill took all of 15 minutes through one rain shower. After I tied down the Mooney, I found another Mooney pilot, Philippe, and we talked Mooney talk for quite a while. He may well do this RTW trip in a few years; he certainly has the right plane for it. Actually, there was a Mooney at Leicester airport also, but I didn't meet the owner. I didn't check out the GA side of the Biggin Hill airport, but so far, from this small sampling, that's 50% of the airports with a Mooney!!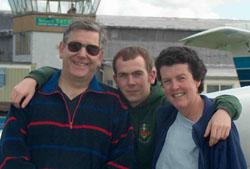 Bridget, my cousin Gordon's wife, picked me up and took me home for the weekend. More catching up on news on both sides and they wanted to hear more details of the trip while looking at charts -- Gordon is nuts on charts and maps.
The next day was a typical rainy English day, so we walked the dog and watched the news and weather. The following morning we got up early and got to the airport by 8:30am so that we could fly before the next low pressure system arrived . Although a little bumpy and the clouds were just starting to build, we had a nice flight around the Staffordshire region and into the peak district. It was beautiful from the air. The whole family was impressed with the green English hills and especially the open fields and hills at the southern end of the peak district -- it was a pity to have to return to Tatenhill Airport. As the weather closed in again, we walked Toby, the dog, before the next rainfall.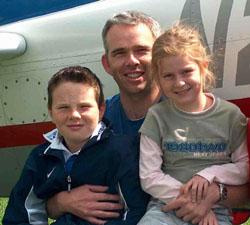 I had planned to meet Tim and his children the following morning to take them flying. His son, William, was an aviation enthusiast. The weather didn't look so good, but we headed off to the airport in the hopes that it would improve. Typical English weather that I'm not used to ... when we arrived the airport manager said that the ceiling was 2000 feet and it was fine weather. Mmmm, not my definition of fine, but I was getting used to it. All the other pilots were out and most of the planes were leaving the ramp to go flying. We headed out over Lichfield, Stone and Leak before returning. It was a little bumpy, but we all had fun, especially the big kid!! Two new Young Eagles happily received their certificates and pins.
Next stop Ireland, update in a week or so.
4. Colchester and Biggin Hill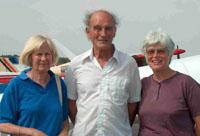 The unusually beautiful weather that England had enjoyed for a week finally broke while I was in Colchester. I was able to take one group flying, but a storm came through the next day and it was very windy and bumpy. The following day it was somewhat clearer; however it remained very windy with clouds blowing through at 2000 feet. Visiting Essex was fun, first I saw the area from the air and got to know the bays and cities, then we drove around and visited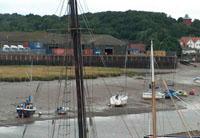 some towns and swam in the North Sea (a little brisk after the Mediterranean). The bays are amazing because of the tidal activity. At high tide, everything looks normal. At low tide, all the boats are sitting cradled in mud. I would chuckle to myself each time I saw it, as it looked so funny.
On the Friday I took another group flying, including Laura, a new Young Eagle; although with the bumps, we cut the trip short. After our goodbyes, I filled up with avgas at 90p/litre (almost $5.50/gallon - get your wallet out for these expensive fuel prices, it's going to be worse in Greenland) and took off for Biggin Hill to the southeast of London. The people at Earls Colne had been most helpful. It was a very nice little strip and I thank Victoria and Keith for their help and kindness.
I'd been worried about this short hop. Although less than half an hour, I knew that I'd be heading into a busy traffic area. I'd reviewed the charts and knew that if I stayed below 1500 feet I'd be below the ATC areas. After saying goodbye to Earls Colne radio, I switched to Biggin Hill ATIS for the weather then listened to their approach frequency. There wasn't much going on - three planes called in for start up, then they taxied and took off, but there was nothing else in the air. I called in and told them where I was and my intentions. I received clearance to do a visual approach, then land. I was guided to the ramp parking, where there were about 10 business jets, and tied down. Wow, that was easy!! I tied down, cleaned the plane, revised my baggage packing and went to the terminal to learn about the local processes and have a cup of tea. As I watched the runway, there wasn't much going on all afternoon, I was amazed and happy as I'd be returning with family and doing several more trips out of this airport.
After an evening with my cousin Jamie and his family, we returned to Biggin Hill on Saturday morning for a Young Eagle flight with Lydia and Angus, their children. There were scattered clouds at 2000 feet and it was windy and blustery, but, straight down the runway. As we approached the plane, they couldn't believe how small it was. That seems to be the reaction of most people who have followed the trip through the web site, being next to the plane, after seeing the pictures, makes it seem so much smaller. We flew over their home in Crowborough, but cut the flight short and returned to Biggin Hill due to bumps. Being a Saturday morning, the airport was busier with VFR traffic headed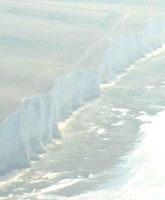 out. We were 4th in line to depart and 2 more joined behind us. Luckily there wasn't too much arrival traffic and we got out relatively quickly.
Believe it or not..... while having a coffee, after our flight, a LongEZ taxied onto the ramp. I joked to my cousin that if the registration was G-EMMY, I knew the pilot and his wife. As the plane turned and we saw the registration, it turned out to be Mike and Jan that I'd met in Dinard on my way out of France. What a coincidence!
The next day we returned for more flights, it was still a little bumpy, but better. We went all around Sussex, south to Eastborough, east to Lydd, north west over Bodium castle then returned to Biggin Hill. The rolling hills, small farm fields, white cliffs and beaches were all magnificent. It's a beautiful country to fly over, when clouds and bumps permit.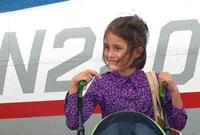 Off to Hampton Wick, just west of London, for a day. I talked and caught up on all the news, most importantly the new one week old baby of Steph and Eric. Steph's relatives, who I'd met in Sardinia, sister Danielle and niece Ines were there too. The next morning, after a wonderful English breakfast, we went to Biggin Hill for a quick ride. Ines was very excited about flying and maybe she'll become a pilot one day.
3. Oxford, Colchester, England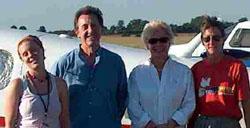 On returning to the field at Oxford the following afternoon, I found the place a buzz with pilots, students, instructors and helicopters. It's a very busy place except for Sunday evening. I borrowed a torque wrench and replaced the spark plugs. I loaded up with gas and unloaded my survival gear. By the time my hosts/passengers arrived is was cooler at 6pm and we went for a tour of the local countryside. It was clear, calm and beautiful with irregular green and yellow fields all around. I don't know how instructors teach their students here as there are no square fields and none are aligned north/south or east/west. But, it's beautiful to look at. We went for a tour around, then circled their village of Thame. It's always fun to see things from the air, it gives such a different perspective. Finally we turned west, into the sun, found Oxford, and landed. It's as much fun for me as it is for everyone else to go flying on a beautiful evening. Returning home, we partied, talked, ate, drank and philosophized late into the night. It was a great reunion for me and a wonderful family atmosphere. I thank Peter and Rita enormously for being such wonderful hosts.
I'd checked the VFR charts for crossing north of London to the east coast the next morning. If I stayed low, then zigzagged a little, I could miss all airspace and get to Earl Colne airfield without a problem. It worked out exactly as planned. I only saw one other plane, but saw lots of cars sitting in the M25 Tuesday morning traffic jam. I was happy to be flying over it all. When I later told the story, people were amazed that I could fly from one side of England to the other in 40 minutes.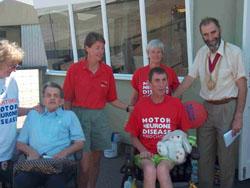 Upon arrival at Earl Colne, I found that the local Motor Nurone Disease community had put on a reception for me. I was proud and honored and the local paper took pictures and ran a story about my trip and about MND. All of the people had been touched by MND/ALS in some way -- most had lost a family member or a current family member had the disease. Stanley and Andy, both in wheelchairs, have MND but try to remain in good spirits. Lynn, behind Andy, just lost her husband four months ago. The mayor of Colchester joined us to lend his support to our fight against this terrible maladie. Phyllis, to the left, worked hard to put on this event, and I am most grateful to her.
2. Popular Flying Association Rally, Kemble Airfield near Gloucestershire, England
What a fantastic three days -- I love the atmosphere at airshows; it's all planes and pilots talking planes and flying. The first day I didn't even have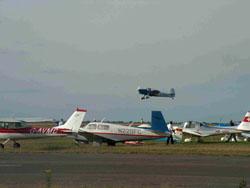 time to get to all the exhibits and tents. After meeting some planes and pilots, I looked at some exhibits and found a pilot who was planning a round the world trip to set a speed record. After my experiences, I spoke with him about some points on his itinerary -- especially Luxor, Egypt with the possibility of no avgas and entry into major airports in India. I gave him the benefit of my experience and gave him other contacts who had experience in other areas into which he'd be flying. For a speed record, he didn't want any hiccups and needed all available information ahead of time. For more information, see Manuel's site at www.chasingthemorningsun.com. He's planning to depart in October 2003.
After participating in a pilot seminar, I met up with Nick, an English pilot, who had emailed me lots of information prior to my arrival in England -- actually, prior to my departure from the US. Whenever I had a question about an airport or flight rules in England, I'd email Nick and he'd email me the reply. He was flying in for the day and we found each other at the information booth. We spent several hours talking and walking the show grounds. It's so nice to be able to personally thank the people who have helped me along the way. I couldn't have done this trip without help from many pilots like Nick.
Jaqui, the Media Chair for the show, had contacted me by email before my departure in February. She told me about the show and invited me to participate. The dates fit in almost perfectly with my plans to arrive in England and depart from Scotland, so I agreed to make the show and set my plans around arriving one day before and leaving on the last day. After arrival, I kept checking in at the information booth and media tent, but Jaqui was always running around and not easy to find. Finally, we met and she explained what had been planned for the media ... it was to be a media afternoon. First was the ITV television crew. After a short interview, we trooped to the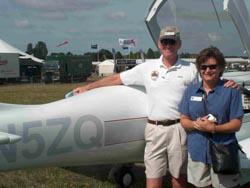 planes and took some footage for the evening broadcast. Bill and Sue with their Lancair first, then me and my Mooney. We tried not to make each other laugh, but found the staging and takes rather humorous. Radio next. Sue and Bill were interviewed by one broadcaster and I was with another. Each radio broadcaster, after a brief interview, wrote most of the script and explained how it would go. Then they phoned to the station and made the tape over the phone. The tapes would be edited at the studio and broadcast later that day. It was fast and professional. The broadcasters were very upbeat and enthusiastic during the interviews with a high energy level. They made it fun for us and hopefully the tapes worked out well. Finally we met with a freelance journalist and the local paper. After brief interviews, it was back out to the planes for more photos. We had fun, but were thoroughly tired by the end of the day.
Because it stays so light so late, the show and exhibits stay open until about 8pm. I went looking for some screws and more spark plugs. Luckily I found a booth with everything I needed. I wasn't sure about the length of one screw, so he let me take one to the plane to see if it fit!! Nice guy. I finally called it a day and had a beer and fish and chips with Laurie. Flying is more of a social event in England, as it is in Australia and New Zealand, with many Aero Clubs outfitted with a lounge and bar. There is a beer tent at the show and a live band was planned for the two evenings. Laurie was staying at the local Agricultural College, same as me, but he has been running the show for the last 30 years! He's lived with it and helped it to grow from a small event to the impressive show that it is today. It was great to be with Laurie as we could compare the PFA Ralley with Sun 'N Fun and Oshkosh and talk about planes and flying for as long as we wanted.
Day two started off at the Scouts' Tent. Stewart had marshalled me to the parking area at arrival and told me that he heard someone was flying the "wrong way" around the world in a Mooney. He invited me to drop in at the Scouts' tent and talk with kids about my trip. I stopped in the first day, but was told that 10am Saturday would be the best time. We found a globe and I was able to tell them about the trip, the countries and some of the difficult moments. I think the leaders were more interested than the kids -- at least they asked more questions.
Saturday at the show was another beautiful blue sky day and the crowds were out. It was going to be a good show for sponsors and spectators. I participated in two more seminars and one more interview and photo session. Bill participated in an aerial photo shoot with his Lancair. I kept an eye out for Mooneys and the final count was six -- several from England one German registration, but owned by Philippe, a Frenchman, and one other N registration, but I didn't see the owner. After another long day, we settled down for a beer and dinner in the tent awaiting the awards session. Much to our surprise, I was given the Clive Canning Award for Long Distance Navigation and Sue and Bill were given the Meritorious Arrival Award. We were honored and delighted. We all agreed that this was a fascinating show with many types of planes we'd never seen before and a great mix of cultures and countries represented. The workmanship of many of the homebuilts was outstanding and everyone was happy to talk about their planes and flying. Many pilots had fun with their registration letters. One Brit had given his plane the number G-PPPP -- try saying that fast! Swedish planes start with the prefix SE -- guess what they all use for their next letter?? X!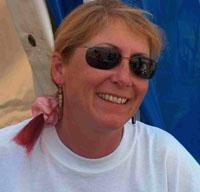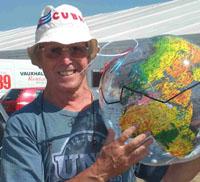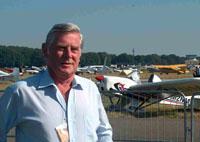 Sunday was again sunny and warm; another beautiful day for an airshow. I stopped in to talk with the scouts and sat in on three seminars. Late in the afternoon, I thanked Jaqui for the invitation, Tony who got my accommodation, Laurie who drove me back and forth, and everyone else who made this a fantastic show. Just like Oshkosh and Sun 'N Fun, these shows take a lot of work and all the administrators and volunteers deserve a lot of credit especially as this was a new location and all the logistics had to be worked out for this site. Then I did my preflight and had a LONG, 30 mile, hop to Oxford Airport to visit friends.
It was beautiful flying low at 1500 feet over the small farm fields. A perfect summer afternoon for flying. I couldn't believe that there was no one flying at Oxford when I arrived around 7pm. Not a soul at the airport. I parked and looked for someone or a phone. One plane was leaving and no one else was around. Then I went to the nearby village of Thame, stayed with Peter and Rita, and had a wonderful evening catching up on everything that had happened since we last met.
1. France to England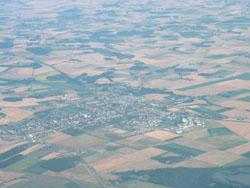 It was another beautiful sunny day when Gerard drove me to Joigny for the last time. It had been a wonderful week of flying, good food and wine in the evening, and camaraderie; I was sorry to leave. We loaded up the Mooney -- I had taken out all the heavy items, life raft, ditch bag, survival suit, HF radio, oxygen, etc in order to fly 3 passengers. When all was loaded back in, there wasn't room for even one passenger.
I took off to the west into a blue sky with green and yellow fields below. It was calm, serene, peaceful, and beautiful. I'd filed IFR as I didn't want to figure my way around airspace constraints and was cleared to 6000 feet. ATC made a few changes to my route, but I was in Dinard in less than 2 hours. I explained to the arrivals' customs person that I was already in France and came here to clear customs out, on my way to England. He told me to see him on my way out. I closed the flight plan (as there was no ATC on the field), went to pay my landing fee, filed another flight plan and went back out through departure customs. They wrote my registration number in their book and I was out. Very quick and easy, no paperwork required.
Back out to the plane, I talked with an English pilot of a LongEZ and his wife, who had just arrived and parked next to me, and were on the way further south in France for a holiday. They went into customs and I went to start up. Unfortunately, that's when the bad luck started. I'd had trouble with hot starts, but this time it wouldn't start at all. I decided to have lunch and wait 2 hours for it to cool down, then try again. Trying to be patient isn't my strong suit, so I checked the battery -- no trouble there -- and had lunch. Then I filed a new flight plan. I'd planned to go to Jersey for cheap gas - .95 Euros vs. 1.65 to 1.90 Euros in England. But, with starting problems, I didn't want to risk another stop. So I changed the flight plan to go straight to Kemble field in southwest England, where I'd been invited to an airshow. I was supposed to arrive by 5pm local and I wanted to make it in that night, before the airshow started. I didn't want to arrive at rush hour the next day.
When I tried again, it was no go, there was just no spark. I'd decided ahead of time that it must be the plugs, so I removed the cowling and checked them. They were all wet. I took them out to dry. An hour later, it started like a champ. I was delighted; but somewhat apprehensive about crossing the channel after just replacing the plugs. I was nervous as I climbed and headed out. At first, when I'd repacked the plane, I'd put the life raft on the bottom of the back seat, not thinking about crossing the Channel. During the time in Dinard, I moved it to where I could get to it and attached the line inside. No sense having the raft and not being able to get it out in case of a problem. Of course the motor sounded different from normal and, of course, I felt vibrations that I hadn't felt before.... this wasn't going to be a comfortable trip.
Then I set the radio to Jersey information and started talking with the controller. As soon as I was in contact, I felt better. By the time I left his airspace, I was back to normal and the engine was running fine. I was on a VFR flight plan, but he gave me the next coverage area frequency and had sent them the flight information. Plymouth gave me a new squawk code and confirmed radar identification. After Plymouth, I was handed to Exeter and again received another squawk code, then on to Yeovilton with yet another squawk code. This was almost like US "flight following," as they helped me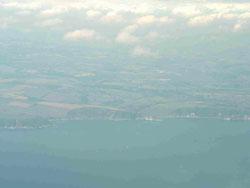 most of the way to Kemble. As I arrived on the coast, just before Plymouth, there were clouds below my 4500 foot level. I was changing to a north east direction, so descended, with approval, to 3500 feet. The haze gave me about 10 miles visibility. I knew that I was not going to enjoy VFR flying in England. One needs to be low and slow in this stuff and I was not used to it. I would much prefer to be IFR, but the airways are too congested and I'd have to wait a long time for a clearance. So, I'd better get used to it and keep a sharp eye out for other traffic. The last handoff was a "free call to Bristol." I didn't understand this terminology and learned later that this means no flight information has been transferred and the next frequency is not aware of my existance.
When I called Kemble Information from 15 miles out, they were ready for my arrival since they had my flight plan information. I'd been listening to the frequency and other planes had been arriving, but none were in the pattern as I approached. After landing, I was marshalled to foreign aircraft parking. It turned out that all homebuilt aircraft are together, all foreign commercially built planes are in the same area, then all British registered commercially built planes are parked in the same area.
At the pilot registration tent, who did I run into but two Americans from Florida!! What a coincidence. Bill and Sue had just flown their homebuilt Lancair over the North Atlantic to come to the show. We became fast friends and did a lot together over the next three days.
---
Home / Dedication and Mission / Preparation / across the US to California / First ocean crossing to Hawaii /
Ocean crossing to Samoa / Ocean crossing and flying in New Zealand / Crossing and flying in Australia /
Multiple jumps: Singapore to South Africa / Multiple Jumps: South Africa to Greece / Europe /
Crossing the North Atlantic / Last leg home / About the pilot / About the plane / Supporters /
Overview / Women / Kids / FAQ / Lessons Learned / Family and Friends /
Flight reports: FL to CA / CA to HI / in Hawaii / HI to Am Samoa / Am Samoa to NZ / in NZ / NZ to AU / in AU / in AU2
AU to Singapore / Singapore to India / India to Seychelles / Seychelles to S.Africa / in South Africa / Zambia to Ethiopia /
Djibouti to Greece / Greece to France / England, Ireland, Scotland / to Iceland / to Greenland / to Canada / last legs home
New: Presentations / Book
I'm happy to hear from you, please email me at cagarratt@gmail.com any ideas, suggestions or flight tips. Thanks.