Multiple Stops down the east coast
5. Virginia to Atlanta and Florida - HOME
Departure from Clarksville was a local ABC TV local event. Don and camerman, Ted, came up from Raleigh, NC, to interview me and film the event. My Mooney was on a small grass strip and I was going to fly to Marks Municipal for the interview the morning of my departure. I'd left the heavy equipment in my Dad's car for loading after the interview as I was to take Ted up for a flight to get departing shots. The weather wasn't great, but was to clear and was already VFR at the local airports that have weather reporting. Dad and I did the preflight, I started and taxied to the end of the strip. Dad always stations himself 3/4 way down the strip to watch the takeoff and wheel retraction. As I climbed and turned towards Marks, I noticed some low scattered clouds that I climbed above. I was amazed to see a cloud layer over the town and surrounding area. Just to the west was clear and where I'd come from was clear. I descended VFR over the lake and started towards the airport; however, the clouds got lower and lower and the visibility deteriorated, there was no way to see the airport. Later Mark, who was waiting for me at the airport, said that he could hear me but not see me. It seemed as though the cloud was hanging just over the field and town. I circled again and was going to try a second approach but realized that it was futile. I followed the lake east, after two miles I had clear skies above me again and I landed back on the grass strip. I'd called my Dad on his handheld and told him I was returning, which he acknowledged.
Dad's car arrived followed by the ABC van and Mark. They were going to do the interview from the grass strip. Don and Ted set up, wired me and the film rolled!! What fun!! Instead of filming from the cockpit, they got me loading the plane, doing the preflight, explaining the cockpit to Don, receiving a home baked cake from Dad, and giving him a departing hug. It was election day, so other stories precluded them showing the video clip that day; however, a week later it aired and looked pretty good.
After takeoff, I circled the airport a few times, then took off for the southwest. Or so I thought. My HSI wasn't in agreement with my GPS. This had happened to me once before after practicing holds in Florida. I freed the HSI then re-slaved it and it found the right direction; now both were in agreement again. It's okay if this happens when I'm VFR but I'd be pretty lost if it happened in the clouds. At least I now know that it's the HSI that get's "mixed up."
I had a beautiful short VFR flight to Asheboro, NC for relatively cheep avgas, $2.32/gal. I rechecked weather, which was still poor in the Atlanta area, and had a nice chat with Dean, the FSS briefer. After waiting an hour for the weather to be clearer for my arrival, I finally took off, received my IFR clearance and proceeded into the clouds. Unfortunately, there wasn't much rain. I was hoping my Mooney would get cleaned off before my arrival, but no such luck. Two hours later, I picked up the Griffin Spalding AWOS which was reporting 2900 foot overcast. I actually wanted to go into a private grass strip, Eagles Landing, 5GA3, but had filed to Griffin Spalding because the ceiling was forecast to be lower. Three planes were all arriving to do an approach at Griffin Spalding at the same time. I was second in line and was advised to slow down as the plane in front was on an 8 mile final and hadn't yet cancelled IFR. I advised the controller that if the ceiling was as reported, I'd cancel and proceed west VFR to a private strip. As I descended to 2000 feet, I was under the clouds and the visibility was greater than 6 miles. I cancelled IFR and proceeded north west, the strip was 6 miles away. Luckily, I'd checked the lat/longs on AirNav and plugged them into the GPS. Everything was green and it was very difficult to pick out runways from fields. I found and circled the strip. It was just as Janet and Carolyn had explained in an email, so I prepared for an uphill runway 32 arrival. It went very smoothly and I stopped at the hangar at the end of runway 32 on the left, as described by Janet. I chocked the Mooney and walked to the house. It was open but no-one was around. I walked around, no-one. I walked to the strip, no-one. I returned to the patio and sat for a while. I began wondering if I'd landed at the wrong strip..... The chart shows about 5 private strips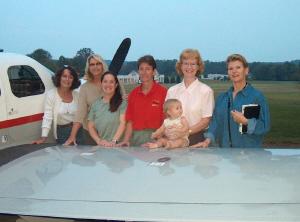 in the same area. Finally the "gang" arrived from shopping -- I'd arrived early and they were still preparing for my arrival. We all exchanged hugs and started chatting.
Janet runs the Ambassador Chapter of the 99s. The members communicate by email and there are no regular meetings, however, they get together when someone is in town or as they travel to towns or countries where other members reside. There are about 90 members in a number of different countries. After my stay with Kathryn, a 99s member in Darwin, Australia, Janet heard about my trip and included me on her email list. In the last monthly email, I noticed a remark about Atlanta and I sent a return email that I'd be passing through Atlanta the following week. It all started there!! Janet invited me to her home and invited others to join us. We had a wonderful evening (from left Linda, Carolyn, Janet, CA, Susan with Lauren, Janet's 11 month old daughter, and Marcia) talking about my trip, their planes and careers, flight training and any number of topics. Marcia, not yet a pilot, but wonderful artist, joined us and drew a picture of me!! It is beautiful (the picture). The next morning she captured my Mooney in Janet and Kyle's hangar on the strip. It is wonderful. It was a magical evening and continued the next morning as Carolyn, the neighbor across the strip, returned with other neighbors. It was so much fun; I can see that an airpark community may be in my future.
Unfortunately, the weather wasn't cooperating the following morning, but Janet and Kyle were driving north and dropped me off at my bother, Andy's home. Debbie, my sister-in-law was there, getting ready to leave for work. Auntie Carol Ann was the baby sitter for 3 year old Andrew Junior for the afternoon!! We had fun reading, playing on the swing set and in the sand box. During nap time I got my emails done, then we had more sandbox time!! Andy finally arrived home just in time for the diaper change.... that's my limit of baby sitting, playing, not changing!!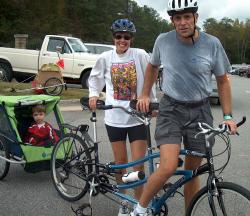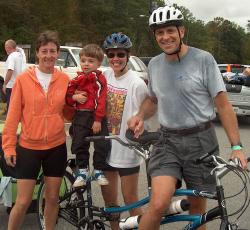 Andy and Debbie had already signed up for a 3 day bike ride south of Atlanta for the weekend. So, if I was going to spend any time with them, it was going to be on a bicycle seat!! We picked up a rental bike close to the ride and Debbie outfitted me in her cloths. Then I relocated my Mooney from Eagles Landing to Newnan, where the ride was to take place. One more goodbye with Janet, Kyle and little Lauren, but I'm sure I'll be back and will be flying in and out of Eagles Landing in the future.
It was perfect bike riding weather, cool in the low 70s with overcast clouds to keep the burning sun out. We did 52 miles on Friday and 63 on Saturday. My legs were okay but my butt was very sore. I was happy I didn't have to ride on Sunday. Andrew was the star of the ride as everyone knew him and cheered him on. He was riding behind Andy and Debbie's tandem. It won't be long before he's peddling his own weight!!
Sunday morning was again cloudy with forecast rain for my route. I filed IFR, but the ceiling was high enough for me to pick up the clearance in the air. Andy drove me to the airport and after a big hug, I was off again on the final leg to Florida. After I broke through the 4500 to 5000 foot overcast cloud layer, I was in bright sunshine. It was brilliant and beautiful. Being a Sunday, the MOAs were cold and I didn't get the usual deviations around them. As I continued it got more cloudy and I climbed to 7000 feet. Finally I was in clouds and rain for a while. All of a sudden, I saw a big spider in the cockpit -- I hate spiders. Not wanting it to re-appear during an approach or other critical time, I found a cleanex and caught it.... another problem dealt with. The clouds cleared as I crossed the Florida/Georgia border, but there was a layer below me. Airports were calling for 400 foot broken. The forecast had been for clear skies at Lakeland. I actually had been invited to land at Fantasy of Flight, but had filed to Lakeland in case it wasn't VFR upon arrival. Fantasy of Flight has the world's largest aircraft collection and two beautiful grass strips. It's usually not permitted to land there, but they'd invited me to stop in just prior to my final arrival at Kissimmee. I couldn't pass up that opportunity.
I could see the clouds breaking up and the ATIS at Lakeland was announcing scattered at300 feet and broken at 10,000 feet. I cancelled IFR after passing Zepherhills and turned left towards Fantasy of Flight. Unfortunately, there were still clouds to the east. I couldn't go under, so I opted to fly over at 1,500 ft and follow Highway 4 northeast, knowing the Fantasy of Flight is just to the north of the highway. The clouds were getting a little thicker, but just then there was a huge open area with the grass strips and museum of FOF. I couldn't believe it. I'd been calling their frequency with my distance and altitude, but had not received any response. I started the approach, continuing to call my position, and keeping the airport in sight the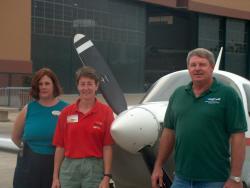 whole time. What a magnificent 5000 foot grass strip, it was a pleasure to land on it. As I turned off the runway, onto the ramp, Jerry was there waiting for me and Pam from FOF came over.
Jerry first contacted me by email early in the trip, but was sending my 2 to 3 emails a day as I closed in on my return to Florida. He had organized the Fantasy of Flight stop, a lunch in Lakeland mid week, a return to FOF the following Saturday, and flying kids with cancer at Sebring on Sunday. He was really becoming my PR person!! After a big hug, we got to know each other and had lunch with Pam in the FOF restaurant. Jesse, VP of Fantasy of Flight, joined us and showed us around afterwards. Jamie, editor of The Flying Life Magazine, arrived in time for pictures and an interview. It was a fun morning and a great welcome "almost home."
As it closed in on my final departure time, I checked weather one last time. It had cleared somewhat and I could most likely make it into Kissimmee without the IFR clearance that I'd filed. I said my final goodbyes, fired up, checked everything, and took off. Orlando approach gave me a squawk code for advisories, but indicated that the weather was VFR at Kissimmee. I spied the field from 15 miles out and checked the AWOS. Since I left, there is a new TFR over Disney. So I had the ORL VOR plugged in to make sure that I didn't come close. No sense getting busted on my last leg.
I couldn't stop smiling as I got closer to ISM. Home!! The airport looked great. At 10 miles out, I called tower and received a very warm welcome home. I proceeded to a right base leg. It was wonderful to return to my home airport -- I knew where everything was!! After 7 months of flying into new and different airports, this felt terrific. I turned final and touched down on runway 15 feeling great. Tower advised me that I'd been requested to taxi to Marathon FBO and turned me over to ground. Huck was the controller on ground. He has a deep voice and is one of the few I can recognize over the headphones. It was so wonderful to hear his voice as he also welcomed me home and told me to taxi to Marathon. I couldn't stop smiling!! Huck had been working tower the day we did a low fly-by to check the angle of the 100 foot trailing HF antenna. He'd given us priority over the other aircraft in the area as we did the low pass and he told us it was hanging down at about a 45 degree angle.
The follow me truck led me under the overhanging canopy and right in front of the FBO where the TV cameras and newspaper reporters were waiting for me, along with a small group of friends. I could barely complete the shut down checklist as I wanted to get out and hug everyone. It was a wonderful welcome home. The TV people were eager to get rolling, so I didn't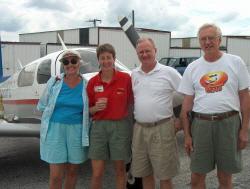 even get to talk with everyone before their interview. It aired on the 6 and 11 pm local news and they did a pretty good job. Huck came down from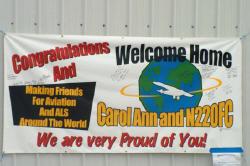 the tower and gave me a big hug. Even though I'd been flying at Kissimmee for 3 years, we'd never met, we'd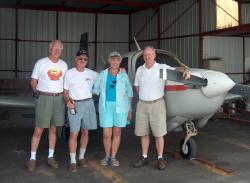 only talked over the radio. He had to return to work and I had to return to the interviews, so we really still haven't met!!
Melissa, from the Orlando Sentinel, took her time and listened to all our chattering. She actually got her story more from our discussions about the trip than from an interview.
We finally decided to go to my hangar on the south side of the field. There I could finally sip the wine that Bob and Jeanie, from Marathon FBO, had opened in honor of my trip and arrival. More friends, Wes and Sandy, were on the south side and they'd hung a banner on my hangar door. They'd worked on my HF radio installation for the last 4 weekends and the last night before my departure. They were supposed to be off sailing today, I don't know how they materialized in Kissimmee for my arrival. We talked even more and sipped wine, finally!! They all helped me unload my plane's contents into the car. It's quick work with lots of people doing the to and fro with each load.
Finally we pushed my Mooney back into the hangar -- I think we both smiled and let out a sigh of relief (me and my Mooney).
4. New York and jump to Virginia
The owner of my hangar in Florida resides in NY state in the summer and even before I'd left, last February, he'd invited me to stop by Mt. View, NY, on my return journey. Capt. Bob is an ex-airline pilot with tons of experience. He'd emailed me throughout my trip with tips, support and encouragement. It was cloudy between Boston and Sullivan County, NY, so I'd filed an IFR flight plan. Actually, with the uncertainty of TFRs popping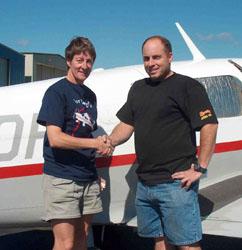 up, I preferred to fly IFR for everything except short hops and the trip between FL and VA that I knew (or use to know) very well. Due to low clouds, I was set up for an ILS 15 approach which suited me as the glide slope hadn't worked in Canada on the two approaches and one test approach that I did. I don't know if they have a different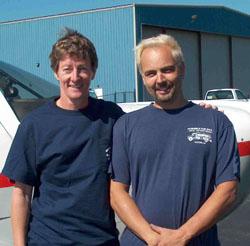 frequency setup or if it was my equipment, but the glide slope didn't appear on any of the 3 ILS approaches and I had to limit the descent to a LOC approach. Anyway, this time the glide slope appeared. I was already VFR, so I announced my position, descended and landed. Bob was talking to me on final and welcoming me to MSV. John, far right, Woodstock Aircraft Services, provided me space in his hangar. Billy, near right, a local mechanic and helicopter pilot helped us push the Mooney. Many of Bob's friends and students stopped by to say hello. It was a very warm welcome.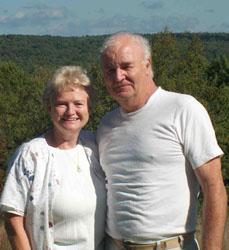 With Nancy, Bob's wife and pilot of her own Cessna 152, we had a wonderful evening of catching up and chatting. At midnight, I finally had to go to sleep. They live out in the country with no-one and no lights around. It's pitch black. As it was cloudy, we had no stars or moon either.
I'd received an email from my Dad that evening, actually, I hadn't connected for several days, so some were old. He'd had pneumonia and wasn't doing so well. In addition to that, we'd been watching the weather and hurricane Isabel was headed his way -- he lives in VA on the NC boarder, but inland from the coast. First thing the next morning, I called him. He sounded very weak and sick. Bob and Nancy could tell from the conversation that I would be leaving immediately. He felt terrible, he was out of medication, and the storm was headed his way. What a situation.
Bob drove me to the airport, gave me a flight route and altitude that would get me around the major cities without deviations, and kissed me goodbye. I was off again, much quicker than planned. It was a beautiful day, but I couldn't enjoy the scenery and took very few photos. I was worried about Dad. We'd agreed that I'd land at Oxford, NC and put the plane in a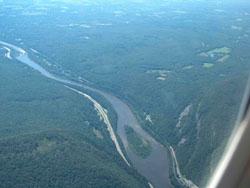 hangar, but he'd also talked about evacuating. During the flight, I thought it would be better if I landed at our local airport, especially if we were going to evacuate. I sent off a quick email, as he was going to get someone else to pick me up at Oxford, half an hour's drive from home. Hopefully someone would check their email before I arrived... well, they did, but too late. Ed had already headed out to Oxford. I landed in Marks Municipal and hitched a ride to my Dad's house. In a small town, people are very friendly and Buddy, who picked me up, was no exception. He said if we needed anything else, he'd be happy to help.
Dad was not doing well when I arrived, so we got to the clinic right away, then went and got the new medicine. The next day he was already doing better. We continued to watch the weather and news. We were forecast to be in the area with 50-60 mph winds. After much discussion, we decided to stay put. I flew the Mooney to Oxford where they had hangar space, we cleared the patio and all loose items were put in the garage. We did one last shop, filled up water bottles, and got out the flashlights and candles. If the electricity went out for an extended period, we'd drive southwest to a motel.
The wind was increasing in speed and force. Unfortunately, it was coming straight down the bay -- that left no protection for the house. As previous hurricanes had passed the NC/VA coast, the winds had come from the south and east, affording the house a lot more protection. I'd never been in the house during a hurricane passage before, so it was all new to me. Every once in a while, there'd be a thud as a branch fell on the roof. I'd jump up and take a look to see what had happened. There was one tree on the windward side that was almost dead and leaning toward the house. Needless to say, I wished that we'd cut it down earlier in the year. Dad was lying in his chair, covered with a blanket, trying to sleep. He still wasn't feeling well and was trying to regain strength in case we needed to leave.
When the strong gusts and rain hit, it was full force on the side of the house with all the windows. After all I've done this year, I thought, this is a fine way to end the trip! At noon, we watched the latest update on the news... the coast was getting the 100 mph winds. We still had 5 to 6 hours before the high winds would pass us. I finally relaxed. As when flying over the ocean, I couldn't jump at each noise and I couldn't hold my breath. Better to relax, try to do something and keep my mind off it.
My brother and sister-in-law called from California to see if everything was okay. They'd been watching the news and weather, but couldn't tell how close we were. At 3:46pm we lost electricity. As we looked out a side window, we could see two trees at a sharp angle. They weren't down all the way, but had definitely toppled. Later that evening, we lost the phone line. The winds continued to blow hard and the gusts were noisy and forceful. The next day I was to learn the peak gusts were 65 knots. On the gas stove, we cooked lamb chops, potatoes and broccoli -- it was a great candle light dinner. From my safely supplies, I had a miner's lamp type flashlight that sits on my head so that I can use both hands. It worked great and it was nice that it finally came in handy. By 8:30pm we both thought the winds had died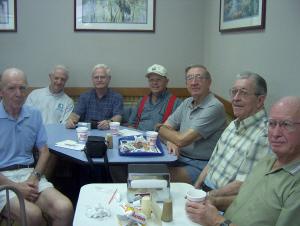 down a little. It certainly wasn't as noisy. We made it an early night.
The next morning was blue sky and calm. Quite the opposite of the previous day. I could see a third tree had gone down and the first two were across the driveway. They would have to be cleared before we could get out. No more details -- cleanup work continued for 5 days.
During my stay with Dad in Virginia, I got to meet some of my devoted followers ... a Thursday morning coffee group of retired men who emailed their support during my trip. Dad, left, Joe, pilot, Ken, ham radio buff, Mark, newspaper contact, and the others have been following my trip from the start and made sure that the local papers informed the community of my adventure. Each paper has now completed a followup story. I joined the Thursday morning coffee group on several occasions. They'd read every flight update and practically memorized my trip, thus had numerous questions -- which I was happy to answer and add more stories. They've asked that I prepare a more formal presentation for the community, which I will happily do. I just made a presentation to the local Danville Civil Air Patrol and a Clarksville elementary school. I'll be making one to my local EAA Chapter 74 in Orlando when I return. This is something that I'm looking forward to doing -- sharing this experience through giving more presentations to schools, flying organizations and anyone else who is interested.
The stay in Virginia also afforded me the opportunity to say thank you to one of the hospice nurses who helped my mother during the last 6 months of her illness. Pam has a son, Taylor, who loves flying and wants to be a pilot and fly in Alaska. We were supposed to go flying a year ago, but weather got in the way and we'd cancelled at least twice. This time it was a perfect blue sky day without much wind. We flew for about an hour over the area, their home, the lake and the John Kerr Dam. Taylor has a good feel for the controls and will soon be taking lessons. All the best Taylor, you'll be a great pilot.
3. Boston - ALS Therapy Development Foundation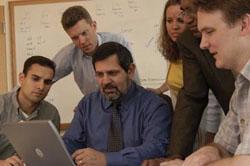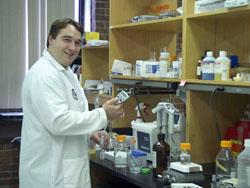 On Monday morning I arrived at the ALS Therapy Development Foundation office and labs in Boston. As this was the foundation that my mother had chosen for donations, and I had maintained contact with them during my trip, I wanted to visit the facilities, meet the people, and learn the current status of research into cures or medicines to help control ALS.
Jennifer and Lawler met me and talked a little about ALS and what they were doing. Then Phil and Chris gave me a lab tour, explained the process of determining which drugs to test, and showed me the animal testing area (extensive tests are done on mice with the ALS gene). It was absolutely fascinating -- I had no idea that this was the direction that research was taking and that they were in clinical trials with 2 drugs as well as testing over 80 drugs on mice. It gives one hope that a drug will be found that could limit the degeneration caused by the disease and, after that, further research could lead to a cure or finding the cause for this debilitating disease.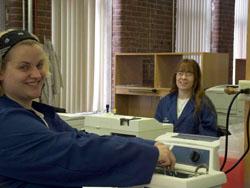 ALS is considered an "orphan" disease, i.e. it doesn't affect enough people to have future cash generating potential to interest the BIG drug companies in drug development. However, its neurological process and progress is very similar to Alzheimers and Parkinsons, so much research can be shared between the various groups studying the different diseases. The advantage of this particular lab is that they are testing drugs that have already been approved for other diseases. Therefore, once found to have successful prolongation of life in mice, they can proceed to clinical trials almost immediately. All the people I met were very focussed on their research and driven to find a cure to this devastating disease. It was an enriching and encouraging visit.
All this research takes money. If you are enjoying these flight reports and haven't yet donated, please consider sending a donation. Just click on the Dedication and Mission page, or visit the donation web site, or send a check to the ALS Therapy Development Foundation, 215 First St, Cambridge, MA 02142. Thank you. If you have already donated, thank you so much. You have contributed to finding a cure for people who are afflicted with this most terrible maladie. Sometimes it doesn't seem to make a difference, but they showed me some new lab equipment that they had just been able to purchase.... it really DOES make a difference.
2. Back to the US - Maine and New Hampshire
It was a beautiful sunny morning, windy and cool as usual, for my departure. Although the low level winds would be strong headwinds, it looked like crosswinds to slight tailwinds at higher altitudes. I wanted to fly low and see the whales and seals, but started out at 4500 over the water until I got to the Bay of Fundy. The air was clear and I picked up the Nova Scotia shore before losing site of Newfoundland. It was a beautiful flight. I crossed Prince Edward Island (PEI as the locals call it) which looked lush and fertile, and continued west to the Bay of Fundy which has the largest/highest tidal movement in the world. As I approached, I could see an enormous area of brown, it looked like a muddy bay. Then I picked up wave movement and it seemed that the tide was coming in. I descended to 2500 feet and hit the 15 to 20 knot headwinds, but couldn't see any whales. I thought I saw two pods below the surface, but couldn't be sure.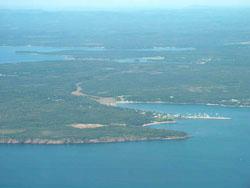 The shorelines were spectacular with lots of trees and cliffs plunging to the bay. There weren't too many houses and few roads. As I travelled southwards, the number of houses, small towns and boats started to increase. When I crossed the US boarder I called Boston Center and received the most wonderful welcome. The response was, "N220FC, Boston Center, welcome back to the USA, and congratulations on a great accomplishment and a job well done." Wow, can you believe that? I thanked John, as his name turned out to be, and we talked a little. He is an Angel Flight pilot also. He invited me to get together if I had time.... as it would turn out, we met several days later. I was so touched, I couldn't stop smiling -- it was such a wonderfully warm and unexpected welcome return to the US. I was still smiling as I approached Portland and landed over an hour later. But, I couldn't figure out how he knew that I was returning and that I had flown around the world.... how did he know that I was coming into his airspace?
After completing the customs requirements, I was really back in the US. I taxied to the other side of the field and called into the local FBO. I'd planned to visit our old neighbors from Pennsylvania. When our family first moved to the US, from England, these people were our first neighbors for 8 years. Although my parents had stayed in touch with them and visited several times, I hadn't seen them in over 30 years. It was a wonderful reunion. We were all looking older but reconnected very quickly. They wanted to hear about my trip and I wanted to hear about their life after leaving PA and how all the children were doing. Although Bob had lost his eye site in an accident over 20 years previously, he had rebuilt their house in Portland and spent his relaxation time building model wooden boats. It was a touching and memorable reunion.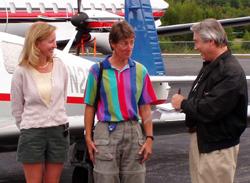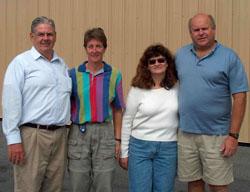 I received an email from John, the ATC controller who welcomed me to the US, and an invitation to visit him in NH. Well, that state is right next to Maine, so I said I'd be happy to join him. His friend, Jim, far left, lent me his hangar to house my plane, Diane, right, the Laconia Airport Manager, welcomed me to Laconia and organized some press coverage, and another friend Chuck, an actor and B25 pilot, joined us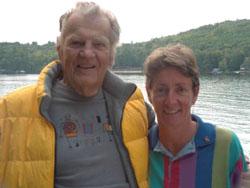 for dinner. What an amazing coincidence.... Chuck, right, had played the role of the doctor in the movie about Lou Gehrig and his fight with ALS.
We shared lots of flying and ATC stories and talked about anything and everything, especially the merits of Mooneys vs. Cessnas. It was a beautiful return to the US with new friends sharing some time together. Overall, the weekend epitomized my whole trip. Aviation people, who don't even know me, going out of their way to help me. This happened in most countries mainly by aviation folks, but also by people not tied to aviation. It has given me a very positive outlook on the world and humanity in general. It has been a most fantastic trip.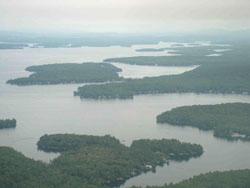 After a wonderful weekend of boating, kayaking and lots of talking with John, Jamie and friends, I finally had to depart for Boston. I was to visit the ALS Therapy Development Foundation on Monday morning and needed to fly to Boston's Bedford Airport Sunday evening. It was an uneventful short trip, but the traffic was intense. A Nascar race was ending just south of Laconia and the jets and large twins were lining up to depart. A little Mooney waiting in line was not what they wanted. Arriving in Bedford, Boston approach was talking a mile a minute and 6 of us were in line for the Bedford approach. It was a busy 45 minute flight in congested airspace.
P.S. John finally answered the question about how he knew I was completing a round the world trip and entering his airspace.... My brother, Andy, a corporate pilot in Atlanta, wanted to do something special for my return. He'd contacted Boston Center to see if they could help. Andy spoke with John and together they worked out my welcome home. Thanks to both of you!! It was a memorable welcome back to the US.
1. Nova Scotia and Newfoundland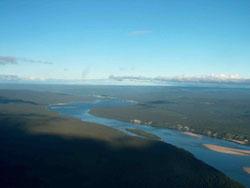 Departing from Goose Bay was simple. Woodward Aviation had requested all the information the evening before and had a complete package ready when I returned the following morning. I gave them the flight plan which they faxed in, paid my bill, and was on my way. It was a beautiful, blue sky day with a few puffy clouds. As I travelled south, I enjoyed the unbroken acres of trees up and down the hillsides. There were very few roads, lots and lots of lakes, and several rivers. This went on for 2 hours. I arrived at the Gulf of St. Lawrence and the Ile D'anticosti. The St. Lawrence Gulf is much wider than I'd imagined, about 200 miles at the widest point.
I was actually arriving at Shearwater, the military base just south of Halifax, Nova Scotia, to participate in their annual air show. I had received the arrival procedures and filed IFR to UAW, the designated arrival point. I had my PPR # in the remarks section of the flight plan but Shearwater was below VFR minimums and didn't have any instrument arrivals. A front was moving across Nova Scotia and one after another all of us arriving for the air show were told to go to Halifax and cleared for the ILS 24 approach. We were directed to various FBOs and each was full of military aviators trying to figure out what was going on. We were finally told that no-one would be going to Shearwater that evening and start time the following morning had been pushed back to noon to allow for our late arrival. I received an 8:30am slot time for the Saturday morning departure to Shearwater. I called Lori, from the ALS Society of Nova Scotia who had organized our participation, and she picked me up and took me to Judy's house. Judy's husband, Dave, died of ALS a year ago and she kindly offered to house me during my stay. She lives only 10 minutes from the Shearwater airport which made it a wonderful location.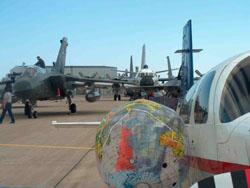 Saturday morning was foggy. I arrived before 8am to preflight and be ready but I couldn't even see the runway when we heard a commercial plane land in front of us. It was somewhat clear at Judy's, but the airport is in a valley and fogs in more than the surrounding areas. The military pilots started arriving and all the slot times came and went with everyone stuck to the ground. At 10am it started lifting and at 10:30am the military pilots headed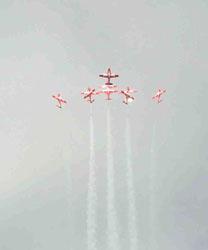 for their planes and helicopters. I decided to wait until the rush was over. When everyone else was out, I headed to my Mooney, got taxi clearance immediately, took off, turned left to Shearwater, base and final and I was there. A follow-me truck led me to my space on the display ramp and I shut down. There I was in the middle of all the military planes.... This was going to be a fun show.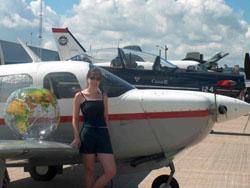 Lori found me and we put out the pamphlets and pictures and I blew up the inflatable globe that I had bought. We were ready. By Sunday evening, we were sunburned but happy. We'd talked with hundreds of people. Over 1/3 knew about ALS and the others learned about it. Many were interested in my trip and a few had flown Mooneys. During the air show itself, we watched lots of military jets, helicopters, a Pitts, Extra 300, and the superb Snowbirds, right.
I also finally got to meet Bob Ringer. Bob is a pilot who had seen my website and emailed me many months ago. He'd offered to show me around when I arrived in Nova Scotia. We had time to chat during the air show. He also contacted the local FBO to get me hangar space and fuel after the show.
The show set a new record with over 65,000 attendees and we raised awareness for ALS and talked with lots of very nice people. On the Monday we had an interview by ATV for their local news Live at 5. Paul, the broadcaster, did a good interview and worked hard to make a thorough coverage of ALS, my flight, and the goal to increase awareness. We saw the coverage that evening and were very happy with the results; thanks Paul and ATV.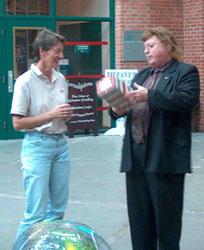 Lori and Chris, her husband, took me around the area, showed me Acadia valley to the north, Keith's local beer brewery, and we had a reception for over 30 people in the area associated with ALS. I explained about my trip and the support I'd received by email from pilots and families touched by ALS. I spoke with most of the participants and we shared our stories. I was touched and pleased to have been able to participate and we have hopefully done something to help those with ALS in the Nova Scotia area and to raise awareness of this devastating disease. Brian, President of the ALS Society of Nova Scotia, presented me with a momento of my stop in Halifax, left.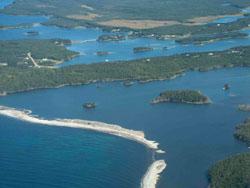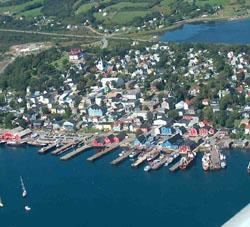 Judy and Lori were originally from towns in Newfoundland and strongly recommended visiting the island, pronounced New-fn-LAND (like we say un-der-STAND). I enjoyed their stories and Judy's Newfoundland baking so much that I had to visit. The flight up the east coast of Nova Scotia was beautiful. It was trees down to the water with rocks on the coastline. There were a few towns, like Lunenburg, which were brightly colored and had been old fishing and fish processing towns. Tourism is now their main source of revenue.
In Newfoundland, I chose to visit Stephenville, on the southwest coast, because I wanted to see a small town and meet the local people. Also, a flight up the west coast is supposed to be outstanding. There was a front moving across Newfoundland and although the weather was sunny elsewhere, I had to do a full approach into the airport. It was very good practice. As I became visual at 1000 feet, I could see tree covered hills to my left and finally picked up the runway lights 2 miles ahead. Tom, at the FBO, was very helpful and friendly. He booked me a B&B and said that a ride would be provided when I was ready. He then brought over Glenda, from the local newspaper, and we had a quick interview and photo session (in the rain) to get a story on ALS into the local paper. It was my luck that the Snowbirds would be putting on an air show the next day, thus the reason for media being present when I arrived.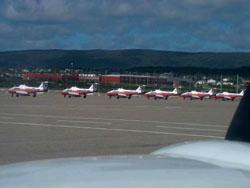 Actually three Snowbird planes had already arrived -- I'd heard them talking with Gander center while I was still 50 miles away. While I was there, the remaining 8 Snowbirds arrived, did a low approach, landed, and lined up with the rest. What a beautiful site; I couldn't wait to see them preform again. The forecast is for a sunny day tomorrow, so hopefully we'll get a great show.
The Newfoundland accent is very strong and the people are very open and friendly. The small town of Stephenville has a population of about 8000, down from 12,000 several years ago as people move to other provinces for better job opportunities. One of the schools has closed and another is scheduled to close next year. As the Snowbirds were scheduled to do an air show, many teachers had planned to do tours of the airport or other aviation related events that morning. When I returned from my flight up and down the coast, there was a class at the FBO. Since the hot air balloon rides had been cancelled due to high winds, the teacher asked me to talk about my trip. I happily obliged and talked about my Mooney, the flight, and the various countries that I visited during my trip. The kids asked questions and I had fun. I also had another interview with the local paper, thanks to Tom who wants to make sure we spread the word about ALS.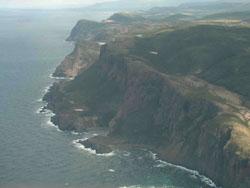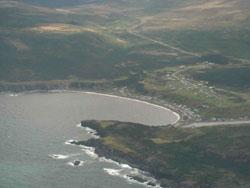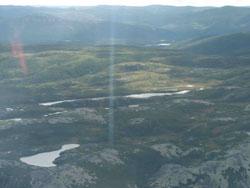 The coast was magnificent. There were some valleys and bays and lots of cliffs and wooded mountains up to almost 3000 feet. There were small lakes on top of the mountains and apparently plenty of caribou and moose, which I didn't see. Near the bays and river mouths there would be some houses and in some areas there were major towns. Overall, it was sparsely populated. The shores were mostly rocky with cliffs coming straight down to the sea. Not too many sandy beaches around here.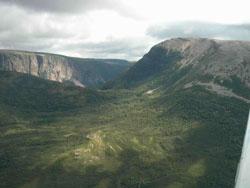 I also learned that this is one of two areas in the world where the earth's mantle, 100 miles below the surface, had been pushed up and can be studied by geologists. The brown mountains, with no trees, left, were that area. It was definitely different from the rest of the area, but interesting as I flew by, and now I understand why.
That afternoon, it was time to watch the Snowbirds again -- wow, am I lucky to see them twice in one week. Actually, pilot number 4, Steve, was in the FBO when I was there and I told him how much I enjoyed their performances.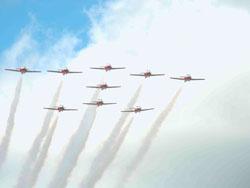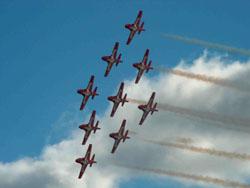 Wow, and double wow. I was outside with my camera, ready to watch and take pictures of the Snowbirds when the airport manager's van came up. The airport manager, Tom, invited me to ride with them to the show line. We got a front row seat, in front of the crowds and out of the wind, to watch the show -- it was fantastic!!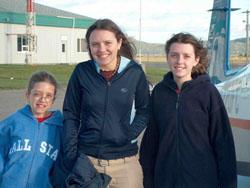 After the show, it was time to take some Young Eagles for a ride. Daughters of the B&B where I was staying, Laura, Stacey, and Nicole had watched the Snowbirds and were eager to taste aviation in a small plane. We walked through the preflight and piled in. As we were getting ready, the Snowbird pilots walked by and wished us well -- what a treat. We flew over the bay and up the coast as well as circling their house. Although bumpy, it was great fun.
Afterwards, Linda, who runs the B&B, invited me to share a typical Newfoundlander jigs dinner of salted beef. And the desert was also a typical regional fruit crumble. They were both delicious, and just what I had wanted
to do -- experience local cooking and life. I had a terrific stay in Stephenville, Newfoundland, and very much appreciate the hospitality of all the people, especially Linda and Bill at Wood'N B&B and Tom, Larry, Tom and Carolyn at the airport and FBO.
Time to fly back to the US and meet old friends. Off to Maine, New Hampshire, Massachusetts, NY, NJ, and PA.
Home / Dedication and Mission / Preparation / across the US to California / First ocean crossing to Hawaii /
Ocean crossing to Samoa / Ocean crossing and flying in New Zealand / Crossing and flying in Australia /
Multiple jumps: Singapore to South Africa / Multiple Jumps: South Africa to Greece / Europe /
Crossing the North Atlantic / Last leg home / About the pilot / About the plane / Supporters /
Overview / Women / Kids / FAQ / Lessons Learned / Family and Friends /
Flight reports: FL to CA / CA to HI / in Hawaii / HI to Am Samoa / Am Samoa to NZ / in NZ / NZ to AU / in AU / in AU2
AU to Singapore / Singapore to India / India to Seychelles / Seychelles to S.Africa / in South Africa / Zambia to Ethiopia /
Djibouti to Greece / Greece to France / England, Ireland, Scotland / to Iceland / to Greenland / to Canada / last legs home
New: Presentations / Book
I'm happy to hear from you, please email me at cagarratt@gmail.com any ideas, suggestions or flight tips. Thanks.