Legs 14 - 16: Across the North Atlantic
Departure point Wick, Scotland to Reyjkavik, Iceland a distance of 639 nautical miles. I'm looking forward to discovering Iceland, I've heard so many good things about the people, the thermal pools and the wonderful landscape.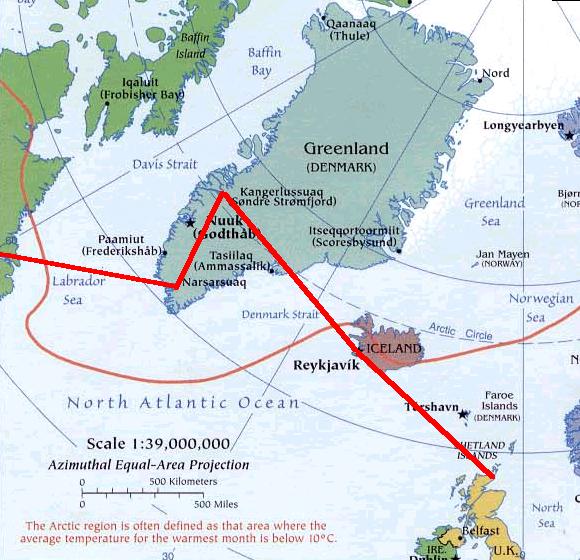 "I can do that!"
From Iceland I'll travel to Sondrestromfjord, Greenland (730 nm) for a few days of exploring. The next stop will be Narsarsuaq, Greenland (378 nm) where I'll begin the jump across to Happy Valley - Goose Bay, Canada (676 nm).
This may seem like a series of short flights compared with the long legs of the Pacific and Indian Oceans; however, all information indicates that it is much more difficult because of weather, mainly clouds, icing and winds. See information on the Preparation page for Atlantic crossing.
To see the details of the actual legs after completion, click on: Iceand,Greenland, or Canada.
---
Home / Dedication and Mission / Preparation / across the US to California / First ocean crossing to Hawaii /
Ocean crossing to Samoa / Ocean crossing and flying in New Zealand / Crossing and flying in Australia /
Multiple jumps: Singapore to South Africa / Multiple Jumps: South Africa to Greece / Europe /
Crossing the North Atlantic / Last leg home / About the pilot / About the plane / Supporters /
Overview / Women / Kids / FAQ / Lessons Learned / Family and Friends /
Flight reports: FL to CA / CA to HI / in Hawaii / HI to Am Samoa / Am Samoa to NZ / in NZ / NZ to AU / in AU / in AU2
AU to Singapore / Singapore to India / India to Seychelles / Seychelles to S.Africa / in South Africa / Zambia to Ethiopia /
Djibouti to Greece / Greece to France / England, Ireland, Scotland / to Iceland / to Greenland / to Canada / last legs home
New: Presentations / Book
I'm happy to hear from you, please email me at cagarratt@gmail.com any ideas, suggestions or flight tips. Thanks.