From Florida to Alaska
(and back)
July 2001
Introduction
We're off to Alaska in a Mooney 201 M20J. The trip has been in the planning stages for several months and is now becoming a reality. Left seat pilot is Carol Ann Garratt, Mooney owner and taking a FULL two weeks off work for the trip. Right seat pilot is Donna Pinto, multiengine commercial pilot, hopes to get a job as an airline pilot and previously worked as a full time architect. Departing July 14th with planned return July 29th after a week and a half in Alaska and hopefully a day in Oshkosh on the return trip.
Donna, left, and Carol Ann, right, full of fuel at Kissimmee, FL and ready to go.
Preparation
CA had dutifully ordered what seemed like reams of paper for VFR and IFR charts, sectionals, approach plates, information circulars, etc. We also had all the survival gear required for flights in Alaska, including mosquito netting, a two week supply of food, flares, fishing gear, and a shotgun. After weighing and balancing everything the best we could with a bathroom scale, we were ready for departure.
Day 1
Well, it was an overcast morning in "sunny Florida" for our departure. It had been a stormy week with rain, low clouds and thunderstorms all week; why should the Saturday of our departure be any different. Why not put a thunderstorm right in our way? Well, it moved beyond our path before our takeoff time, so we were fine. A little IFR for the first few minutes then we were on top most of the time. Once out of FL we had a beautiful high pressure across the whole midwest. It was a little hazy as we passed over the southern end of the Blue Ridge Mountains and ATC required us to climb to 8000 feet for good reception and obstacle clearance. Tennessee and Kentucky were beautiful from the air, rolling hills and lots of trees.
Carol Ann had picked a small airport for our midpoint stop the first day - it was just over the Indiana boarder into Robinson, Illinois. There wasn't much to it except farm fields and two strips. After we'd refueled we were greeted open arms by Mr. Bonelli. He was thrilled to see us because all that stood between him and retirement was the sale of the remaining avgas in the tank out back. We were happy to relieve him of 46.4 gallons and listen to his stories of the area over our lunch box sandwiches. Mr. Bonelli was the first of many wonderful characters we would meet on this 8000 nm round trip tour. CA filed the flight plan for our next leg to Grand Forks ND and we set off again. Mr. Bonelli was on the radio to wish us well on our trip.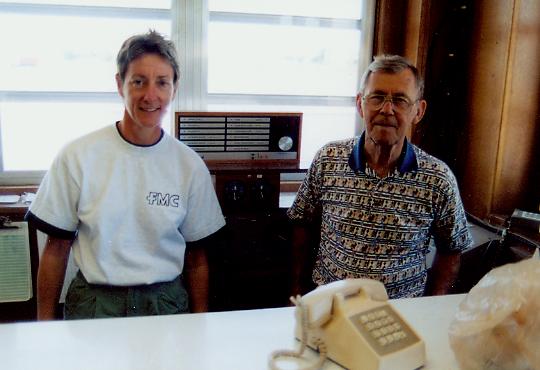 Carol Ann, left with Mr. Bonelli, right at Robinson, IL
Not as long the second leg, only 5.1 hours vs 5.5 hours from FL to IL, and we arrived. Clear weather across IL, IA, and most of MN with a few clouds in the northwest. The weather had shown a low over the Dakotas and western MN all day and it hadn't moved. Got some more real IFR time then descended into clear weather for arrival. Donna remarked on how nice it would have been to learn to fly in this part of the country since all the roads and fields are arranged in a nice north/south/east/west grid!! Bring on those ground reference maneuvers!! More very nice people in Flying Support FBO to help us out. Jason who did the refueling was amazed at the fuel efficiency of the Mooney and the speed and distance. We covered 1400 nm in 10.6 hours using 86 gallons of fuel averaging 8.5 gal/hr and 141 knots. Our new friends at the FBO were nice enough to loan us a car and, day one behind us, we were off to the hotel for some rest. Having never set foot in the great state of ND, Donna made a quick tour of Grand Forks and found a place for her favorite meal, the cheeseburger, over the river in East Grand Forks. After bending the ear of the unsuspecting waitstaff at Whitey's Wonderbar, Donna learned how the area had rebuilt itself after the devastating floods of 1997. Carol Ann missed the tour and stories as she went straight to sleep.
Day 2
This was an introduction to the many weather-related challenges that awaited us. We had planned to enter customs through Brandon, Manitoba, unfortunately, the weather was low ceilings, zero visibility and rain. Regina to the west was good weather, clear and good visibility so we changed the flight plan and customs entry declaration and headed to Regina, Saskatchewan. SASKATCHEWAN. Doesn't that sound far away (or like a wilderness creature with a BIG FOOT)? Clouds to the northeast of us and clear weather to the south and west, this was definitely the direction to go. Lots of flat land, lakes, farm fields, areas of trees and forests, but not much civilization. Towns were few and far between. Before long we were crossing the border between the US and Canada over the International Peace Garden. Donna almost scared CA to death with her cheer of joy when she saw the border of our nations outlined in rectangular shrubs that created the exact dashes seen on our maps. Donna just loves a landscape architect with a sense of humor.
Two and a half hours later Regina was easy to spot and the customs people were sitting waiting for us (even though we had gained and hour and were an hour early). It seems that a lot of areas choose not to change with daylight saving time, so everybody is pretty flexible on time. If we'd arrived at the same time as the only daily scheduled international flight, we'd have had to wait in the plane until they had time to take care of our documents. They were efficient, courteous, helpful and friendly. They told us about the canola fields of brilliant yellow (that we saw everywhere) and other tit bits about their area. We were off to the local FBO for gas and weather in no time. Weather to Fort Saint John was relatively good so we set off again.
This was another long leg, 5 1/2 hours, but with good tailwinds, we made it in 4.9 hours. There were isolated thunderstorms, one within 50 miles, cloud bases at 7500 and we were flying at 8000, so it was bumpy for a while. Radar contact is not consistent and ATC often is not in radar nor radio contact. Donna, in charge of communications, got a good workout in Canadian regulations. Our first clue that we had left the all encompassing eye of Uncle Sam was the air traffic controllers request for us to "state our position." Luckily, ATC held our hand through our first feeble attempts at position reporting in a non-radar environment. Initially Donna felt the stinging slap of disappointed controllers after inadequate readbacks. Apparently the American convention of responding to an ATC dissertation with "2992, 0FC" was painfully lacking. Pretty soon Donna was writing everything down and repeating EVERYTHING, including area forecasts. CA suggested that this may be going a bit overboard. When we wanted to descend, we called and they didn't receive. Finally a regional jet relayed the message and we descended into calm air. With each radio contact we learned the differences between American rules and Canadian rules, minor, but significant enough for them to want us to do it right.
It was cold when we arrived, so the shorts went to the bottom of the backpacks and out came the jeans and sweatshirts. Upon arriving at Ft. St. John, we spent at least an hour with Kevin, the very patient FSS briefer. He helped us enormously with rules, recommendations, stations to monitor, what to do when flying VFR as well as giving us thorough weather information. We had a million questions for him. Surely there must have been a pamphlet somewhere entitled "What Americans should know about flying in Canada" that could have saved Kevin from our barrage of questions.
Phil at the FBO was most informative and helpful. We accepted his gracious invitation to roll out our sleeping bags in the pilot lounge for the night. They are equipped with showers and kitchen accommodations for people flying through. He gave us the truck to get into town for the evening and showed us around so that we felt at home. We were anxious and excited to begin our trip over the fabled Alaska Highway the next day. This historic stretch of road, 1440 miles long, was built in a rush during WWII to provide a supply passage from the lower 48 to Alaska. With enemies "just around the corner" across the Pacific, FDR chose this route to connect several army airfields and provide us with a line of resistance from the rising Japanese threat.
Day 3
Weather was marginal IFR to the north (our preferred direction of flight) and marginal IFR to the west, an option to get through the mountains and up the west coast. Other pilots were calling in or waiting at FSS for the same weather information. One local pilot was headed north and would send reports (for us non-locals). After breakfast, we checked again and the lure of "destination" proved too strong as we opted to fly IFR, hopefully on top on the northerly route. It turned out to be the most challenging IFR either of us had ever faced.
We set out and climbed to 6000; it looked like a relatively smooth trip. We checked in by radio at Ft. Nelson and continued on, climbing up to 8000 as the MOCA was 6900. There were holes and we could see the Alaska Highway and the river through the clouds. At the next checkpoint, Watson Lake, it was starting to get more solid IMC, but we had to climb to 10,000 feet anyway for reception and mountain clearance, so up we went. There was a little icing but we were clear for the most part. As we continued, we were in the clouds more often and ice was collecting, so we asked for and received approval to climb to 12,000. At 11,000 we were clear again; unfortunately, ahead there were more clouds with no way around and no telling how far they would continue. We discussed it:
- we couldn't climb any higher above the clouds (no oxygen)
- the accumulated ice wasn't going to disappear (below freezing level)
- we still had over 80 NM to go with clouds ahead
- the only landing strip between the two "major" airports only had an NDB-A instrument approach
and was surrounded by mountains in the clouds below
and we decided that a 180 degree turn was the best course of action. Being out of radar coverage, we were cleared for the turn and to return and make an approach at Watson Lake!! Wow, Sixty miles away and clear for the approach. Not much traffic around here. We studied the approach plate, calculated when we could start down to a safe altitude and thoroughly briefed the approach. We noticed the approach plate was clearly marked "No PT." Hmmm, how could we do the full approach without a procedure turn? It turns out "No PT" on Canadian plates means "procedure turn not required" unlike it's meaning of "procedure turn not authorized" in the U.S. We vectored ourselves as best we could. Below 9000 feet, the ice flew off within seconds. It wasn't our prettiest approach but we learned a valuable lesson in what to expect during instrument approaches in Canada.
As we taxied in we noticed a growing crowd of people waiting for us. When we climbed out of the plane we were surrounded by other pilots looking for a real-time pilot report. Apparently there were lots of other people disappointed with the weather that day. Most of them were trying to go east or south; we were the only plane headed west. We soon saw that in this rugged terrain where weather reporting stations and observers were sparse that pilot reports were INCREDIBLY valuable. In the ensuing days of the trip, we found ourselves soliciting fresh pilot reports from planes after touchdown. We spent the afternoon in town visiting the sites (don't miss the Sign Post Forest), seeing a movie on the Alaska Highway, and another on the Northern Lights.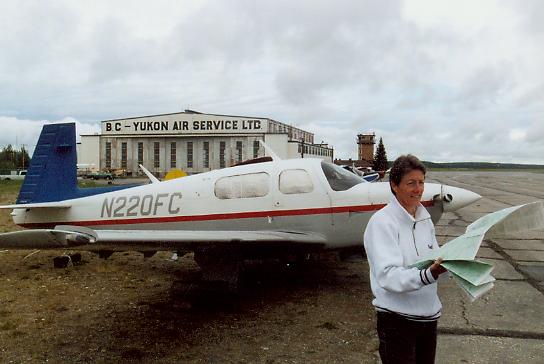 Carol Ann on a cold July day in front of WWII hangar at Watson Lake, Yukon, Canada
Day 4
Got up late, 6:30am, and had a slow breakfast. Mornings aren't the time to fly as we've noticed that the weather usually gets better in the afternoon. Went back to the airport and talked with more locals on IFR approaches and other Canadian rules. Again we learned a lot. Some AK forest rangers came in and said that they flew VFR at various levels and didn't have any trouble. They let us sit in the Pilatus and took our picture!! Nice guys!! So, we filed IFR and took off again. Climbed up to 12,000 and started to get ice. Plenty of clouds, moisture, below freezing, didn't take us long to turn around again. We'd already set the alternate as Ft. Nelson, an hour and a half to the east of Watson Lake. Going the wrong direction but at least flying. Got about 2.5 hours real IFR time as we were in the clouds until we set up for the approach. The rain really cleaned off the plane!! At least it's good for something.
It was warm arriving here. We finally took off the sweatshirts. What a difference after being cold for two days. After filling the tanks up at Ft. Nelson, we took a short site seeing flight up the Alaskan Highway. It was beautiful and easy to follow until we saw a narrow pass ahead with a rain storm coming through. We turned around but others came through. Back at the FBO, Jordy offered to let us stay the night in the pilots lounge. We ordered some pizza for delivery and settled in for the night. Over our cheese and pepperoni, we sat outside on the porch and watched as another Mooney taxied in. We were always excited to greet Mooney pilots in this land of Piper Cubs and Cessna taildraggers. They had come VFR over the highway, through rain showers and poor visibility, and seemed a little unsettled by the trip. Ed, the pilot, said he shouldn't have done it.
FSS is on the field so we went to see them. Again, very nice and helpful. We'll check one more time before leaving tomorrow morning. One thing we learned, they don't have radar here and most airspace is uncontrolled. When doing an approach, one plane can go at a time and the others have to hold. We were "first" today as we were arriving from the west at the same time an another plane was coming in from the south. He had to hold at 8000 ft while we made our approach, then he came in. Yesterday, at 11,000 ft and 60 miles from the airport, we were cleared to "descend at pilot's discretion." Minimum safe altitude was 6000 ft at 25 nautical miles from the airport -- so we had a way to go before descending!! There is a lot more freedom here, but you really have to know your charts, altitudes and approaches.
Day 5
The weather took a turn for the worse so we decided to stay put for the day. Tomorrow is supposed to clear up a little and going VFR would be preferable as we came here to see the sites.... not clouds. So we're off to see the sites that Ft. Nelson has to offer.
Ft. Nelson had its charm although we did everything there was to do in half a day. The museum was FULL of old stuff and we saw a second movie of the making of the Alaska Highway. I think we know the history now. The evening show was on trapping and we learned about "humane" traps. Although one lady told the presenter that the trappers only come along and kill the animals anyway!!
Day 6
Another rainy day, but the weather to the west was beautiful, sunny VFR, so off we went. The first 50 miles were horrible overcast, rainy, bumpy IFR at 8000 ft; but after that, we broke into beautiful sunny blue sky, switched our flight plan to VFR (with the typical Canadian details but efficiency) and descended into the valley to follow the Alaska Highway route through the mountains to Whitehorse. It was magnificent!! We slowed our speed to 125 knots and meandered along the highway, through passes and looked up at mountains. It was almost disappointing to land at Whitehorse as the trip had passed so quickly. It was so warm, we returned to T-shirts and shorts again, thankfully!!
We tied down, learned the lay of the land -- Donna chose a room at the FBO, CA wanted to camp outside after too many rainy nights when she had been unable to camp. And off we went to visit the town. It was about a mile and a half hike around the airport and down a steep bank into town. We found a restaurant with outdoor seating and had a big lunch before seeing the rest of town. Each town has a visitor center and this was no different - we visited that, got the lay of the land, listed the things to do and set off. There is a fish ladder outside of town (that ended up being about 2 miles away). It was a nice hike and we learned a lot about salmon; unfortunately, they won't come through the ladder on their way upstream until about mid August, but they are already on their way from the coast, coming up the river...
After a visit to the best coffee shop (with great milk shakes) we had the strength for the return trip. Upon reaching the airport again, we decided to visit the Flight Service Station, as the guys there had helped us a lot over the past 3 days and we wanted to say thanks as well as get the weather for the next day. As with all the other FSS we visited, the guys were great, helpful, friendly, and answered all our questions. A number of fire-fighting planes were taking off and landing in the process of fighting a nearby small fire. We watched them and talked about different kinds of planes. Then, he called upstairs and let us visit the tower. This was our first towered airport in northern Canada, so it was a treat to get a visit. GREAT view. Jerry turned out to be the tower controller, a very nice guy who again answered all our questions, talked a lot and joined us for a beer when he finished at 9pm. We actually all left the tower together. After two beers and lots of talk, we left the bar at 11:30pm - still a very light twilight. CA hadn't set up her tent and did it without any flashlight - it was still very clear. After a warmed up dinner, 12:30am, it was a little darker ... but it never really gets dark this time of year. The mosquitoes are HUGE - but extra strength OFF did the job (on CA, Donna still got bitten).
Day 7
Another beautiful blue sky day in sunny northern Canada!! Jerry had recommended going south to Skagway if the weather stayed good, as there weren't many days to fly through the pass. So we checked with FSS (after buying some rolls and muffins as a thank you present) and set off southward bound - planning on returning north to Fairbanks though another pass. GD, the morning tower controller, thanked us for the rolls as we left!! It was again a magnificent trip. The mountains were higher, lakes bluer, with snow on the peaks and glaciers in some valleys. We flew a little around Glacier Bay before returning to Skagway and into customs. The approach into Skagway was the most difficult so far. Right hand pattern with the mountain coming almost straight up from the town and airport. So, we were only a few hundred feet off the mountain at 1000 ft pattern altitude and the mountain continued up above us. It was a very tight base and sloping downhill final onto the runway. We also had to descend from 9500 ft to 44 ft in a short distance up the bay to make the approach. A slip on final helped to get us down.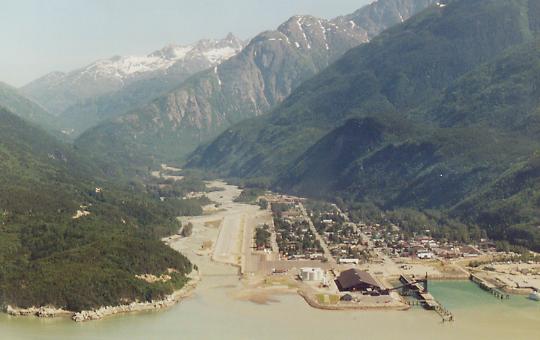 Crosswind, turning right downwind, for approach to Skagway
We met an Italian pilot who was flying around Alaska and Canada for his vacation and he joined us for lunch. Then we visited the town a little. There are tour boats that come into town, so the main street is a little touristy. However, wandering around looking up at the snow peaked mountains reminded us of a Swiss village.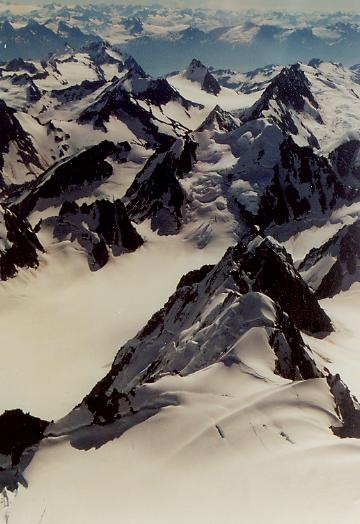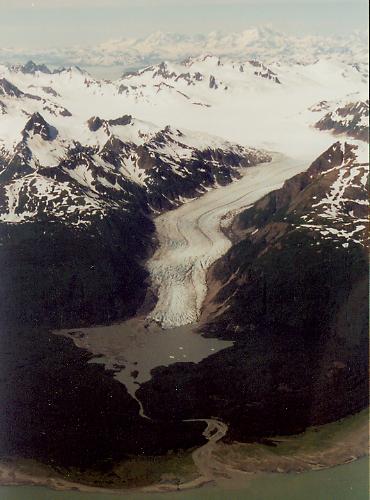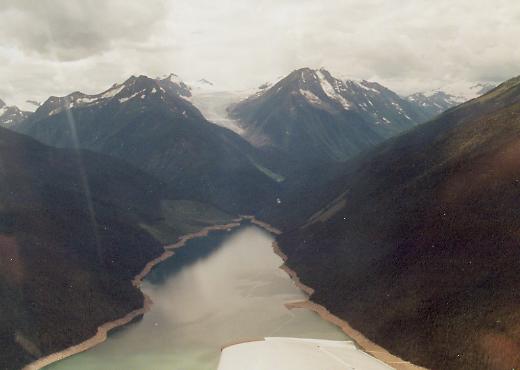 Mountains, glaciers and lakes on the way from Whitehorse to Skagway.
Off again, down the bay, climbing over the first set of low mountains, up the next bay and following the road to Haines Junction then to where it joins the AK highway. The mountain range to our left was very high with peaks at 15 to 16,000 feet. We stayed between peaks in a wide valley although it was a little bumpy. Very desolate out here, few "villages," many lakes. We didn't see any float planes going in or out... but it was easy to see that's the only access available. Donna did all our Canadian required mandatory reporting points and gave pilot reports as well - well trained as we are by now!! Our reporting was through Whitehorse radio (as it had been for the past 3 days) and they again thanked us for the muffins!! I think they'll be watching over us on the return trip!! And, we finally made it to Fairbanks just before a rainstorm. We taxied to their "airpark" where you can tie down the plane and camp right behind it!! $3 per night. Hotels here are twice as expensive as in Canada. We pitched our tents and unloaded our stuff ... then it rained - what timing.
Day 8
Why are we so exhausted after a "day off?" They have old "beater" bikes here to go to the showers (about 1/2 mile away) and to use for going to the store, etc. We road all around town - at least 15 miles - on them!! We saw the University of Alaska museum - fantastic, visited downtown (not much to see), visited Alaskaland and a Pioneer Airplane Museum. Then shopped for food, visited FSS and returned - exhausted. We'll sleep well tonight. We brought the airline "eye covers" for transatlantic flights - you really need them here!! It's light at all hours.
Doesn't look like good weather to the south, so we might not make it to Anchorage or Mt. McKinley ... we'll see what happens tomorrow.
Day 9
Well, the weather didn't improve to the south, so we headed out for a short trip to the local Hot Springs. There are three hot springs in the area but all have gravel strips and CA wasn't really excited about landing on gravel. After talking with the other pilots in the camp, we decided on Chena Hot Springs, only 60 miles away, but apparently with the nicest strip. Off we went, following the only road through and around the hills. It is in a valley, sloping up to the east with an approach over a hill and trees or a tight left base over the road and over trees, 2200 ft runway (we had been told it was 3400 ft). We circled to see the wind and decide on the approach, then went away over the road and came in up the road, over the trees and landed uphill. Rolled all the way to the end ... but it was good gravel, no ruts and no big stones. Parked at the west end with another plane and went to check the place out.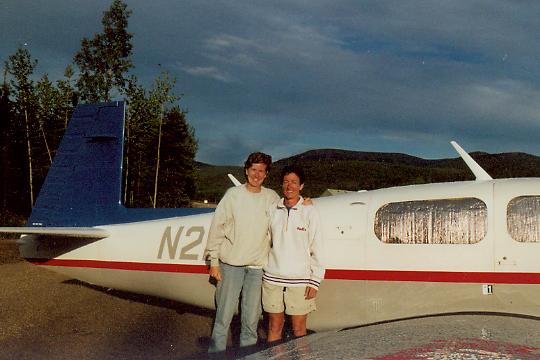 Donna, left and Carol Ann , right, on arrival at China Hot Springs
It was setup for RVs more than tents, but we found a place, pitched our tents and put our swim suits on.... The hot pools were GREAT!! About 20 yards long and 10 yards wide, average temperature 110-115 F with hot spots where the springs came in. There were big rocks all around and you could sit on those to rest out of the water. We spent at least an hour in there. Only a very slight smell of sulfur, not bad at all. Very relaxing!! After a major storm.... that we sat out in the tents, we walked around, had dinner, changed back into swim suits and had another relaxing hour in the pools. What a good nights sleep that night!!
Day 10
Cloudy... the local commercial pilot who had brought customers to Chena hot springs wasn't leaving early and neither were we... So, we had breakfast, talked with the pilot a lot, talked with the local FBO, Will, who was quite a talker and told us everything about southern AK, the volcanoes, places to fly, etc, etc, etc.... We did learn that there was no fuel at Ft. Yukon, our next stop, so we had to return to Fairbanks first. Finally the weather picked up, we did a downhill takeoff, over the trees and right bank to follow the road around the hills. It was still very cloudy, so we filed IFR to Ft. Yukon after filling up at Fairbanks. We flew through the clouds, then on top, then it cleared to the north and we got to see the end of the mountains, the flat north with lots of lakes and the Yukon River. It was tough to pick out the dark gravel strip, but we found it and landed. There wasn't much to the town. The people weren't friendly and we didn't feel safe (not nice to say, but true, and later confirmed by a guy who lived there for 25years). So after a quick walk through town, we decided to head to Dawson VFR.
Off we went again, following the river to the southeast. Unfortunately, the clouds were getting lower and we finally decided to turn around and head back to Fairbanks. When we got back to communication range, we filed IFR, climbed above the mountains and clouds and did an instrument approach to get back to Fairbanks. Then we taxied "home" to our campsite. Our Mooney neighbors, Jerry and Linda, were still parked there and we pitched camp just before the next rain shower.
Day 11
Cloudy, no way to get south to Anchorage and the pass to Mt. McKinley park was closed. No outlook for improvement, same as the past few days, so we decided to look at heading back east. The weather was improving by afternoon, so we did a quick oil change at the local FBO and filed VFR to Whitehorse - our port of entry back into Canada.
The first part of the trip was 3000 scattered with rain showers, no problem. When we got to Northway it deteriorated as forecast. We heard another plane headed our direction a little ahead of us and a helicopter that had just returned. Although he couldn't get into some of the smaller passes, he said the main route was open and good. We continued on. The weather did get slightly worse, we were about 1000 AGL in rain showers and low clouds, but very good visibility. We could always see the road and several miles ahead, even through the rain. We caught up with the other plane that turned out to be a LongEzy. He had been back and forth several times and was comfortable with the route. We followed him for a while, then led him. The ceiling lifted and although rain showers continued, the visibility was 10 miles. The mountains on each side were beautiful and we had a very pleasant trip.
On arrival, customs was efficiently handled by phone and we were free to tie down and settle in. We knew our way around and had no trouble. At the camp grounds were two people flying a C172 to AK. They said that they had been told that the pass was not recommended and they'd been grounded for 2 days (sounds like when we came through the first time). We gave them the report and they were sorry they hadn't tried.
Day 12
Unfortunately for 3 sets of pilots headed west, the weather that direction wasn't good and they were all grounded another day (good job we came when we did). For the LongEzy and us the weather to the east was good so off we went again. First we followed the valley to Watson Lake (where we'd been grounded before). Then we headed southeast down what they call "the Trench" which is a divide extending from northern Canada to Montana. There is no road to follow, so dead reckoning and pilotage is the only option. Once you find the entrance, there is no problem, it's just a matter of finding the right canyon to enter.... we did!! It was wider than we had imagined and easy to follow. We were at 6000 ft with a few light rain showers but again, good visibility. It took almost 4 hours to get to Prince George.
We decided to visit the town and take a hotel as the next few nights would again be camping. Not much to the town, but we found a good pub!!
Day 13
We had a slow start to the day as we knew we didn't have far to go - only about 4 hours. The second part of the "trench" i.e. the divide from northern Canada to Montana was even more beautiful than the first half from the previous day. We flew about 5,500 feet with the floor of the valley at about 3000 ft, with no roads, only lakes and rivers. The mountains on each side were between 8 and 10,000 feet with snow capped peaks further away on each side. It was truly the best leg of the trip. We followed the VFR sectionals with few problems and made all the correct turns (there weren't that many). The canyons off to each side were inviting - but we really didn't want to visit any.
We arrived in Montana at Glacier International (next to Glacier National Park). Customs was there waiting for us and very efficient, except they did want to thoroughly search one bag this time (CA's bag with all the toilet items in it, which he inspected completely)!! Anyway, the FBO gave us a car for the night, we loaded up our gear and headed to Glacier National Park. It was fantastic!! We drove through the whole park and back to make sure we didn't miss any sites. Then we got the LAST campsite in the campground (next to the toilets) and had a good dinner at the lodge.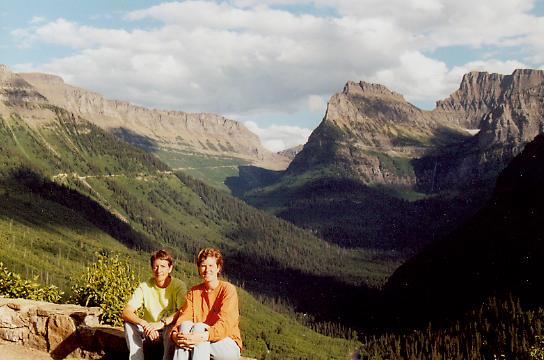 Carol Ann, left and Donna, right at Glacier National Park, Montana
Day 14
Early morning, up at 6, airport by 7, off by 8am - we had a lot of ground to cover to get to Oshkosh WI before the airport closed at 8pm. We had a beautiful flight through a pass in the mountains to get out of the Rockies - at 9500 feet we passed over some of the sites we'd seen from the ground the previous evening. Then over the flat, barren wasteland of eastern Montana - not much to see except the Missouri River. Our destination weather wasn't looking good, so we stopped in a small town in western South Dakota for gas. There wasn't much there, so we only had our bagels (from breakfast) for lunch.
Onward, upward and eastward, we had an hour of solid IFR passing Minneapolis, then it cleared out again. We reached Oshkosh at 6:15pm and the airport was supposed to open after the air show, unfortunately it was still closed, so we circled just west of Ripon (the entry point for VFR arrivals). The local ATC was telling everyone to hold where ever they wanted. We were a little put out at the lack of organization, but apparently they do that each year and it works out ok. More VFR planes arrived and started circling. Everyone was reporting where they were and their altitude. It was getting a little crowded.... Finally at 7pm the airport opened.... ATC told us to form a single line and follow the railroad tracks to the FISK check point (all this was explained in the NOTAM that we'd picked up at Fairbanks FSS). We all obliged - again, it worked out better than we thought it would. We all followed at about 2000 ft leaving enough space between each plane. ATC did all the talking, each time they identified us, we would waggle our wings. We waggled at FISK and continued. We proceeded around the pattern, then things fell apart a little. A twin, two planes ahead, complained that he hadn't received any instructions, another plane, not in the lineup, cut in from our right as we were turning left base. When cleared to land two planes were still on the runway and hadn't exited onto the taxiway, so we went around to try again.
There was enough space to get in to the lineup on the crosswind, so we lined up again. We were cleared and ready to land when Tower asked us to go around as another plane had been cleared for departure too near to us. So, around we went again. Tower thanked us profusely 3 times, cleared us to land and the 3rd time was a charm!! We quit sweating, started breathing again, and followed the taxi instructions to camping. Oshkosh is enormous, so we found a place for dinner, scoped out the landscape and turned in for the night.
Day 15
Oshkosh is fantastic, so many things to do and see. We covered all the exhibition halls, some of the presentations, saw the air show and listened to the shows in the evening. It was a very full, exhausting day.
Day 16
Getting out of Oshkosh is equally challenging. We got up early to a heavy overcast and IFR only departures. Donna got weather and filed while CA packed and prepped the plane. Sitting in the plane, ready to go, we received clearance and awaited engine start instructions. We waited 45 minutes until finally they called us to start. Off we went following the taxi instructions, did the run-up and held for departure. We held for 50 minutes!! Needless to say, we were off later than planned!! Without radar, they were only releasing a plane every few minutes.
We tried to get a weather update, but all the information was very confusing without radar, so we decided to put down in northern Kentucky to look at radar to see what was going on. Well, it was easy to see why it was so confusing - there were small cells all over the midwest, east, south, just about everywhere.... We had lunch, waited for the big ones to pass and set off on a zigzag course south-ish. ATC was good at letting everyone deviate around buildups and pointing out ones in our path. Five and a half hours later, 8:30pm we arrived home in Kissimmee.
What a trip!! It was fantastic!! We hope you enjoyed it as much as we did!!
---
Send mail Your questions or comments, please.
---
Post Script:
Following the terrible events of September 11, 2001, Carol Ann lost her job and Donna's position with an airline was withdrawn. Donna is currently an architect in New York City and Carol Ann obtained her CFI and CFII and is doing volunteer flying for Air Life Line, Angel Flight and Young Eagles.
---
Home / Dedication and Mission / Preparation / across the US to California / First ocean crossing to Hawaii /
Ocean crossing to Samoa / Ocean crossing and flying in New Zealand / Crossing and flying in Australia /
Multiple jumps: Singapore to South Africa / Multiple Jumps: South Africa to Greece / Europe /
Crossing the North Atlantic / Last leg home / About the pilot / About the plane / Supporters /
Overview / Women / Kids / FAQ / Lessons Learned / Family and Friends /
Flight reports: FL to CA / CA to HI / in Hawaii / HI to Am Samoa / Am Samoa to NZ / in NZ / NZ to AU / in AU / in AU2
AU to Singapore / Singapore to India / India to Seychelles / Seychelles to S.Africa / in South Africa / Zambia to Ethiopia /
Djibouti to Greece / Greece to France / England, Ireland, Scotland / to Iceland / to Greenland / to Canada / last legs home
New: Presentations / Book
I'm happy to hear from you, please email me at cagarratt@gmail.com any ideas, suggestions or flight tips. Thanks.